If you decide to take that trip of a lifetime to go and "find yourself" in India, it will probably include a trip to the Taj, a date with the Dalai Lama, a tour around the pink city of Jaipur and any number of other "spirit of India" experiences the guidebooks will throw at you. These sights are all, of course, worthy of your time but don't miss Chittorgarh Fort, the Rajasthani gem rarely promoted as a must-see. I arrived in Chittorgarh after a 48-hour journey from Mumbai which included delayed trains (plural) and a rough night on a station platform at Ratlam Junction (another story altogether).
I never intended to spend any time in Chittorgarh – I was on my way further north to Bhilwara – but, as my train had arrived late in the evening I witnessed the sun setting over the beautiful "blue city" (nearly all the houses are painted sky blue) and I thought that a night or two here would do me no harm at all. I jumped in a tuk tuk and asked the driver to take me to a decent hotel. During the ride I asked him about the town and he told me the only thing to see is the fort up on the hill overlooking the town. After a brief conversation he arranged to pick me up in the morning and take me on a tailored tour. The fort is truly impressive. First built in the 8th century, it has been plundered, besieged, razed and rebuilt many times over – and yet remains the biggest and best fort in all of India.
Wander the ruins, climb the towers, dip your feet in the ghats and talk to the people. Not many westerners make it out here – Rajasthan's many other sights and experiences too often distract them – so the locals are keen to talk. As mentioned, the fort overlooks the small and beautiful town of Chittorgarh or 'Chittor' for short. I sat for hours in the sun, looking out across the hazy-blue view. Chittorgarh is a quiet spot for contemplation, offering a perfect break from the cliché bandwagon.
When to go: Avoid the Indian summer – you can't hack it. British wintertime (Christmas if you can escape the family) is a great time to tour Rajasthan. Days are hot and sunny giving way to cooler evenings – you may even need a jumper on some nights!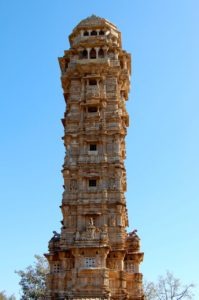 How: Chittorgarh is about 100km east of Udaipur or 200km south of Ajmer, well served by train and bus. If you're coming from the south, take a train to Ratlam Junction and spend an hour or two chatting to the locals before catching the next train north to Chittorgarh. If you're lucky, you'll meet a charming local by the name of Dhani there and he'll give you a ride on his motorbike…