The best countries for expats have been ranked by InterNations as part of their annual Expat Insider survey. We take a look at the results
There are an estimated 57 million expatriates across the globe with the term 'expat' no longer limited to corporate employees relocating from a company's headquarters.
Instead, more and more expats are moving overseas in search of a dream. Some have remote jobs and are now working from a location they love. InterNations' latest survey looks at how expats' motivations for moving are changing where they go.
Now in its sixth year, the Expat Insider survey is the largest of its kind. InterNations draws on its 3.6 million members and surveys over 20,000 expats from 182 nationalities living in 187 countries or territories.
InterNations uses its members' answers to rank 64 destinations on how expat residents feel towards their home away from home. The survey uses 48 individual factors that influence an expat's experience of living in a foreign country including safety and security, family life, finances, travel and transport options, ease of settling in and average working hours.
Best and the worst countries for expats
Taiwan reclaims its 2016 position as the best country for expats with great results across all topics. Vietnam has moved into second place, ranking highly for finance and working abroad. Portugal is third with over half of expats there saying they intend to stay permanently. Mexico and Spain round out the top five respectively.
Taiwan has consistently ranked in the top five over the years. In 2019, expats cited its quality of life, favourable personal finances, impressive working life and ease of settling in as excellent reasons to move to the destination.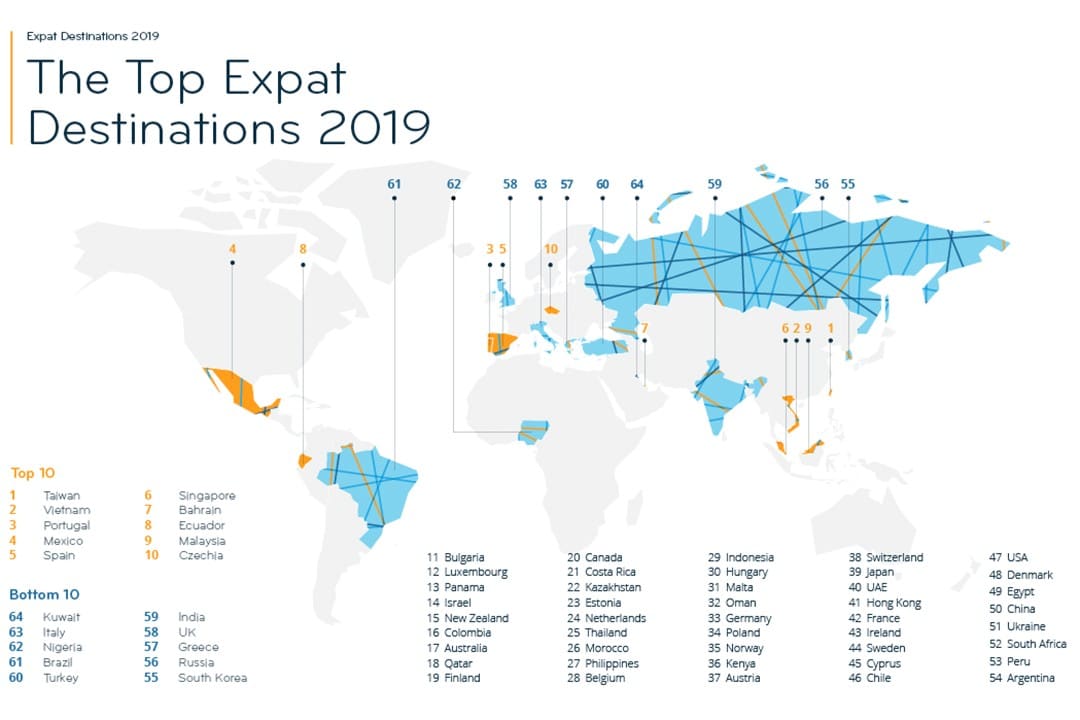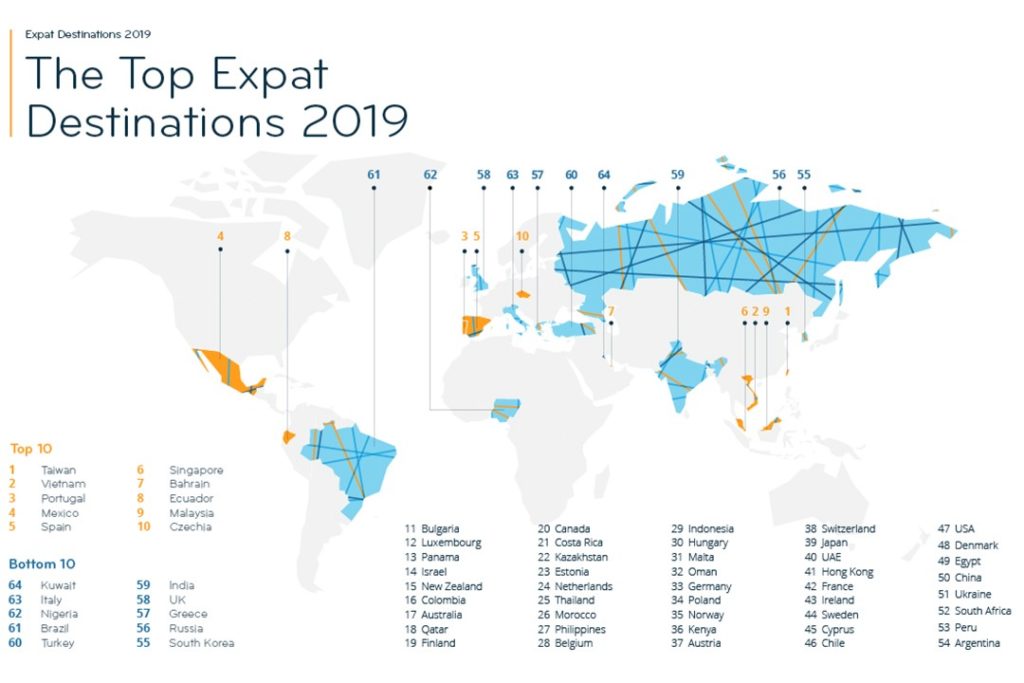 According to respondents there is apparently no better place for finances and working abroad than Vietnam – it ranked first in both indices. Together with the improved ratings for quality of life and ease of settling in, Vietnam reached the top three for the first time, ranking second overall.
While there has been change at the top of the ranking, at the bottom it's the usual suspects. Seven out of the 10 worst-rated countries were already in the bottom 10 in 2018.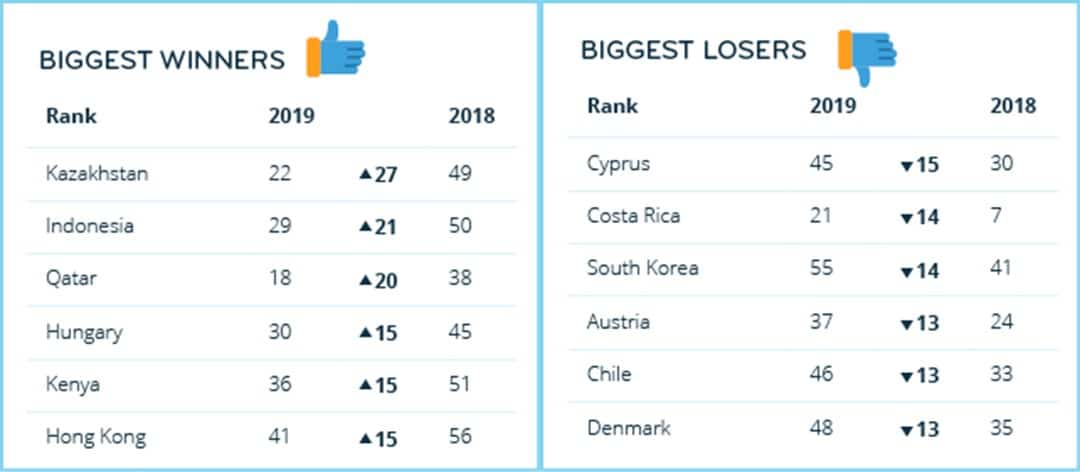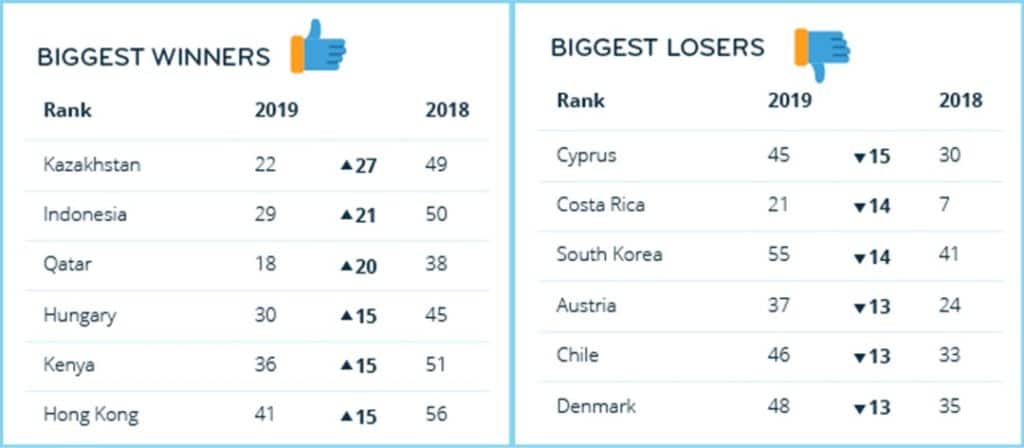 Kuwait ranks last once again, a position it also held in 2018 and from 2014 to 2016. Italy makes a new appearance second from bottom, although it should be noted it has never made it out of the bottom 10. As in 2018, it performs worst of all countries for working abroad and very poorly for personal finance.
After not featuring in the 2018 survey due to an insufficient number of respondents, Nigeria once again ranks third to last, as it did in 2015, 2016, and 2017. Expats are particularly dissatisfied with working in Nigeria and the local quality of life. Brazil (61) and Turkey (60) round out the bottom five.
The UK continues its miserable trend after tumbling 21 places and dropping to 59th place in 2018. It has risen just one place in 2019, but this is due to other countries dropping out of the ranking (there were 68 last year) because of an insufficient number of respondents.
The Brexit vote continues to concern expats and has caused further drops in the strength of the pound. The country once again ranks as one of the worst countries for expats.
The best countries for expats ranking 2019
Participants were asked to assess up to 48 factors concerning various aspects of life abroad on a scale of one to seven. The mean values were then calculated to create the below ranking of the best countries for expats.
| Rank | Country |
| --- | --- |
| 1 | Taiwan |
| 2 | Vietnam |
| 3 | Portugal |
| 4 | Mexico |
| 5 | Spain |
| 6 | Singapore |
| 7 | Bahrain |
| 8 | Ecuador |
| 9 | Malaysia |
| 10 | Czechia |
| 11 | Bulgaria |
| 12 | Luxembourg |
| 13 | Panama |
| 14 | Israel |
| 15 | New Zealand |
| 16 | Colombia |
| 17 | Australia |
| 18 | Qatar |
| 19 | Finland |
| 20 | Canada |
| 21 | Costa Rica |
| 22 | Kazakhstan |
| 23 | Estonia |
| 24 | Netherlands |
| 25 | Thailand |
| 26 | Morocco |
| 27 | Philippines |
| 28 | Belgium |
| 29 | Indonesia |
| 30 | Hungary |
| 31 | Malta |
| 32 | Oman |
| 33 | Germany |
| 34 | Poland |
| 35 | Norway |
| 36 | Kenya |
| 37 | Austria |
| 38 | Switzerland |
| 39 | Japan |
| 40 | UAE |
| 41 | Hong Kong |
| 42 | France |
| 43 | Ireland |
| 44 | Sweden |
| 45 | Cyprus |
| 46 | Chile |
| 47 | USA |
| 48 | Denmark |
| 49 | Egypt |
| 50 | China |
| 51 | Ukraine |
| 52 | South Africa |
| 53 | Peru |
| 54 | Argentina |
| 55 | South Korea |
| 56 | Russia |
| 57 | Greece |
| 58 | UK |
| 59 | India |
| 60 | Turkey |
| 61 | Brazil |
| 62 | Nigeria |
| 63 | Italy |
| 64 | Kuwait |
---