The world's most expensive cities for expats have been re-assessed in 2019 with eight of the top 10 located in Asia
Mercer, the world's largest human resources consulting firm, has released its annual Cost of Living Survey, now in its 25th year. As with last year, unstable housing markets, low inflation and fluctuating prices for goods and services are impacting the cost of doing business in various cities around the world – changing how and where multinationals operate.
The digital era, ageing populations, skills shortages and unpredictable political and economic contexts are further changing the landscape of global business.
Multinationals are embracing this transformation by offering remote jobs that are critical for accessing new talent, often in unexpected corners of the world.
Comparing the cost of living
It is important to remember that the ranking is not designed for locals. It is designed for multinational companies looking to place expat employees and is used as a tool to calculate how much overseas workers should be paid. It also provides an indication to potential expats looking to determine how expensive their new country could be to live in.
Mercer uses New York as its base city and the US dollar as the base currency. The results differ from other surveys such as the Economist's Worldwide Cost of Living as Mercer focuses specifically on products bought by expats.
If you're a hiring manager looking to send an analyst to Kuala Lumpur, you need to know how much it costs to live there so you are compensating that worker fairly. It's easier to consult a ready-made list than to do your own research on the ground. Most companies who use these lists are placing highly-skilled professionals or managers who are likely to earn more than the average local salary.

Bryan Lufkin, BBC Capital
The survey analyses the price of over 200 goods and services in over 360 cities with substantial expat communities across the globe. The methodology assumes spending patterns among expats from different nationalities remain the same.
The weighting of goods and services are the same for all locations. The approach compares prices of comparable brands and retail outlets in both the home and host cities.
A drawback with this methodology is that certain factors can skew a city's rating. For example, the high cost of car ownership and fuel in Singapore could propel it further up the rankings.
Region by region
Hong Kong (1) and Tokyo (2) have remained the world's most expensive cities for expats. Singapore (3), Seoul (4) and Zurich (5) round out the top five meaning four out of five of the world's most expensive cities for expats are in Asia.
Other cities in the top 10 include the Chinese cities of Shanghai (6), Beijing (8) and Shenzhen (10) as well as Ashgabat (7) in Turkmenistan, up 36 places from last year. The world's least expensive cities for expats are Tunis (209), Tashkent (208) and Karachi (207).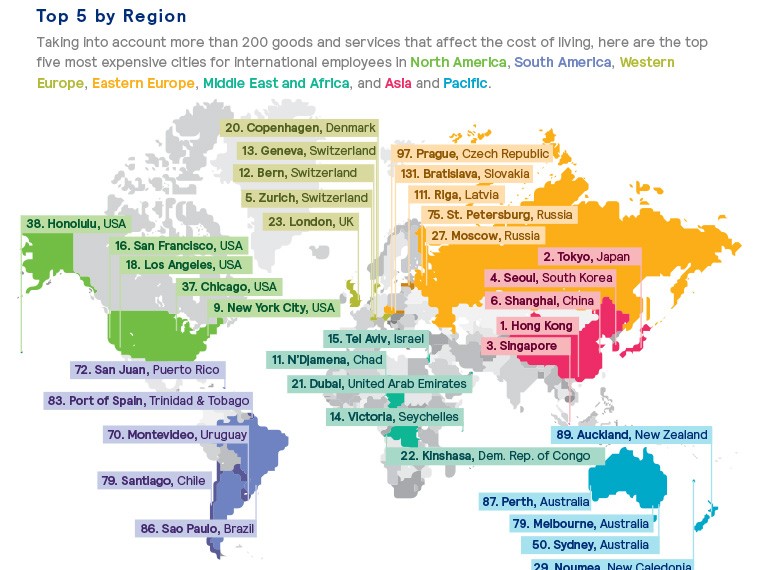 New York (9) remains the most expensive city in the Americas. Zurich (5) remains the most expensive city in Europe, followed by Bern (12) and Geneva (13), all three in Switzerland.
Ndjamena (11) in Chad is the most expensive city for expats in Africa. Victoria (14) in the Seychelles follows, rising seven places. Moving up 15 spots, Kinshasa in the Democratic Republic of Congo (22) is the next African city on the list, followed by Libreville (24) in Gabon.
Mumbai (67) is India's most expensive city, followed by New Delhi (118) and Chennai (154). Tel Aviv (15) remains the Middle East's most expensive city for expats, followed by Dubai (21), Abu Dhabi (33) and Riyadh (35).
World's most expensive cities for expats ranking
Sort the table below by cost of living or country to view the world's most expensive cities for expats.
| Rank | City | Country/region | ± 2018 |
| --- | --- | --- | --- |
| 1 | Hong Kong | Hong Kong (SAR) | - |
| 2 | Tokyo | Japan | - |
| 3 | Singapore | Singapore | 1 |
| 4 | Seoul | South Korea | 1 |
| 5 | Zurich | Switzerland | -2 |
| 6 | Shanghai | China | 1 |
| 7 | Ashgabat | Turkmenistan | 36 |
| 8 | Beijing | China | 1 |
| 9 | New York City | United States | 4 |
| 10 | Shenzhen | China | 2 |
| 11 | Ndjamena | Chad | -3 |
| 12 | Bern | Switzerland | -2 |
| 13 | Geneva | Switzerland | -2 |
| 14 | Victoria | Seychelles | 7 |
| 15 | Tel Aviv | Israel | 1 |
| 16 | San Francisco | United States | 12 |
| 17 | Guangzhou | China | -2 |
| 18 | Los Angeles | United States | 17 |
| 19 | Osaka | Japan | 4 |
| 20 | Copenhagen | Denmark | -6 |
| 21 | Dubai | United Arab Emirates | 5 |
| 22 | Kinshasa | Dem. Rep. of the Congo | 15 |
| 23 | London | United Kingdom | -4 |
| 24 | Libreville | Gabon | -6 |
| 25 | Lagos | Nigeria | 17 |
| 26 | Luanda | Angola | -20 |
| 27 | Moscow | Russia | -10 |
| 27 | Nanjing | China | -2 |
| 29 | Noumea | New Caledonia | -7 |
| 30 | Abidjan | Côte d'Ivoire | -6 |
| 30 | Chengdu | China | 1 |
| 32 | Tianjin | China | -3 |
| 33 | Abu Dhabi | United Arab Emirates | 7 |
| 33 | Nagoya | Japan | 8 |
| 35 | Taipei | Taiwan | -8 |
| 35 | Riyadh | Saudi Arabia | 10 |
| 37 | Chicago | United States | 14 |
| 38 | Honolulu | United States | 16 |
| 39 | Brazzaville | Congo | -20 |
| 40 | Bangkok | Thailand | 12 |
| 41 | Qingdao | China | -5 |
| 42 | Washington | United States | 14 |
| 43 | Dublin | Ireland | -11 |
| 44 | Miami | United States | 16 |
| 45 | Milan | Italy | -12 |
| 45 | Shenyang | China | -7 |
| 47 | Paris | France | -13 |
| 47 | Dhaka | Bangladesh | 19 |
| 49 | Boston | United States | 21 |
| 50 | Sydney | Australia | -21 |
| 51 | Vienna | Austria | -12 |
| 52 | Yaounde | Cameroon | -9 |
| 53 | Beirut | Lebanon | 12 |
| 54 | Bangui | Central African Republic | -6 |
| 55 | Rome | Italy | -9 |
| 56 | White Plains | United States | 23 |
| 57 | Manama | Bahrain | 20 |
| 58 | Amsterdam | Netherlands | -8 |
| 59 | Djibouti | Djibouti | 14 |
| 59 | Houston | United States | 27 |
| 61 | Oslo | Norway | -14 |
| 62 | Dallas | United States | 23 |
| 63 | Accra | Ghana | - |
| 64 | Seattle | United States | 26 |
| 65 | Helsinki | Finland | -12 |
| 66 | Douala | Cameroon | 7 |
| 67 | Mumbai | India | -12 |
| 67 | Munich | Germany | -10 |
| 69 | Atlanta | United States | 26 |
| 70 | Montevideo | Uruguay | 5 |
| 70 | Morristown | United States | 27 |
| 72 | Dakar | Senegal | -10 |
| 72 | San Juan | Puerto Rico | 23 |
| 74 | Frankfurt | Germany | -6 |
| 75 | St. Petersburg | Russia | -26 |
| 75 | Amman | Jordan | 19 |
| 77 | Brussels | Belgium | -10 |
| 78 | Minneapolis | United States | 24 |
| 79 | Melbourne | Australia | -21 |
| 79 | Santiago | Chile | -10 |
| 81 | Berlin | Germany | -10 |
| 82 | Madrid | Spain | -18 |
| 83 | Port Of Spain | Trinidad & Tobago | 14 |
| 84 | Luxembourg | Luxembourg | -13 |
| 85 | Abuja | Nigeria | 14 |
| 86 | Sao Paulo | Brazil | -28 |
| 87 | Perth | Australia | -26 |
| 88 | Conakry | Guinea | 18 |
| 89 | Auckland | New Zealand | -8 |
| 90 | Detroit | United States | 26 |
| 91 | Barcelona | Spain | -12 |
| 92 | Dusseldorf | Germany | -10 |
| 93 | Panama City | Panama | 21 |
| 94 | St. Louis | United States | 28 |
| 95 | Lisbon | Portugal | -2 |
| 96 | Canberra | Australia | -19 |
| 97 | Prague | Czech Republic | -14 |
| 97 | Nairobi | Kenya | 26 |
| 97 | Pittsburgh | United States | 28 |
| 100 | Hamburg | Germany | -12 |
| 100 | Jeddah | Saudi Arabia | 17 |
| 102 | Bandar Seri Begawan | Brunei | 4 |
| 103 | Brisbane | Australia | -19 |
| 103 | Muscat | Oman | 14 |
| 105 | Jakarta | Indonesia | 12 |
| 106 | Cleveland | United States | 19 |
| 107 | Portland | United States | 23 |
| 108 | Phnom Penh | Cambodia | 34 |
| 109 | Adelaide | Australia | -22 |
| 109 | Manila | Philippines | 29 |
| 111 | Riga | Latvia | -19 |
| 112 | Vancouver | Canada | -3 |
| 112 | Hanoi | Vietnam | 25 |
| 114 | Wellington | New Zealand | -13 |
| 115 | Toronto | Canada | -6 |
| 115 | Doha | Qatar | - |
| 117 | Yangon | Myanmar | -26 |
| 118 | New Delhi | India | -15 |
| 119 | Kuwait City | Kuwait | 2 |
| 120 | Ho Chi Minh City | Vietnam | 4 |
| 121 | Rio De Janeiro | Brazil | -22 |
| 121 | Lima | Peru | 11 |
| 123 | Lyon | France | -18 |
| 124 | Bamako | Mali | -4 |
| 125 | Pointe A Pitre | Guadeloupe | -21 |
| 126 | Stuttgart | Germany | -18 |
| 127 | Stockholm | Sweden | -38 |
| 128 | Cotonou | Benin | -17 |
| 128 | Athens | Greece | -16 |
| 128 | Casablanca | Morocco | - |
| 131 | Bratislava | Slovakia | -18 |
| 131 | San Jose | Costa Rica | 10 |
| 133 | Buenos Aires | Argentina | -57 |
| 133 | Havana | Cuba | 32 |
| 135 | Birmingham | United Kingdom | -7 |
| 136 | Guatemala City | Guatemala | -6 |
| 137 | Aberdeen | United Kingdom | -3 |
| 138 | Winston Salem | United States | 23 |
| 139 | Montreal | Canada | 8 |
| 140 | Tallinn | Estonia | - |
| 141 | Kuala Lumpur | Malaysia | 4 |
| 142 | Ljubljana | Slovenia | -10 |
| 143 | Zagreb | Croatia | -5 |
| 144 | Mexico City | Mexico | 13 |
| 145 | Lome | Togo | -11 |
| 145 | Ouagadougou | Burkina Faso | -11 |
| 145 | Glasgow | United Kingdom | 3 |
| 148 | Quito | Ecuador | 8 |
| 149 | Niamey | Niger | -6 |
| 150 | Kiev | Ukraine | 23 |
| 151 | Nuremberg | Germany | -6 |
| 152 | Vilnius | Lithuania | -4 |
| 153 | Calgary | Canada | 1 |
| 154 | Chennai | India | -10 |
| 154 | Istanbul | Turkey | 9 |
| 156 | Leipzig | Germany | -6 |
| 157 | Kingston | Jamaica | 7 |
| 158 | Belfast | United Kingdom | -6 |
| 159 | Maputo | Mozambique | 20 |
| 160 | Rabat | Morocco | 5 |
| 161 | Limassol | Cyprus | -8 |
| 161 | Ottawa | Canada | -1 |
| 161 | Port Louis | Mauritius | - |
| 164 | Budapest | Hungary | -13 |
| 165 | Port Au Prince | Haiti | -40 |
| 166 | Tirana | Albania | 6 |
| 166 | San Salvador | El Salvador | 8 |
| 166 | Cairo | Egypt | 22 |
| 169 | Santo Domingo | Dominican Republic | 9 |
| 170 | Bogota | Colombia | -2 |
| 171 | Dar Es Salaam | Tanzania | 9 |
| 171 | Addis Ababa | Ethiopia | 12 |
| 173 | Warsaw | Poland | -19 |
| 174 | Brasilia | Brazil | -16 |
| 175 | Kigali | Rwanda | -6 |
| 176 | Bucharest | Romania | - |
| 177 | Sofia | Bulgaria | -2 |
| 178 | Baku | Azerbaijan | 8 |
| 179 | Bengaluru | India | -9 |
| 180 | Cape Town | South Africa | -10 |
| 181 | Belgrade | Serbia | - |
| 182 | Colombo | Sri Lanka | -24 |
| 183 | Kampala | Uganda | 9 |
| 184 | Algiers | Algeria | 11 |
| 185 | Johannesburg | South Africa | -8 |
| 186 | Asuncion | Paraguay | -3 |
| 187 | Monterrey | Mexico | 6 |
| 188 | Harare | Zimbabwe | -23 |
| 189 | Kolkata | India | -7 |
| 189 | Gaborone | Botswana | - |
| 191 | Almaty | Kazakhstan | -4 |
| 192 | Nouakchott | Mauritania | 2 |
| 193 | Blantyre | Malawi | 11 |
| 194 | Sarajevo | Bosnia and Herzegovina | -3 |
| 195 | La Paz | Bolivia | 4 |
| 196 | Lusaka | Zambia | -11 |
| 197 | Yerevan | Armenia | 1 |
| 198 | Minsk | Belarus | 4 |
| 199 | Tegucigalpa | Honduras | 2 |
| 200 | Managua | Nicaragua | - |
| 201 | Skopje | Macedonia | -4 |
| 202 | Tbilisi | Georgia | 1 |
| 203 | Islamabad | Pakistan | -13 |
| 204 | Windhoek | Namibia | -8 |
| 204 | Banjul | Gambia | 2 |
| 206 | Bishkek | Kyrgyzstan | 1 |
| 207 | Karachi | Pakistan | -2 |
| 208 | Tashkent | Uzbekistan | 1 |
| 209 | Tunis | Tunisia | -1 |
---