In May last year, I posted the below photo to Facebook with the caption 'My birthday swag describes me in a nutshell: aspirational but lowbrow at heart.' And it's true: despite the ballet shows and horseriding lessons, I'm a working-class girl at heart. You will understand then why our 16-day cruise from Tahiti to LA via Hawaii was a bit of a test in terms of etiquette.
To help fellow first-timers, I've put together 20 cruise tips for the uninitiated. These will help you get the most out of your trip while avoiding confusion and potential embarrassment.
Book last minute
If you're lucky enough to have some flexibility, hold your nerve until the last two weeks before booking. Rates are often slashed substantially and you could get as much as 50% off the standard price. Just be aware that the trip may become fully booked, or the prices might rise more than expected once the ship is at near-full capacity. Cruise lines often like to leave some breathing room so aren't concerned about filling the very last few places.
PACK SEASICKNESS PILLS
I've been on many a boat and was confident I would be fine on an ocean liner. Alas, on two separate occasions, I felt queasy enough to leave dinner early. It's a good idea to pack some pills as a precaution. You can buy some on the ship but they will be relatively expensive. Finally, apples with salt will help calm an unsettled stomach so keep a few in your room.
CHECK IN LATE
Check what time the ship departs. If boarding starts at 12pm and the ship leaves at night, feel free to check in at 3pm. You will avoid the massive queues and stress of embarkation day. If you're worried about being late, install yourself in a nearby cafe where you can keep an eye on the queue while enjoying a coffee.
ASK FOR AN UPGRADE
When you check in, do ask for an upgrade. You may not get one, especially if embarkation day has been particularly stressful for the crew, but it's always worth asking. We got upgraded from an interior cabin to a room with a window, albeit without a view! It wasn't picture perfect but daylight made a world of difference.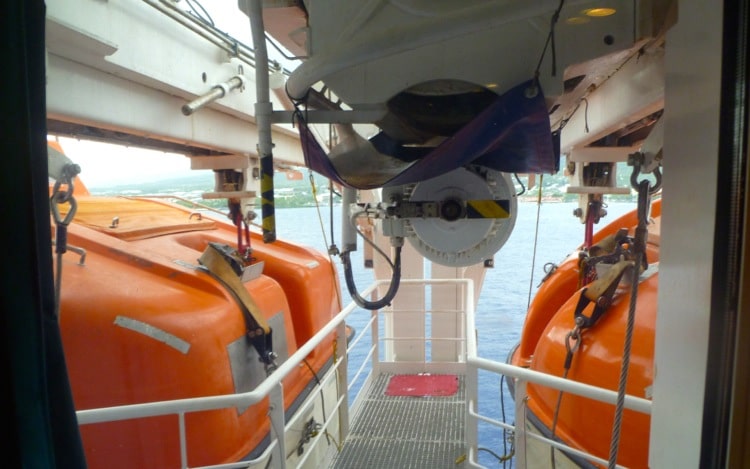 DON'T BE AFRAID TO CHANGE THE AUTOMATIC GRATUITY
Some cruise lines add an automatic gratuity to your final bill, usually around $12 per person, per day, which can quickly add up if you're on a long voyage. We were dreading having to ask for a reduced $8 rate, but the process was surprisingly simple: we went to reception, filled in a form specifying the preferred amount and that was it. No-one treated us differently and it was entirely painless. What I would say is that cruise staff work split shifts over incredibly long hours so if you can afford to pay the full gratuity, please do. Also note that on the final few days, cruise lines generally offer envelopes which you can use to give individual tips to your cabin steward, waiters, and any other standout staff. Feel free to hand these directly to the staff in question.
YES, YOU MAY WEAR TRAINERS TO LUNCH!
Lunch is generally an informal affair so feel free to wear trainers or sportswear. Swimwear is discouraged in sit-down restaurants and a kaftan or some sort of cover-up will be appreciated at the buffet.
USE A FRESH PLATE AT THE BUFFET EVERY TIME YOU GO UP
When I first came across this a few years ago, it seemed like the most wasteful etiquette rule I had ever encountered. Soon after, I learnt that it is a food safety practice put in place to avoid germs from your plate transferring onto serving spoons. In an enclosed space like a ship where germs can spread quickly, hygiene is doubly important so always adhere to this rule.
INTRODUCE YOURSELF TO YOUR WAITERS
When our first waiter introduced himself and moved on to the next table, Peter and I looked at each other. "Should we have told him our names?" we asked simultaneously. The answer is yes. Even if he won't remember it, tell him your name anyway. It's likely that you will have the same waiters across the duration of the trip so you may as well start on good terms.
ORDER WHAT YOU LIKE
When it comes to the set menu, you can order as much or as little as you like – and that includes two different main dishes if you want, or three desserts between two people.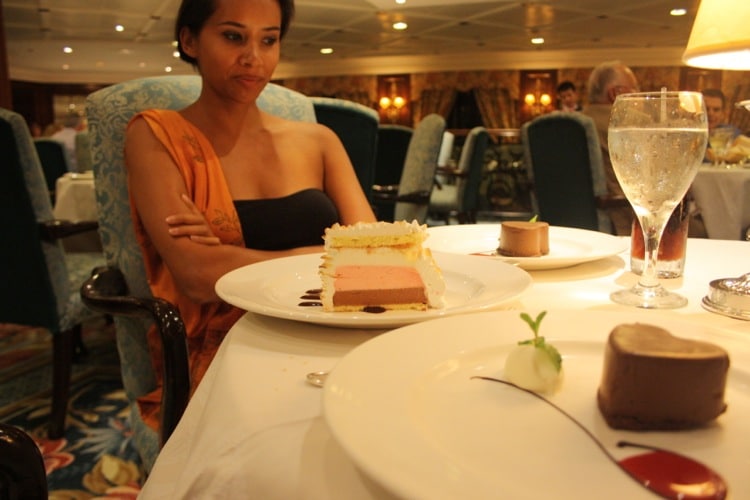 Personally, I was confused by the soup section. Were they appetisers? Sides? Mains? In fact, they were a course of their own. Order one if you want. Don't if you prefer not to. Order two if you want. Your waiters have seen it all.
ASK TO CHANGE TABLES IF YOU PREFER
Cruise lines will often seat you at a table with other people. If you prefer to eat alone without making small talk with the same people every night, ask the Maître d for a table for two. They can't accommodate every request but will try their very best.
DON'T TAKE THE SCONES FOR THE LOVE OF GOD!
If you attend afternoon tea, never take anything off the tray yourself. When our waiter, the aforementioned Damir who specialises in deadpan cheek, offered me a tray of scones, I asked for a particular one. He tipped the tray towards me, which made me think I needed to take the scone rather than be served it. I happily reached forward at which point Damir pulled it away with lightning reflexes. "Madam, madam," he said sternly. "My supervisor is watching." With colour rising in my cheeks, I bowed my head like a shamed schoolchild. "Sorry, Damir."
CHECK THE DRINK CHARGES
On our cruise, water, lemonade and iced tea were available for free at the lunch buffet. At the sit-down restaurant, water was available for free but all other drinks were chargeable. Make sure you're aware of any extra fees as a 15% gratuity is sometimes added for bar staff.
DON'T OVEREAT EVERY DAY
We ate and ate and ate, and we each put on several pounds over the course of our 16-day cruise. An occasional indulgence is okay but try not to overeat every day. It will leave you lethargic and bloated. Try to be consciously aware of when you are full and then stop!
FOREGO FORMAL NIGHTS IF YOU PREFER
Most cruise lines will include at least one formal night on the itinerary. We had three nights which required jackets and cocktail wear. Alas, we're not carrying anything extravagant in our backpacks so had to skip these nights altogether. If you're in the same boat (no pun intended), don't fret: there are other options available. On most ships, you can eat at a buffet, a casual restaurant or order room service with no additional charge.
DO THE SHORE TOURS YOURSELF
There is usually a hefty markup on excursions booked through the cruise line itself. Instead, if you don't mind the extra hassle, organise a tour yourself. Either hire a vehicle and do it yourself or contact tour operators directly to avoid the markup. Do note, however, that if you opt to do it yourself, the next point is very important.
Atlas & BOots
DO THE SHORE TOURS YOURSELF
Onboard internet is horrendously expensive (and slow!) and the supplied information isn't always sufficient, so research your port calls beforehand so you know what you want to do. It doesn't hurt to have a few options either. We were casual with our research for Moorea and planned to jump on a scooter for the day. When we arrived, the hire company discouraged us as neither of us had ridden a scooter before. Unable to afford car hire, we ended up walking an hour and a half to the nearest place of interest – not the best use of time when you have a limited number of hours on land.
TAKE ID ON PORT CALLS
Always take your driver's license or passport with you at port calls. I left mine on the ship at our first stop in Hawaii (most likely beguiled by the ease of onboard immigration). On my return to the ship, I was stopped and queried, triggering much walkie-talkie shenanigans. Needless to say, I didn't forget it on future stops.
DON'T GET LEFT BEHIND
It is surprisingly easy to lose track of time when you're exploring a new town, city or island. Make sure you leave plenty of time to return to the boat. If you know you're generally absent minded, set an alarm to remind you. If you're not there on time, the boat will leave without you, meaning you have to find your own way to the next port.
SAMPLE THE ENTERTAINMENT WITH CAUTION
Onboard entertainment can be predictably cheesy. If you're not sure about a certain show, choose a seat near the back so you can escape easily. We exercised this route on two separate occasions and very nearly a third.
BE FLEXIBLE AND RESPECTFUL
Cruises offer luxury travel at premium prices so it's understandable why passengers expect a flawless service. However, do try to remember that you're in an enclosed space with limited resources in the middle of a large body of water. The staff may not have that very specific dressing you like with your side salad, or may take slightly longer than usual to fix a problem with your room. Be patient and respectful at all times. You (and I) most likely have no idea how hard they work. Take it easy. You're on holiday. There is absolutely no need to get stressed.
---