From a lawless harem in the middle of the city to affectionate zebras roaming around town, this La Paz walking tour is not your average day out
Few cities have a setting as dramatic as La Paz. At 3,650m above sea level, it is often called the the world's highest capital even though this isn't strictly true. The country's official capital is Sucre which lies 690km to the southeast.
Nevertheless, La Paz has long been Bolivia's political and commercial hub, and a customary stop for tourists. The sprawling city is cradled in a canyon, offering dramatic views of the Andes in the distance.
The curves of its valley are blanketed by the makeshift housing of the poor, stubbornly clinging to the steepest of inclines. It is in essence a city of two tales: on one hand, a modern metropolis with cable cars transporting its citizens to dizzying heights; on the other, a rickety old town wedded to beliefs verging on alchemy.
We were keen to get under its skin, so booked onto a La Paz walking tour. We were tempted to opt for a free tour, but heard good things about Banjo Tours' La Paz Off The Beaten Track Walking Tour, so decided to book that instead. It turned out to be an excellent decision. T
he group size was far smaller than we were used to on free tours (which often swings upwards of 20). Our guide, Sergio, had a genuine love for his hometown and a deep knowledge that went far beyond the limits of the tour. Clearly, his enthusiasm that was catching as we went away thinking that La Paz was one of the most fascinating cities we had ever visited.
Here are just some of the reasons why.
Shoe shiners literally mask their shame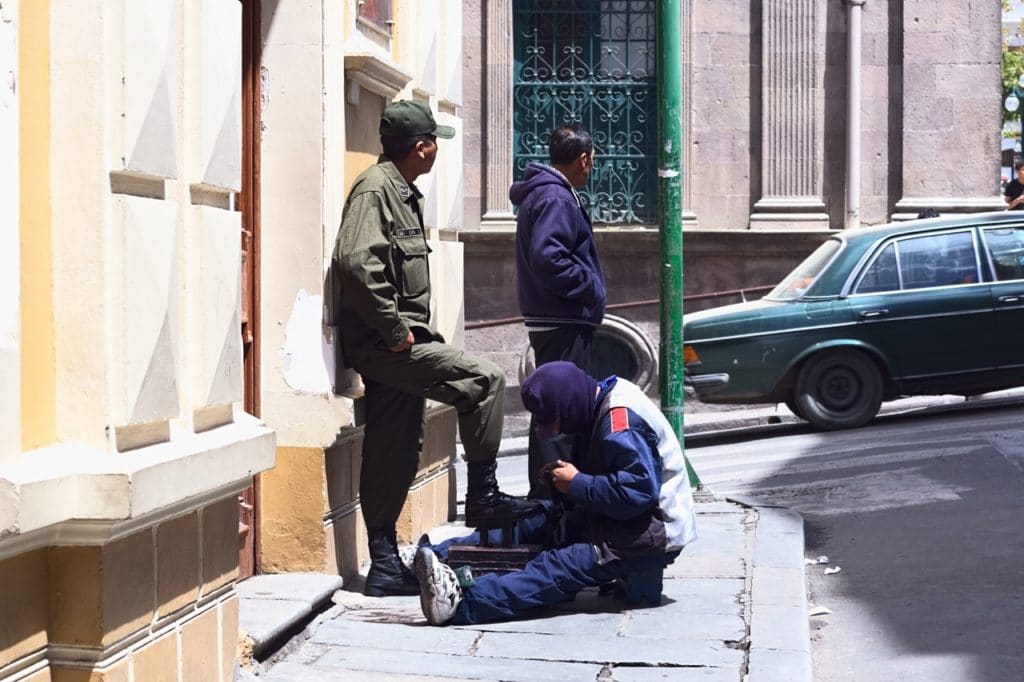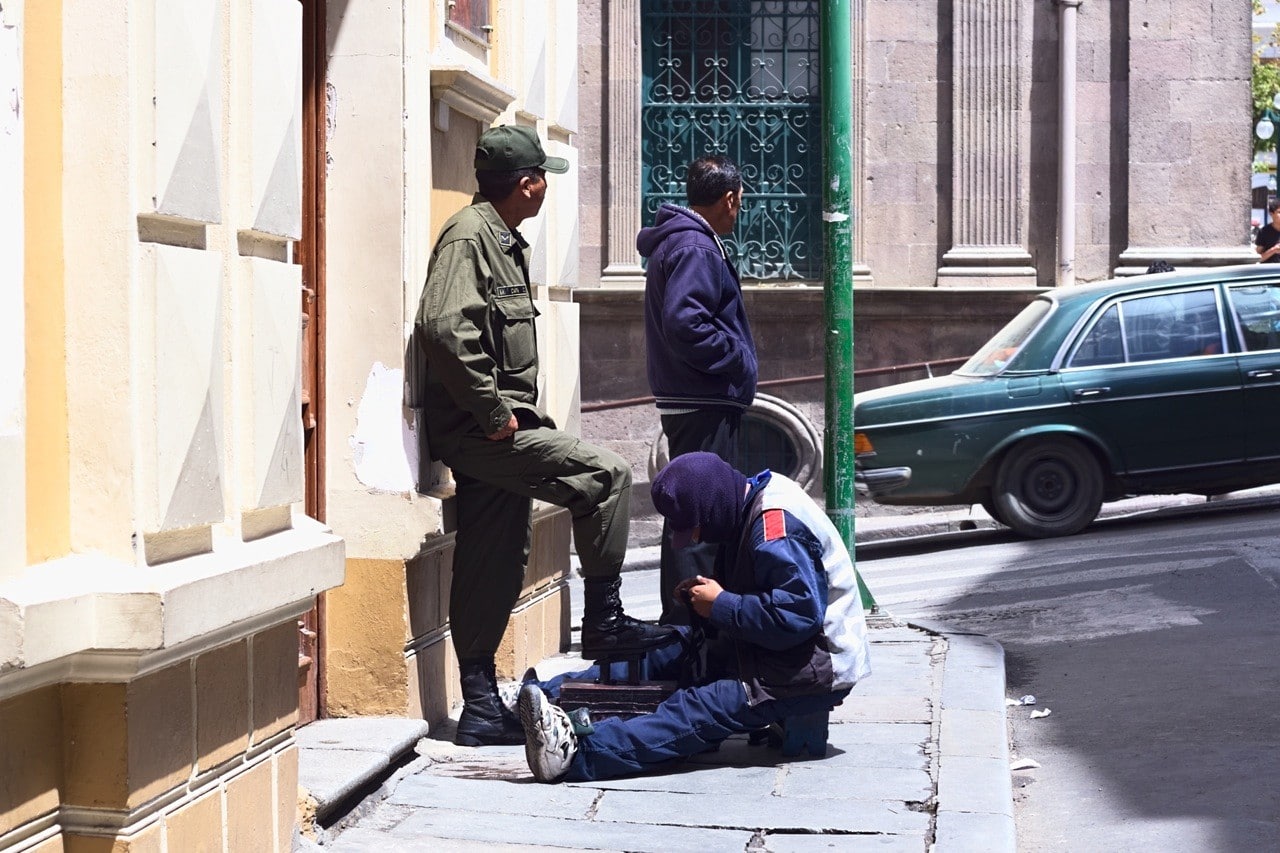 They look ominous at first but after hearing their story, you'll feel a sense of poignancy when you come across La Paz's shoe shiners or 'lustrabotas' as the locals call them. Many are runaways who live hand to mouth, shining shoes to make a living. They are so ashamed of what they do that they wear baseballs caps and balaclavas to hide their identities. While some are caught up in drugs and alcohol, many are simply trying to get by. Many La Paz citizens feel a certain responsibility toward the shoe shiners, giving them custom whenever possible and paying more than quoted to help them on their way.
San Pedro prison is basically just a lawless harem
Oy vey, where do we start? This prison – designed to house 250 prisoners but actually carrying 2,000 – is a lawless pit governed not by guards but by prisoners, usually those with the most money. Rich prisoners can bring in their own furniture and facilities and even their own guests, while the poor are left to sleep in the corridors and survive on a diet that barely provides sustenance. The notorious prison was once open to tours but its doors were closed after violence against visitors. That said, we hear that if you sit on a certain bench at a certain time on a certain day, a man will collect you for an unofficial tour of the prison. (We of course advise against this.)
It's worth noting that San Pedro is the subject of Marching Powder, a fascinating book by Rusty Young about his time in the prison with drug trafficker Thomas McFadden. Brad Pitt's production company has in part bought rights to the book, so it could be coming to our screens at some point soon.
The current president is Bolivia's first ever indigenous one
Evo Morales is loved all over the land as he is the country's first indigenous president. He is left-wing and has focused on reducing poverty while championing indigenous rights, environmentalism and anti-imperialism. He once quoted prior president Gualberto Villarroel López in a speech, saying: "I am not the enemy of the rich, but I am more a friend to the poor."
A clock in the main square runs backwards to remind citizens to think differently
At first, we didn't notice anything strange so Sergio asked us to take a second look. We soon realised that the clock on the National Congress building was running backwards. Sergio explained that this serves as a reminder to all citizens that they can question established norms and think creatively. Some dislike the clock as they say it's a symbol of looking backwards but not everyone takes it so literally.
You may encounter an affectionate zebra or two
The driving in La Paz was once rather "overzealous" shall we say. Enter the zebras, an army of once at-risk youth who now don zebra costumes to educate drivers and pedestrians about road safety. Known for their exuberant, affectionate style, the city's zebras are likely to rejoice when you wait for the green light, or clutch their heads in mock despair when you sprint across traffic instead. In recent years, the scope of the zebras' work has expanded. They now run educational programs on recycling, water conservation and bullying too.
Dead animals are everywhere
Well, not everywhere but in lots of wheres. We popped to the 'Witches Market' in El Alto on the outskirts of La Paz where women hawk rows upon rows of dead animals to citizens who in turn offer them up to Pachamama (Mother Nature) in return for blessings. We asked Sergio how this sits with the country's Catholic beliefs. He explained that while officially the church clearly doesn't endorse these rituals, it also understands the importance of indigenous culture and beliefs.
Bolivia is desperate for sovereign access to the sea
Bolivia is one of South America's two landlocked countries and also one of the most impoverished. Compare this to Chile, one of the continent's most prosperous countries. This disparity is in part due to the 420 miles of Pacific Ocean coastline and 120,000 square kilometers of land Bolivia lost to Chile in The War of the Pacific in the 1880s. The former has been battling for access to the sea ever since, lodging a suit with the World Court as recently as May 4th this year. Sergio told us he prays that his country will one day gain access but doubts this will ever happen.
There's a car casually wedged in a cliff…
A car once went over a cliff and got stuck. It has been there ever since. It slips a few metres every once in a while but remains in the cliff. Standard stuff really.
The poor are buried on top of each other
While this practice is prevalent across several cities on the continent, it's the first time I came across it. La Paz Cemetery has coffins essentially piled on top of each other to accommodate the citizens whose families can't afford proper graves.
Spaces are rented for up to 10 years after which the dead are disinterred and cremated. The ashes may then be stored in rented or purchased glass-fronted spaces in the cemetery walls where families affix plaques and mementoes.
You can eat at the world's 'highest curry house'
Sergio told us about Star of India, which claims to be the world's highest curry house. It also claims to sell the world's spiciest curry. If you finish, you get a t-shirt commemorating your achievement. Apparently, one crazy Turkish guy gobbled up the curry in 48 seconds while a more sedate Englishman kept at it for five hours.
Unfortunately, we didn't think too highly of the food there (as a Bangladeshi, I have high standards when it comes to South-Asian food), but it was worth the visit just to say we've eaten at the world's highest curry house.
La Paz walking tour: The essentials
What: La Paz Off The Beaten Track Walking Tour ($29pp), a 4.5-hour La Paz walking tour that takes in La Paz's historic district, its colourful and bizarre markets, cable cars and panoramic viewpoints, not to mention a delicious mid-morning snack (the best empanadas we've had in South America!).
If you have time, book onto the full day tour which covers the above but also takes in Moon Valley, a lunar-like landscape that provide fantastic photo opportunities on a clear day ($45pp).
Where: La Paz, Bolivia. We stayed at the fantastic Residencial Latino. The street doesn't look like much but the hostel was super clean, airy and bright. There were hot showers 24/7 and we even had a heater in the room. Wifi was standard for Bolivia (i.e. not super slow but not super fast) and there is a PC in the communal area which provides a much faster connection for free.
When: The period of May to October offers dry, sunny days with August being the most popular month. November to April is the rainy season. We visited in April and had a few showers but enjoyed it nonetheless!
How: Fly into El Alto International Airport (book via skyscanner.net) and catch a 30-minute taxi to Residencial Latino (B$60–70). If you're taking a bus from Copacabana, you can catch a taxi around the bus station (really just a roadside stop) for the 10-minute ride. Book the tour directly with Banjo Tours.
---