I spent a week learning to paddleboard off the west coast of Scotland, the perfect setting for trying the world's fastest growing water sport
My only experience of standup paddleboarding (SUP) was the odd paddle at a beachside resort here and there. I've never liked surfing (I know that's so uncool to admit) but I have always enjoyed kayaking whether it has been along the Thames in London or kayaking in more far-flung destinations.
So when I joined the Lady of Avenel for a tall ship sailing adventure recently, I was excited to learn it would be part of a wider paddleboarding trip organised by London-based SUP enthusiasts Active360.
Using the Lady of Avenel as a base, we spent our days exploring the remote coastal waters of the Hebridean archipelago. The advantage of having the ship as our basecamp was that we were unrestricted by ferry schedules, access trails and cumbersome camping gear. Instead, we could just launch our paddleboards from the side of the ship, carrying just a day bag, and access some of the most remote scenery in Scotland within minutes.
The rather wild seas off the west coast of Scotland might be intimidating for someone learning to paddleboard for the first time, but there is no reason to worry. The advantage of standup paddleboarding is that it has a low barrier to entry: you don't need previous experience or to be super-fit to enjoy yourself.
Paddleboarding is not like surfing where you need lots of practice to achieve a basic action such as standing up, or like kayaking where you need to master an Eskimo roll to be safe on the water. As long as you're a confident swimmer and relatively fit, there's no reason why you can't enjoy a first-time paddleboarding experience on the water today.
Additionally, the advantage of learning to paddleboard off a sailing ship in the Hebrides is that there are plenty of secluded bays and lochs from which to launch. We only launched our paddleboards in the open sea once; the rest of time we launched in sheltered and calm lochs.
On the first day, we launched in Loch Spelve and then portaged into Loch Uisg, a small freshwater loch. This was the ideal place to get some practice before paddling in open water. With a little guidance from Paul, the founder of Active360, it didn't take long for me to feel confident and at ease on a paddleboard.
I only fell in the water once and that was when I tried to stand in choppier waters. In situations like that I fast learnt it's better to just kneel than to try to stand.
During the week we managed to see some of Scotland's finest scenery including wild beaches, craggy coves and traditional fishing villages. We also made time to visit the sacred monastery of Iona, the natural caves of Staffa, the ancient croft at Ulva and the picturesque fishing town of Tobermory where the children's TV series Balamory was filmed.
There is a surreal quality to standup paddleboarding. It's a bit like walking on water and, unlike kayaking, you can see more of the water around you. It is also more relaxed and calmer than kayaking – and more sociable. It's easier to talk to your fellow paddleboarders and even to people on the shore as you're at the same height as them.
Finally, paddleboards are easier than kayaks to portage overland and manoeuvre at jetties and locks – making them an ideal gateway sport for people keen to get on the water.
It is easy to see why standup paddleboarding is the fastest growing water sport in the world. It's quick to grasp, convivial and the rewards are immediate – particularly in an environment as beautiful as the west coast of Scotland.
Learning to paddleboard: quick tips to get started
Always use a leash
Begin by kneeling down
Stand up one foot at a time
Stand in the centre of the board with your feet about shoulder-width apart
The nose shouldn't pop up out of the water and the tail shouldn't dig in
Keep your toes pointed forward, knees bent and back straight
Look at the horizon, not at your feet
Bend your knees when you paddle
Keep your arms straight and twist from your torso as you paddle; let your torso do the hard work, not your arms
Don't scoop the water: hold the paddle 'backwards' and with the blade in a trailing position which is smoother and more effective when standing
When adjusting your stance, use your paddle for support: hold it upright with the end of the blade resting on the board in front of you
Learning to paddleboard: the essentials
What: Six nights, seven days learning to paddleboard around the Inner Hebrides archipelago in Scotland.
Where: I was staying aboard the Lady of Avenel. I joined the ship at Oban, a small fishing town on Scotland's west coast. There are plenty of hotels available in town to suit all budgets.
Life on board the Lady of Avenel was far more comfortable than I expected. The ship can sleep up to 12 guests sharing two-berth cabins, which are warm, comfortable and include mains electricity and even a small sink.
The mess deck was cozy and comfortable with space to sit around two large tables. There was a small wood burner if needed along with plenty of sailing books, maps and charts to give that real old-world charm to the experience.
Meal times were a real surprise. The food was absolutely delicious and plentiful beyond belief with meals usually consisting of three courses. Throughout the day, tea, coffee and treats such as homemade cookies or cakes were available and packed lunches were provided for longer paddling days.
When: The best time to visit Scotland for tall ship sailing adventures and other outdoor activities is during the summer months of June, July and August. However, this is also high season and coincides with school holidays from the end of July through August.
Even though this is – in theory – the summer, the weather in Scotland at any time of year is at best, unpredictable. The summer days are generally milder or warmer than any other time of the year and most importantly offer long hours of daylight – often lingering until 9pm or later.
The shoulder seasons, particularly the months of May and September, can be as mild as summer, so are also good times to visit. October and April are hard to predict!
Winter days, from November through March, are short with tough weather. Only hardened winter mountaineers and skiers venture into the hills and rarely anyone is seen out on the seas apart from local fishermen.
How: Active360 are a London-based standup paddleboarding school focused on learning to paddleboard on London's waterways. They are dedicated to developing stand up paddleboarding in London as well as offering a range of paddleboarding holidays including the trip to the Inner Hebrides in Scotland in addition to trips to Slovenia, Myanmar and Sardinia.
The six night/seven day paddleboarding experience costs £1,295 including all food, accommodation, equipment and coaching. No prior experience is necessary, although you should be a confident swimmer. For more information or to register interest in an upcoming trip email info@active360.co.uk.
I drove up to Oban from the south of England, camping overnight en route but there are bus, rail and air options available. There are two free long-stay car parks in Oban at Longsdale Car Park and Lochavullin Car Park. Both are a 15-minute walk from the town centre.
The Caledonian Sleeper runs six days a week, Sunday to Friday, from London to Glasgow where you can change for trains to Oban. Use Scotrail to book tickets.
Megabus provides coaches from London to Oban and Citylink from other destinations.
Glasgow is the nearest large airport to Oban, approximately 142km (90mi) away. Book via skyscanner.net for the best prices.
---
Enjoyed this post? pin it for later…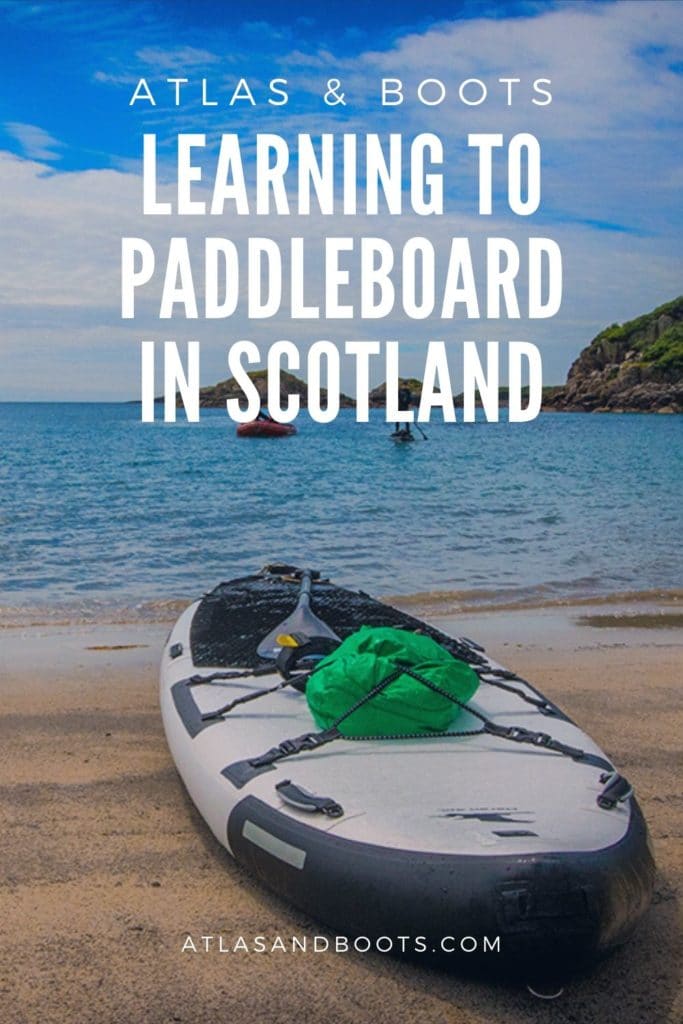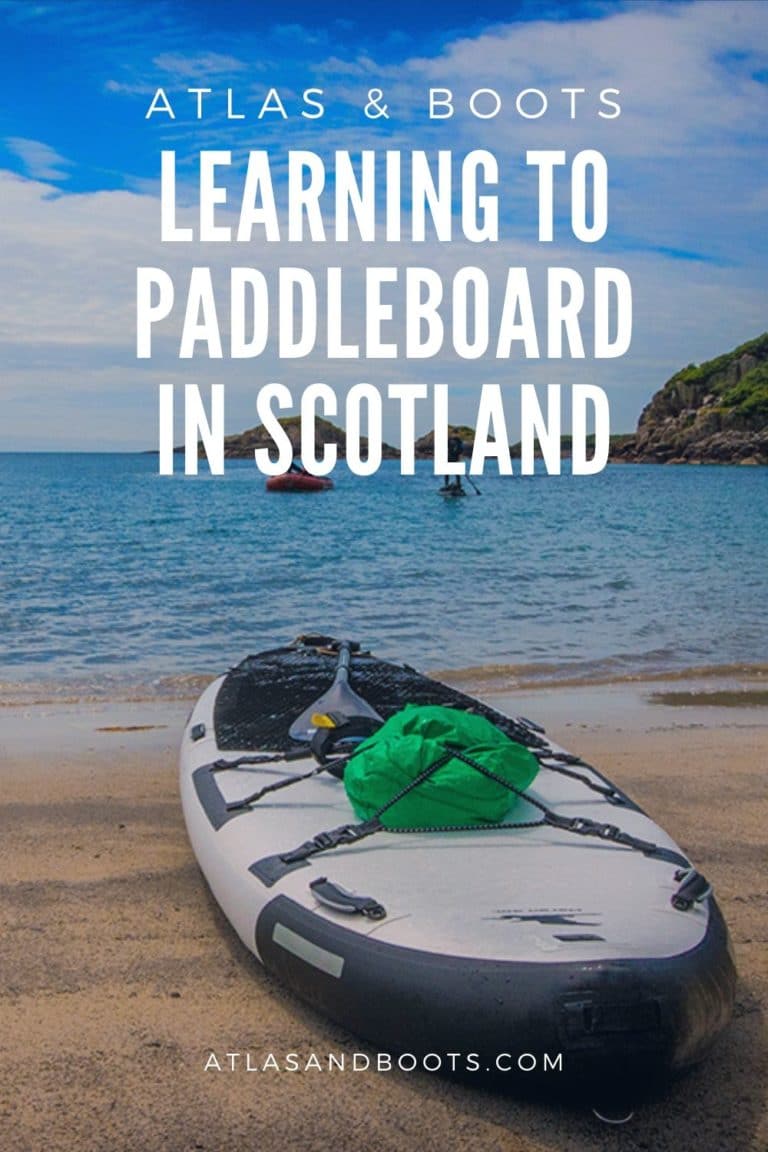 ---