Having visited all 15 national parks in Britain, we take a look at the best of them
Known as Britain's breathing spaces, the 15 national parks of the UK are home to the most inspiring countryside that Britain has to offer. There are 10 national parks in England, three in Wales and two in Scotland – all special in their own right.
It was tough whittling down the list to six. I had to leave out the Broads, Britain's largest protected wetland which also happens to be in my home county of Norfolk.
Likewise, the mountains and moorland of the Brecon Beacons or the idyllic New Forest cycling routes didn't quite make the cut.
In total, there are 15 national parks in Britain: 10 in England, three in Wales and two in Scotland.
6 best national parks in Britain
Everyone will have an opinion on the best national parks in Britain as they all offer something different. Every park I've excluded arguably deserves a place on this list as they all offer something unique.
The six I've listed – in no particular order – all have a special place in my heart, be it for extraordinary hiking, climbing or stargazing.
1. Dartmoor National Park
Location: Devon, England
Size: 956km2
Established: 1951
Website: dartmoor.gov.uk
I love Dartmoor and its famous tors as it's the only national park in England that allows wild camping. It's also less than an hour from Exeter and Plymouth and relatively easy to access from London. I try to take a trip there at least once a year.
Almost half of the park is moorland and with its somewhat barren landscape it's easy to see why it was the setting for Sir Arthur Conan Doyle 's classic crime novel The Hound of the Baskervilles featuring detective Sherlock Holmes.
Dartmoor also has an eminent military history dating back to the Napoleonic Wars. During the Second World War, it was used to train troops for the D-Day landings and also served as an airbase.
Even today, three areas of the northern moor are used for manoeuvres and live firing exercises. When this happens, flagpoles are raised to cordon off areas from the public although they've never interrupted any of my trips there.
Across the moor, villages punctuate the landscape complete with tearooms and traditional pubs serving cream teas and cask ales respectively.
Further reading: Dartmoor 365: An Exploration of Every One of the 365 Square Miles in the Dartmoor National Park
2. Cairngorms National Park
Location: Aberdeenshire, Angus, Moray, Perthshire and Kinross-shire, Scotland
Size: 4,528km2
Established: 2003
Website: cairngorms.co.uk
The Cairngorms is Britain's largest national park and my spiritual home. I've travelled to over 60 countries and I still say Scotland is the most beautiful country I've seen. Catch it on a good day (there are a few a year!) and it is unrivalled in natural beauty with the Cairngorms at its heart.
Ever since my parents first took me camping in Scotland as a child, the Cairngorms have held a special place in my heart. I find myself returning to the area again and again whether it's for summer hikes or winter mountaineering.
Scotland and its public access to land and water laws means the Cairngorms provide excellent opportunity for wild camping.
Although Ben Nevis, Scotland's highest mountain, lies to the west, the Cairngorms contains Britain's highest mountain range and its biggest native forests.
The sheer size of the park means there is a vast array of landscapes on offer including spectacularly crystal clear rivers and lochs, rugged moorland and farmland, snow-capped peaks and ridges, castles and highland estates, and some of the most diverse wildlife in Britain.
Oh, and the whisky's pretty good too!
Further reading: Pathfinder Cairngorms: The best short, medium and long Highland walks in the Cairngorms National Park
3. Snowdonia National Park
Location: Gwynedd and Conwy, Wales
Size: 2,176km2
Established: 1951
Website: eryri-npa.gov.uk
Snowdonia is dominated by its rugged peaks including England and Wales' highest mountain, Snowdon at 1,085m (3,560ft). The knife-edged Crib Goch route to the summit of Snowdon is one of the hairiest routes in Britain and offers some the country's best alpine-style routes during winter or an equally fraught scramble during summer.
My favourite thing to do in Snowdonia is to camp in the village of Betws-y-Coed and climb one of the most famous peaks in Britain, Tryfan (918m / 3,010ft), along with the other Glyder mountains that surround it (Glyder Fawr, Glyder Fach et al).
There is a lot more to Snowdonia than mountains and climbing including over 37km (23mi) of dramatic coastline with sand dune-backed beaches and rocky coves. There is also a host of picturesque villages, steep river gorges, waterfalls, wooded valleys, peatlands and moorlands.
Snowdonia is also an area steeped in culture and tradition with more than 26,000 people living within the park of which over half (62%) speak Welsh.
Further reading: Short Walks Snowdonia: Twenty Splendid Short Country Walks in the Snowdonia National Park
4. Lake District National Park
Location: Cumbria, England
Size: 2,362km2
Established: 1951
Website: lakedistrict.gov.uk
It would be criminal not to include the Lake District in a list of the best national parks in Britain. It is home to England's highest mountain, Scafell Pike at 978m (3,209ft), and the infamous Helvellyn at 950m (3,117ft) with its hairaising Striding Edge ridge.
The Lake District is the most visited national park in Britain with 15.8 million annual visitors and more than 23 million annual day visits. It is also the realm of the 214 Wainwright fells, the hills and mountains described in Alfred Wainwright's classic seven-volume Pictorial Guide to the Lakeland Fells (1955-66).
Along with the mountains are of course the 16 main lakes from which it takes its name, along with numerous smaller tarns making it ideal for watersports including sailing, canoeing, fishing and swimming.
I've camped, climbed and hiked in the Lake District several times over the years, but I think my fondest memory was cycling across the national park as part of the coast-to-coast cycle route in 2011.
The Lake District National Park has some of the best cycling in the country with a range of country lanes, permitted cycleways and bridleways that suit all experience levels. Additionally, if you enjoy mountain biking then the Whinlatter and Grizedale Forests are crisscrossed with excellent off-road routes.
Further reading: The Lake District: High Level and Fell Walks: 30 Best Fell Walks
5. Northumberland National Park
Location: Northumberland, England
Size: 1,049km2
Established: 1956
Website: northumberlandnationalpark.org.uk
Wedged in between the Scottish border and the industrial northeast, Northumberland National Park is the least visited of the national parks in Britain. Additionally, with a population of just over 2,000 people, it is also the least populated of the national parks in England and Wales.
I've not spent nearly enough time exploring this rough and remote land where wild mountain goats still roam and the remains of Hadrian's Wall pepper the landscape.
Hadrian's Wall was a defensive fortification in the Roman province of Britannia and signified the northern limit of the Roman Empire. Construction started in 122 AD under the reign of the emperor Hadrian to keep out the "Barbarians" from the north.
The national park is also a designated Dark Sky Park which means it is kept free of artificial light pollution to promote astronomy in the region. In fact, it is the largest area of protected night sky in Europe making it the best national park in Britain for stargazing.
Further reading: Northumberland (Official National Park Guide)
6. Yorkshire Dales National Park
Location: North Yorkshire, Cumbria and Lancashire, England
Size: 2,178 km2
Established: 1954
Website: yorkshiredales.org.uk
Having moved to the area last year, we had to include the Yorkshire Dales on this list. We live just outside the national park and so regularly drive – or sometimes even walk – into the park for a quick day hike or a few days of camping and trekking.
The Dales were extended by 24% in 2016 to cover 2,178 km2 in total and are famed for having some of the finest limestone landscapes in the UK. Crags, pavements and caves are set amid an expansive heather moorland of rolling hills and dramatic waterfalls, all crisscrossed with miles of dry stone walls and picturesque villages.
The park attracts over 3.5 million visitors every year who come to explore the beautiful scenery be it by foot, cycle or kayak – to name just a few of the available options.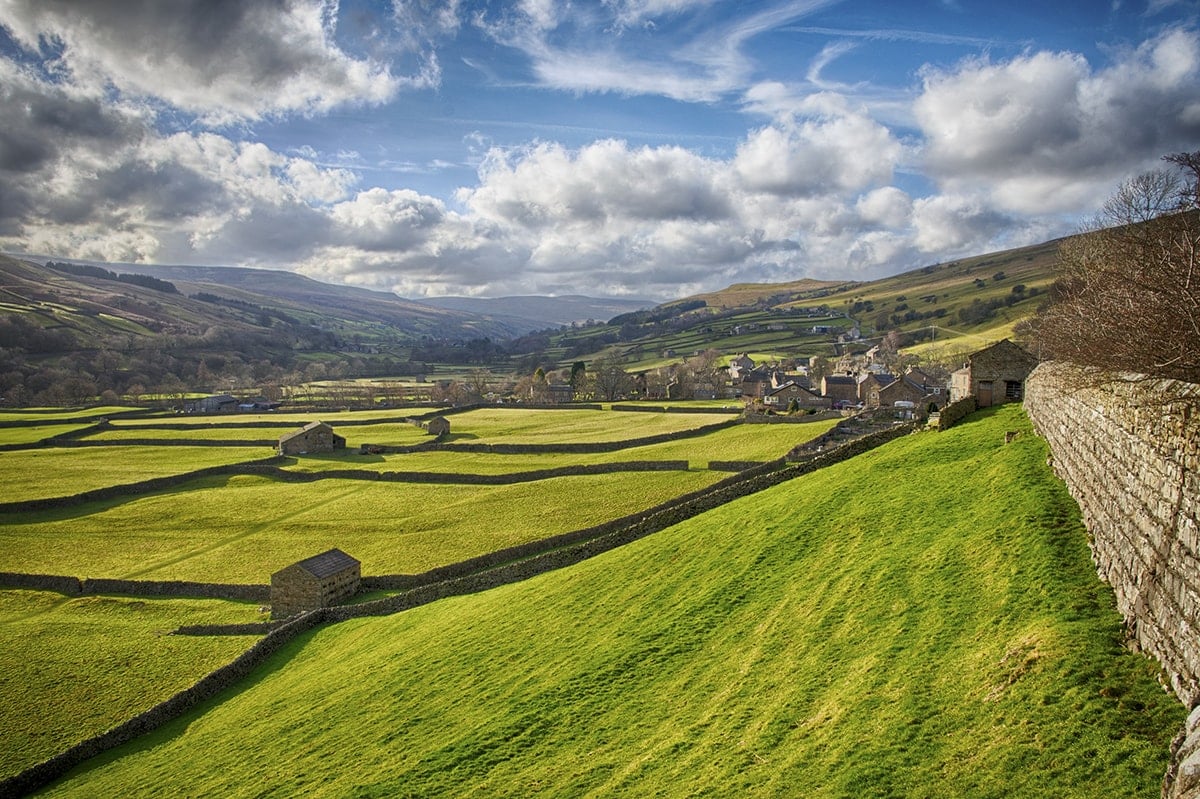 The Dales are also home to 41 mountains over 610m (2,000ft) – the height generally accepted as the benchmark for a mountain in the UK – providing 41 sterling reasons to visit the Yorkshire Dales.
Further reading: Walking in the Yorkshire Dales
---
Enjoyed this post? pin it for later…
---