Our essential tips for visiting Tikal, the most fantastical Maya ruins in all of Central America
Mexico's Chichén Itzá may be a world wonder and receive far more visitors, but there are few ancient ruins more atmospheric, romantic and impressive than Tikal in Guatemala.
These UNESCO-listed Maya ruins are truly unique. Towering above the steamy rainforest, the steep limestone pyramids of Tikal are arresting from every angle. On the jungle floor, mysterious burial sites and fortifications are carpeted in slippery moss while giant roots and twisting vines envelop the foundations of the great temples.
We visited Tikal during our month-long trip through Central America. It was a highlight of the journey, a real bucket list adventure up there with any of the wonders of the world, new or ancient. To help you with your own visit, we've put together the following tips for visiting Tikal in Guatemala.
What is Tikal?
Constructed in waves over a period of around 650 years between 250 to 900 AD, Tikal is a vast ancient Maya city comprising hundreds of temples, pyramids and monuments. The site is built on a low hill above swampy ground, making it an ideal place to construct a city. There is also an abundance of flint in the region which was used widely for tools and weapons and traded extensively across the empire.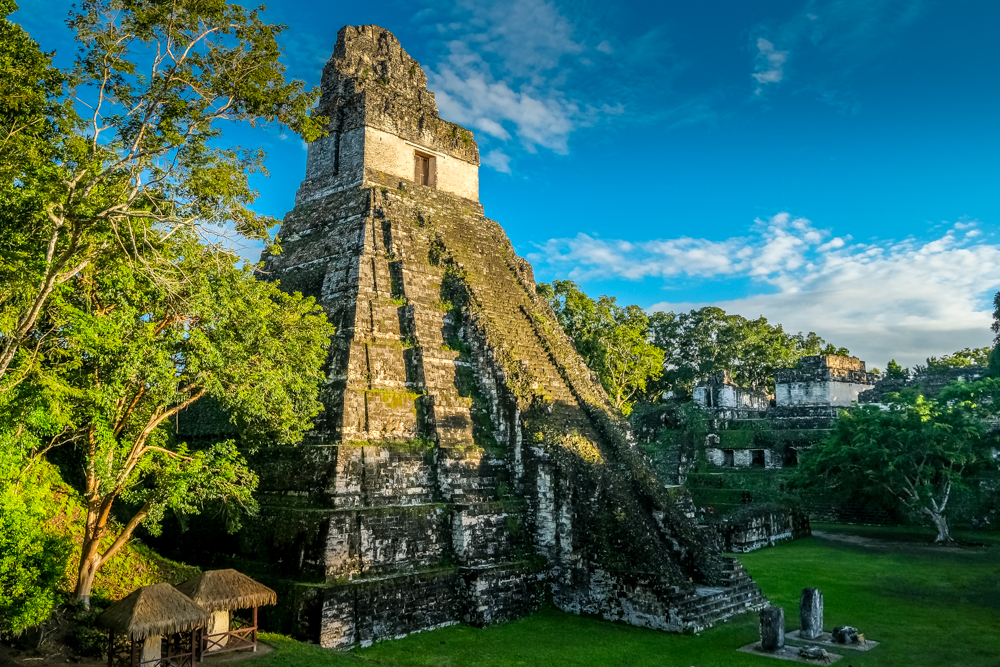 Although Tikal may have been settled by 600 BC, it didn't reach its zenith as a city until around 550 AD when the population may have peaked as high as 90,000. King Jasaw Chan K'awiil I (also known as Ah Cacao) defeated his rival in Calakmul, Mexico, in 695 AD in what is considered Tikal's renaissance period. It was during this time and the ensuing 200 years when most of the great temples were built.
From around 900 AD onwards, Tikal's dominance began to wane, as did that of the wider Maya civilisation, whose collapse still remains a mystery. Tikal was rediscovered in 1848 when the Guatemalan government sent out a team to find the site. Several archaeological expeditions took place over the next century-and-a-half, unearthing and restoring the many structures. In 1979, Tikal National Park was declared a UNESCO World Heritage Site.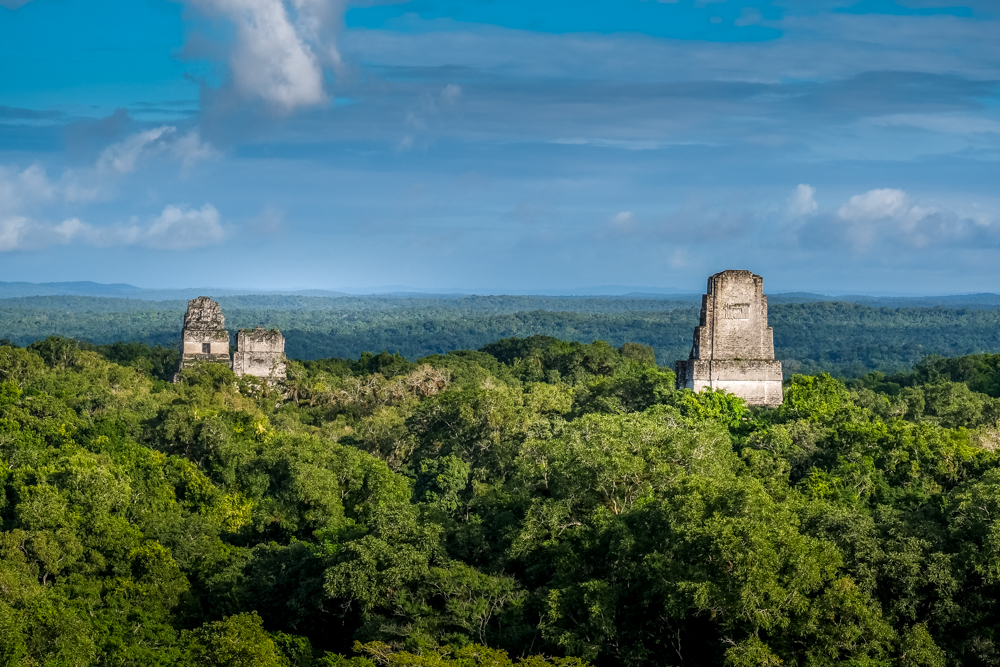 Tips for visiting Tikal
Our tried-and-tested tips for visiting Tikal will help you get the most out of this majestic site.
1. Do stay in Tikal National Park
The best piece of advice we can give you is to stay in the national park. By doing this, you can visit Tikal on your own schedule and avoid the busiest time of the day. The site opens at 6am but tour buses arrive en masse from 11am. The park then begins to empty from 4pm before closing at 6pm. Note that if you are staying in the park, you will still need to validate your ticket at the entrance before wandering in.
* When staying in the park, if you arrive after 3pm, your ticket will be valid for the following day.
** Accommodation in the park is limited – see below for more information.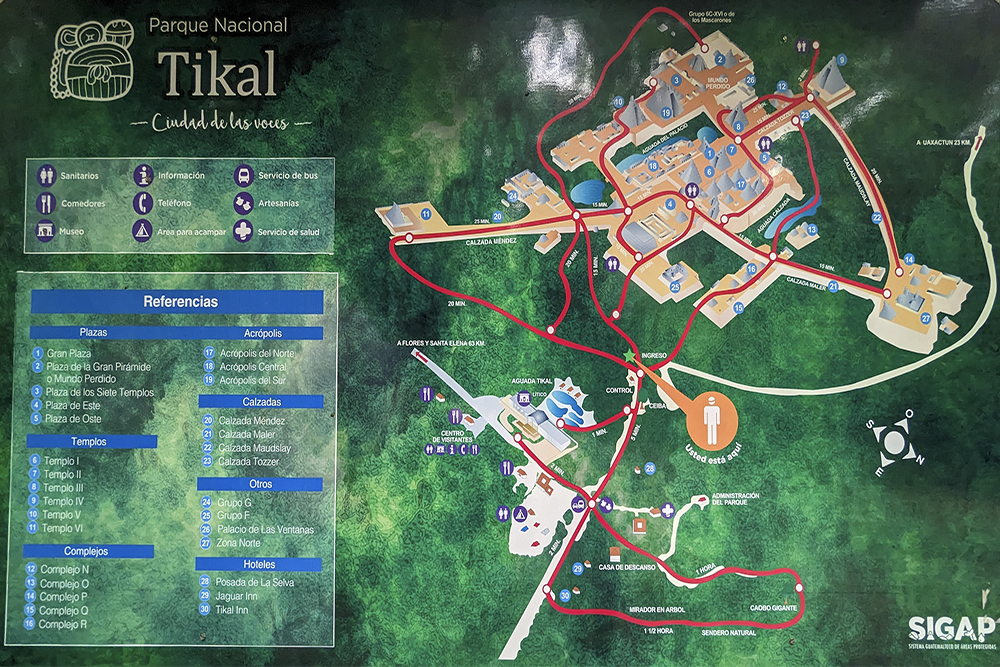 2. Do start early (and stay late)
Chances are, you're only going to see Tikal once so we recommend making a full day of it and not rushing.
Staying in the park offers you flexibility with your day and gives you plenty of time to see everything. We entered early and got around most of the sites by early afternoon. However, it had been rainy and overcast all day so when it brightened up in the afternoon, we revisited several of the main sites in order to see everything in the sunshine.
By spending the whole day in the park, we also managed to see some smaller sites such as the secluded Temple VI which we had entirely to ourselves. Even at the bigger sites, there was only a handful of visitors milling about in the late afternoon.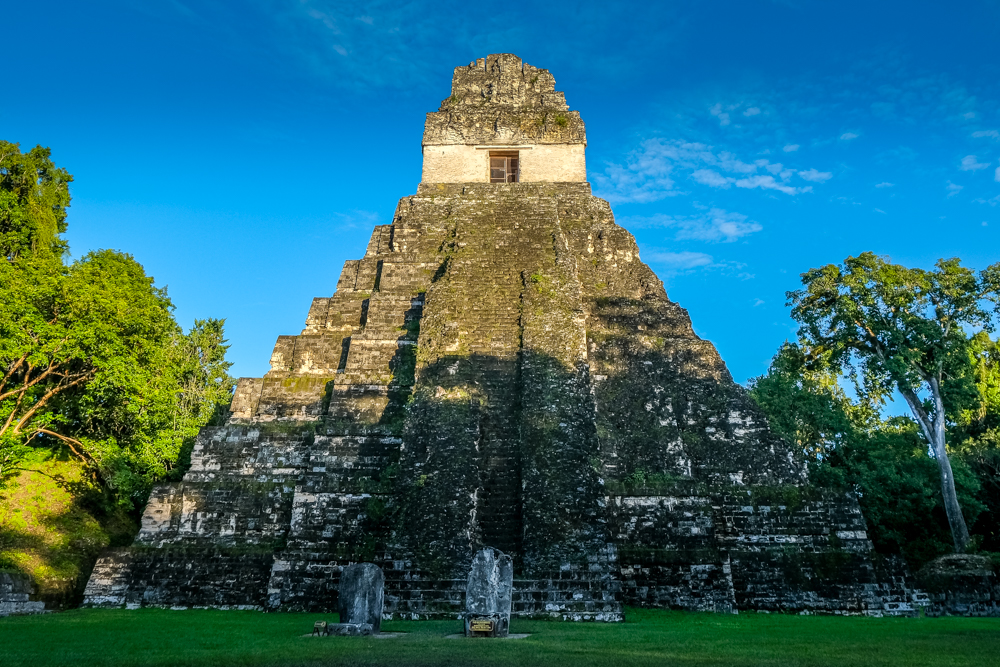 3. Do bring your own food and drinks
Outside the park, along the access road, is a string of overpriced and underwhelming eateries. There is also a simple restaurant at the visitor centre. All are a 20- to 30-minute walk back from the Gran Plaza.
Inside the park, there are some covered picnic areas where a vendor sells a limited range of sugary drinks and snacks, all similarly overpriced. We recommend carrying food and water with you.
4. Don't feed the animals
This really shouldn't need to be said but we witnessed visitors feeding the local wildlife, particularly the coati. You can tell this is an ongoing problem as the animals have become habituated to humans. Several came running right up to us and it was worse around the picnic areas. Human food is not going to be good for wildlife's welfare so don't feed them.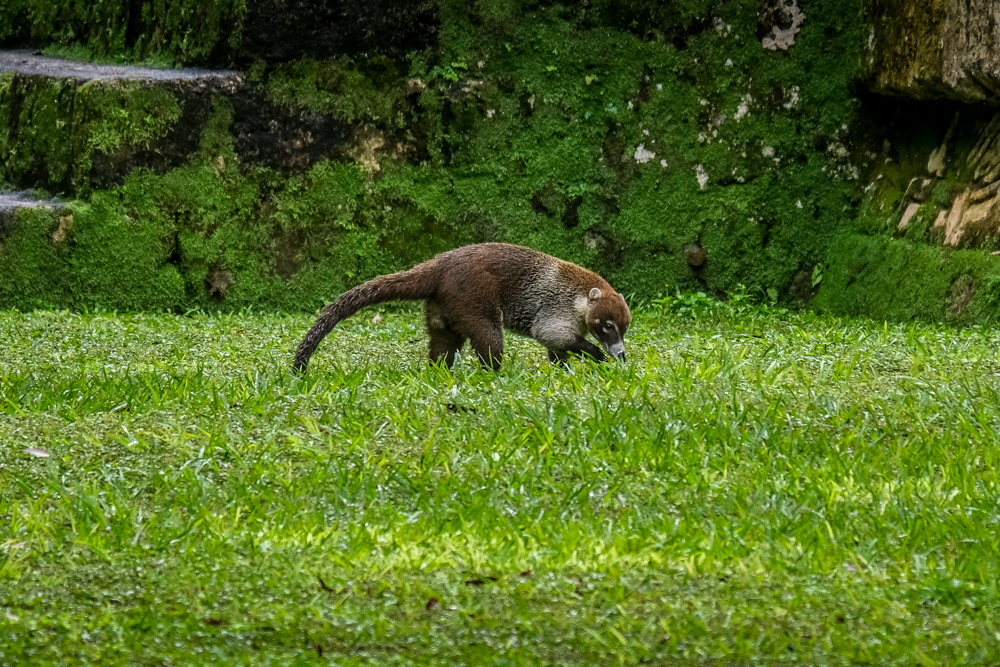 5. Don't leave any litter in the park
On the whole, the park is reasonably litter-free. However, around the picnic areas, there is clearly more of a problem and, sadly, as a direct result of the above, we saw coati picking up bits of plastic such as bottle tops and nibbling them. While there are some open-top trash cans in the park, please do not use them. Instead, take everything out of the park and dispose of it properly at your accommodation.
6. Do bring mosquito repellent
When we first entered the park, we got swarmed. After dousing ourselves in DEET and pulling on long-sleeved tops, the critters gave us some space. By midday, once the sun was out, they cleared off for a few hours, only to return again at dusk. This is the jungle after all.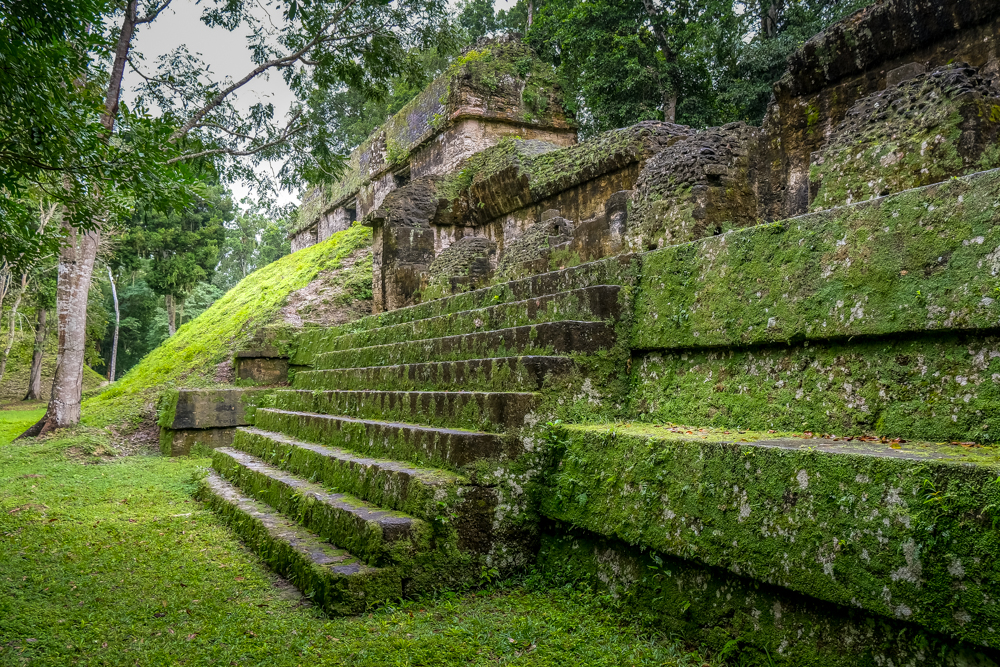 7. do try to avoid the rainy season
The best time to visit Tikal is during the dry season from November to April. While Guatemala enjoys a reasonably pleasant climate year-round, there is a rainy season from May to October which can make the trails extremely muddy and the steps slippery.
8. But do bring a raincoat
Regardless of the time of year, Guatemala has a tropical climate meaning downpours can occur throughout the year. We visited in December and the morning was a washout. Fortunately, by the afternoon the rain had cleared so we had time to see everything again (see points #1 and #2).
9. Don't let the howling put you off
I woke up in the middle of our first night in Tikal unsure if I was truly awake or trapped in some kind of nightmare. In the jungle above our thatched bungalow, a troupe of marauding howler monkeys were making their way through the forest. They make a frightful sound – and don't look much friendlier up close – but are harmless as long as they're left to themselves.
10. Do wear the right footwear
During our visit, we saw a significant number of tourists slipping and sliding along the trails and struggling up the steps to the lookouts because they didn't have the right footwear. Many were in flip-flops or sandals and we even witnessed a couple of visitors in heels! We recommend wearing something grippy and supportive such as sturdy trainers or hiking shoes or boots.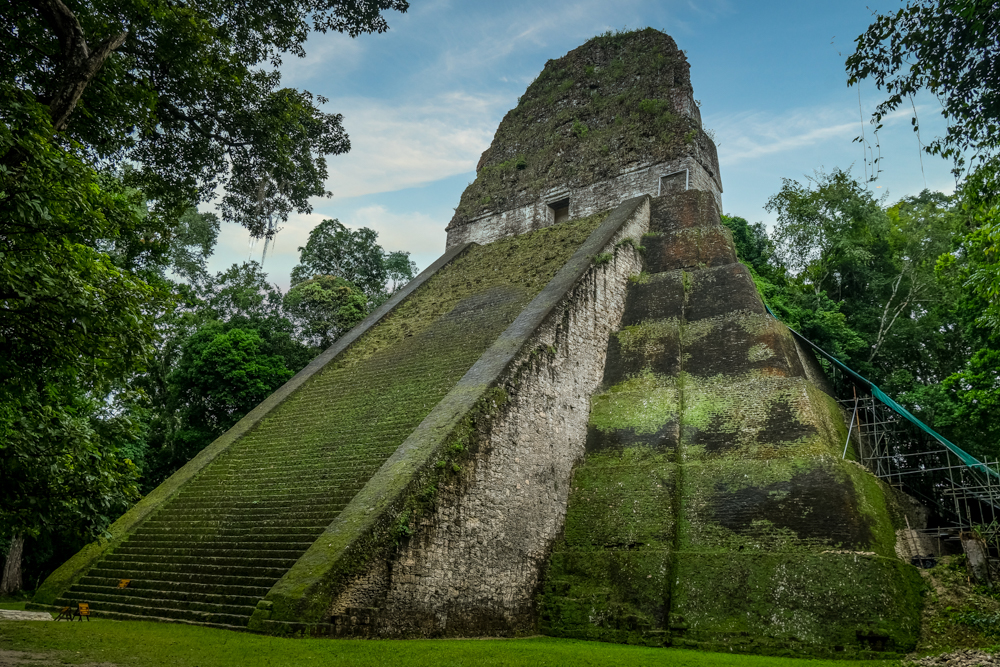 11. Do wear sunscreen
At any time of year in Guatemala expect the sun to be fierce. While a considerable part of your day will be under the shade of the jungle canopy, you will also spend plenty of time on the exposed lofty lookouts. Wear plenty of sunscreen – and ideally a sunhat.
Tips for visiting TIKAL: what not to miss
While you're unlikely to see everything in Tikal (it's spread across an area of around 576 sq km), the following sites should not be missed.
Gran Plaza: Tikal's ceremonial core is surrounded by Temples I and II and the Acropolis. The grassy area is a great spot to soak it all in.
Acropolis Centro: Quieter complex to the east of the Gran Plaza, full of courtyards, chambers and smaller temples.
Temple I: The 44m-high Temple of the Grand Jaguar was built to honour Ah Cacao and is Tikal's most famous scene.
Temple II: The 38m-high Temple of the Masks was built by Ah Cacao in honour of his wife. Climb it for the best views of Temple I.
Temple III: Glimpsed through breaks in the canopy, the 55m-high temple is currently undergoing restoration. As such, it's best viewed from afar – in particular from the viewpoint of Temple IV.
Temple IV: This is arguably the best view in the park. At 65m, it is the site's highest temple and reveals the true scale of Tikal.
Mundo Perdido: The 'Lost World' features two imposing pyramids and some smaller structures. The summit of the flat-topped Lost World Pyramid reveals a superb side-on view of temples I to IV which helps to put everything in perspective.
Plaza de los Siete Templos: Seven (relatively) tiny temples embedded in the dense jungle. Feels very Tomb Raider.
Temple V: The steep moss-covered 52m-high temple is another gloriously mystical specimen.
Temple VI: This secluded temple, some distance from the main plaza, features a rare set of glyphs on the back of its lofty roof comb.
Where to stay in Tikal National Park
There are only three hotels in Tikal National Park so it's worth booking ahead. We recommend staying two nights so you can make the most of your time in the park.
Jungle Lodge: We stayed here and would definitely recommend it. The cute bungalows are located amidst the jungle along meandering paths. Originally built to house archaeologists, it is the closest hotel to the park entrance. There is also an adjoining hostel.
Tikal Inn: This secluded resort-style hotel features thatched bungalows as well as more conventional rooms.
Jaguar Lodge: Popular with independent travellers, the inn has duplex rooms and quad bungalows.
Campground: Located across the road from the visitor's centre, the campsite is positioned on grassy ground with a simple but clean bathroom block. There are thatched shelters for hanging hammocks.
Other tips for visiting Tikal
Opening hours: 6am to 6pm
Prices:

Adults: 150 GTQ ($20 USD)
Children under 12: free
Museums: 30 GTQ ($4 USD)
Visiting Uaxactun: 50 GTQ ($7.50 USD)
Sunrise/sunset tour: 100 GTQ ($15 USD)
Tickets purchased after 3pm are valid for the following day
Camping: 50 GTQ ($7.50 USD)

Credit cards are accepted but we advise bringing cash just in case.
No need to buy a map, just take a photo of the sign at the entrance.
Visit on a weekday and avoid Sundays and national holidays.
Take the time to read the interpretive signs.
Pay attention to the signs explaining what you can and can't climb. Don't be this guy.
For more information visit tikalnationalpark.org.
How to get to Tikal
We travelled to Tikal from Belize City in Belize via a shared shuttle. We used shuttles to travel around much of Central America including Belize, Guatemala, Honduras and El Salvador. We used Marvelus Travel from Belize and Gekko Explorer on other journeys.
There aren't direct shuttles from Belize to Tikal, only to Flores, so we hopped off at El Cruce and met a local taxi driver who took us the remaining 36km/45 minutes to Tikal. We can recommend Pedro Morales (WhatsApp: +502 5807 6798; Spanish only).
Tikal's nearest transport hub is Flores (65km/1.5 hours) where it's possible to organise onward transfers to several destinations in Guatemala. The nearest airport is also in Flores but it only flies to Guatemala City (50 mins). Book flights via skyscanner.net for the best prices.
---
Enjoyed this post? pin it for later…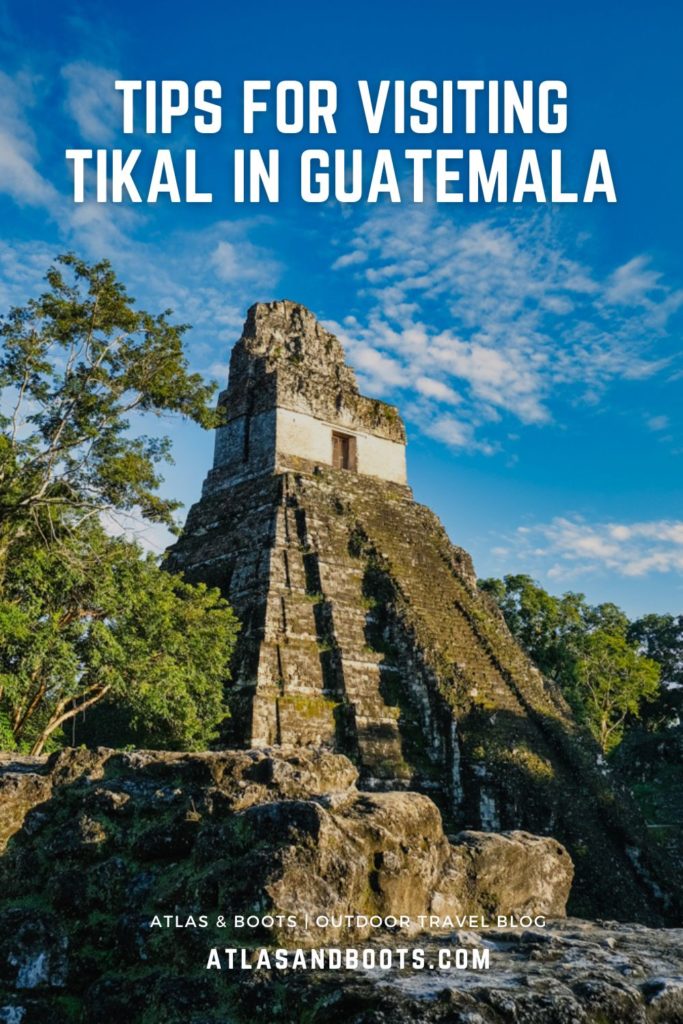 ---
Lead image: Atlas & Boots