If Christ the Redeemer is the most underwhelming experience of the seven world wonders, then visiting Petra must be the opposite. This "rose-red city half as old as time" was hewn from sandstone thousands of years ago.
Built by the Nabateans, possibly as early as 312 BC, Petra became a thriving trade centre with over 30,000 people living within its boundaries. It was the capital of the Nabataean Kingdom from 400 BC until 106 AD when the Romans formally took possession.
As trade routes shifted seaward, the city's importance began to wane and continued to decline after a crippling earthquake in 363 AD. The rose city reached its nadir in 700 AD near the end of Byzantine rule and subsequently lapsed into obscurity. Petra remained 'lost' to the western world until the early 1800s when Swiss geographer Johann Ludwig Burckhardt rediscovered it.
Today, visiting Petra is on every serious travel list – and understandably so. It is undoubtedly the most arresting landscape in a country full of arresting landscapes. Below, we share our best tips for visiting Petra.
Pre-plan your visit
To get the most out of visiting Petra, plan your approximate route before you arrive. It is a vast area (264 sq km / 102 sq mi) so if you just 'turn up and see', you'll likely miss out on some of the best sights.
Below are some of the unmissable ones, listed in order of route (not from best to least). It's worth noting that after the Treasury, we headed straight for the Monastery (#10) and visited the rest in reverse, which was a great way to elude the crowds.
Obelisk Tomb
Siq (al-Siq)
Treasury (al-Khazneh)
Streets of Facades
Theatre
High Place of Sacrifice
Royal Tombs
Collonaded Street
Byzantine Church
Monastery (ad-Deir)
Dress appropriately
Jordan is a Muslim country and Petra is a place of work for a number of Bedouins. As such, you may wish to cover up not only as a mark of respect but also to protect against the searing sun. Petra is desert country and the sun can get extremely hot!
Finally, wear sensible shoes as you will be doing a lot of walking. The walk from the entrance to the Siq is 1km and it's another 1km to the famous Treasury – and that's just the start! My Converse trainers didn't exactly complement my harem pants but trust me: when visiting Petra, choose comfort over style.
Get there early
Petra opens at 6am and we arrived soon after. We stopped for pictures at the Treasury and then headed straight for the Monastery on foot, which meant we got to see it with no one else around.
You can stay at a hotel nearby (Mövenpick, Petra Guest House and Crowne Plaza are seconds away) or make the 20-minute walk from Wadi Musa early in the morning.
If you're really keen to beat the crowds, you can access the Treasury live cam to monitor the crowds!
Buy the two-day pass
Visiting Petra is one of the most expensive day trips we've done – but it was worth it. We opted for the one-day pass but recommend the two-day. It was a push to see everything in one day and we were exhausted by the end. A two-day costs just a little bit more but gives you twice the time to explore.
One-day entry: 50 JOD (70 US)
Two-day entry: 55 JOD (77 USD)
Three-day entry: 60 JOD (84 USD)
Visits without an overnight stay in Jordan: 90 JOD (127 USD)
Petra by Night: 17 JOD (24 USD)
The Petra by Night tour takes you through the Siq by candlelight to the Treasury where you can enjoy traditional Bedouin music and mint tea. The tour runs every Monday, Wednesday and Thursday and lasts for two hours (8.30pm to 10.30pm). You can pre-buy tickets at the visitor centre or your hotel reception.
It's not uncommon for 150-200 visitors to book a tour, so linger at the back if you want some privacy. You can also leave before the group. You may wish to do the tour after you have seen Petra by day as some of the splendour is lost in the darkness and the crowds.
Take cash
The Petra visitor centre does not accept cards so take cash. Loose change is useful if you want to buy trinkets or snacks from the Bedouin stalls set up across the site.
Note that even though your entry ticket includes one horse ride (either at the start or end of your visit), you will be expected to tip the guide quite heavily (15 JOD / 21 USD). We opted to walk both ways to avoid the extra cost. If you prefer to take the ride, do so at the end of the day when you'll be tired and hot. You can upgrade to a carriage but these costs 20 JOD (28 USD) per person and you may be asked to pay a tip on the top.
Take plenty of water
I'll say it again: Petra is very hot and very dry. You will need plenty of water so take it with you. If (when!) you run out, you can buy some inside. It's more expensive but this is not the time to skimp!
Accessibility may be a problem
If you have mobility problems, be warned that you may not get to see everything. Petra was carved from sandstone cliffs and some of its sights require ascending a fair distance in the heat. For example, to get to the Monastery, you have to climb about 850 steps.
Visitors can book donkey rides but there have been reports of ill-treatment by guides so you may prefer to avoid this option.
Get Picture Perfect
Petra is a goldmine of opportunity for photographers. In fact, Peter's photos from Jordan are some of his best-selling on Shutterstock.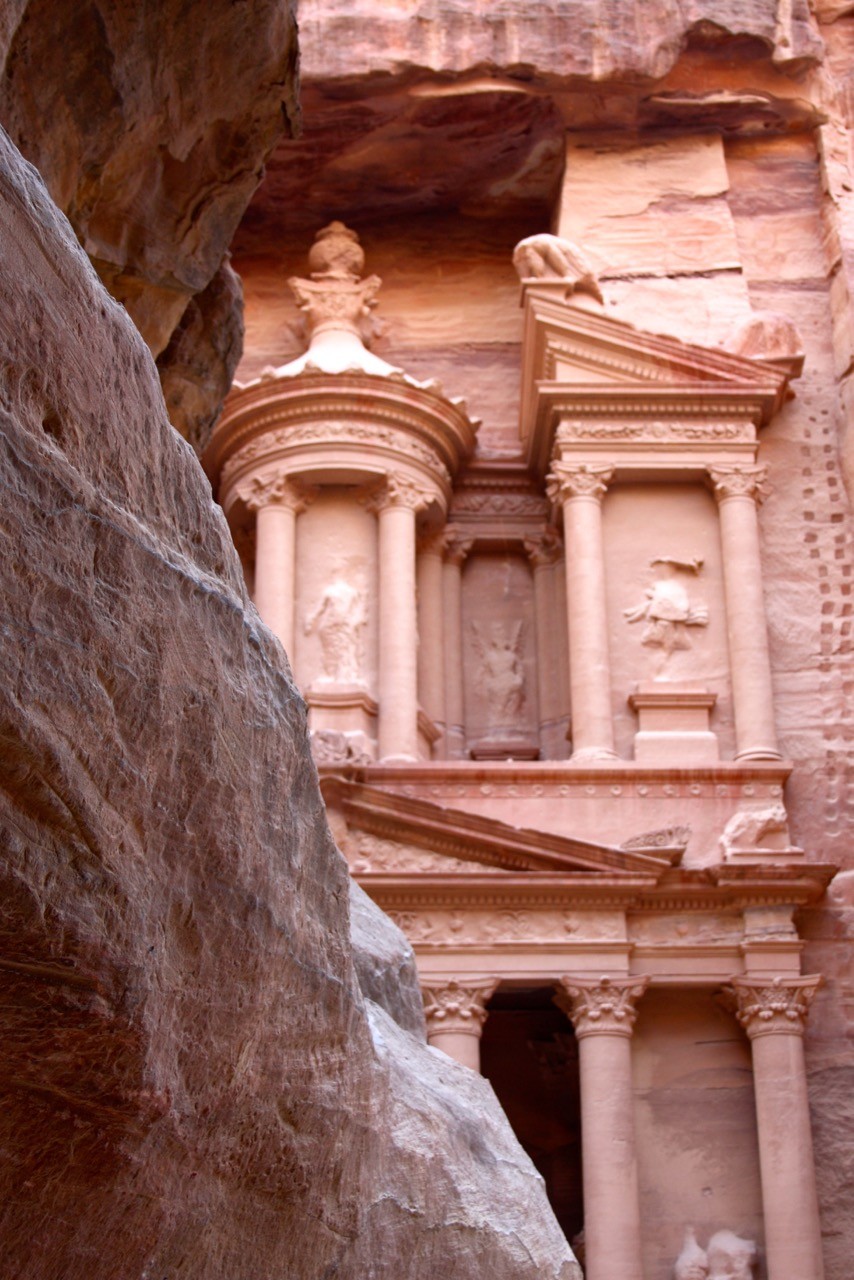 Atlas & BOots
Late afternoon is a good time to shoot: most tourists have left, the rose red of the rock is vibrant and the light is soft. Bring a wide-angle lens if you have one so you can shoot in confined places. A circular polarising filter is also useful to reduce glare. (I have no idea what that is but Peter tells me it's useful.)
Needless to say, bring plenty of memory and a spare battery.
Seek out hidden gems
Our friend Laura in Amman told us to do not only the shorter walk to the High Place of Sacrifice but also 'the longer one' down.
This route leads you down the back of the mountain into Wadi Farasa, revealing some stunning views, carvings and tombs along the way. It takes about two hours (as opposed to the 45 minutes up) but is well worth the detour.
At the Treasury, you can access a great viewpoint if you go up the stairs behind the Royal Tombs. Keep left on the trail. You will pass a small building and it may look like the trail has ended but keep going until you reach the viewpoint.
Look out for the best salesgirl this side of Aqaba
She was tiny, perhaps 3'2". She was dressed in traditional garments and a bashful headscarf incongruous with her personality. She asked me if I wanted to buy a piece of rock. I looked around Petra – also known as the city of stone – and smiled at her cheek. She returned my smile and asked if she could have my packet of crisps.
Now, I have 20 nieces or nephews so I'm inured to the charms of young children, but the knowing curl of her lips amused me so much, I handed over the crisps. Next, she asked for my bottle of coke. And then she sold me a piece of stone in a city full of the stuff.
Visiting Petra: The Essentials
What: Visiting Petra, Jordan.
Where: We stayed at Mövenpick directly opposite Petra which was super comfortable with friendly, welcoming staff. Other hotels close by include the Petra Guest House and the Crowne Plaza hotel. There is also a host of options in Wadi Musa. Check Booking.com for details.
When: Spring and autumn offer pleasant temperatures day and night. In winter (Jan-Feb), it can get chilly and rainy while the summer brings temperatures up to 38 °C (100 °F). Peak season is Feb-Mar and Oct-Nov so opt for mid-spring or early autumn. Petra is open 6am to 6pm in the summer and 6am to 4pm in winter.
How: Petra can be reached with a 20-minute walk from the Wadi Musa town centre. If you're staying further afield, your hotel or hostel may offer a free shuttle service to Petra's visitor centre. Taxis are approximately 5 JOD (7 USD) from Wadi Musa. If you are driving, there is a free car park opposite the bus stop in front of Petra Moon hotel.
From Amman, you can take a JETT minibus to Petra (3 hours, 10 JOD, 14 USD) See the schedule here. There are several international airlines that fly to Amman. Book via Skyscanner for the best prices.
---
Enjoyed this post? pin it for later…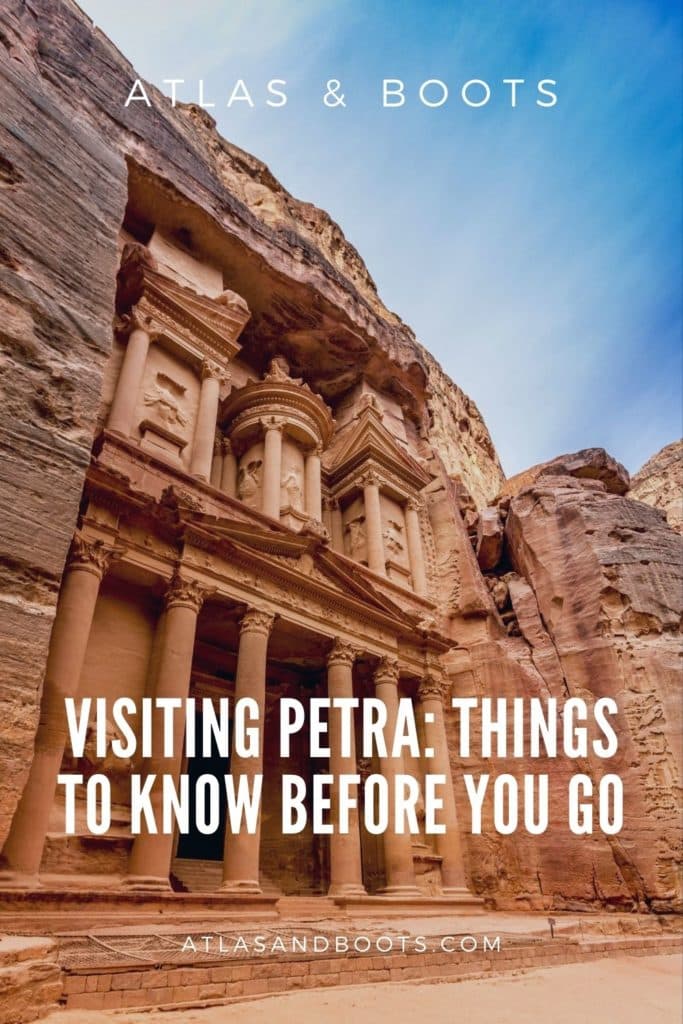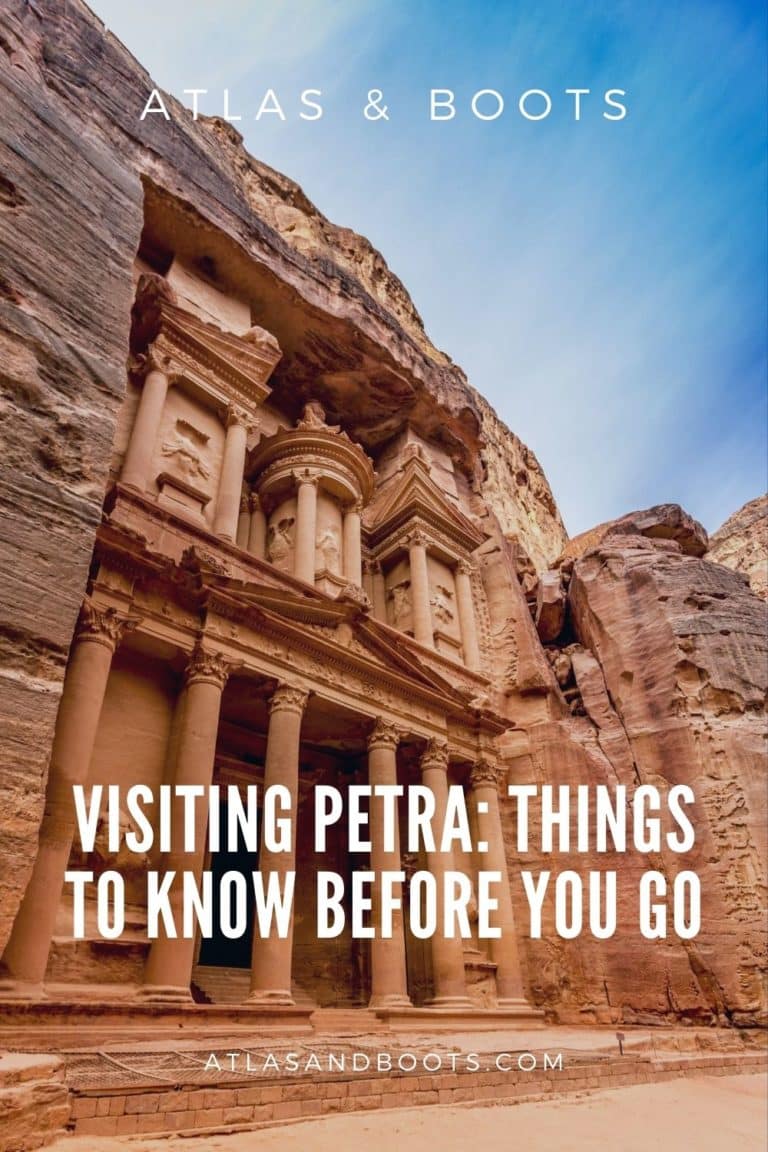 ---
Lonely Planet Jordan is a comprehensive guide to Jordan, ideal for those who want to both explore the top sights and take the road less travelled.