Camping in Wadi Rum in Jordan was a little different in both comfort and scenery to the wild camping I'm used to.
The striking rock formations, rolling red sand dunes and sparkling night sky is about as far removed as one can get from England's damp-towel of a roof.
Wadi Rum's arresting landscape can be explored on the back of a camel or in the relative luxury of a Jeep. We only had the one day and night in the desert so opted for a Jeep tour during the day followed by a night of camping in Wadi Rum, Bedouin-style.
Our afternoon Jeep tour of Wadi Rum, known as the Valley of the Moon, took in the main sights:
Khazali Siq – a narrow fissure that cuts into mountain
Jabal Umm Fruth Bridge – one of several natural rock arches of Wadi Rum
Seven Pillars of Wisdom rock formation
Pre-Islamic rock inscriptions depicting humans and antelopes (located across the desert)
A natural pyramid and human face shaped by thousands of years of weathering
Lawrence's Spring – a small oasis made famous by TE Lawrence (Lawrence of Arabia)
Lawrence's House (Al-Qsair) where he stayed during the Arab Revolt
Jebel Umm al-Ishrin – a deeply crevassed mountain known as the 'Mother of Twenty'
All of this is set amid the hypnotic undulating sand dunes and distinctive rock formations unique to the Wadi Rum desert. The terrain alone is enough to keep you occupied for hours, but it is just before sunset when the landscape truly comes alive. Camping in Wadi Rum offers the opportunity to enjoy a tranquil atmosphere uninhibited by the confines of a hotel.
After arriving at our campsite we had enough time to settle into our accommodation before heading off to a viewpoint to enjoy the stunning desert sunset.
Alas, we nearly missed the sunset completely! We had opted not to join the group excursion and in our efforts to find the best viewing point, we were still scrambling up the side of a rocky incline as the sun started to dip towards the horizon. Luckily, we managed to get ourselves onto a fine natural viewing platform just in time to enjoy the movie-set sunset unfold. Then, aware that darkness was fast approaching, we scrambled back down in our flip flops and headed back towards camp.
In the evening, we indulged in some traditional Bedouin hospitality – dinner cooked in the sand, endless cups of delicious sweet tea and a shisha pipe or two – then rounded up our day with some jaw-dropping stargazing.
I had no idea what I was looking at when a fellow camper exclaimed, "Oh, wow! You can see the Milky Way!" She tried to explain several times to me that it was indeed possible to view the Milky Way from Earth. I wasn't convinced but nodded my agreement and decided to do some astronomy research when I returned home.
Later, Kia and I went for a walk under the cover of darkness. We lay with our backs against the cool sand and gazed up at the glistening clusters a million miles away. Living in London makes it easy to forget the natural beauty around us. This was a much-needed reminder.
Sleepily, we vowed not to retire until we saw five shooting stars. I counted four when I sensed that Kia was cold. Burrowing into my arms, she insisted she was fine, eager to earn her camping stripes (I didn't tell her that our well-equipped tent was far from wild camping).
I pulled her back to the tent where we crawled beneath the comfy blankets and fell into a deep slumber, lulled by the desert's sweet and sacred silence. That was until midway through the night Kia nudged me awake for an escort to the toilets, probably worried she'd lose her way and end up being eaten by snakes and dingos!
Don't worry, there were no snakes and there are certainly no dingos in Jordan!
Camping in Wadi Rum: the essentials
What: Camping in Wadi Rum, Jordan.
Where: We stayed with Bedouin Lifestyle Camp whose office is located in Wadi Rum town. They offer a range of Jeep, camel and trekking tours throughout the desert. Owner Attallah Alblwi runs a professional outfit with a personal touch.
If you're visiting as part of a longer trip to Petra, Amman and the Dead and Red seas use Jordan Select Tours who offer a friendly and efficient service.
When to go: We visited in late October and it was perfect for me: warm and dusty during the day and cool in the evenings. Kia sometimes found the midday sun slightly too hot, which was amusing since the number one complaint I hear from her is that she's too cold.
Shoulder seasons (Sept-Oct or Apr-May) are probably best as temperatures are not unbearable during the day and it's not too cold at night. Take an extra layer though just in case.
How: The best way to get around Jordan is to hire a car as distances are fairly short and the roads are easy enough to navigate. Wadi Rum is approximately 300km (185mi) south of Amman, 100km (60mi) south of Petra and 60km (35mi) northeast of Aqaba.
Public transport is unreliable at best, but there are some more comfortable coaches and minibuses available through JETT. There are no direct buses from Amman, Petra or Aqaba to Wadi Rum but you can use the above routes and ask the driver to drop you at the exit on the Desert Highway where a road leads to Wadi Rum.
Here you'll find taxis and minibuses available to take you to the Wadi Rum Protected Area and Visitors Centre for 3-4 JOD (4-6 USD).
On arrival at the entrance to the Wadi Rum Protected Area at Rum Village, you will have to visit the Wadi Rum Visitors Centre and pay an entrance fee of 5 JOD (7 USD).
Rum Village is home to the majority of the desert's inhabitants, tour agencies and a few cafes, but it is fairly unremarkable. There is a Nabataean Temple surrounded by some Thamudic and Kufic rock art which is worth a brief visit if you have time.
It's best to start your trip in Amman where the international airport is based as well as the majority of tour agencies and transport links. For flights, book via skyscanner.net.
---
Enjoyed this post? pin it for later…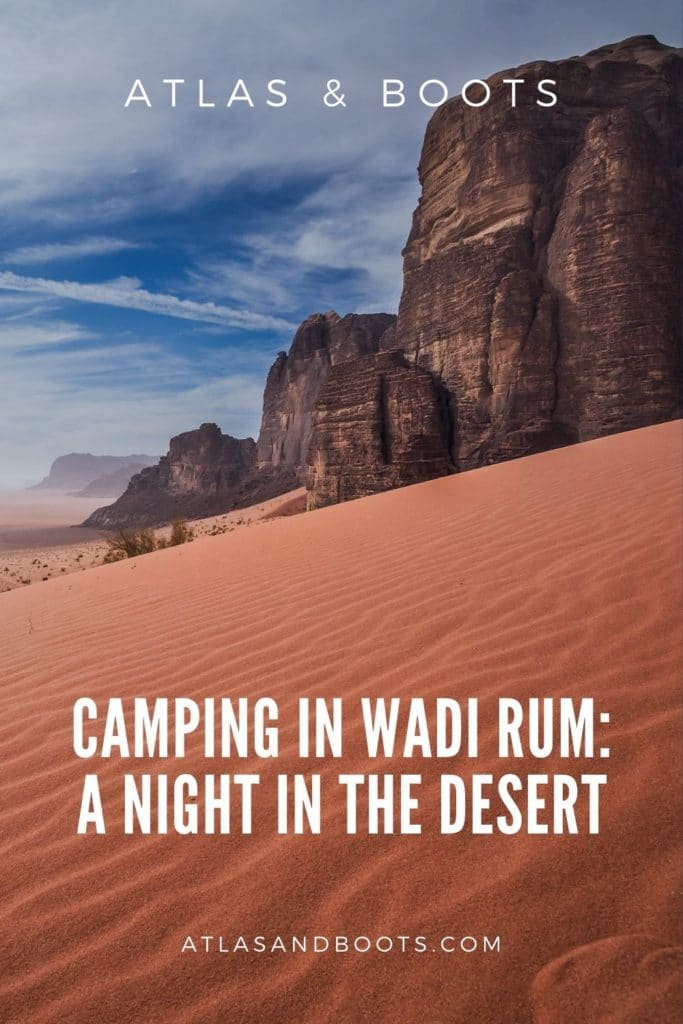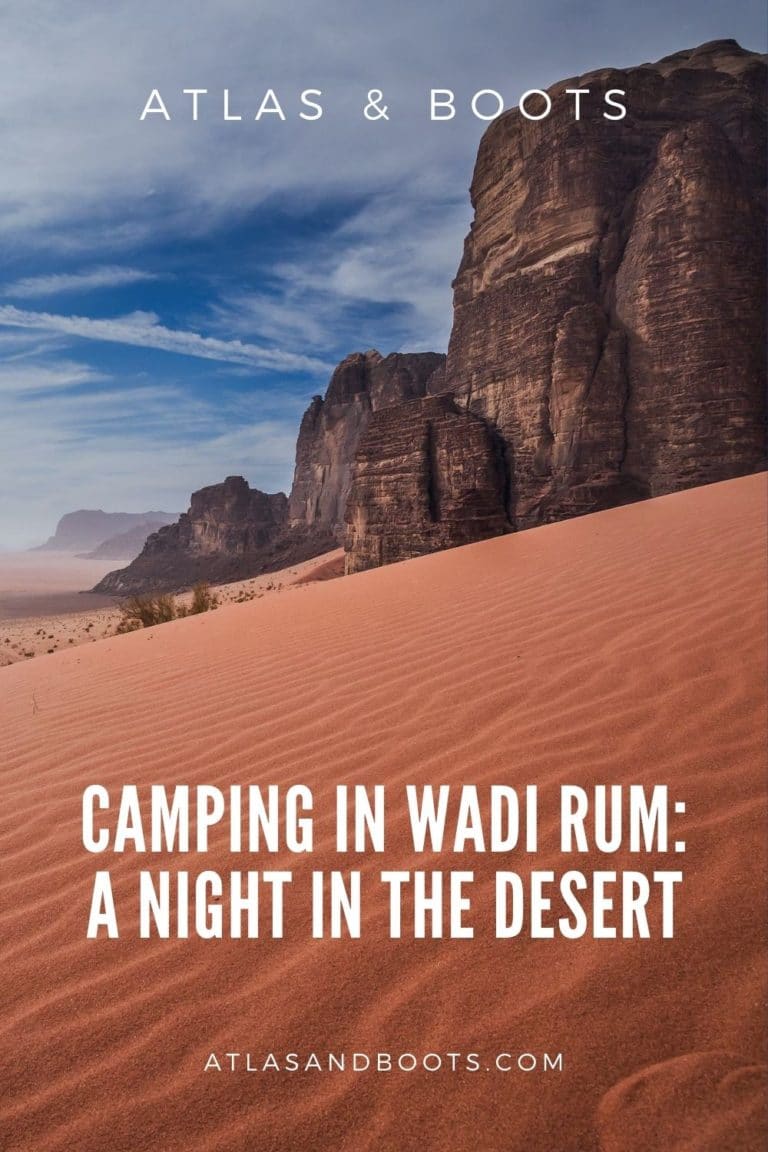 ---
Lonely Planet Jordan is a comprehensive guide to Jordan, ideal for those who want to both explore the top sights and take the road less travelled.