I'm not an animal lover. I mean, yes, I'm vegetarian and, yes, I had one of those dinky green badges from Blue Peter when I was young, but this was due more to general environmentalism than a love for animals.
I'm wary of dogs, indifferent to cats, and have been known to ask how often people trim their kittens (answer: never). With this in mind, you'll understand why I was unsure about our Arctic reindeer trip in Tromso.
There was no snow on the ground so sledding was off the cards and we weren't even sure if the reindeer would make it down from the mountains in time for our visit (two weeks before the official start of the season).
Nevertheless, we had a day spare and decided to spend it at Tromso Arctic Reindeer, 16km from the centre of town.
We were picked up by Peter, one of the founders of the camp, and I listened to the customary jokes that are exchanged any time my Peter meets another Peter. (It happens more often than you'd think…)
Peter shared some of the camp's background, explaining that he and co-founder Johan-Issak set it up last year as a way to educate tourists about the Sami people and of course to offer the thrill of feeding Arctic reindeer.
The Sami are an indigenous people inhabiting the Arctic region of Lapland which stretches across the northern reaches of Norway, Sweden, Finland, and the Kola Peninsula of Russia. Like many indigenous peoples across the world, the Sami found their way of life upended by modern 'progress'.
Their beliefs, language and right to land have long been threatened by oil exploration, mining, dam building, logging, climate change and commercial development.
These threats are part of the impetus behind the camp at Tromso Arctic Reindeer.
"If we can demonstrate that there is interest in Sami culture and support for maintaining it, then perhaps we can stop the development that seems inevitable," said Peter.
We soon arrived at the camp and met Johan-Issak who comes from a long line of Sami reindeer herders. With ice blue eyes and axe in hand, he is the epitome of Arctic charm.
Johan-Issak took us to meet the Arctic reindeer which was a bit like stepping into a Disney scene.
The reindeer were graceful and playful; hungry but gentle. They gathered around the food crate and tussled for space. We scooped up small buckets of food and fed the deer by hand, taking care not to bend too low lest we get an antler in the eye.
Their antlers, while dangerous, were majestic up close. We learned that reindeer antlers are not static appendages but living masses of blood and marrow. The antlers harden over time and are shed yearly to give way to a new pair. Like a human's fingerprint, no two reindeer antlers are exactly the same.
As we fed the Arctic reindeer, Johan-Issak knelt at a nearby pond and cracked through the ice with his axe to give the herd access to water. It was clear that he has a close affinity with his animals.
Peter told us that a week earlier, they had worked until the small hours of the night herding the reindeer and working on the camp. When they finished at 4am, Johan-Issak said he was going to lie down "for just a while" amid the reindeer to enjoy the calm and peace. It spoke to a way of life we've long forgotten in London.
The reindeer were indeed calming: sweet natured, gentle and utterly delightful. Before we said goodbye, we met one of the older leaders. We were told that his name is John Deere. Clearly, Peter and Johan-Issak shared a sense of humour with my very own country boy.
Afterwards, we settled down in a lavvu, a traditional Sami tent, for a tasty meal of soup (veggie for me please), chocolate biscuits and tea, and learned a bit more about Sami culture. Johan-Issak performed a joik, a traditional form of Sami song. It was sweet and evocative – all the more for the fact that he asked us not to record it. It, he told us, is highly personal.
Our visit to the Arctic reindeer camp was a highlight of our trip, second only to the northern lights. The camp sustains not just a livelihood, but a way of life too. Its customers help demonstrate to the powers-that-be that there's inherent value in preserving Sami culture; in not bulldozing across swathes of land just because it has commercial value.
So, if you make it to Tromso, please go and see Johan-Issak. Go and meet his reindeer – and not just to sled with them. Go and learn about the Sami way of life, eat their food, feed their animals and use your tourist dollars for good. Trust me as a non-animal lover: you're going to have a magical time.
Atlas & BOots
Arctic reindeer: the essentials
What: Feeding Arctic reindeer in Tromso and learning about Sami culture.
Where: We stayed at Scandic Ishavshotel, an excellent alternative to the hulking Radisson next door. Located right on the waterfront, Ishavshotel offers panoramic views of Tromso Harbour, Tromso Bridge and the Arctic Cathedral, as well as easy access to local sights – the Polar Museum is mere minutes away.
Our room had floor to ceiling windows and came with all-important heating and carpeting, which made for a cosy refuge after a day (or night!) out in the cold.
When: You can feed Arctic reindeer in Tromso from 14th November to 31st March. Reindeer sledding has to wait until there's ample snow on the ground, so opt for dates between 1st December and 31st March.
How: We did the Reindeer Feeding and Sami History tour (3-4 hours) with Tromso Arctic Reindeer. The price is typically Norwegian at 995 NOK ($118) per person but includes transfers, guided storytelling, a warm lunch, coffee and snacks.
You can opt for a range of other activities, including a reindeer sledding package which includes a 35-minute ride. There has been guest interest in longer rides but please don't push for this; the half hour mark works best for the reindeer.
Make sure you take warm clothes, gloves, a hat and good winter boots. It is, after all, the Arctic!
The best way to get to Tromso is to fly from Oslo. Book via Skyscanner for the best prices. From Tromso airport, you can catch the Flybussekspressen into town. These cost 60 NOK ($7.3) and leave from directly outside the airport. The slightly cheaper option is the 'state bus' (coloured white). You can buy tickets in the newsagent at Tromso airport (36 NOK or 50 NOK on board). The correct bus stop can be reached by crossing the car park underground or going around it overground. Just ask a member of airport staff if you're unsure.
---
Enjoyed this post? pin it for later…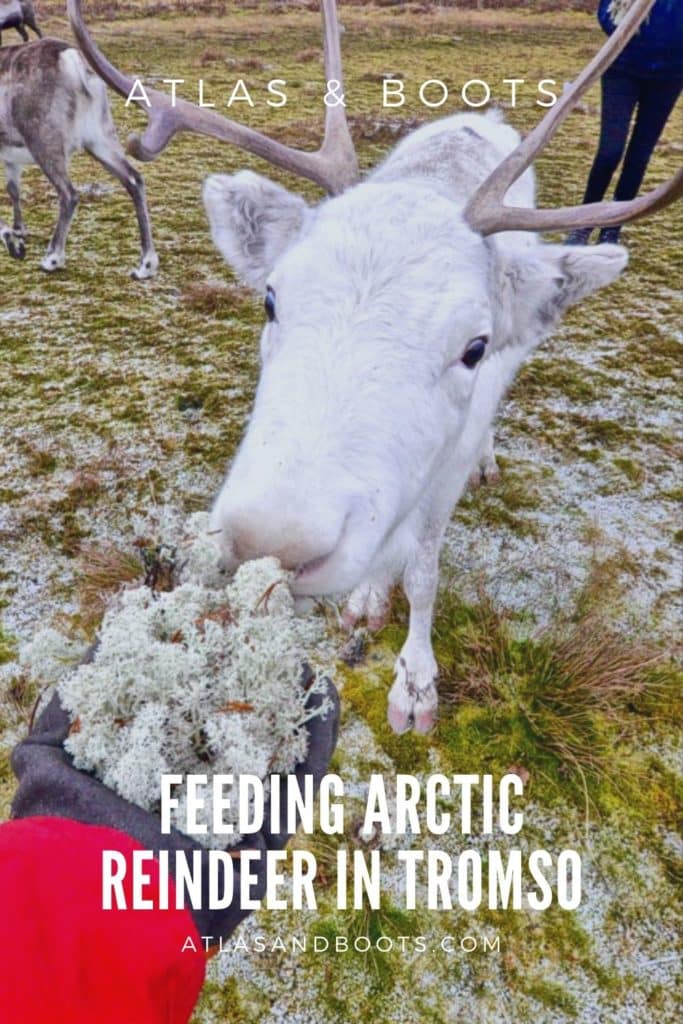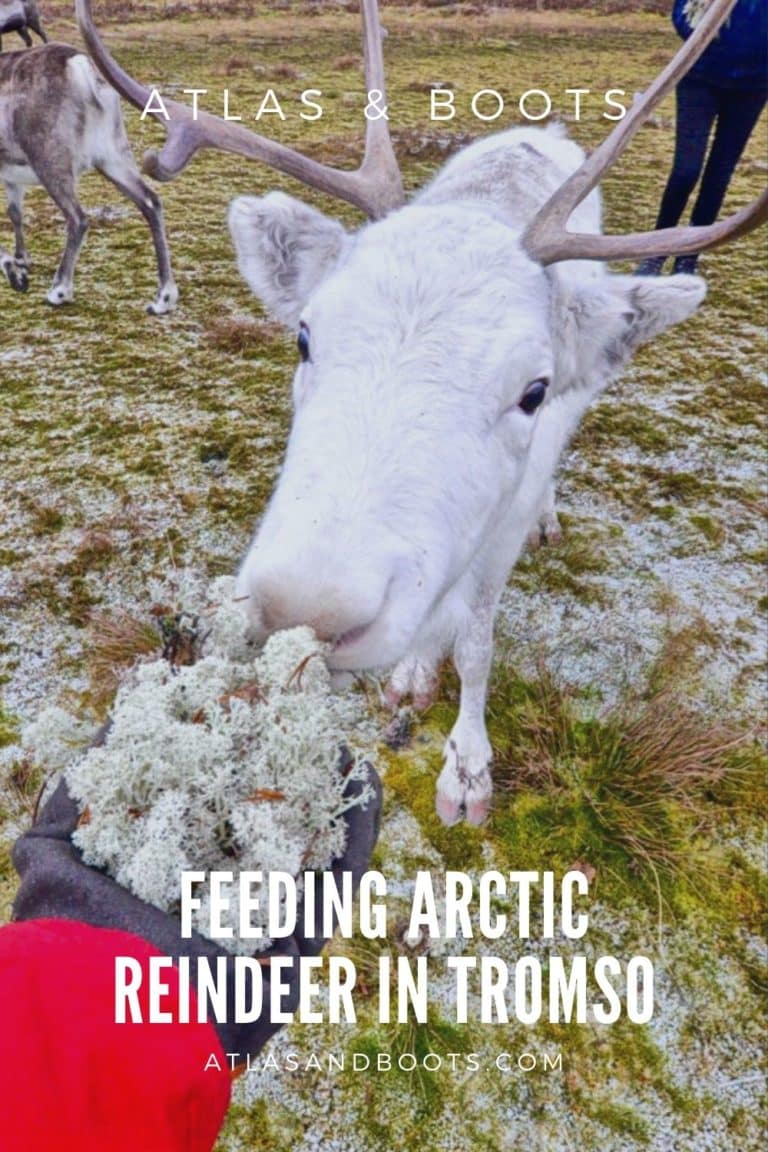 ---