Photos and advice on what does and doesn't meet the Blue Mosque dress code. Includes tips on the best time to visit and what happens when you arrive
The third or maybe fourth time I met Peter's parents, I spent 10 minutes beforehand fretting that my top was too low.
Peter rolled his eyes. "For God's sake, my mum wears lower-cut tops than that!"
I laughed, flung on a cardigan and readied to leave. His family are thankfully far more liberal than mine.
My neurosis about modesty – a hangover from my Muslim roots – sees me pinning together anything lower than a vicar's collar any time I visit my Mum. Knowing this, you'll understand why I was in a tizz over the Blue Mosque dress code and associated etiquette during our recent trip to Istanbul.
To help future visitors get it right, we've put together a guide to the Blue Mosque dress code along with some general tips for entry.
Be warned that officials assess every visitor and if you fail to meet the Blue Mosque dress code (tut tut), you will be asked to cover up with a scarf, skirt or robe which the Mosque lends to you for free.
Thankfully, Peter and I passed muster. I wore grey hiking trousers and a loose black top along with a scarf. Peter wore grey hiking trousers and a white shirt. If you cover up beforehand, you'll be spared the indignity of judgement.
Blue mosque opening hours
The Blue Mosque is open every day and free to all visitors. However, tourists cannot visit during prayers which take place multiple times a day:
Fajr (İmsak in Turkish): Two hours before dawn
Tulu (Güneş): Dawn
Zuhr (Öğle): Midday
Asr (İkindi): Afternoon
Maghrib (Akşam): Sunset
Isha (Yatsı): Right before the last light of the day
Prayer times are pegged to sunrise and sunset and therefore change throughout the year. Check current prayer times and avoid visiting 45 minutes before and 30 minutes after each prayer.
Visit the Blue Mosque in the morning
The best time to visit the Blue Mosque is between the dawn prayer (Tulu) and the midday prayer (Zuhr). You will likely still have to queue for 20-30 minutes, but this is better than the afternoon when crowds are at their thickest.
Avoid Fridays
Special Friday prayers mean the Blue Mosque is closed until 2.30pm. Opt for a different day where possible.
It's worth noting that if you are Muslim, you can visit the Blue Mosque at any time and join in the prayers.
Approach the Blue Mosque from the Hippodrome
The best way to see the stunning architecture of the Blue Mosque is to approach it from the Hippodrome (west side of the Mosque). Tourists will have to use the same direction to enter the Mosque anyway.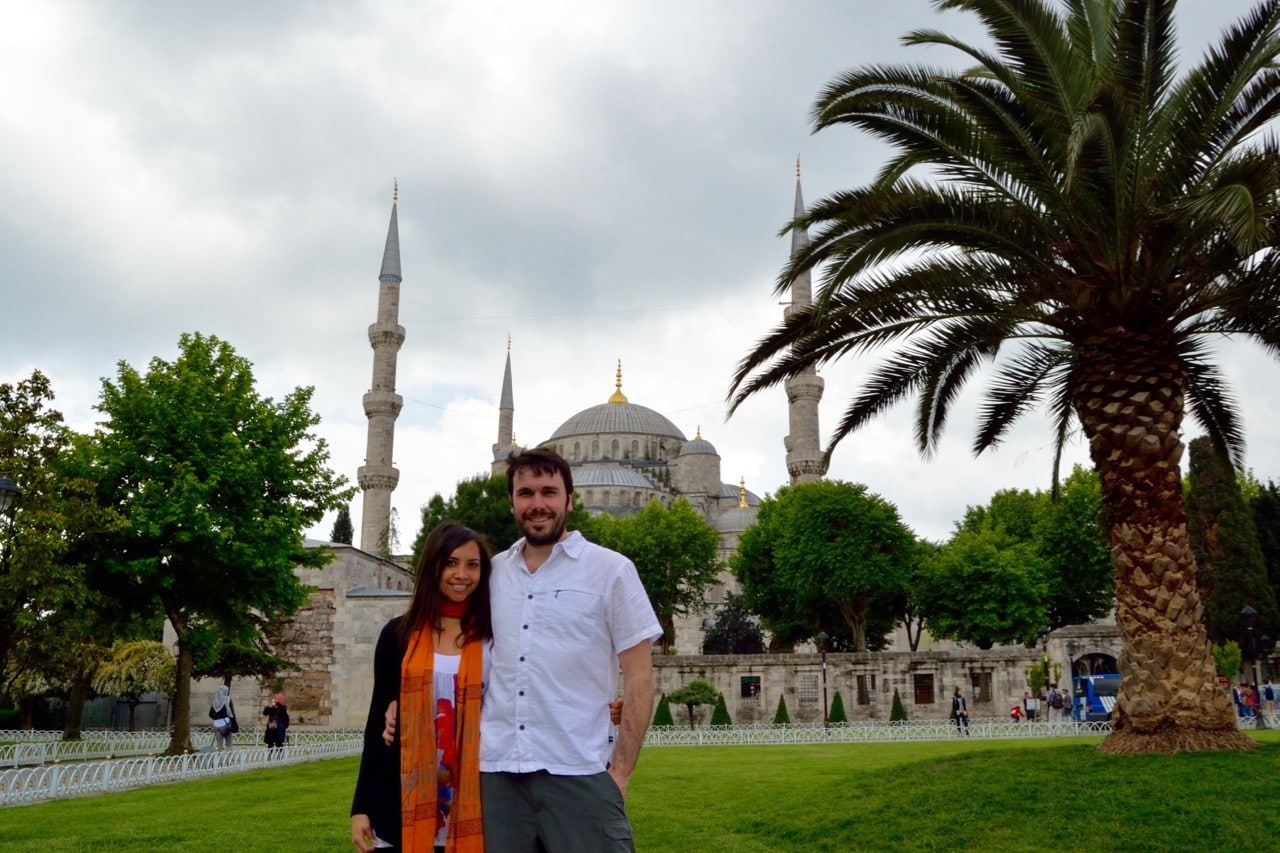 Note that the tourist entrance is different from the one reserved for worshippers. You will come upon the worshipper entrance first so continue on to the next one. (Just follow the tourists; you'll know them from the locals.)
Avoid anyone who offers you express entry; just join the queue instead. It may look long but it moves quickly.

Where to stay in Istanbul
Although you won't find many luxury hotels in the Old Town neighbourhood of Sultanahmet, we recommend staying there for the quiet streets, access to main sites and dazzling views from hotel terraces.
High-end
Mid-range
Budget
General etiquette
The Blue Mosque is a place of worship so be quiet and respectful.
You must take off your shoes and place them in a clear plastic bag (provided for free). You can either carry the bag with you or leave it in a cubby hole inside the mosque.
You can take pictures inside the Blue Mosque but turn off your flash.
Don't photograph people in prayer or as they perform their ablutions.
Put used plastic bags in the designated bin bags on exit.
Return head covers to duty staff on exit.
Entrance to the Blue Mosque is free (despite over five million visitors per year!) so making a small donation is welcome. You can do this at the exit doors.
Blue Mosque dress code: The Essentials
What: Visiting the Blue Mosque in Istanbul, Turkey.
Where: We stayed at Sirkeci Mansion Hotel in Istanbul's Old Town and absolutely loved this gem of a hotel. It's located on a picturesque street that offers both a haven of calm away from the crowds and also proximity to the city's biggest sites. The Blue Mosque and Ayasofya (Hagia Sophia) are only a 10-minute walk away!
We were utterly charmed by Araz who greeted us with a massive smile, two cups of Turkish tea and plenty of advice to help us plan our stay.
Our room was super comfortable and the breakfast, super tasty (try the chilli-covered cheese balls). On our last day, we had to leave before breakfast and Araz insisted that we take a packed breakfast with us, which we very much appreciated on our journey to Izmir. We'd stay there again in a flash.
When: The best time to visit Istanbul is spring (March to mid-June) when the weather is moderate and the days are long. Do note that you may get a day or two of rain, particularly in April. We visited at the end of May and had a day's washout.
The other days, however, were glorious. Autumn (Sep-Oct) is the second-best time to visit. Summer is hot and crowded while winter can be cold and rainy.
How: The Blue Mosque is free to enter and can be reached via a short walk from Sirkeci Mansion Hotel. If staying further afield, you can use Istanbul's reliable metro system to get around. Taxis are readily available but we preferred to use the far cheaper metro.
Istanbul has connections to a number of international airports. Book via Skyscanner for the best prices.
Note: Due to recent unrest in Turkey, check FCO travel advice before visiting.
---
Enjoyed this post? pin it for later…
---