If you do one thing, do the Bora Bora lagoon tour – you won't regret it
When we landed in Bora Bora, we were worried. Really worried.
It was the worst weather we'd seen in the Pacific. And I'm not talking about the tropical storm with torrential downpours and billowing breakers kind of bad weather, which is wretched but at least dramatic.
I'm talking about miserable damp-towel, grey skies and sodden ground kind of bad weather. The sort of bad weather that signifies winter (and autumn and spring and often summer) in London – the sort of tedium we were trying to escape.
"I'm sure it will burn off," I said confidently to Kia, not entirely convinced by my own optimism.
Luckily for us, it did burn off… after three days!
Atlas & BOots
We still had three days left so we decided to get active. As mentioned in Bora Bora on a budget, we always have one eye on the purse strings (sometimes both eyes), especially in an expensive destination.
Our host, Gerard, was well aware of our limited funds and had done as much as possible to soften the expensive blows of Bora for us. One thing he did push us to do was the lagoon tour.
"If you do one thing, do the Bora Bora lagoon tour," he urged.
So, we dipped our hands into our fairly shallow pockets and forked out for a round-the-island lagoon tour. Again, Gerard came to our rescue and organised it at a discounted price. An advantage of not staying in a luxury resort meant we didn't pay luxury resort commissions!
The tour collected us from the mainland before picking up the other customers from their luxury resorts. The advantage of this was that we had the boat to ourselves to begin with and we also got an additional circuit of the island.
Our first stop was snorkelling in a deep coral garden. The water was crystal clear and visibility was excellent with plenty of marine life on display below. Next, we stopped to swim with giant manta rays.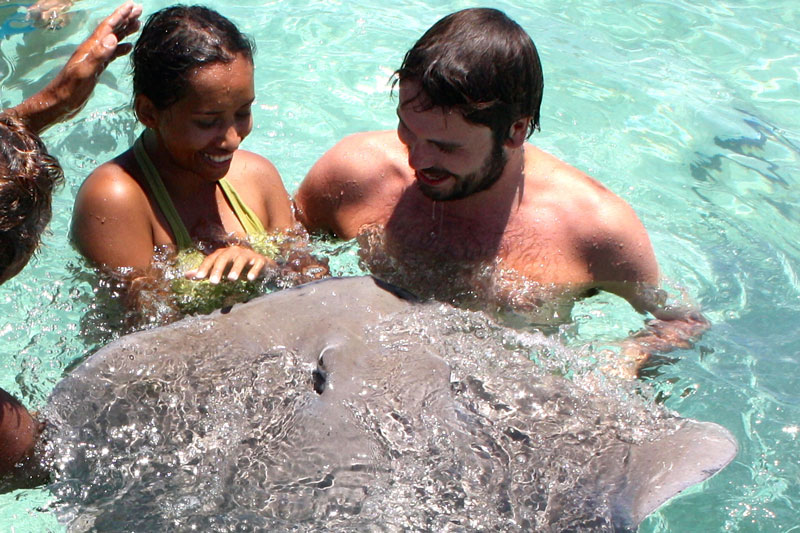 We initially wondered if they would be comfortable with humans in their environment, but they were so friendly and playful, they promptly put our minds at ease. Finally, we stopped to swim with lemon sharks and blacktip reef sharks among others. It was a classic I-hate-myself-for-ruining-my-GoPro moment.
For lunch, we stopped at Teva Motu for a Polynesian picnic literally in the shallow waters just off the beach. The afternoon was spent wandering the quiet motu in the sun while dipping in and out of the water (have I mentioned how clear it was?).
Finally, the boat took us on a circuit of the island ensuring we had the chance to view the enchanting panorama from every angle.
The price tag was a little lavish for us but it was totally worth it. Gerard was right: if you can pay for one extravagance in Bora Bora, pay for this.
Atlas & BOots
Bora Bora lagoon tour: the essentials
Tour: Full Day Bora Bora Lagoon Tour
Operator: Lagoon Service Bora Bora
Price: 8,500XPF (£57.50 / $90) per person
Included in the price: Soft drinks, beer, lunch, snorkel gear, towels, swimming with manta rays, shark feeding

Top tip: Book directly with the tour company to avoid hefty resort commissions.
---
Enjoyed this post? pin it for later…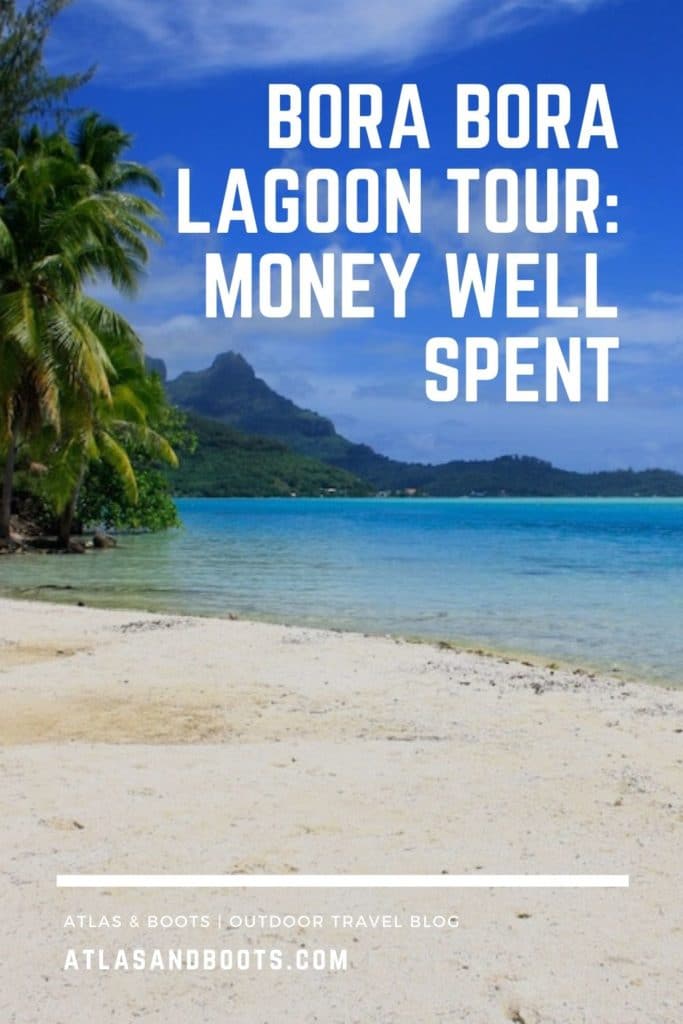 ---
Lonely Planet Tahiti & French Polynesia covers the Bora Bora lagoon tour and is ideal for those who want to both explore the top sights and take the road less travelled.