Backpacking in Bora Bora may not be the quintessential experience but for those unable to do it any other way, here's how we did Bora Bora on a budget
It's Friday night and we're seated in Bora Bora's yacht club a few metres away from the capital of Vaitape. Next to me sits Tim, a yacht broker who's in town to examine Noble House, a gorgeous two-storey yacht that's been put up for sale by its Texan owner.
Atlas & BOots
Opposite me sit Pedro and Scott, the yacht's engineers who have many stories to tell about life on board. The yacht, I'm told, can be rented for £250,000 per week – mere pocket change for some of the club's clientele.
And, so, the obvious question is: what the hell are two backpackers doing in Bora Bora sipping cocktails in the company of the rich and richer?
Bora Bora on a budget
The answer is that we're DIY-ing Bora Bora.
We don't have access to overwater bures, luxury bathrobes or gourmet cuisine; we're doing it on the cheap.
Backpacking here may not be the quintessential Bora Bora experience but for those unable to do it any other way, here's how we did Bora Bora on a budget.
1. Visit in the shoulder seasons
July and August are Bora's peak months where you'll encounter more tourists and higher air fares. Meanwhile, December to April can be rainy and humid. Instead, visit in one of the shoulder seasons: May to June or September to October.
It's cool, dry and less windy than peak season plus you'll encounter fewer tourists and have more leverage for negotiating discounts (see number 4).
2. Book an Air Pass for multiple stops
We usually buy flights from Skyscanner but on this occasion, it proved far better value to visit the Air Tahiti office in Papeete and ask them to price up our route (Tahiti to Raiatea, Raiatea to Bora Bora, Bora Bora to Tahiti).
Pop into the office and compare their quote to anything you find online. Alternatively, you can look into taking a cargo ship.
Try the Hawaiki Nui or Taporo VI & VII (contact details here) but be warned that these have low capacity, irregular timetables and understandably prioritise locals over tourists.
3. Forego the overwater bure
Sure the St. Regis is nice (we know, we managed to sneak a look around) but it was way, way above our price range. The high-end resorts on the outer islands ("motus") represent the Bora Bora of brochures, but that's not to say you can't have a slice of the dream while in more modest lodgings.
You can camp on Motu Piti Aau (email boraboracamping@gmail.com for details), or stay in a comfortable studio on the mainland. We thoroughly recommend Sunset Hill Lodge.
These colourful studios have hot showers, a fully stocked kitchen, free wifi, free bike hire and free kayak hire – ideal for numbers 5 and 6 below.
4. Don't be shy about asking for discounts
It's no secret that everything is expensive in Bora Bora purely because it's Bora Bora. If you visit in the shoulder seasons, there's a good chance you can get a discount on tours, excursions and even accommodation.
We were honest with vendors in that their prices were way above our budget. More often than not, they were kind enough to drop their rates for us.
5. See the island by cycle
We secured a 50% discount on a land tour but due to a scheduling issue, were unable to take the offer. Peter suggested seeing the island by cycle instead. There was only one problem: I didn't really know how to ride.
After a tentative practice session, he convinced me that it would be better if we just got on the road and tried (needless to say, my mum – and his too – will probably have a thing or two to say about that).
Despite my reservations, I gave it a go and ended up having a great time (despite falling off).
6. See the motus by kayak
The mainland, particularly Matira Beach, has some beautiful views but it's really the outer motus that offer the best of Bora. Don't miss out just because you can't charter a private transfer to a bank-breaking resort.
Instead, grab a kayak and go off exploring yourself. Peter and I kayaked from Sunset Hill Lodge to Motu Tapu and spent a fantastic day lazing on the deserted beach and swimming in the crystal waters.
7. Know what's important to you
And so I bring you back to Friday night at the yacht club. How did we end up there? We had got chatting to Tim, the yacht broker, on his way back from the local supermarket and he invited us to a party taking place there that night. Wanting to try something new, Peter and I dressed up, me in a sleeveless black dress and he in a smart blue shirt.
We felt the part but as we chatted to the yachtsmen, we were both aware that we were on our second drinks of the night (we had vowed not to have more than three each).
We also kept half an eye on the worker walking through the venue distributing armbands in exchange for the cover charge. I leaned close to Peter: "Should we leave before we get kicked out?" He nodded. "One last drink?" I nodded back.
And indeed it was our last. We could have spent a day's budget on more drinks and the cover charge, but sipping cocktails in a yacht club isn't as important to us as, say, swimming with whales or diving with turtles.
We were honest with Tim who so very generously offered to pay the cover charge for us. We declined and departed, embarrassed by his offer in a way only Brits know how.
Know what's important and don't spend your budget on needless things just to experience the Bora Bora that's sold in the brochures. I promise you: you'll find it anyway.
---
Enjoyed this post? pin it for later…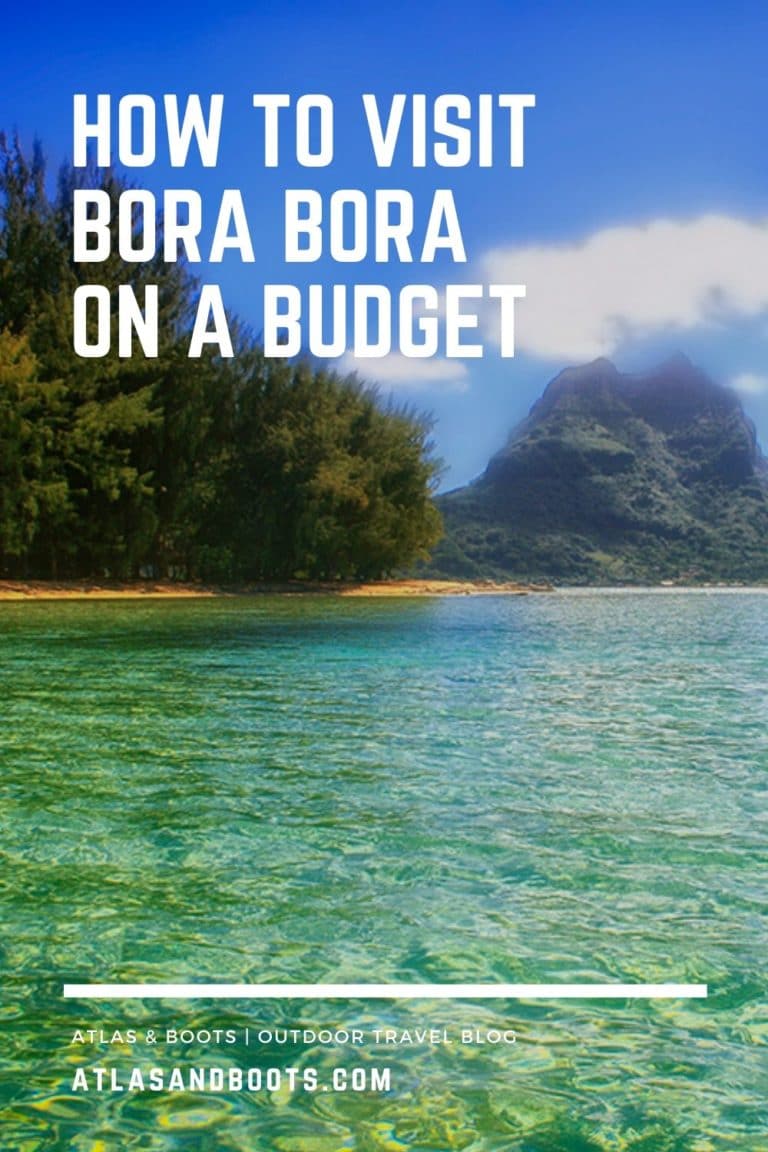 ---
The Lonely Planet guide to Tahiti & French Polynesia has lots of useful tips on how to visit Bora Bora on a budget.