Having just completed my PADI Advanced Open Water Diver course, I was keen to put my new skills to the test. Diving in the Galápagos Islands seemed the perfect way to do this
We were pretty much winging our trip to the Galápagos Islands but we decided to pre-book our first hotel as well as our diving.
In the spirit of the Galápagos, we decided to break our budget for our first stop, and so checked into the rather luxurious Royal Palm Hotel in the centre of Santa Cruz island. It was nice to be away from bustling Puerto Ayora, cocooned within lush gardens with epic views across the island.
The hotel grounds include a lava tunnel, extensive gardens and even a barn owl! There is also a gym, large pool, a tennis court and in-room hot tub(!) as well as complimentary bikes to explore the surrounding interior where giant tortoises roam freely in the fields. It was a great base for starting our Galápagos adventure.
We spent a while researching the many diving outfits in Puerto Ayora and finally settled with Academy Bay Diving. They provide breakfast, snacks and a hot lunch during the dive as well as a pre-dive buoyancy test – very useful if, like me, you're used to diving in warmer waters with a thinner wetsuit.
The divemasters also film and photograph your dives and then provide the media files on CD or USB, all included in the price. The footage and photography below was captured entirely by them – a really nice touch! Also, at $180 for a two-tank dive, it's pretty good value for the Galápagos.
Our two dive sites for the day were by North Seymour Island (Isla Seymour Norte) and Daphne Island, both lying to the north of Santa Cruz. The first dive (North Seymour) was where we encountered dozens of whitetip reef sharks resting on the seabed.
At nearly 20 metres deep, we spent several awe-inspiring minutes watching these magnificent (and chilling) beasts. In return, they regarded us with complete indifference.
Next up was a flurry of sea turtles. I had briefly seen one or two turtles on a dive in Samoa, but never as many as on this dive or in water as clear. It was great to get such a close and uninterrupted look at them.
After this, we spotted a couple of stingrays camouflaged on the ocean floor. Then, during our ascent a group of majestic manta rays glided past our group. What a dive this was turning out to be!
Atlas & BOots
The second dive at Daphne was just as dramatic. Shortly after our descent we made our way into a series of caves which were swarming with schools of black-striped salema.
After a few seconds, a sea lion dived in from above, darting round and round feeding on the salema. You can't see much of our facial expressions behind a mask and respirator, but know that we watched on with wide eyes and (partially) gaping mouths!
Before the dive was over, we were lucky enough to glimpse a hammerhead shark. It was some distance away but still… a hammerhead!
The two dives were by far the best I've ever done. To see so much dramatic marine life in such a short space of time was incredible. For me, the moment the sea lion dived in among the school of black-striped salema and joined us was truly magical. Diving in the Galápagos was easily one of my greatest travel experiences.
Diving the Galápagos Islands: The essentials
What: Diving the Galápagos Islands around North Seymour and Daphne with Academy Bay Diving ($180pp for a two-tank dive).
Where: The Galápagos Islands are 960km west of mainland Ecuador. Santa Cruz is the archipelago's centre and tourist hub. We stayed at Royal Palm Galápagos Hotel which is a 20-minute ($8) taxi ride from Puerto Ayora (images below).
We opted for Royal Palm because of their exemplary commitment to the environment. They use food which grows naturally on the estate including grapefruit, lemons, limes and avocados and maintain their own kitchen garden full of organic fresh vegetables.
They use a rainwater collection system with filters and storage, greatly reducing their reliance on deliveries by road. In addition, they are custodians of the rare Miconia plant which thrives on their grounds as well as donors to Galápagos Conservancy. Plus, did we mention they have their own barn owl!?
Atlas & BOots
When: The Galápagos have two seasons. The islands are relatively dry all year round but between January and June temperatures are hotter (30°C) and there are regular downpours.
From July to December, temperatures are cooler (22°C) and it is generally dryer but the seas are choppier making it less ideal for diving. The best time for diving the Galápagos Islands is between January and June.
How: Flying from mainland Ecuador there are two options: Guayaquil or Quito. Flights either land at Baltra Island (Santa Cruz) or on San Cristobal. Prices fluctuate but we got a return from Guayaquil to Baltra for $400pp (book via skyscanner.net).
Most flights from Quito stop at Guayaquil in both directions and flying to San Cristobal is more expensive than Baltra. There are no international flights to the Galápagos.
From Baltra, you can take a ferry and bus ride to the coastal town of Puerto Ayora. The town has everything a tourist will need to organise diving the Galápagos Islands as well as wider trips throughout the islands. Academy Bay Diving is probably the best dive company I've ever dived with, located in the heart of Puerto Ayora on Charles Darwin Avenue along the waterfront.
---
Enjoyed this post? pin it for later…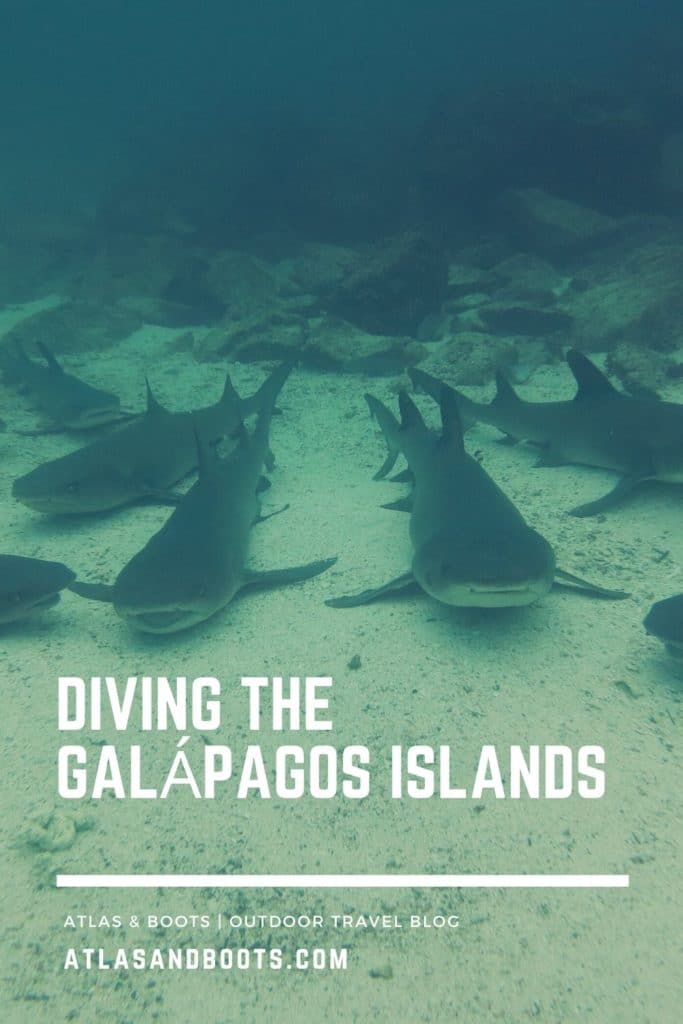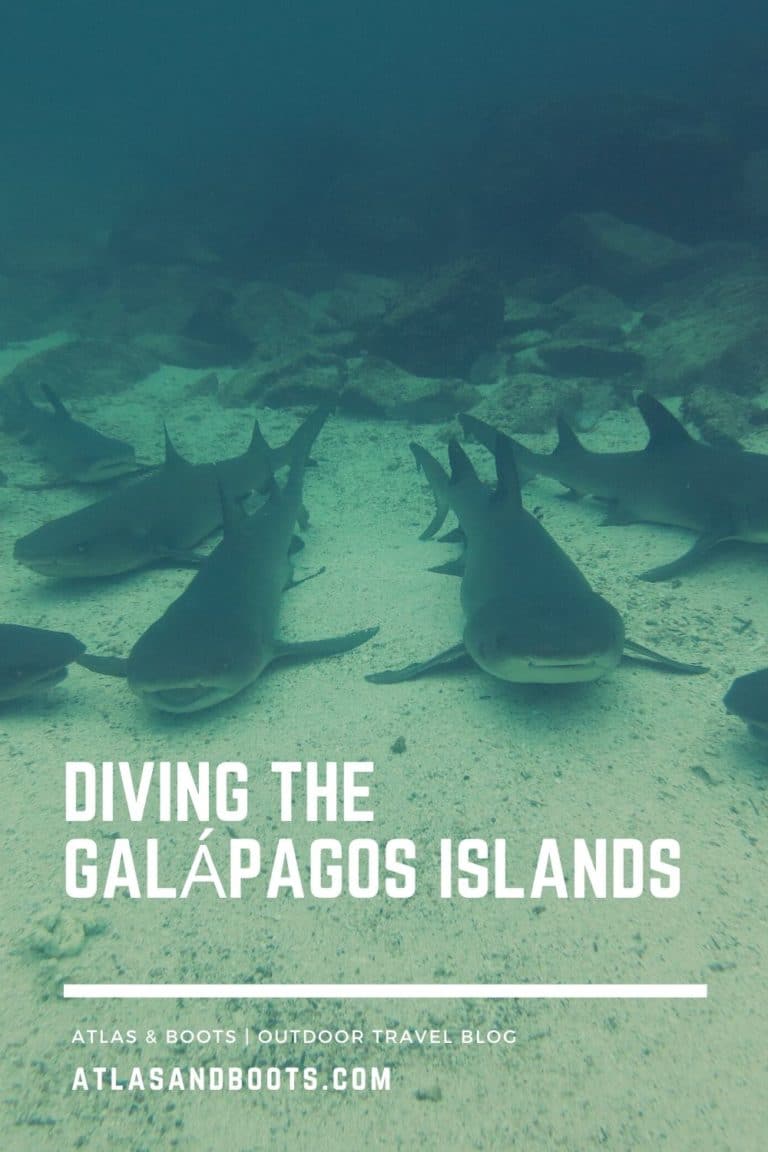 ---