Hell's Canyon in Catalonia reminds us once again why we fell in love with the great outdoors
"Eat a big breakfast," said Jordi – four words that told me I'd have a hell of a morning. I'm not one for big breakfasts, but I've learned that when an uber-fit mountain guide tells you to have one, you should have one.
I added lashings of pa amb tomàquet to my plate, a simple but delicious Catalan dish of bread, tomato and olive oil. I ate toast and nutella and cheese and crackers and cereal and yoghurt and washed it down with two cups of tea. Then I ate more pa amb tomàquet. There was no way I'd be running low today.
I mustered my courage and ventured from the mess tent to discover the challenge that lay ahead. Invited to Catalonia as part of a 'mystery trip', Peter and I had no idea what we would be doing day to day.
Jordi, our guide from Outdoor Adventour, and Naomi, our companion from the tourist board, had been duly tight lipped, but on the grass lay a set of clues: wetsuits, harnesses, ropes, carabiners and helmets. It didn't take us long to work it out: we were going canyoning.
Hell's Canyon in Catalonia, also known as Barranc de l'Infern, promised a challenging but thrilling morning. It's said in fact that the Catalan Pyrenees are one of the world's best destinations for canyoning, along with the Swiss, Austrian and French Alps, America's canyonlands and Australia's Blue Mountains.
I was eager to try it in earnest. I had done a little bit of canyoning years ago in Vanuatu's Millennium Cave, but there was no rope work involved – a fact, some would say, that means it wasn't 'real' canyoning at all.
Canyoning seems to divide experts like few other sports. Some say it's accessible to anyone with a guide, others say it's dangerous unless you are versed in several other outdoor activities. Some say you need to be highly fit, others say you'll be fine if you can run a mile.
Even the definition of canyoning changes depending on who you ask. We've heard it described as a mixture of some or all of the following: caving, cliff diving, climbing, abseiling, rappelling, whitewater swimming, walking, wading, hiking and sliding. The best way to think of it is a natural assault course that winds through tunnels, ravines and waterfalls.
After four days of via ferrata, hiking, rafting and camping in the Pyrenees, I was ready to tackle Hell's Canyon in Catalonia. We zipped into our wetsuits under a bright, hot sun and headed to our point of entrance.
The wetsuits, stifling at first, are important because canyoning can be extremely cold. Routes usually wind through dark caverns of freezing water and narrow slots forsaken by sun. I was certainly grateful for mine as we took our first tentative steps into Hell's Canyon in Catalonia.
We soon arrived at our first challenge: an abseil over a rocky ledge and down to a pool below. I had never abseiled before, but after doing via ferrata with Jordi, I trusted him entirely. He likes to play a joke, but when it comes to safety, he's exactly what you want.
Jordi attached me to a figure eight belay device and gave me a quick lesson on how to open and close my hand to keep the descent smooth. I went off over the ledge and, though jerky at first, adjusted fairly quickly. I abseiled down, taking care to keep my legs extended to maintain a healthy distance from the wall. I reached the pool and plunged into the bracing cold water.
Soon after, we arrived at the lip of a darkened chasm. Peter entered first and as he abseiled down, his voice got further and further away until I could no longer discern his words. Jordi attached me to the rope and sent me over the edge. I abseiled 18m into a large, dark cavern in the midst of a waterfall. I glanced up at the shrinking circle of light in the sky and realised I was having the time of my life.
Atlas & Boots
Canyoning is challenging at times but most of it is pure, physical fun. We waded, hiked, rappelled and climbed through natural couloirs, bowls and breaks carved by whitewater over thousands of years.
At one point, we arrived at two rocks with a short distance of water between them. Jordi told Naomi to walk across the pool. She took a step and plunged head-deep into the water. Jordi laughed mischievously – a natural jester enjoying a perk of the job.
We squeezed and scrambled through the rest of Hell's Canyon. Our last big challenge was a three-part section: first, a stretch of sheer rock which we had to slide down toboggan style; second, arresting ourselves against the far wall amid rushing waters; and third, letting our bodies gush out with the water through a narrow slot beneath a great chunk of rock. It was sheer, unadulterated fun and we emerged onto the river, laughing and victorious.
It reminded me why I love the outdoors. It caters for a range of moods and emotions. It's calming when I'm stressed, cheering when I'm sad and thrilling when I'm bored. It is fun, challenging and always refreshing. Needless to say, Hell's Canyon in Catalonia wasn't very hellish at all.
Hell's Canyon in Catalonia: the essentials
What: Canyoning Hell's Canyon in Catalonia (also known as Barranc de l'Infern).
Length: 700m (much of this ascending and descending)
Duration: Approximately two hours depending on your speed and group size
Difficulty: Medium
Where: We stayed at a mountain camp set up exclusively for us. There were roomy bell tents for sleeping, one mess tent for taking meals and a portable kitchen for our chef, Sergi.
On arrival at camp, we were met by a generous spread of local cheese, olives, bread and meats, as well as beer and wine. Dinner was surprisingly elaborate: Sergi cooked up a massive pan of rich, buttery mountain rice with juicy vegetables (or meat depending on your preference).
Atlas & Boots
There is a toilet tent available and electricity for lighting (but not for charging devices). There is no running water, but plenty is provided and you also have the river nearby.
The best thing about the camp is the night sky. The region is known for its extraordinary dark skies and offers excellent stargazing. Naturally, we stayed up long into the night.
When: The best time to visit Hell's Canyon in Catalonia is May through to the end of October.
How: We explored Hell's Canyon in Catalonia with Outdoor Adventour, a local company run by charismatic CEO, Pepo, with support from a team of highly experienced guides, among them Jordi, Edu and Marc who took excellent care of us during our time in Catalonia.
Contact the team via the website, email info@outdooradventour.com or phone +34 973 043 409 / +34 654 093 295 to book activities and arrange transfers.
We flew into Barcelona–El Prat Airport (BCN), which provides easy access to the rest of Catalonia. Book flights via Skyscanner for the best prices.
---
Enjoyed this post? pin it for later…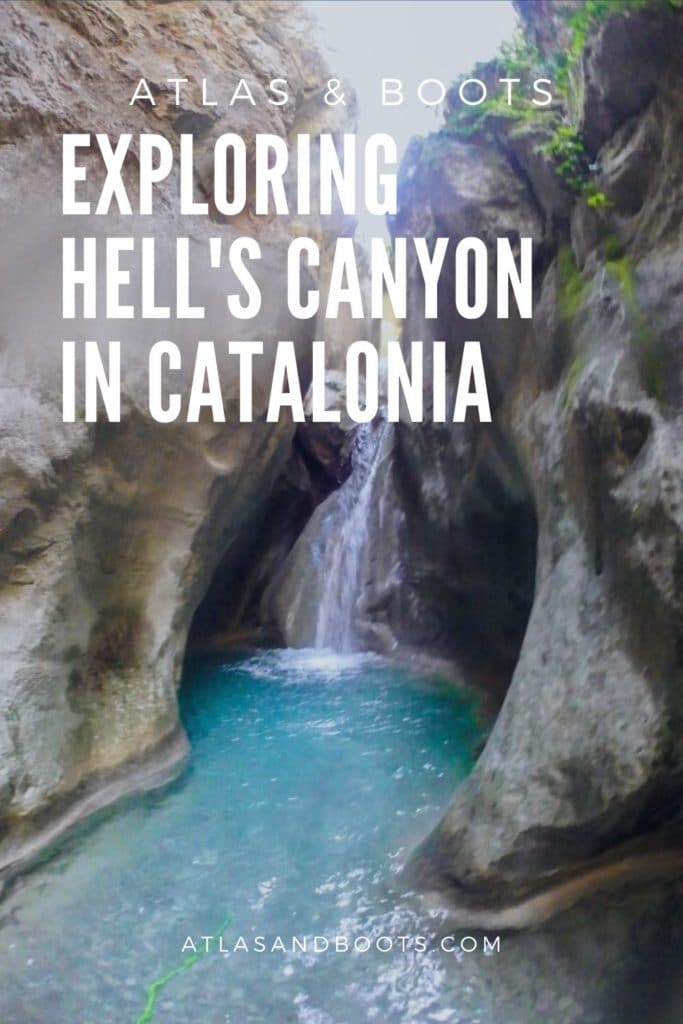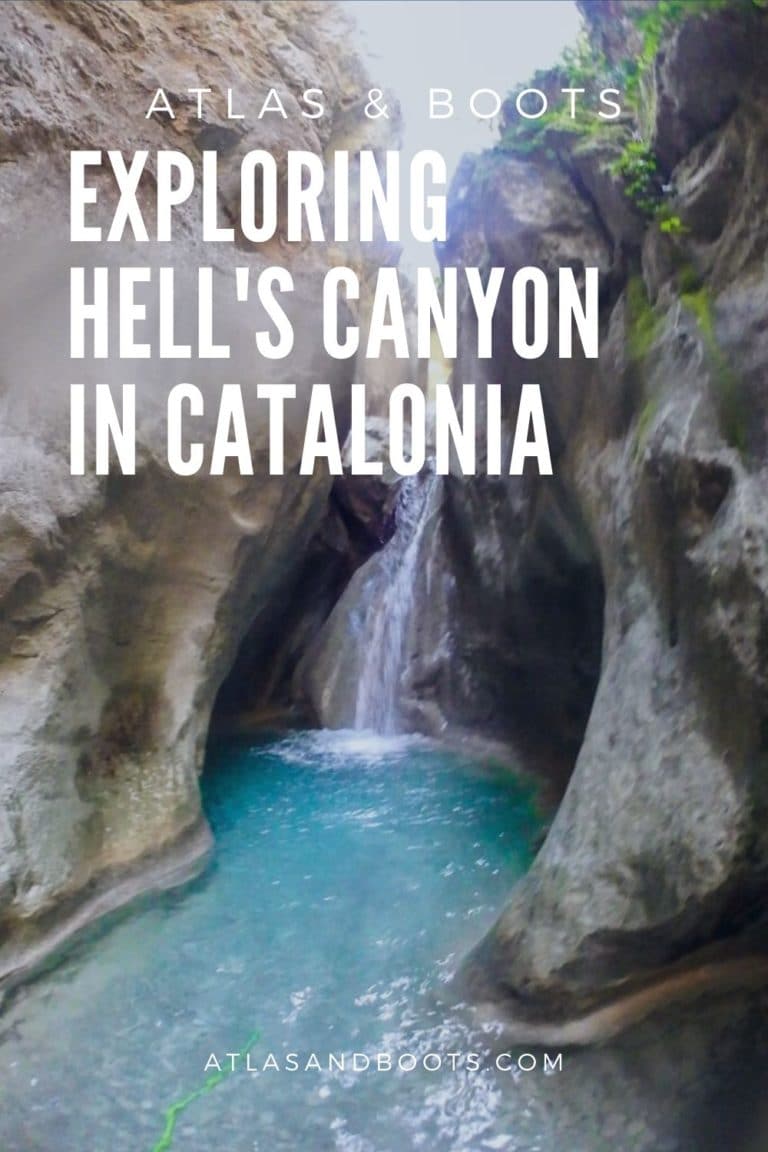 ---
Disclosure: We travelled to Catalonia with support from the Catalan Tourist Board. All publications say this, but we really don't guarantee positive coverage. We say what we think – good and bad – so you can make informed decisions with honest advice.
Lead image: Atlas & Boots