Our beginner's guide on how to choose a backpack will help you make the best choice for your backpacking needs, ensuring comfort and reliability
Whether you're on a day hike through gently rolling hills or an extended expedition crossing an ice shelf, knowing how to choose a backpack most suited to your trip will make it infinitely more enjoyable.
There are myriad options available and it can be a confusing affair, but getting it right will ensure comfort and reliability day after day.
With this in mind, we've put together a comprehensive guide on how to choose a backpack.
How to choose a backpack
We've structured our guide on how to choose a backpack into the following subsections.
considerations
When considering how to choose a backpack, ask yourself the following questions:
Where are you going?
When are you going?
What will the weather be like?
How long are you going for?
How much will you be carrying?
What equipment will you be carrying?
What activities will you be doing?
What terrain will you be covering?
How strong are you?
Types of backpack
The main purpose of your backpack will inform every part of the buying process. A winter mountaineer planning on spending a month on the slopes of an eight-thousander will have different requirements to a round-the-world traveller expecting to do little else than the odd day hike.
Trekking backpack: My go-to backpack is an Osprey Exos 38 backpack which weighs in at just a touch over one kilogram. It's super light, spacious, durable and suits most camping and trekking trips including shorter wild camping and winter mountaineering trips.
It has enough space for a sleeping bag and lightweight camping gear and as it's only 38 litres it also encourages me to keep the weight down. Another great option is the Levity 45 which is just 800g even though it holds more!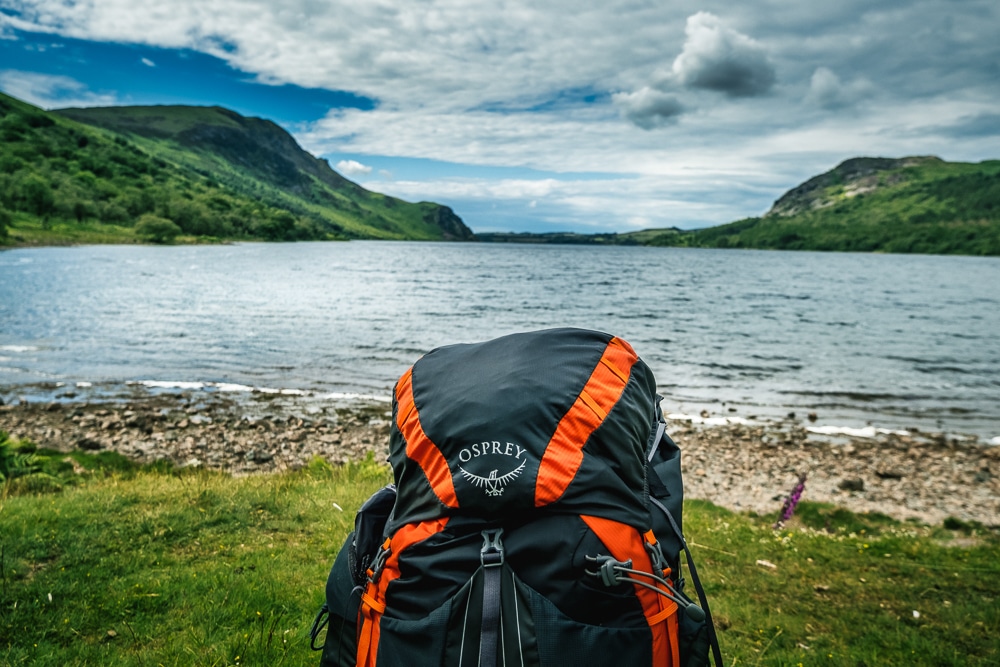 Trekking backpacks are usually more than 40 litres, strong and weather-resistant, but also lightweight, comfortable and stable. The pack should be well ventilated and have plenty of stretch-mesh and stuff pockets to squeeze gear in.
Daypacks: Personally, I tend not to use a daypack as I usually have camera gear with me and prefer to use my trekking pack as I need a bit more space. Kia has an Osprey Tempest Pro 18 daypack that is cool and comfortable with enough space to fit the essentials.
It has some nice touches such as attachments for sunglasses, safety lights and trekking poles as well as side pockets for water bottles, quick-access hip pockets and a stash pocket big enough to fit a cycling helmet.
­Expedition backpack: For longer expeditions, something bigger and more durable is required. I use an 85l Osprey expedition backpack. This is large and comfortable enough for high camp carries and can easily be packed down and used as a day pack on day hikes. The removable lid also means it can compress further and be used as carry-on luggage during flights.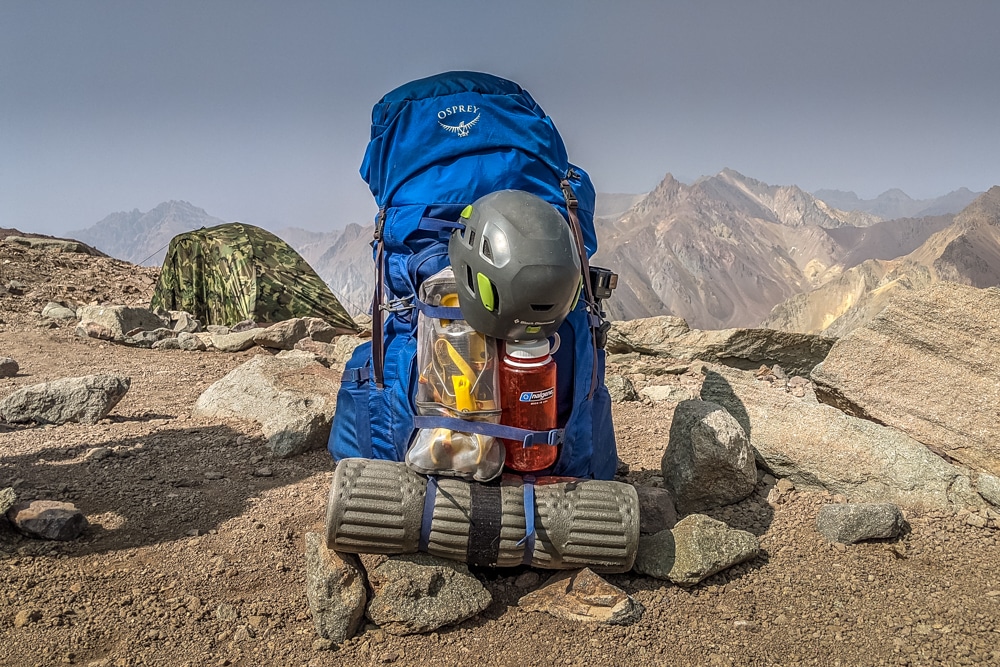 The material used throughout is stronger, thicker and thus heavier than the previous options. However, it is used for heavier gear over longer periods of time so the shoulder straps and hip belt need to be more padded offering extra comfort as well plenty of external accessory straps, storage panels and stash pockets.
Alpine backpack: I have another type of backpack for rock climbing trips. Alpine and climbing backpacks generally have fewer compartments but more distinct features such as a finger grip belt, ice tool attachments, crampon pockets, hydration system and lighter, more flexible back support.
Adventure travel: Adventure travel packs are excellent crossover backpacks-cum-suitcases designed for active vacationers. The backpacks have many of the above elements combined with everyday features such as laptop and gadget compartments, a zippered shoe compartment and a separate wet/muddy gear compartment. They often have more rigid exteriors similar to that of a suitcase. Some, such as the Osprey Farpoint Wheels 36, even come with wheels.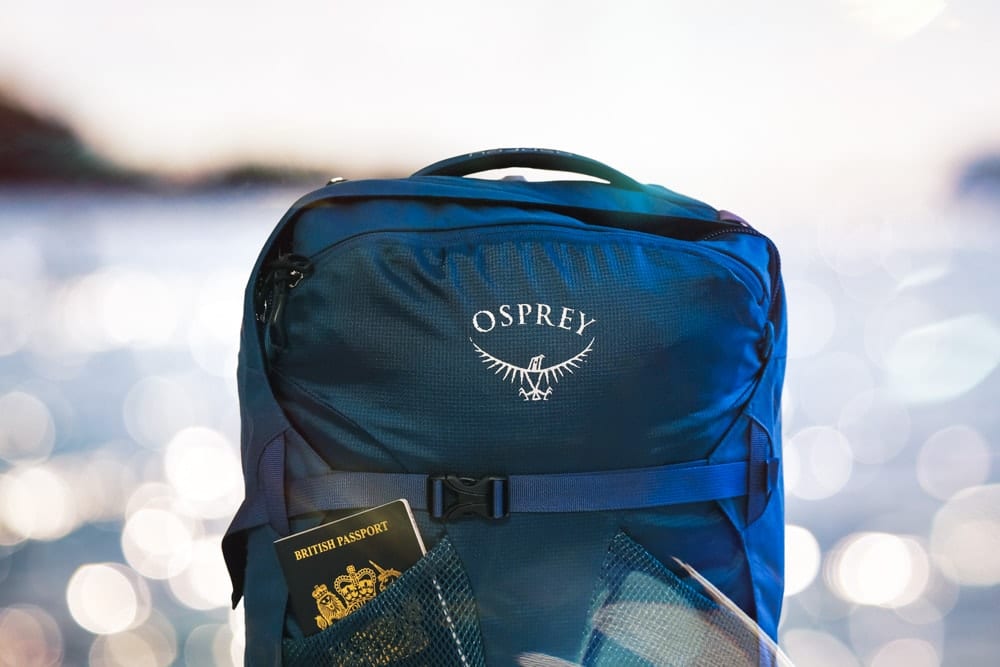 Size and capacity
All the above considerations will influence the size and capacity of your backpack. Preferences and requirements will of course vary, but the below is a good reference point.
Weekend (1-3 nights; 30-50 litres)
If you're only escaping into the wilds for a short break then staying lightweight should be your priority. If you're efficient, then you can make the trip very light on your feet (and back), cover more ground and avoid unnecessary aches and pains. You must be disciplined and leave the luxuries at home whilst simultaneously never ignoring the ten essentials.
Multiday (3-5 nights; 40-70 litres) / long-term travel
These are the most popular backpacks and cover most eventualities. 40-70 litre packs are very versatile and can be used by backcountry skiers, day-trippers and overnighters. They are also ideal for long-term travellers with more to carry than the average vacationer.
Extended-trip (5+ nights; 70 litres or larger)
Extended trips of 5 days or more will usually require packs of 70 litres or more. These are usually the preferred choice for:
Winter activities lasting more than one night. Larger packs can more comfortably accommodate warmer clothing, thicker sleeping bags and 4-season tents with heavier poles.
Longer trips in the wilderness requiring more supplies and equipment.
Expeditions in harsh environments.
Features of a backpack
Not all backpacks will have all of these attributes, but they are the sorts of features you should look out for when considering how to choose a backpack.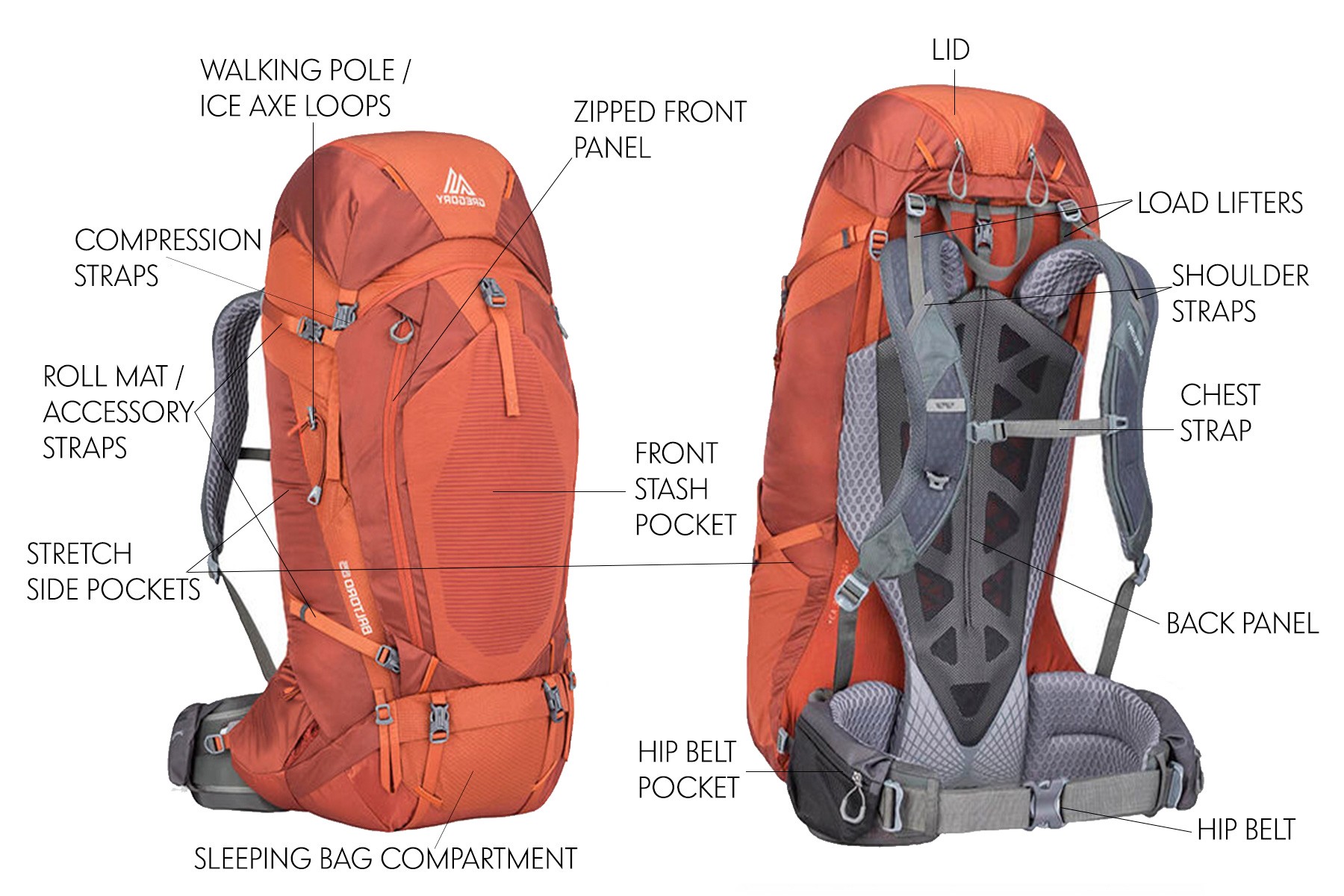 Walking pole/ice axe loops: Use these loops for your walking poles and/or ice axes.
Zipped front panel: This can be unzipped for easy access to the main compartment.
Lid: The lid usually incorporates a pocket for easy access storage at the top of your pack. In some cases the lid can also be removed to save weight or even to use as a small hip pack.
Load lifters: These adjustment straps may look small but they are essential to carrying loads as comfortably as possible. They connect the shoulder straps to the top of the pack frame and can be used to change the angle and distance of the pack in relation to your body. This helps prevent a heavy pack from pulling away from you and keeps the load/weight of your pack centred on your hips.
Chest strap: The chest strap (or sternum strap) is attached to the shoulder straps and when done up sits across the chest. Both the position and the length of the strap should be adjustable. They will improve the stability of the pack and keep shoulder straps stable by stopping them slipping.
Shoulder straps: As with the hip belts, the thickness and type of padding used on the shoulder straps will change with the size of the pack. Thick padded straps provide comfort and support while thinner ones offer better flexibility. Again, mesh straps provide better ventilation.
Back panel: These should be contoured and padded for comfort. They should be adjustable and include foam channels to provide cushioning that also improves breathability. For warm weather hiking you may consider a pack with a suspended mesh system which offers better ventilation.
Hip belt: A hip belt that fits correctly can make for a great hiking experience. Conversely, it can make for a miserable experience if it doesn't fit well. The pack's weight should be distributed evenly so it doesn't leave your shoulders aching. Usually the bigger the pack the beefier the padding, offering maximum support and comfort when carrying heavier loads.
Hip belt pockets: Quick-access pockets, great for snacks, phone, wallet, gloves and other small essentials.
Front stash pocket: Great in changeable weather. Perfect for stashing your jacket, guidebook, camera, rain cover etc.
Sleeping bag compartment: Two compartments make organisation easier. Commonly used to store a sleeping bag, the base compartment is usually separated from the main pack by an internal, sometimes adjustable divider.
Stretch side pockets: Usually for storing water bottles; often made from a stretch material for an easy and secure fit.
Roll mat/accessory straps: Often used to secure a roll mat, these can also be used as general lash points. I usually keep my tent here.
Compression straps: Use these straps to reduce the volume of your pack. They're particularly useful if your pack isn't full, as they'll help keep the load stable.
How to Fit a backpack
This is arguably the most important aspect when considering how to choose a backpack. Get it right and you'll have a pack that is comfortable, supportive and stable in all conditions. Get it wrong and shoulder, hip and back pain will almost certainly be an issue.
Instead of bombarding you with diagrams and images on how to measure your back length, I'll hand you over to Osprey.
Additional features and accessories
The below are some additional features and accessories to bear in mind when considering how to choose a backpack.
Waterproofing: Fully waterproof packs, especially large capacity backpacks are rare because they require lots of stitching, zippers and will invariably have a hole in the top (so you can pack it!). Instead, tough and durable fabrics are used offering some water resistance. These can be coated with a water repellent treatment, or a far more popular option is a removable rain cover. Another (or additional) option is to pack your gear in waterproof stuff sacs.
Hydration reservoir: Many packs offer an internal sleeve where you can fit a hydration reservoir (sold separately). These are ideal for hot-hiking trips.
Security: If you're backpacking abroad and likely to be travelling through a lot of cities and transport hubs it could be worth investing in additional security products. Slash proof mesh nets and padlocks are just one way to further secure your luggage.
Streamlining: Backpacks are not ideal for airports. They often fall foul of conveyor belts or end up in the oversized luggage area. A flight cover or protector for your backpack can make flying easier and your kit that touch safer.
---
Enjoyed this post? pin it for later…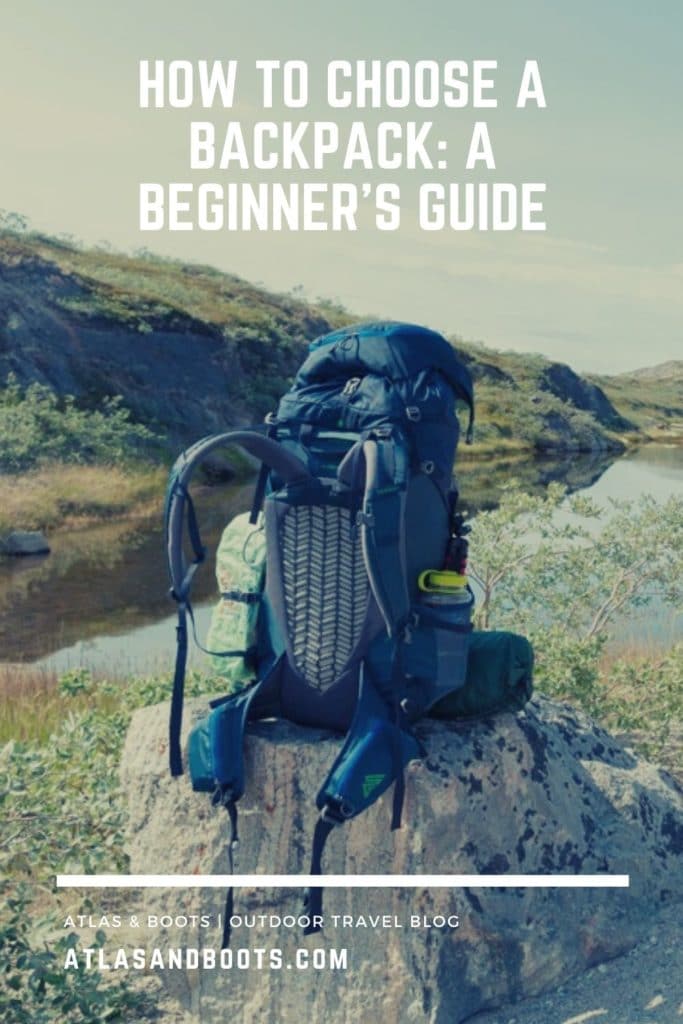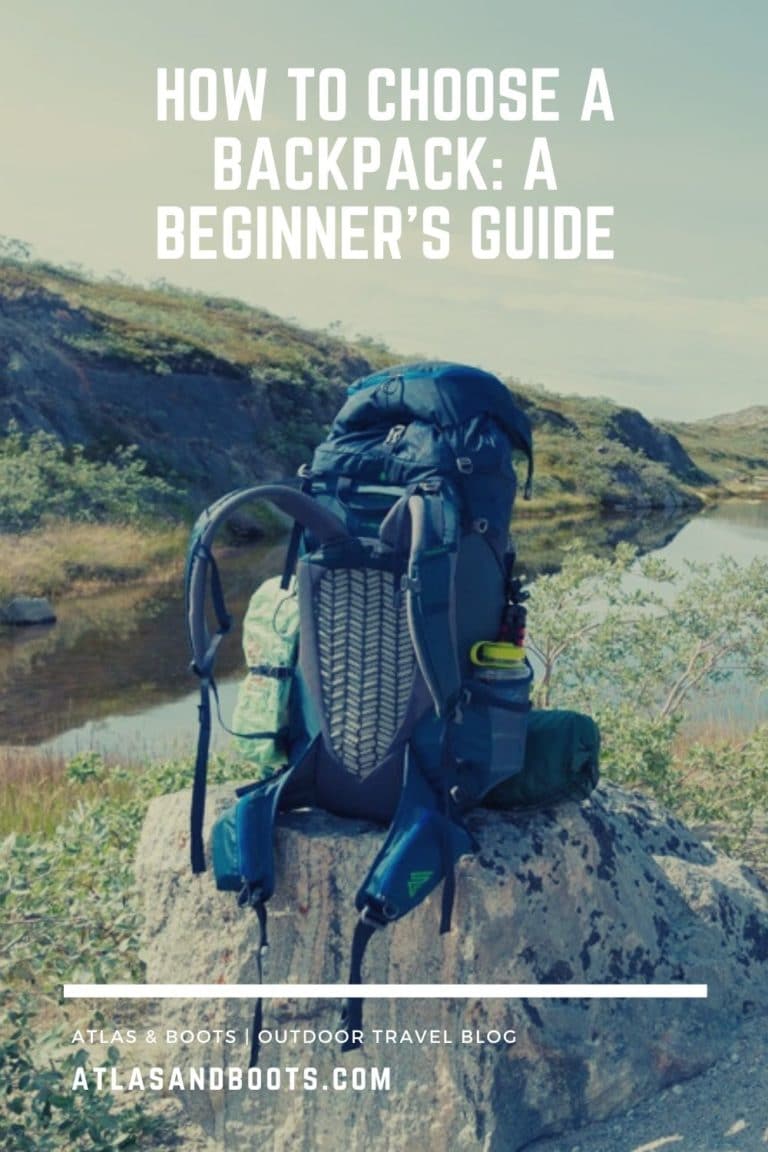 ---