Our trip to Catalonia begins with a via ferrata in the Catalan Pyrenees, testing my nerve, strength and agility
I lean out from the rock face and even though I'm fastened in three different places, my heart kicks a skittish beat when I look down at the ground. I'm only metres above it, but suspending myself from an iron rung and leaning into the abyss goes against my natural instincts.
Jordi, our expert guide from Outdoor Adventour, tells me to lean out further. "You have to know you're safe down here in case you need to do this up there."
'Up there' is 200m of craggy cliff face punctuated by iron rungs bolted into the rock. Together, the rungs comprise our via ferrata or 'iron path' up the face of Tossal de Miravet by Pont de Suert in the Pyrenees of Lleida in Catalonia.
Via ferrata was first used in the 19th century by farmers in the European Alps to connect villages to higher pastures and later employed by soldiers in the First World War to gain access to peaks for observation posts and field guns.
Today, via ferrata is used for recreation, which is why I'm dangling off the face of Tossal de Miravet in the Catalan Pyrenees.
Invited to the region as part of a 'mystery trip', I had no idea I'd be trying via ferrata until minutes before the climb. I was mentally unprepared, but keen to give it a try.
Peter, who had done the Queenstown via ferrata only months before, asked if I was nervous. I was full of bravado, genuinely confident that via ferrata in the Catalan Pyrenees would pale in comparison to the 134m Nevis Bungy or jumping from a plane at 16,000 feet. I'm not scared of heights and am relatively nimble, so figured this would be fun and not too difficult.
My first challenge was mastering the carabiners that keep us attached. As I wrote in horse riding in Montenegro, I have inexplicable trouble with gauges, clasps, zips, buckles, knots and locks. On a via ferrata, climbers have to clip two carabiners onto a steel cable that runs parallel to the iron rungs, swapping them from one section of cable to another as they progress higher.
A third carabiner is available for clipping onto the rung itself in case they need to lean out – as I find myself doing now. Jordi tells me to clap my hands to make sure I'm confident leaning out. I do and he grins, the first indication of his penchant for mischief.
We set off in earnest: Jordi first, followed by Naomi (our companion from the tourist board), then Peter and, finally, me. I'm pleased to see that Naomi is slower than me. (Sorry, Naomi, but no one likes to be the weakest link!) Jordi assists her, which gives me time to climb without embarrassment. Via ferrata ain't graceful for newbies.
We move higher along the first of three faces and I draw on my strength, agility and composure to keep on moving up. I'm starkly aware that I am in charge of my own safety, which makes this markedly different from bungying or skydiving. With those activities, you're never out of an expert's hands. Here, a few missteps could have me plunging down and even though my rational brain knows I'm perfectly safe, at some point my left leg starts shaking uncontrollably. I've never experienced anything like it before and I realise I must be terrified. It has a strange, academic quality and a detached part of me thinks, 'Huh, so this is what it's like.'
I brace myself against the iron rung and take a few deep breaths to steady myself. There really is no way but up. I remind myself that children aged 14 are allowed on the via ferrata in the Catalan Pyrenees, so it really can't be that hard.
I ignore the feeling of being so exposed, and keep on moving up. Soon, we reach our first plateau and Naomi and I slump in relief. This really is something else. Neither Peter nor Jordi believe me when I say that this is scarier than bungy.
We take a moment to enjoy the views of the Boi Valley, Pont de Suert and the Noguera Ribagorçana River. Alas, the reprieve is fleeting and soon we're off again.
We climb higher and begin to tackle sections with large gaps between the rungs, hardly ideal for someone who's barely 5'2". Soon, we arrive at a 'Nepalese bridge', a set of cables strung across a chasm that we have to cross on foot.
Stepping onto the bridge is wild and thrilling. As the rope sways, however, I note that it's somehow less scary than the via ferrata itself. Perhaps it's because I don't have to swap carabiners that makes me feel secure. Of course, losing my footing would still be terrifying. I can't imagine what dangling 100m above the ground does for your confidence.
As I reach the bridge's midway point, Jordi, our resident jester, starts swaying the rope with his foot. I'm flabbergasted but also amused and threaten to beat him when I reach safety. I note that he doesn't do the same to Naomi, so like to think he can gauge who can and can't handle his comedy.
Before long, we reach a second rope bridge. This one we cross quickly, but there is a sharp corner at the end and Jordi has to practically pull me around it. Further on, Peter drops his lens cap from above me and it lands on a ridge metres beneath my feet. I descend, tuck it into my shirt, climb back up and hand it to him, feeling the closest to James Bond I'll probably ever be.
Atlas & Boots
Soon, we reach a second plateau. Jordi says that we are moving relatively slowly and asks if we want to call it a day, or attempt the last cliff face. He explains that the last face has the odd collapse and the iron rungs are even fewer and farther between.
Naomi and I look at each other, then back up at Jordi. "We're happy to stop," we say in unison, buoyant with relief.
I found via ferrata in the Catalan Pyrenees difficult not just because I was largely in charge of my own safety, but also because of the prolonged nature of the activity. With a skydive or bungy, you draw on your courage and take a leap and the experience is over in minutes. With via ferrata, you have a long and tense stretch of activity at extremely high intensity.
Of course, now that I've done it, I want to do it again. I can see that it was incredible fun and I regret not completing the route. Naturally, there's only one way to deal with this and that is to return to the Catalan Pyrenees.
Via ferrata in the Catalan Pyrenees: the essentials
What: Via ferrata on Tossal de Miravet in the Catalan Pyrenees.
Length: via ferrata 420m, total 2.8km
Elevation: via ferrata 200m, total 280m
Duration: via ferrata 2-3 hours, plus 20-minute walk in and 40-minute walk out
Difficulty: Medium
Where: We stayed at Hotel L'Aüt in Erill la Vall, a 20-minute drive from the via ferrata meeting point by ECEM Escola de Muntanya.
Hotel L'Aüt is an intimate hotel located in the Medieval village of Erill la Vall in the Boi Valley. The charming stone building stands opposite Santa Eulàlia d'Erill la Vall, one of the area's famous Romanesque churches.
Hotel L'Aüt
The rooms are typical of cosy mountain lodges, with wooden shutters, slanted ceilings and low lighting creating a distinctly snug feel.
The hotel has a terrace, living room and an on-site restaurant serving a range of tasty local fare, perfect for an evening meal followed by a stroll along picturesque village streets.
When: Via ferrata in the Catalan Pyrenees is available May to October.
How: Via ferrata in the Catalan Pyrenees is offered by Outdoor Adventour, a local company run by charismatic CEO, Pepo, with support from a team of highly experienced guides, among them Jordi, Edu and Marc who took excellent care of us during our time in Catalonia.
Contact the team via the website, email info@outdooradventour.com or phone +34 973 043 409 / +34 654 093 295 to book activities and arrange transfers.
We flew into Barcelona–El Prat Airport (BCN), which provides easy access to the rest of Catalonia. Book flights via Skyscanner for the best prices.
---
Enjoyed this post? pin it for later…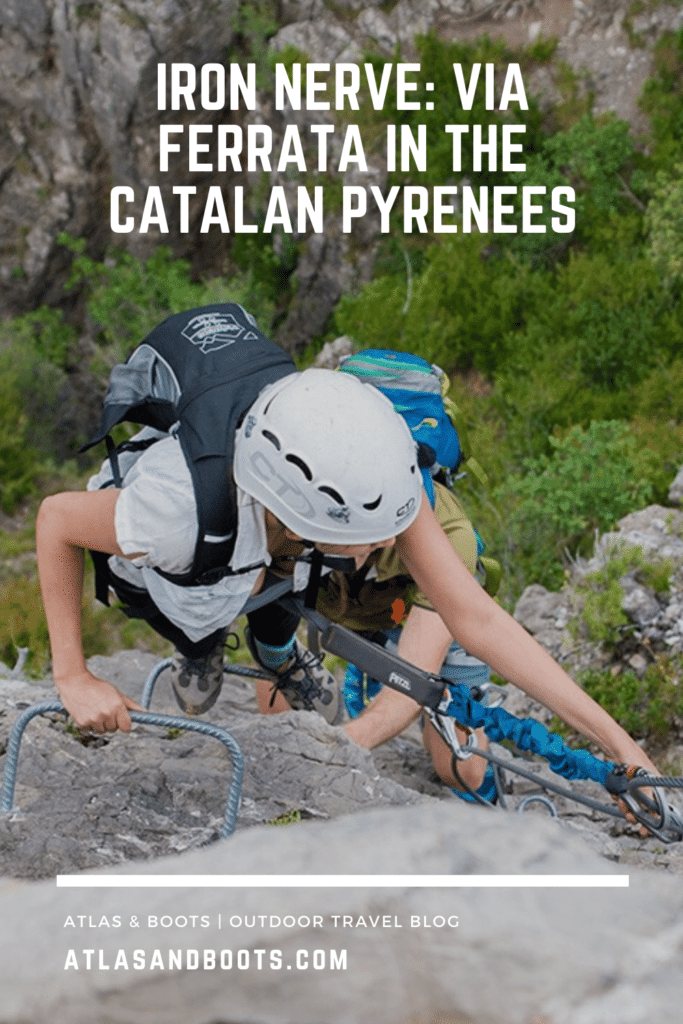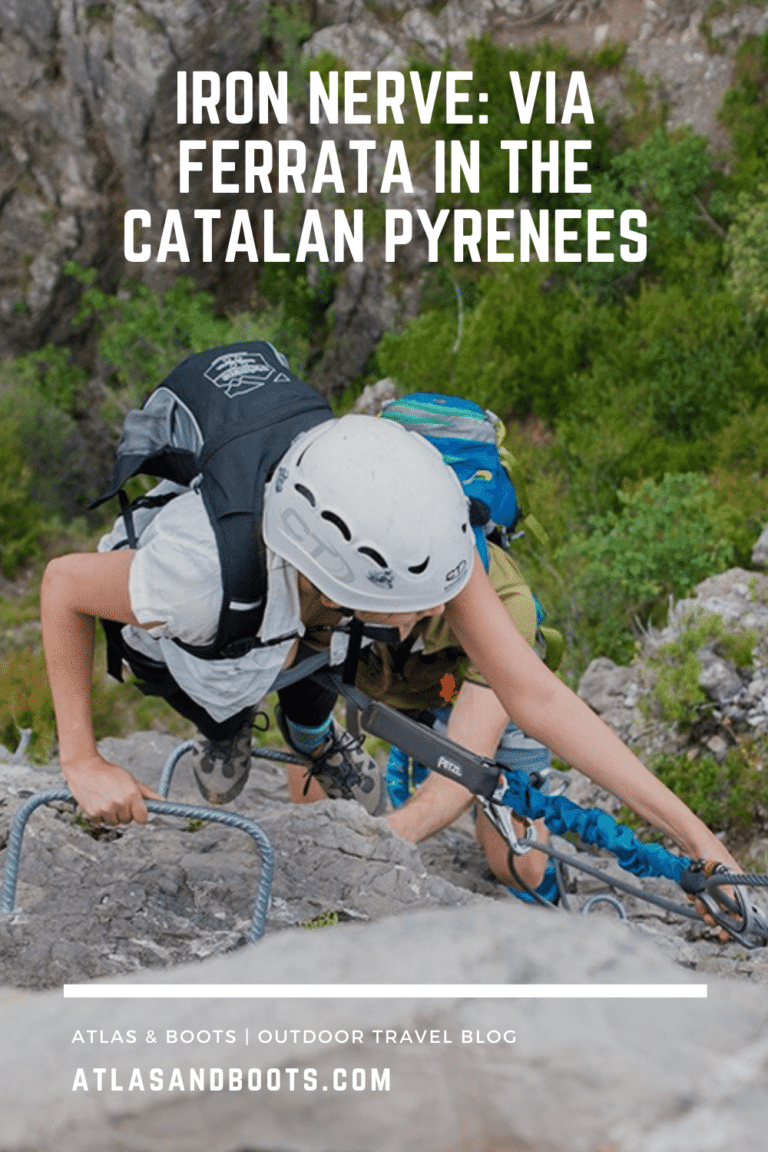 ---
Disclosure: We travelled to Catalonia with support from the Catalan Tourist Board. All publications say this, but we really don't guarantee positive coverage. We say what we think – good and bad – so you can make informed decisions with honest advice.
Lead image: Atlas & Boots