Swimming with whale sharks in Djibouti promised to be the highlight of our trip – but would it live up to the hype?
I'm a pessimist and Peter's the opposite, so while he was brimming with anticipation at the prospect of swimming with whale sharks in Djibouti, I sat dolefully in a corner wondering if a) we would even see a whale shark and b) if I would be able to keep up with it.
I'm not a water baby as I may have mentioned in the past. I grew up in London and sensible people don't swim in the Thames. That's not to say that I avoid marine adventure altogether; diving in the Galápagos and seeing humpback whales in Tonga are two of the best things I've ever done – but would swimming with whale sharks in Djibouti live up to the hype?
We met Ken from Rushing Waters Adventures and two other guests at 8am for the two-hour drive to our departure point on the Bay of Ghoubbet. There, we checked our snorkels and fins and readied to embark.
On board our boat, Peter chatted away happily with the other guests while I sat mute, mentally preparing to swim. Pace yourself, breathe slowly, use your fins, I told myself.
After 20 minutes or so, we slowed to a stop near three other boats. I was pleased to see that they were small skiffs and not the thronging monsters we saw in Mirissa. One held a dozen people and the others had smaller groups like ours.
The air pulsed with anticipation as we scoured the water, masks and fins secured. Our spotter pointed north and we leapt into the water, swimming furiously in the advised direction. To hell with pacing myself. I had to keep up with the crowd.
I dipped my head in and out of the water to make sure I was swimming in the right direction. As I had feared, I was falling behind. Kicking furiously, I eventually caught up and dipped my head back into the water. There, a few metres beneath me, was a whale shark, the largest known fish in the world.
I cried out in shock. The bulk and shape were like nothing I'd seen before. The whale shark's spots caught the light in such a way that made them glow. He glided calmly in the water, oblivious to those swimming above him.
At points, people swam into me and pushed past unabashedly which wasn't pleasant, but I was willing to forgive given the fervour of the moment. What I could not forgive was the man from another group who decided he wanted to touch the shark, protocol be damned.
He dived down and swiped at the whale shark's fin before shooting back up, hitting other swimmers as he did so. This kind of behaviour is infuriating as it disturbs the whale sharks, spoils the view for other swimmers and sets a terrible example. I wish I could have spoken to him after and asked him to stop being an idiot abroad.
Back on the boat, Ken advised that we break for lunch and resume our search when the others had gone. We headed to a secluded beach and spent a while snorkelling a reef.
We enjoyed a lovely picnic on the beach while Ken, a Wisconsin native long settled in Djibouti, shared amusing anecdotes of his time in the country. (Ask him about the Djibouti Kayaking Society.)
After ample time to rest and regroup, we headed back out to search. It wasn't long before we found another shark, this time joined by only one other boat. Our spotter pointed a few metres ahead and Peter and I jumped straight in.
Alas, the whale shark headed in the opposite direction and the two boats followed, depositing passengers far closer to him. Peter and I locked eyes. We'd made the mistake of jumping in too soon.
It was then that a motion caught the corner of my eye. The whale shark was headed straight in our direction. I dipped underwater, safe in the knowledge that these creatures are gentle. The shark swam directly towards me as I hovered in the water as if suspended in time.
His skin glittered in the light and I held my breath as he swam so close I thought his tail would hit me as he turned. His enormous bulk slid swiftly by and I exhaled, long, soft and slow.
It was one of my greatest wildlife experiences, right up there with the Galápagos and Tonga. These magnificent creatures are bewitching in both beauty and behaviour and it was an utter privilege to share their space.
It's clear that as tourism to Djibouti grows, authorities will have to establish and uphold tighter regulations on the number and behaviour of swimmers. In the interim, tourists have a duty to book with reputable companies like Rushing Waters Adventures that govern visitor behaviour.
Djibouti is one of Lonely Planet's best countries to visit in 2018 and with a rail line soon opening from Addis Ababa, access to the country is only set to grow. With this in mind, if you want to swim with whale sharks in Djibouti, don't wait to go.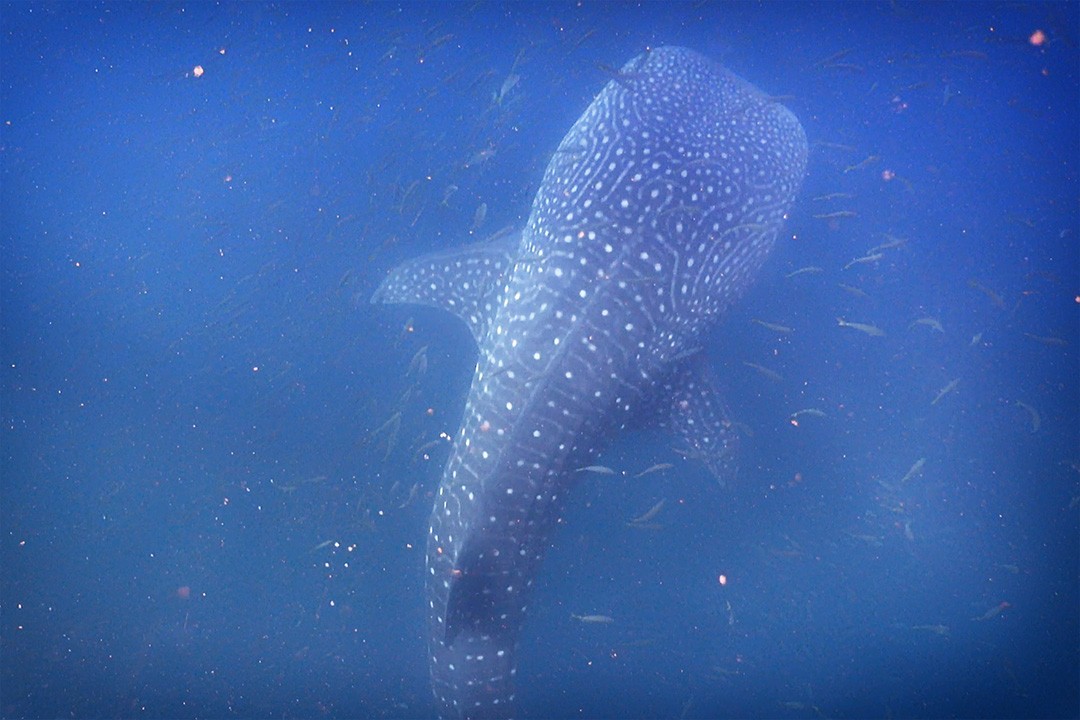 Atlas & Boots
tips
Avoid visiting on weekends when the waters are most crowded
Don't dive down to the whale sharks and certainly don't touch them
Try to keep four metres of distance between you and the whale sharks
Drink plenty of water and reapply sunscreen frequently
Be aware of other boats in the water as the various skippers can't always see swimmers
Book your trip with a reputable company
Finally, remember that experiences with wildlife are never guaranteed
Swimming with whale sharks in Djibouti: the essentials
What: Swimming with whale sharks in Djibouti.
Where: We stayed at Sheraton Djibouti overlooking the Red Sea. Rooms are clean and comfortable with excellent wifi and pretty sea views on one side of the hotel. The outdoor pool is nestled on a raised platform above the sea giving the distinct feeling of being aboard a boat.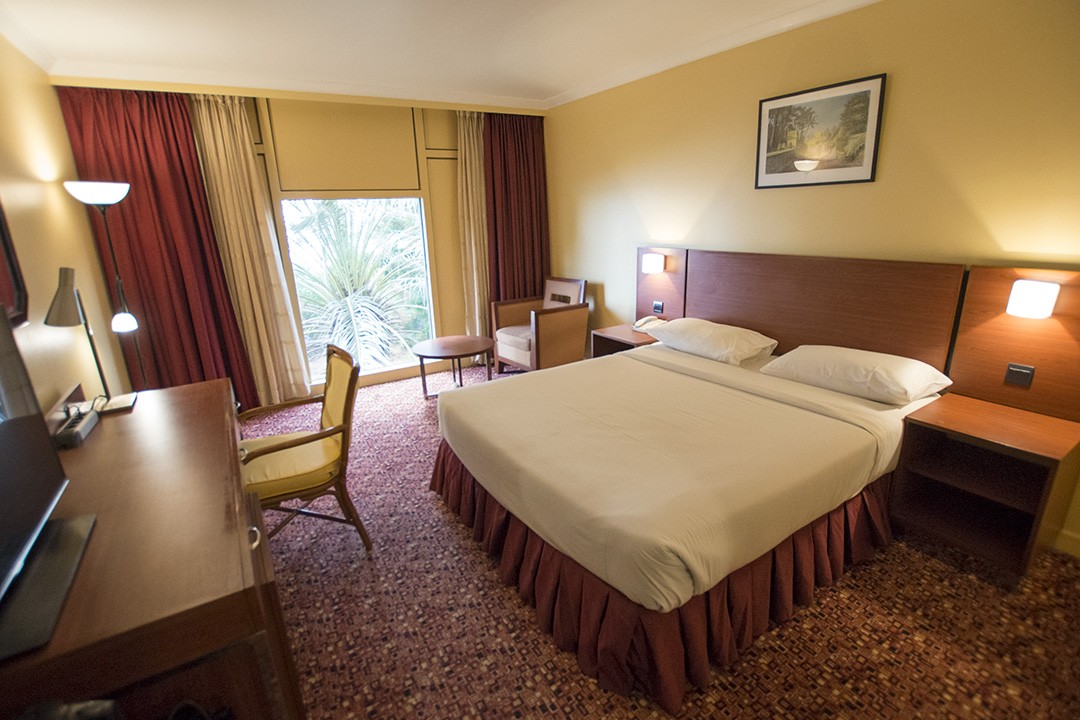 Atlas & Boots
The breakfast is worth a mention given the dedicated pancake station and wide range of tasty fare. There are several dining options on-site as well as an excellent Indian restaurant, Sings, around the corner.
The hotel offers a range of amenities including a free airport shuttle, a shop stocked with essentials, a business centre and a fully-equipped fitness centre. Naturally, we preferred the comfy lounge area, perfect for enjoying a whisky sour in the evening and watching the sun set over a gently lapping sea. Overall, it was a welcome touch of comfort with which to end our trip.
When: The whale shark season in Djibouti runs from Nov-Jan when the weather is cooler. The shoulder seasons of Oct and Feb-Apr are also good times to visit, but you won't see whale sharks. May-Sep is extremely hot.
How: We went swimming with whale sharks in Djibouti with Rushing Waters Adventures, currently ranked the number one company in Djibouti on TripAdvisor. Rushing Waters is operated by Wisconsin native Ken who has lived in Djibouti for over seven years (and can even speak Somali!).
Our day tour was well organised and included pickup and dropoff, snorkelling equipment, a picnic lunch and non-alcoholic drinks. Overall, it was an excellent way to see these majestic creatures. Book via Ken at Rushing Waters Adventures: www.kayakdjibouti.com, kgradall@kayakdjibouti.com, +253 77 79 49 58.
Djibouti is a small country which means it's fairly easy to get around. Taxis from the airport charge set fares to hotels in the city (approx 2,000 DJF / $11 USD). Check the board outside the airport to make sure you don't get overcharged. Some hotels including the Sheraton operate free shuttles, so check beforehand.
Book international flights via skyscanner.net for the best prices.
---
Enjoyed this post? pin it for later…
---
Lonely Planet Ethiopia & Djibouti is a useful guide to Djibouti, ideal for those who want to both explore the top sights and take the road less travelled.
Lead image: Atlas & Boots