We visit Lac Assal in the Afar Depression where three diverging tectonic plates have created some of the strangest sights we've seen
Lac Assal in Djibouti is wickedly deceiving. At first, it appears as a glorious expanse of blue-green water and blinding white sand, easily mistaken for a Maldivian beach. Behind the facade, however, lies a painful lesson: the vast white plain is not sand at all but salt: jagged shards that bristle on skin and leave you itching for water.
You might venture out for a swim, but no respite can be found there either. Lac Assal, a crater lake in the centre of Djibouti, is 10 times saltier than the sea. In fact, it's the second saltiest body of water in the world and will sting your eyes and scrape your skin if you muster the courage to go for a swim.
The geology of the lake is fascinating: at 155m below sea level, it is the lowest point in Africa and the third lowest point in the world after the Dead Sea and the Sea of Galilee. It lies in the Danakil Desert on the Afar Triple Junction where three of Earth's tectonic plates are pulling apart. The area suffers extreme heat with summer temperatures climbing as high as 52°C (126°F).
High evaporation and no outflow result in extreme salinity. Geologists say the lake originally contained freshwater and theories differ in explaining the change. It could be that Lac Assal was flooded by the sea from a nearby bay, or that rising sea levels created flows that connected the lake to the sea, or that convulsions from surrounding volcanoes severed the original link with the Gulf of Tadjoura. Whatever the explanation, the result is enchanting.
As we headed to the shore, the dry bed of salt crunched underfoot like long-settled snow and the beating sun and glare of white blinded in full bloom. We disrobed at the shore and took a few tentative steps in. Soon, it was apparent that we couldn't wade in barefoot so we returned for our shoes before plunging in.
It's not an exaggeration to say that the pain was cowing. The salt stings even the tiniest cut and lord help you if it gets in your eyes.
The water has a strange viscous quality; an oily texture that leaves a film on the skin. The film is of course a layer of salt which, though tolerable in the water, becomes itchy to the point of distraction when baked dry in the sun.
Do not attempt to pull on leggings like I did afterwards! Instead, pack a loose pair of shorts and some freshwater to clean off the salt as best you can. Be mindful, however, that freshwater is precious to the local population so use it sparingly.
The local Afar and Issa people have long mined the lake, scraping or digging salt from the shore and carving the ancient caravan routes for transporting salt to Ethiopia in exchange for coal, coffee, ivory, musk and other commodities.
Atlas & Boots
Today, private companies extract salt from Lac Assal for commercial purposes and a new industrial plant funded by the Chinese is poised to further commodify the lake.
The future of Lac Assal is surely one of commerce whether in salt extraction or increased tourism. For now, it remains a secluded spot of unimpeded beauty – just one of Djibouti's many wonders. This tiny country, Africa's eighth smallest, is a bewildering landscape of belching limestone chimneys, grand desert plains, petrified forests, extraordinary salt lakes and pristine coral reefs pressed into an area one-sixth the size of England.
I hope you will forgive me for this, but the locals are right: their country is well and truly Djiboutiful.
Lac Assal in Djibouti: the essentials
What: Visiting Lac Assal in Djibouti as part of 2-day, 1-night tour of Lac Abbé and Lac Assal.
Where: We stayed overnight at an Afar camp which was surprisingly comfortable (running water, western toilets with bidets and electricity!).
Afterwards, we returned to the Sheraton Djibouti which overlooks the Red Sea. Rooms are clean and comfortable with excellent wifi and pretty sea views on one side of the hotel. The outdoor pool is nestled on a raised platform above the sea giving the distinct feeling of being aboard a boat.
Atlas & Boots
The hotel offers a range of amenities including a free airport shuttle, a shop stocked with essentials, a business centre and fully-equipped fitness centre. Naturally, we preferred the comfy lounge area, perfect for enjoying a whisky sour in the evening and watching the sun set over a gently lapping sea. Overall, it was a welcome touch of comfort with which to end our trip.
When: The best time to visit Djibouti is Nov-Jan when whale sharks make their annual visit and the weather is cooler. The shoulder seasons of Oct and Feb-Apr are also good times to visit. May-Sep is extremely hot.
How: We visited Lac Abbé and Lac Assal on a 2-day tour with Rushing Waters Adventures, currently ranked the number one company in Djibouti on TripAdvisor. Rushing Waters is operated by Wisconsin native Ken who has lived in Djibouti for over seven years (and can even speak Somali!).
Our tour was well organised and, as mentioned above, the overnight camp was surprisingly comfortable. The tour includes pickup and dropoff, all meals and non-alcoholic drinks, a driver for two days and accommodation for one night. Overall, it's an excellent way to visit these otherworldly landscapes. Book via Ken at Rushing Waters Adventures: www.kayakdjibouti.com, kgradall@kayakdjibouti.com, +253 77 79 49 58.
Djibouti is a small country which means it's fairly easy to get around. Taxis from the airport charge set fares to hotels in the city (approx 2,000 DJF / $11 USD). Check the board outside the airport to make sure you don't get overcharged. Some hotels including the Sheraton operate free shuttles, so check beforehand.
Book international flights via skyscanner.net for the best prices.
---
Enjoyed this post? pin it for later…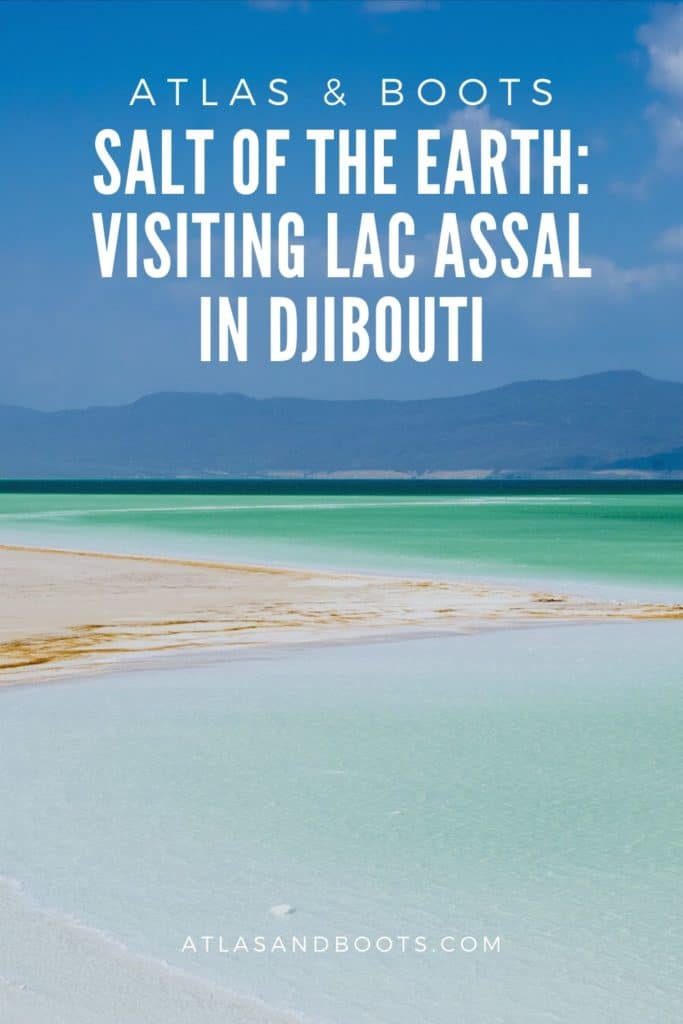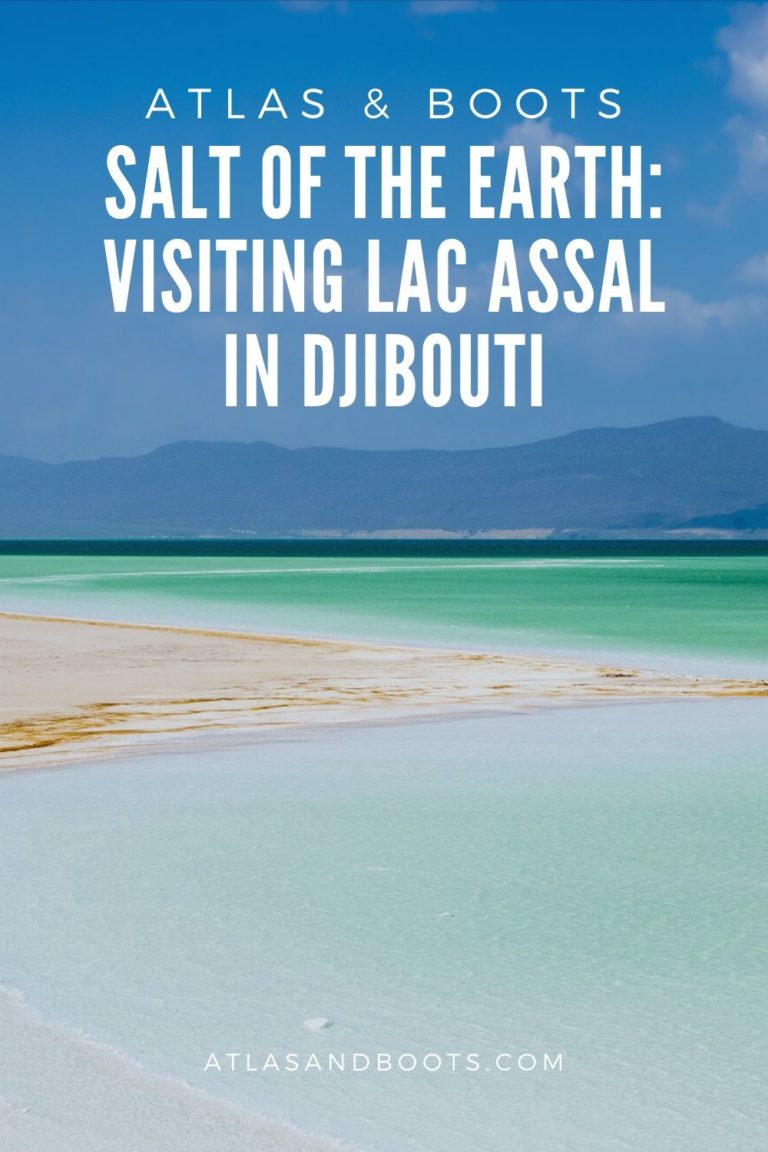 ---
Lonely Planet Ethiopia & Djibouti is a useful guide to Djibouti, ideal for those who want to both explore the top sights and take the road less travelled.
Lead image: Atlas & Boots