Decan wildlife refuge in Djibouti offers an oasis of calm outside Djibouti City and the chance to get close to some charming wildlife
Decan, which stands for DÉCouvrir et Aider la Nature (discover and help nature), is located just 20 minutes outside Djibouti's dusty capital city. The refuge is home to an array of species including cheetahs, lions, ostriches, tortoises, Somali donkeys, caracals, squirrels, oryx, antelopes, kudus, zebras and porcupines.
French vet Bertrand Lafrance created Decan in 2001 as a non-profit wildlife refuge and rehabilitation centre for a variety of species orphaned or illegally caged for trafficking purposes. He opened it to the public in 2012 and has since expanded the grounds and enclosures. The refuge currently occupies around 30 acres (121,000 sq m) and is home to over a hundred animals.
Sadly, the majority of the refuge's animals are destined to remain in the shelter for the remainder of their lives. Now tame, they would no longer be able to survive in the wild without support from man. Poignant as this is, the refuge is better than the alternative fate they faced.
We spent an afternoon exploring the refuge and were utterly charmed by the quiet and calming grounds and the beautiful animals within them.
Decan houses over a hundred animals, but it's the cheetahs that steal the show. The regal big cats like to stalk their compound's perimeters eyeing the visitors who, in turn, watch them with hushed fascination. When relaxed, they roll around and play, gently teasing each other affectionately. They are truly mesmerising.
Three intimidating lions are housed further along in a larger compound, although visitors cannot get as close to the mother and son whose enclosure is set back from the viewing area. There are smaller enclosures for a group of monkeys and a pair of caracals nearby.
The majority of the enclosures can be visited without a guide, and several – such as the porcupines and tortoises – are in open air. Visiting the ostriches, oryx and other large herbivores, however, requires an escort from a refuge warden.
We spent just over an hour strolling the grounds, but could easily have spent twice that amount. On site, there is a small gift shop, a simple cafe serving chilled drinks, an outdoor lounge area with a small library and some raised viewing platforms.
Despite being just a stone's throw from the city, the refuge is reminiscent of African savannah with red sand underfoot, acacia trees dotting the landscape and antelopes roaming beneath a beating sun.
Atlas & Boots
The refuge currently employs only Djiboutians, but it is one of the few places in Djibouti that accepts volunteers.
Volunteers can stay at the simple lodgings in the refuge and help with the day-to-day running of the refuge including animal and veterinary care, feeding, upkeep and maintenance, as well as getting involved in local education and research projects.
Whether you're an animal lover or not, Decan wildlife refuge in Djibouti is a wonderful way to spend a relaxing afternoon away from the city's dust and traffic. The refuge reminds you once again that you are in Africa, the greatest wildlife destination on Earth.
Decan wildlife refuge in Djibouti: the essentials
What: Visiting Decan wildlife refuge in Djibouti.
Where: We stayed at Hotel Residence de l'Europe, a mid-range hotel in the centre of town. The rooms are large and functional with excellent wifi and views over Menelik Square. (Ask for a non-smoking room if you don't smoke.)
Atlas & Boots
The front desk is manned by English speaking staff who are friendly and helpful, not least Mustafa who exudes Djiboutian charm (if he says hakuna, you say matata).
The Residence is close to restaurants, shops and amenities including Pizzaiolo down the road which does a great blue cheese pizza – though be warned that prices for both food and accommodation are high in Djibouti, so do adjust expectations accordingly.
Overall, Residence de l'Europe was a comfortable base from which to start our trip.
When: The best time to visit Djibouti is Nov-Jan when whale sharks make their annual visit and the weather is cooler. The shoulder seasons of Oct and Feb-Apr are also good times to visit, but you won't see whale sharks. May-Sep is extremely hot.
How: Entry to Decan wildlife refuge costs 1,500 DJF ($9 USD) which includes a guided tour of the herbivore enclosure. Children can visit free of charge.
The refuge opens Monday, Thursday and Saturday from 3.30pm to 6.30pm. The big cats are usually fed around 5pm. More information can be found on Decan's website (in French) here. You can also contact the refuge via email: decandjib@yahoo.fr and telephone: +253 77 60 97 46. Information on volunteering can be found here.
Decan wildlife refuge is 15km (25 mins) from town centre. We took a taxi and paid 7,000 DJF ($40 USD) for transport there and back and one hour of waiting time. It's worth noting that our taxi driver became aggressive and demanded more money when we were five minutes late back to the taxi. As such, we advise paying more and agreeing two hours at Decan (one isn't really enough). And don't be late.
Djibouti is a small country which means it's generally easy to get around. Taxis from the airport charge set fares to hotels in the city (approx 2,000 DJF / $11 USD). Check the board outside the airport to make sure you don't get overcharged.
Book international flights via skyscanner.net for the best prices.
---
Enjoyed this post? pin it for later…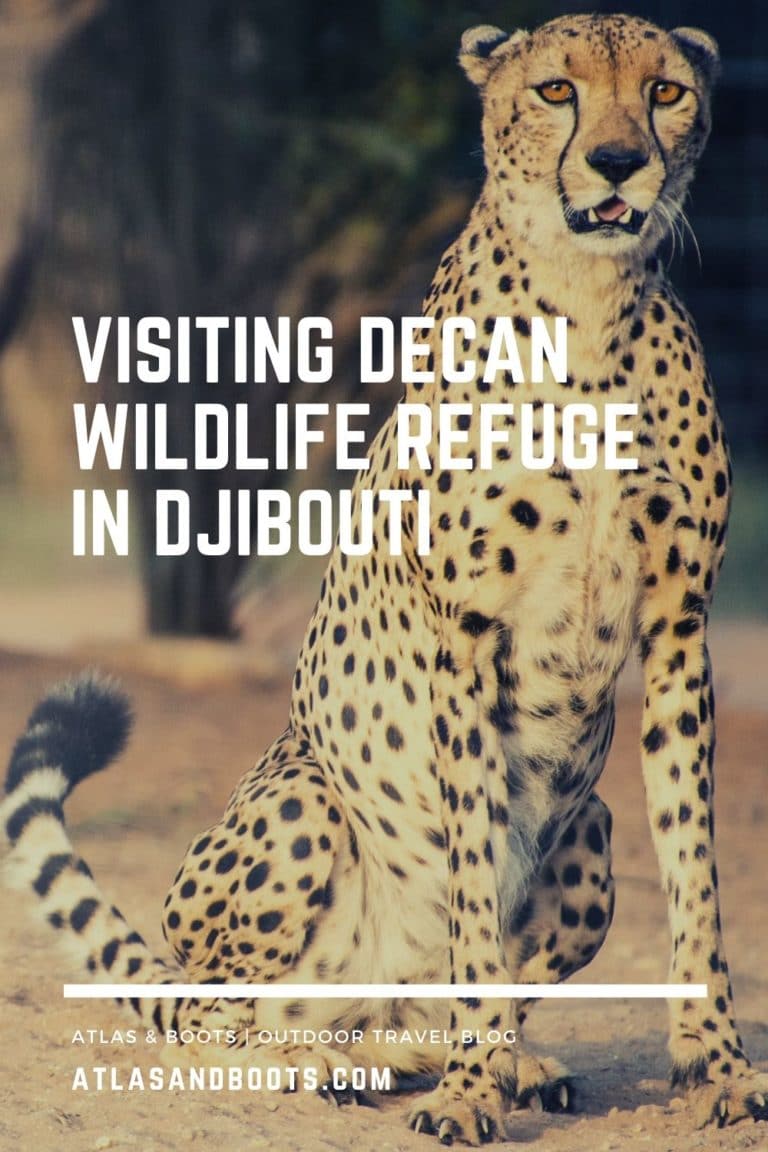 ---
Lonely Planet Ethiopia & Djibouti is a useful guide to Djibouti, ideal for those who want to both explore the top sights and take the road less travelled.
Lead image: Atlas & Boots