The Queenstown via ferrata allows climbers to scale and summit otherwise impassable cliffs rising high above the 'adventure capital of the world'
It's rare that a visitor leaves Queenstown in New Zealand without having tried something that raises their pulse. We visited the 'adventure capital of the world' as part of a G Adventures tour of South Island and were keen to sample the town's encyclopaedia of adrenaline-filled activities.
Named by Lonely Planet as one of the best countries to visit in 2018, New Zealand offers almost endless options for those seeking adventure including bungy jumping, canyon swinging, skydiving and shotover jet boating (yep, we had no idea either).
While Kia went off to jump the 134m Nevis Bungy, I preferred to try something that didn't involve freefalling – just the opposite in fact. I chose to climb the Queenstown via ferrata, a series of assisted climbing routes rising hundreds of metres up the cliffs above Queenstown on New Zealand's first via ferrata.
What is via ferrata?
Latin for 'iron path', via ferrata is a bridge between scrambling and climbing. It is more exposed than scrambling with better, unimpeded views. However, unlike rock climbing, it requires very little equipment or complicated rope work.
Additionally, as the route is marked out, much of the stress that comes with problem solving when bouldering is avoided. Via ferrata allows those with limited or no climbing experience to access and summit otherwise unreachable heights.
Via ferrata routes are fully, and permanently, supplied with climbing aids to facilitate ascents and increase safety. A series of iron rungs (stemples) are attached to the rock face providing a ladder-style approach to climbing.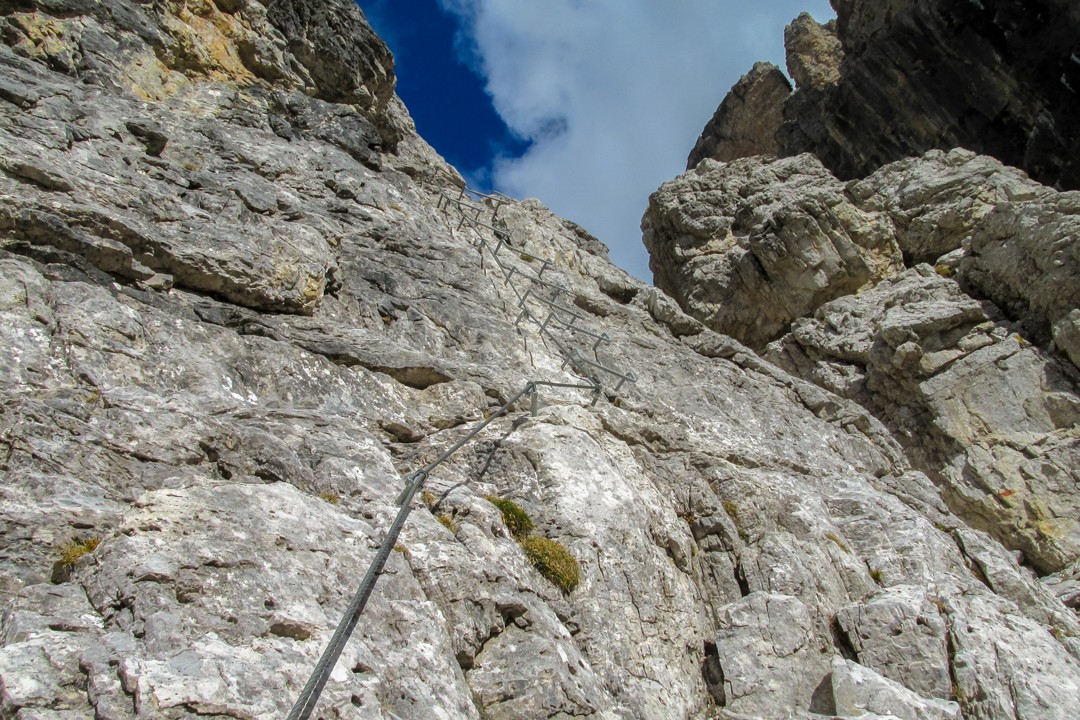 A steel cable also runs alongside the route that is periodically fixed to the rock (every few metres). Sometimes, additional climbing aids such as pegs, carved steps and even ladders or bridges may be used.
Via ferrata dates back to the 19th century when farmers in the European Alps used the technique to connect villages to higher pastures. It was then used as a way to aid the growth of alpine exploration and tourism that developed from the middle of the century.
Later, during the First World War, the Dolomites in northern Italy were the scene of ferocious fighting and via ferrata routes were again employed. Via ferrata climbing aids were used to gain control of peaks to establish observation posts and field guns, and to support troops moving through the high altitudes amid dangerous alpine conditions.
Queenstown Via Ferrata
Fortunately, via ferrata today is only really used for recreational purposes around the world. The Queenstown via ferrata comprises 12 routes covering over 300 vertical metres just a short drive from the centre of Queenstown.
The cliffs include a number of routes with varying degrees of difficulty, depending on how confident you are. Beginning at the base of a grassy hill, over 1,000 rungs and 500m of cable work their way up the eight rock faces.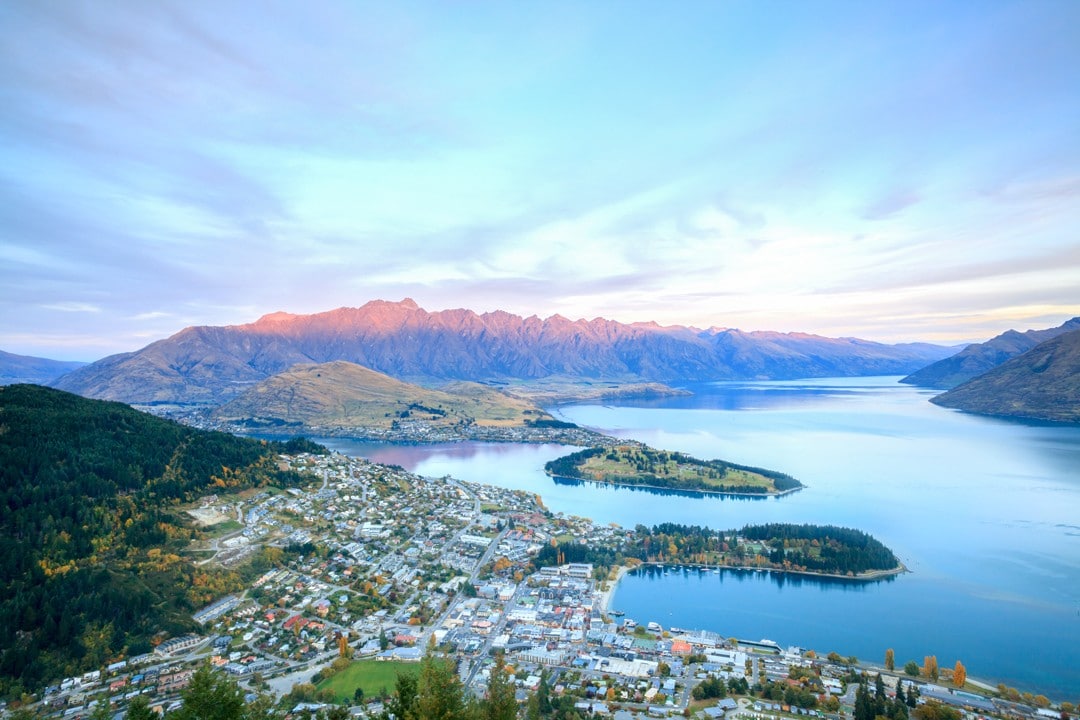 It was late in the season when we visited, so there were only four other guests on my climb. As we all felt fairly confident (despite the less-than-perfect weather) we chose the more challenging routes and technical faces up the eight sections of cliff.
We started at the base and were immediately met by some challenging climbing. It wasn't long before the sounds of the town below began to fall away.
Surprisingly, the first set of cliffs, referred to as the 'lowers', were harder to climb than the 'uppers'. The route involved some vertigo-inducing overhangs where we were forced to trust the safety gear and lean out from the rock face.
One member of our group – a long-time sufferer of vertigo – decided that he'd had enough and turned around with a guide escorting him back to town. It's worth noting that if you suffer from vertigo or are uncomfortable with heights, via ferrata may not be for you!
The second set of cliffs, the uppers, were not as physically challenging, but did feel more exposed – particularly at the greater heights. There were two traverse sections in particular where I felt more than a little vulnerable! That said, the best views were found in these segments and I knew I was never less safe.
Much like rock climbing and bouldering, the palpitating feeling of exposure and the physical challenge of climbing is still present. However, when rock climbing and bouldering, you're usually so engrossed in the process of climbing that there's rarely time to enjoy the views or interact with your fellow climbers.
At any point during the Queenstown via ferrata, you can pause, lean back in your harness and enjoy the moment: talk with your fellow climbers, take in the beauty of the surroundings and even snap a selfie!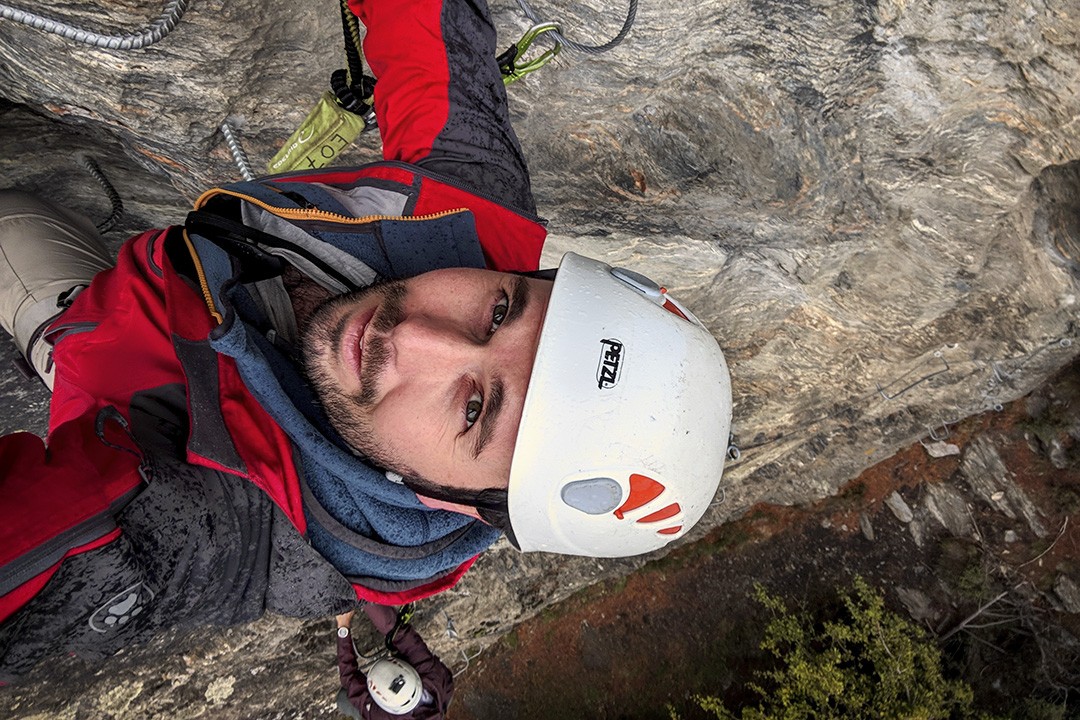 I've always enjoyed rock climbing, but I haven't got the technique or skills to master the cliffs we took on that morning. It would usually take me much longer to climb cliffs that demanding and I would need much more equipment.
The Queenstown via ferrata allowed us to scale what would usually be impassable cliffs while having fun and enjoying the scenery all at the same time.
All in a morning's work in the adventure capital of the world!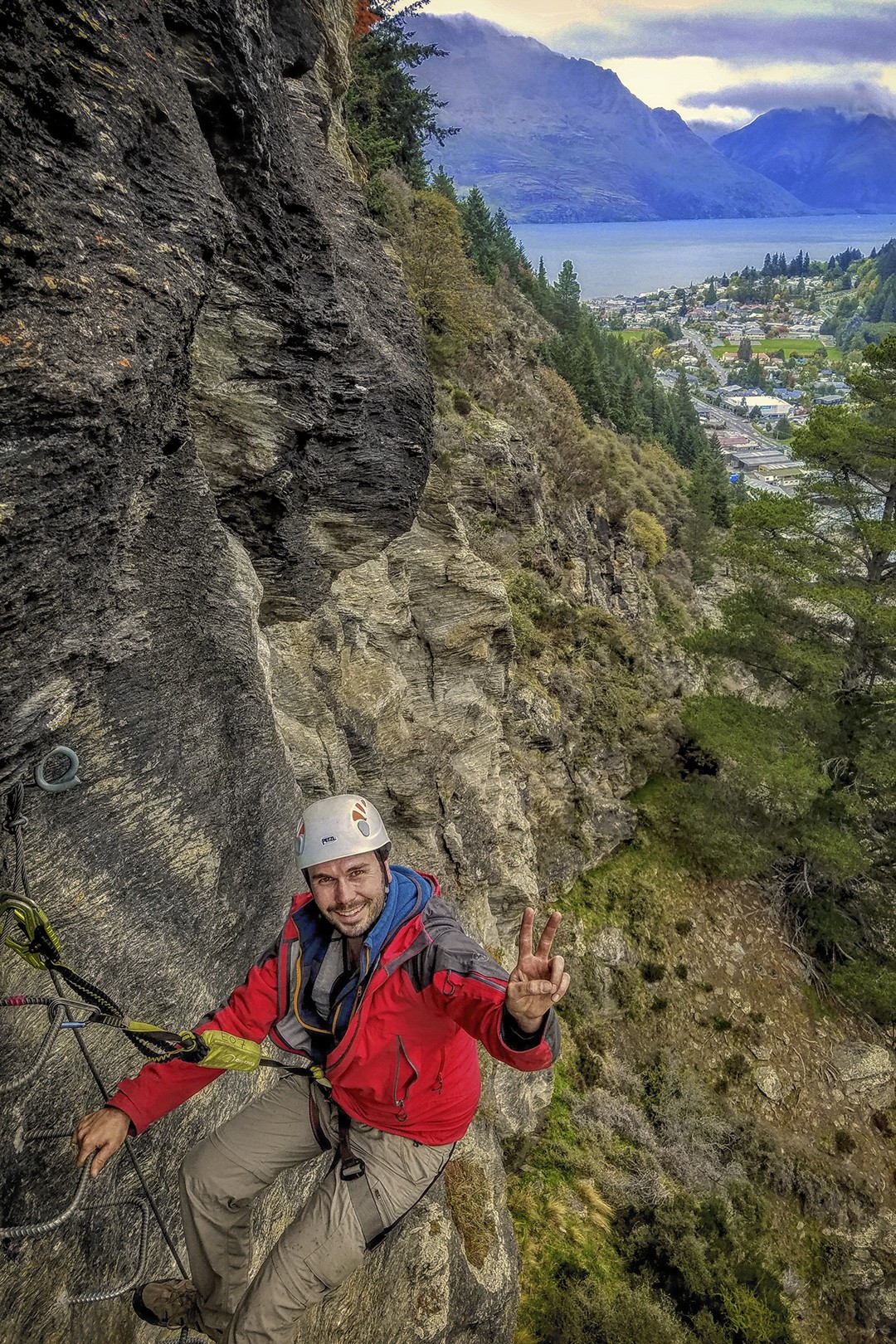 Queenstown Via Ferrata: the essentials
What: Scaling the Queenstown via ferrata as part of a G Adventures 15-day South Island tour.
Where: Accommodation on the tour includes 14 nights in simple hotels and hostels including a farmstay and a night at a former jailhouse. Some lodgings had shared bathrooms and bunk-style beds. If you are a couple, highlight this at the time of booking so you can have a double bed where possible.
When: The best time to visit New Zealand is Sep-Apr. Summer (Dec-Feb) offers excellent hiking weather and a variety of festivals and events. The shoulder seasons of autumn (Mar-Apr) and spring (Sep-Nov) have fine weather, fewer crowds and lower prices.
How: You can book a Queenstown via ferrata through your G Adventures CEO or directly with the company through their website, by emailing info@canyonexplorers.nz, by calling +64 3 441 3003 or by popping into their office in the centre of Queenstown at 39 Camp Street.
Queenstown Via Ferrata trips start from 1st October 2018 running into the autumn (April/May). Sessions leave twice daily at 9:15am and 1:30pm for $189 NZD ($129 USD) per adult and $109 NZD ($75 USD) per child, inclusive of transport and all equipment.
We explored New Zealand's South Island on a G Adventures 15-day South Island tour, priced at £2,149 GBP or $2,792 USD per person (depending on dates) for a 15-day trip from Wellington to Wellington.
The itinerary takes in Abel Tasman National Park, Franz Josef and Queenstown among others. The price includes a chief experience officer (CEO) throughout, basic breakfasts and several meals, and numerous activities including hiking, kayaking and cycling.

Optional activities include skydiving, bungy jumping, canyoning, via ferrata and glacier hiking among many, many others. For more information or to book, call 0344 272 2040 or visit gadventures.com.
We flew from the UK to New Zealand via Singapore and Australia. For long layovers at Singapore's Changi Airport, we recommend Plaza Premium's Aerotel Transit Hotel to those in need of sleep and the Plaza Premium Lounge for relaxing away from the fray. We made use of both, as well as the free city tour during our 19-hour stay!
Book flights via Skyscanner for the best prices.
---
Enjoyed this post? pin it for later…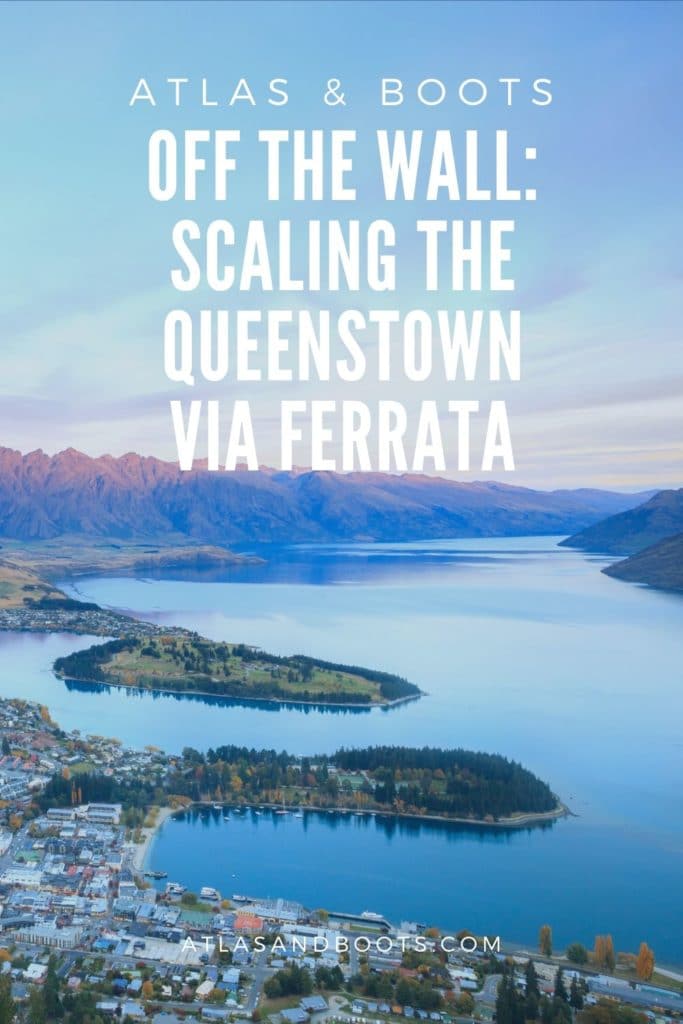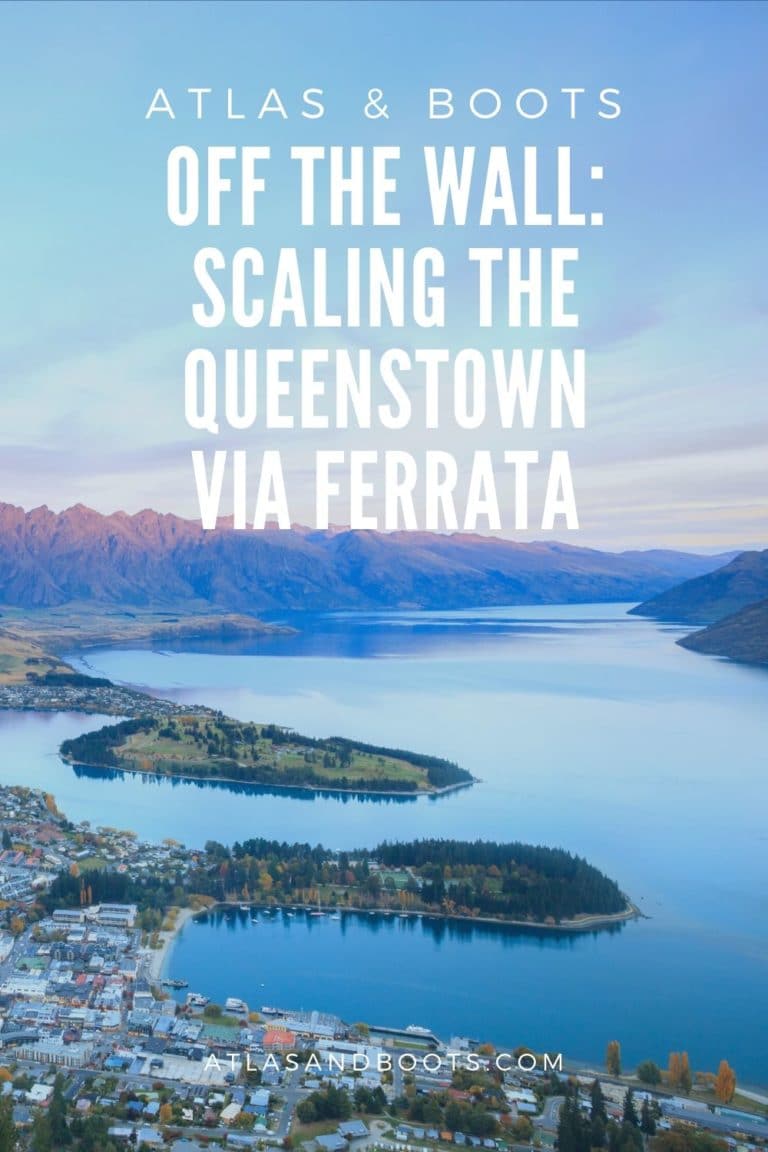 ---
Lonely Planet New Zealand is a comprehensive guide to New Zealand, ideal for those who want to both explore the top sights and take the road less travelled.
Disclosure: We travelled to New Zealand with support from Lonely Planet and G Adventures. All publications say this, but we really don't guarantee positive coverage. We say what we think – good and bad – so you can make informed decisions with honest advice.
Lead Image: Dreamstime