After a month in Australia, skydiving in Cairns seemed an apt way to finish an epic trip
I slumped into the pillow with the desultory air of someone faced with 200 channels and not a decent TV show between them. I sighed, then yawned, then slouched.
After seven days of diving in the Great Barrier Reef and all the wonder and adrenaline that comes with it, spending two days cooped up in a Cairns hotels seemed like a damp squib of a way to end our month-long trip across Australia. Sure, there was a great pancake house down the street and, yes, Aangan round the corner did excellent Indian cuisine, but after camping, hiking, sailing and diving our way through this continent-sized country, we weren't satisfied with a quiet goodbye.
Incidentally, we had some mileage left on our Greyhound 10,000 KM Pass which we bought for transport and tours (now replaced by the Whimit Pass). We'd used most of our quota crossing from Adelaide to Alice Springs and then Airlie Beach to Cairns as well as on a Neighbours tour in Melbourne and two nights' camping at Uluru. Surprisingly, we had enough mileage left for skydiving in Cairns and so eagerly booked a flight with Skydive Australia.
Peter and I had both skydived before and this was an opportunity to enjoy the experience with first-hand knowledge of what to expect. And, so, we found ourselves rising before dawn and bundling downstairs for our 5am pickup.
Inside the minibus was a group of six passengers, all bleary eyed and sober, perhaps not yet aware of what they were in for. As dawn broke outside, we noted the blanket of heavy clouds which seemed to tremble and shake in a dishrag sky. If it rained, the skydive would be called off; at 16,000ft, raindrops string like needles as you're falling much faster than water.
With fingers crossed for good weather, we arrived at the skydive centre and completed the requisite paperwork as well as a weigh-in to some chagrin (a fair reckoning after a month of 'smashed avo' breakfasts). We pulled on loose trousers and tight harnesses, then watched an instructional video.
Outside, the weather worsened and we waited patiently as our instructors made enquiries. After an hour or so, we got the go-ahead and packed into the minibus in a mixture of anxiety and elation.
The instructors were typically gung-ho: all bursting enthusiasm and blazing exuberance as we headed to the airfield. The thing with adrenaline junkies is that they never tire of adrenaline. In the rumpus, we were somehow anointed the "Death Squad".
Alas, there would be no testing fate because as soon as we reached the airfield, the weather window slammed shut. Deflated, we waited at the airfield for half an hour before heading back to the admin centre.
Two of our group departed as they had a flight to catch that afternoon. The rest of us were invited to wait a while longer. Perhaps our last day in Australia would be a damp squib after all. We waited another hour until Peter's need for coffee outweighed his need for speed. We assured our instructors that we still wanted to jump and would return straight after coffee.
As sod's law would have it, just as we arrived at the coffee house, an instructor called and told us to hightail it back. Another window had opened. This time, we packed into the bus with a sense of dwindling hope; the skies outside seemed worse than before.
We needn't have feared for as soon as we arrived, we were told to pull our gear back on and head out to the plane. Adrenaline started pumping once again. As we boarded the plane, I noticed that Peter was calm and relaxed in stark contrast to our first skydive. As he said in City girl, country boy, I barely flinched as I jumped from the plane that first time while he was a storm of expletives.
That's not to say there weren't nerves at play. One customer, as he hung out of the plane, pleaded for reprieve. If this were my first skydive, he may have lent me pause, but as it stood I felt calm and at ease.
As we leapt from the plane, instead of whooping and screaming like I did the first time, I looked around, took in the view and savoured the feeling of flying.
We passed through cloud heavy with condensation and I saw that it was true: at this height and pace, the droplets sting like needles. Thankfully, it wasn't yet raining and we quickly passed through the painful section.
After a minute of freefall, my instructor, Ken, warned me that he was pulling the cord. We shot up in a heady rush and then, an unnatural calm: a strange feeling of farce as if this were unreal somehow.
Atlas & Boots
Ken let me take the reins and I manoeuvred us under his instruction. Before long, I happily relinquished control (there's a reason I avoid driving). As we weaved and swayed, I was pleased to have taken a motion sickness pill. The first time we skydived, I felt thoroughly nauseous after tracing circles in the sky. This time, there was nothing but awe.
Soon enough, it was time for the comedown. We raced towards the ground and I raised my legs as shown in the instructional video. When Ken hit the ground, I too swung my feet down. We swayed for a moment, then steadied as sheer adrenaline coursed through our veins.
We yelped and whooped – the only possible reaction to hurtling 16,000ft through the sky. Peter rejoined me and we reflected on how this was different to our first skydive. It was less daunting but just as thrilling.
Ken asked us the question he asks all his flyers: would you do it again? Peter and I paused, then smiled. Yes. Of course we'd do it again. And so finished our Australian odyssey and what a befitting end.
Skydiving in Cairns: the essentials
What: Skydiving in Cairns, Australia.
Where: We stayed at the Park Regis City Quays hotel in Cairns, a clean and convenient base from which to explore the city and beyond. Rooms are spacious and functional, and come with a fridge, microwave and cozy balcony.
There is a rooftop pool and a relaxed lounge area next to reception. Park Regis City Quays also offers a range of apartments including a two-bedroom option with a large balcony, full size fridge and microwave oven.
When: Cairns is a gateway to the Great Barrier Reef and, as such, the best time to visit is Jul-Oct for high visibility and low rain and wind.
How: We went skydiving in Cairns with Skydive Australia, a professional outfit with which we felt 100% safe and comfortable.
Cairns itself can be reached by car using Hertz Australia, by bus using Greyhound Australia or by flight into Cairns Airport. Book domestic or international flights via Skyscanner for the best prices.
---
Enjoyed this post? pin it for later…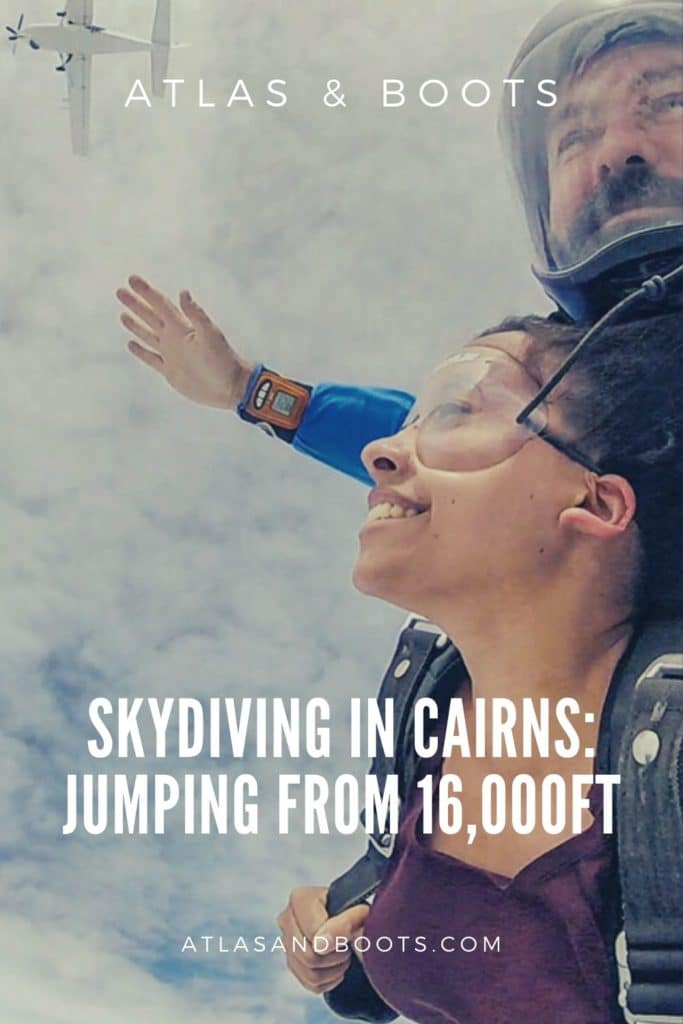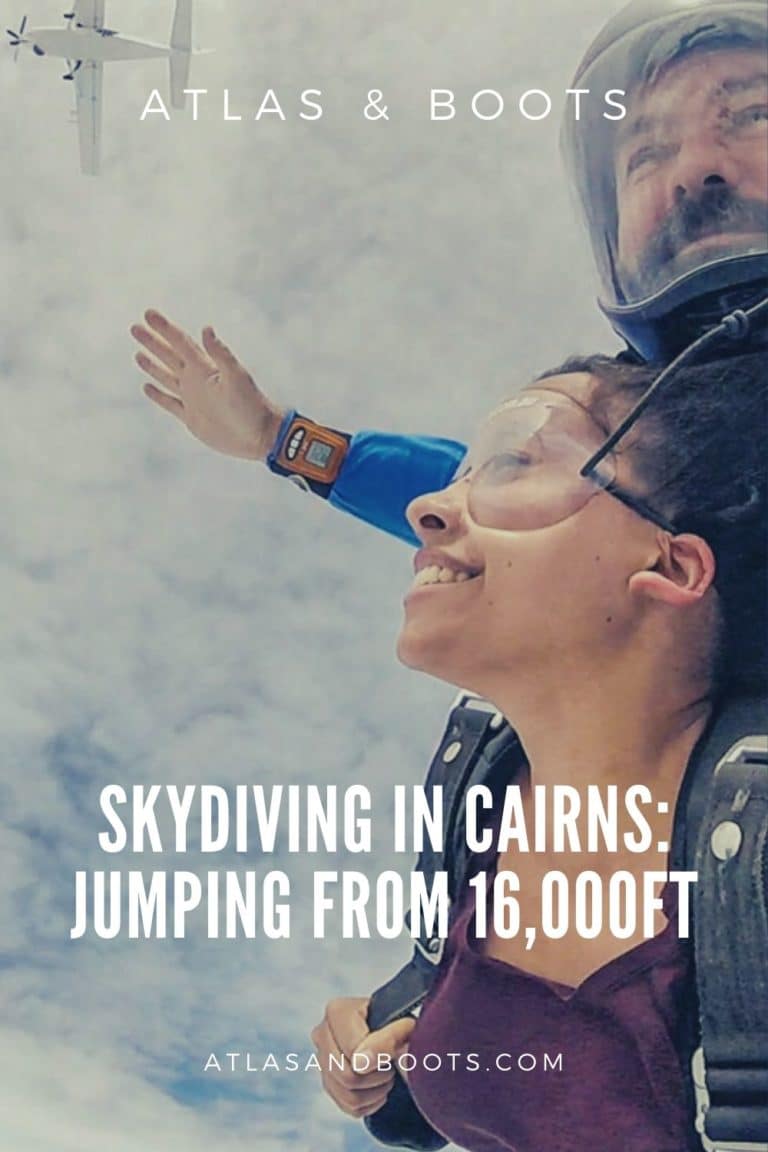 ---
Australia is a huge country. If you prefer to pass on the planning, we recommend G Adventures and their small group Australia tours.
Lonely Planet Australia is a comprehensive guide to the country, ideal for those who want to both explore the top sights and take the road less travelled.
Lead image: Atlas & Boots