After an injury in 2017, Kia decides that horse riding in Swakopmund is the perfect way to get back in the saddle
Swakopmund is a strange little city. Known as Namibia's adventure capital, it has a fittingly dramatic setting. On one side, a particularly ferocious Atlantic Ocean thrashes onto shore; on the other, the vast, sparse Namib Desert stretches in deadly threat. In between these startling scenes lies the city itself.
With its tidy streets, half-timbered architecture and distinctly German names, Swakopmund could be a holiday town on Germany's North Sea transported onto African soil. Used as a base for exploring the Skeleton Coast and Namib Desert, Swakopmund has all the tourist mod cons.
Our 17-day self-drive safari through Namibia took us for two nights to Swakopmund. The blustery city was unlike anywhere else we'd been in Namibia. The cloudy skies and daunting sea were in distinct contrast to the calm bright blue of Sossusvlei and Etosha.
For me, the dramatic setting offered the perfect chance to get back in the saddle. I hadn't been on a horse since an injury in 2017 and was keen to start riding again. In fact, I couldn't believe it had been a whole year.
We called a local company offering horse riding in Swakopmund and booked a two-hour ride on a Monday morning.
We arrived at Okakambe Riding Centre to find well-kept grounds housing a range of animals: not just healthy horses but also puppies, bunnies, guinea pigs and more. Basically, it was Peter's ideal workplace.
We selected our helmets, stowed our bags and signed the necessary paperwork. The level of organisation was very different from the guerilla style riding in Ecuador we did three years ago. In that post, I'm rather cavalier about riding an unruly horse. I've since looked back and shuddered at the fact that I rode without a helmet. As I say in horse riding tips for your first tour, it's just not worth the risk.
At Okakambe, we met our guide, Kelvin, and our two horses: mine, Hidalgo, presumably named after Frank Hopkins' famous mustang and Peter's, Samsung, "because he's easy to use". Soon, we set off.
Horse riding in Swakopmund was the perfect way to get back in the saddle. We rode along the Swakop riverbed, a bare, flat landscape with little opportunity for fall or injury. There was no one and nothing around. Kelvin likened it to riding on the moon.
Because I've taken lessons in the past, we were allowed to trot (if you have experience, mention this when booking). It was especially fun because horse riding is probably the only sport at which I'm better than Peter. I struggled with the PADI diver course when he sailed through, I'm forever catching up on our challenging hikes and I've fallen off my bike more times than I can count, but I am the more experienced rider.
Atlas & Boots
We rode across the windy plain and although the scenery was desolate, it added a special dimension to the ride. Horse riding in Swakopmund felt like riding at its purest: just us on our horses with nothing else to watch. It was the perfect place to get back in the saddle.
It's true that Ecuador was more thrilling and the scenery in Montenegro was far more stunning, but horse riding in Swakopmund allowed me to see a different side of Namibia. It reminded me why I love riding in the first place and, as Peter said in his post on Etosha, time spent with animals is time well spent – especially when those animals are calm, strong, beautiful horses like Samsung and Hidalgo.
Horse riding in Swakopmund: the essentials
What: Horse riding in Swakopmund in Namibia as part of a Wild Dog Safaris 17-day self-drive safari.
Where: Accommodation on the tour includes 16 nights in a range of hotels, lodges and safari camps including Prost Hotel in Swakopmund.
The tour can be booked as either accommodated (as we did), camping or a combination of the two. Breakfast and several dinners are included in the accommodated option; camping is largely self-catered.
When: The best time to visit Namibia is May-Oct during the dry season (winter). The shoulder seasons of May and November are good for cheaper accommodation with higher availability. Heavy rainfall can occur in November, although mainly in short, intense bursts.
How: We booked with directly with Okakambe Riding Centre. Beginners are strictly only allowed to walk (not trot or canter) so if you have experience, make this clear at the time of booking.
A two-hour ride cost 820 NAD ($56 USD) per person in a two-person group (check latest price list). This might be a bit pricey compared with other parts of the world, but it's worth noting that the horses here are kept to an extremely high standard and so we felt the cost was worth it. The price includes pickup from and drop-off to hotels in the centre of Swakopmund (including Prost Hotel).
We visited Swakopmund as part of our self-drive safari. Wild Dog Safaris book accommodation, provide a hire car and organise an itinerary for the trip. On arrival at Windhoek, we were met by Wild Dog Safaris who provided a detailed itinerary, driving instructions, maps and information.
We flew to Namibia via Johannesburg in South Africa with British Airways. Book flights via Skyscanner for the best prices.
---
Enjoyed this post? pin it for later…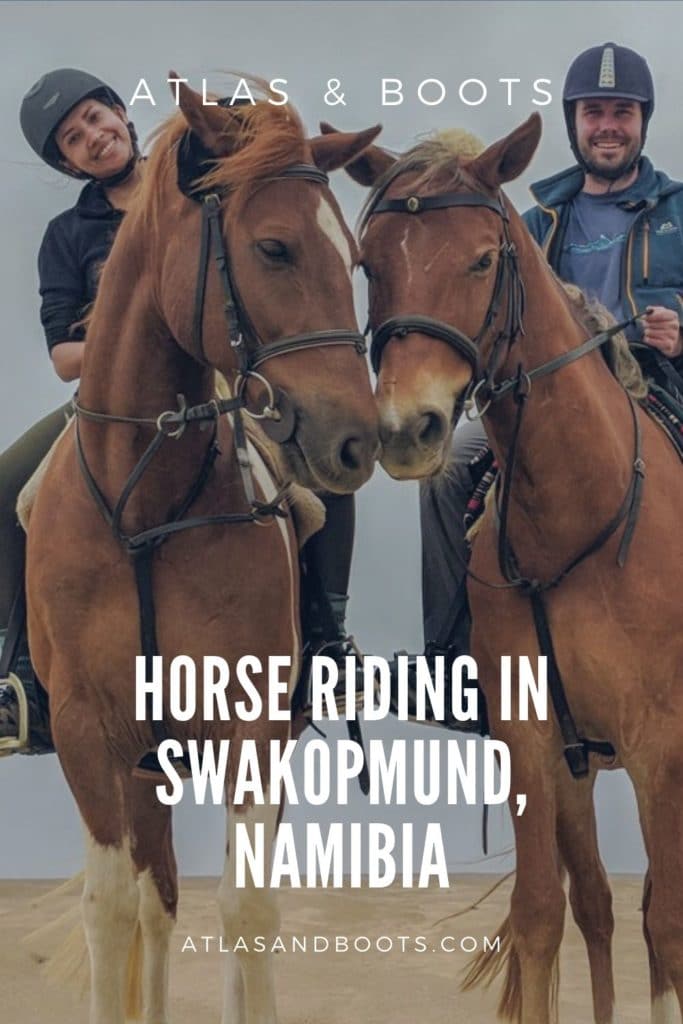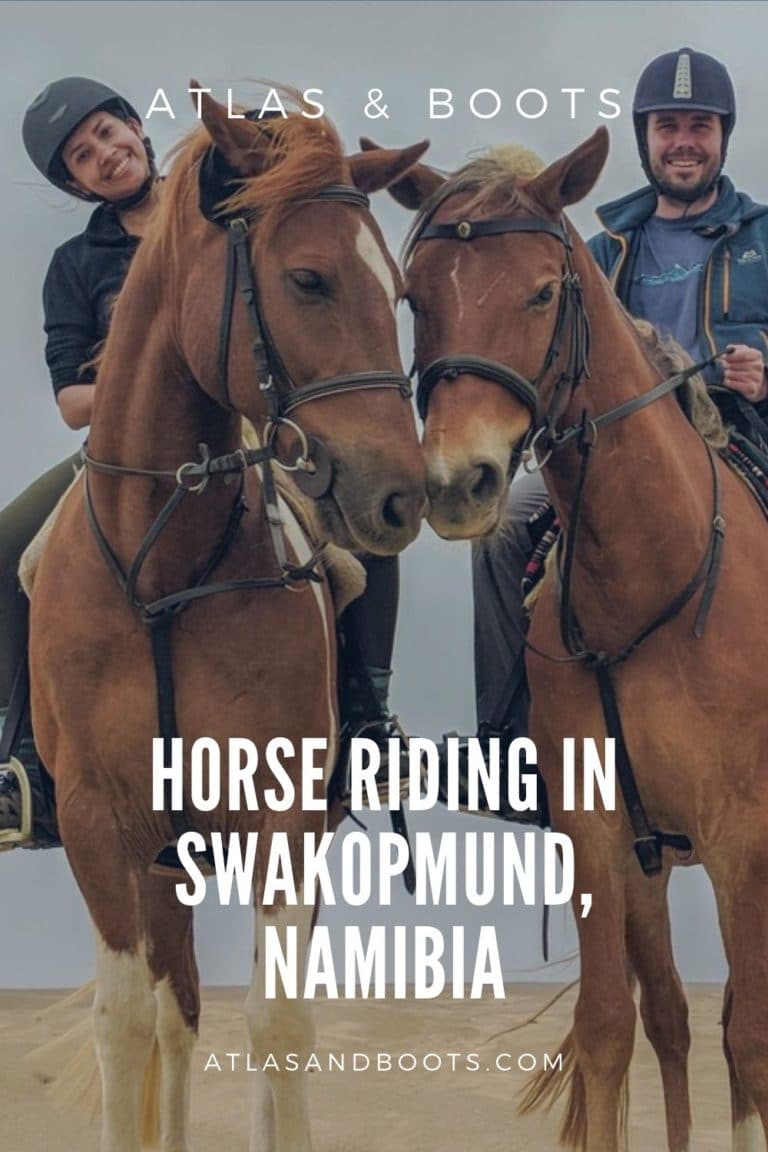 ---
Lonely Planet Botswana & Namibia is a comprehensive guide to Namibia and includes several useful tips for visiting Swakopmund.
Disclosure: We travelled to Namibia with support from Wild Dog Safaris. All publications say this, but we really don't guarantee positive coverage. We say what we think – good and bad – so you can make informed decisions with honest advice.
Lead Image: Atlas & Boots