Essential horse riding tips for your first tour, gathered from a challenging week in the mountains of Montenegro
Some may say that I'm poorly qualified to write this piece. After all, in the few years since I first mounted a horse, I've been trodden on, kicked in the shin while riding, kicked in the back while not riding and, more recently, fallen off a horse and got pinned beneath it with my foot stuck in the stirrup.
I'd argue that as a relative novice I'm actually well placed to offer horse riding tips for your first tour. I understand the threats, challenges, and surprises of riding as a newbie and can help others navigate around them (a reason perhaps why my novice's guide on how to pass the PADI Open Water Diver course has been used by over 45,000 people).
With this in mind, here are my horse riding tips for your first tour.
1. Take at least two dozen lessons first
I took a dozen lessons before I rode a horse in the wild. While this provided enough experience for day trips, it was not sufficient for longer trail rides in a pack. I would advise on taking twice that number before considering a multi-day ride.
It's worth noting that group lessons are cheaper, but private lessons offer better value for money in the long run. With private lessons, you receive an hour of individual attention; in a group, you may receive just 10 minutes meaning you would have to take six times as many lessons to accrue the same amount of personal tuition.
Tell your instructor that you hope to book a multi-day ride and ask about the specific skills you will need to ride in a pack.
2. Get fit
This is one of the most important horse riding tips for your first tour. It's easy to assume that the horse does all the work, but riding requires balance, strong legs and a stable core.
Trust me: my legs and thighs have never been in as great a shape as after my trip to Montenegro. Start working on your fitness at least a month before your trip. Work on your calves, thighs and core to build up a level of stamina. You'll be thankful on those long days in the saddle.
3. Don't reach above your station
Horse riding tour operators will specify a level of skill against each of their tours. Be realistic about your skills and level of fitness. If you've taken only a handful of lessons, don't opt for an 'Intermediate' ride. If you've only just mastered the rising trot, don't choose a tour that requires cantering.
If you book a tour far above your skill level, you will short-change more experienced riders as they will have to come down to your level. Most operators will try hard to accurately rank their tours, but a good rule of thumb is to assume the ride is a little harder than specified. This will ensure you book something inside your comfort zone.
4. Familiarise yourself with the equipment
Familiarise yourself with the equipment (or 'tack') used to prepare and groom your horse. During my lessons, I tacked up a horse only twice and forgot everything in the ensuing years. I didn't think this would be a problem as the tour details said the horses would be prepared for us.
While this was true, we were still expected to understand how the equipment works together and to make basic adjustments like taking the bridle and bit on and off, shortening or lengthening the stirrups and tying the quick release knot. In hindsight, I was markedly under-prepared for my first horse riding tour. Don't put yourself in the same position!
5. Dress the part
When I first met my fellow riders, I noted that they were all dressed casually in jeans and sweatshirts. I wondered if I had overdone it with my backpack full of polo shirts and jodhpurs.
Fast forward to the first riding day and I found myself surrounded by immaculately dressed equestrians – jodhpurs, gloves and gaiters galore.
There is a practical reason for dressing the part: jodhpurs and chaps keep your legs from chafing, form-fitting polo shirts prevent tangles with the equipment, riding gloves protect your hands and quality riding boots keep your feet from slipping from the stirrups (I love my Ariats). Don't use casual wear in lieu of riding wear (e.g. leggings instead of jodhpurs) as this will make for an uncomfortable ride.
6. Take layers
It is important to take layers on multi-day horse riding tours. The weather can change and differences in altitude or landscape can dramatically affect the temperature and conditions.
This can go both ways. On day four of riding in Montenegro, I felt dangerously over-heated, but hadn't packed a vest in my saddle bag nor worn one beneath my long-sleeved top.
Conversely, on day five, after days of perfect weather, I was tempted to free up some space in my saddle bag by removing my waterproof jacket. That afternoon, we had an hour-long downpour and I can't tell you how thankful I was for that jacket.
7. Always wear a helmet
This is the most important of all our horse riding tips for your first tour. Wear a helmet. Wear a helmet. Always wear a helmet. Choose one that fits snugly and always buckle your chin strap.
You may find that some experienced riders go without a helmet, or wear a cowboy hat instead, but this is a completely unnecessary risk. Honestly, after my recent fall, I shudder to think that I went riding in Ecuador without a helmet – on an unruly buck to boot!
8. Consider a fanny pack
I know fanny packs are ugly, I know – but reaching in and out of your saddle bag for your camera on the move isn't easy or safe for the newbie.
If fanny packs are a no-go, opt for a softshell or riding top with zipped pockets from which you can easily grab your camera or phone. I bought a harness for my smartphone and while I occasionally slung it around my neck, this wasn't practical when trotting or cantering as it started to swing around. A snug and secure place to store things is far more practical.
9. Ask which horse works well with yours
Your tour guide will try hard to match you with a horse appropriate to your skill level. If you have a tricky horse (or even if you don't), ask your guide if there is another horse that works well with yours. You can then make an effort to ride behind the friendly horse.
Conversely, ask if there are any horses that may cause problems. Some tour guides will use a colour system to warn riders of a horse's temperament. For example, they may place a red ribbon on the tail of a horse who kicks, a green ribbon for a novice and a yellow ribbon for a stallion. If you're unsure what certain colours mean, ask your guide.
10. Speak up if something is uncomfortable
If something is uncomfortable, tell your guide. On the first few days of my ride in Montenegro, my left leg kept banging against a coiled leather strap. I eventually asked if we could rearrange the tack and was far more comfortable after we did so. If you're being chafed or bruised, ask if there's something you can change.
On a related note, trust your guide. When I was asked to swap horses halfway through my ride, I was reluctant as I had grown to know my horse. After some pressing, I acquiesced and was incredibly thankful that I did; my second horse was a dream. Your guide knows what they're doing, so trust them!
11. Solicit advice
Your fellow riders can offer a treasure of horse riding tips. Ask them to tell you if they see a break in etiquette or technique – and don't take it personally when they do!
On my ride in Montenegro, whenever we stopped, my horse would start to meander somewhat. I didn't think this was a problem, but later read that every unscheduled stop creates opportunity for problems which is why it's important to keep your horse in one place. If I had learnt this on the first day, I would have kept my horse under tighter control. Inviting feedback will improve your technique and maintain safety.
With that said, be aware that different riders will have different techniques, so check things with your guide.
12. Don't get complacent
Once you complete a few successful days of riding, you may find yourself getting complacent: letting the reins slide, placing your feet too deep in the stirrups, slouching in the saddle.
Check yourself regularly and don't do something that makes you uncomfortable just because others are doing it. When we stopped to pull on our rain gear one afternoon, I contemplated wrapping my reins around the pommel like I'd seen others do. A fellow rider caught my hesitation and offered to hold my reins for me. Riders are always accommodating, so ask for help when you're unsure.
13. Leave no trace
On a long trail ride, you may have to answer nature's call in the wild. Don't leave tissue or wet wipes behind. Carry a disposable bag with you to store these items until you can bin them later. Be aware of and practice The Leave No Trace Seven Principles.
14. Tip your guide
A tip for your guide is customary, but I'm afraid I can't be much help in deciding the amount. It's worth asking your tour operator beforehand if you'd like to be sure!
15. Keep your sense of humour
You will ache, you will bruise, you will bore. Long days in the saddle are a challenge and you may find yourself getting weary, but don't lose your sense of humour.
One of the most important horse riding tips I can offer is to go with the flow and keep in mind that things may change depending on conditions. Your itinerary or route may change depending on weather, or you may have to sit out a day because of an injury. Always trust your guide's advice and try to have fun!
Atlas & BOots
Horse riding tour: kit list
Riding hat
Riding gloves
Riding top x3
Riding trousers x3
Riding boots (ideally suitable for walking too – I love the Ariat Telluride II H2O)
Chaps
Warm fleece
Waterproof jacket
Waterproof trousers
Water bottle
Mosquito repellent
Sport sunglasses
Sunscreen
Travel towel
---
Enjoyed this post? pin it for later…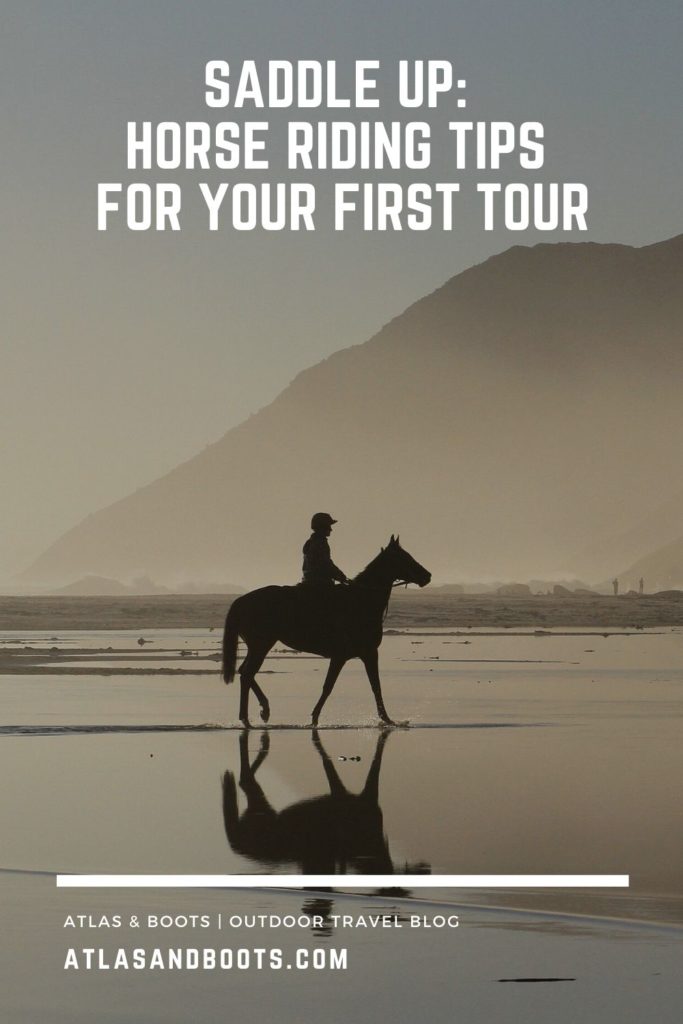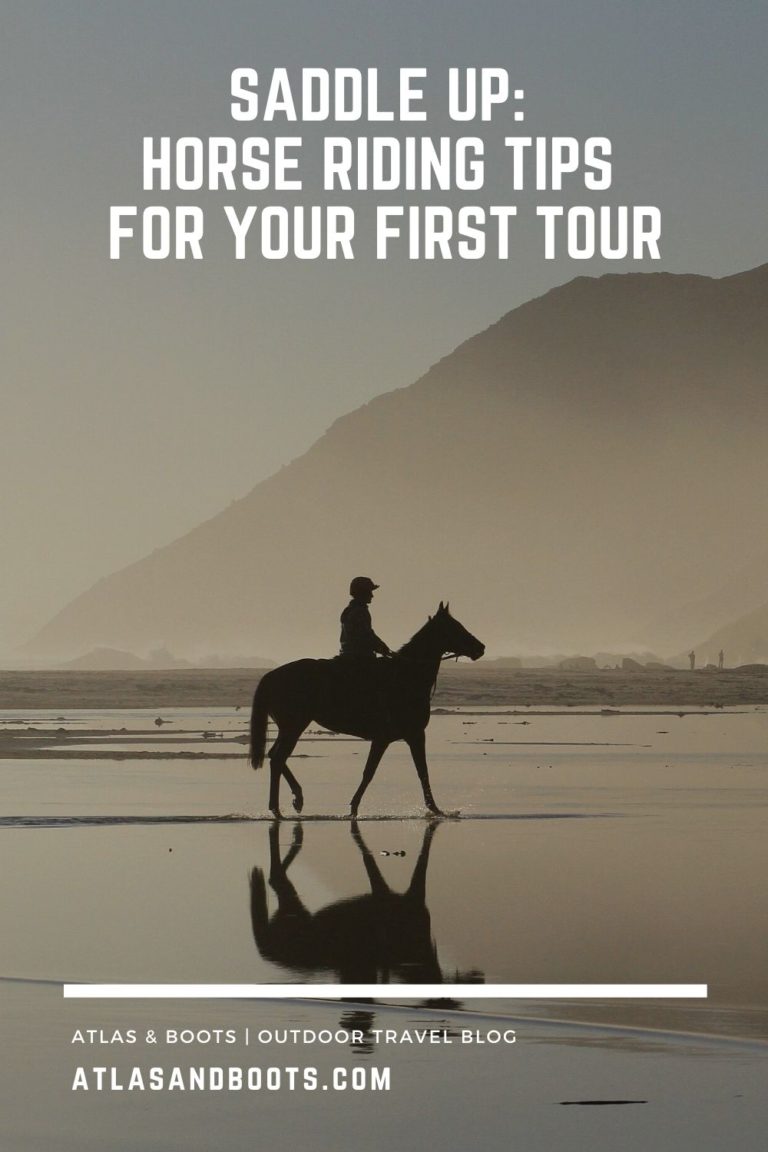 ---
I went on the Mountain and Lake Ride in Montenegro with Unicorn Trails. The seven-night tour comprises six days in the saddle and covers 130km to 150km in total (four to seven hours of riding per day) – hard but highly recommended!
Lead image: Pixabay