Our selection of the best books about survival includes astonishing accounts of endurance to tales of daring escape and everything in between
Books about survival demonstrate what humans are capable of when pushed to their limits. Whether it's the treacherous slopes of a mountain in hurricane-force winds, being cast adrift in the middle of the ocean or a hellish trek through arid desert, the challenges described within illustrate the true strength of the human spirit.
To help you choose your next read, we've put together our favourite books about survival, filled with true-life tales that will compel readers for years to come.
1. Endurance: Shackleton's Incredible Voyage
by Alfred Lansing
Marooned on the Antarctic continent, Shackleton and his team battle the elements in one of the most astonishing feats of exploration and human courage ever recorded.
2. Into Thin Air: A Personal Account of the Mount Everest Disaster
by Jon Krakauer
The true story of a 24-hour period on Everest which started with a storm and ended with the worst single-season death toll in the peak's history.
3. Unbroken: A World War II Story of Survival, Resilience, and Redemption
by Laura Hillenbrand
Louis Zamperini was one of three plane crash survivors floating on a raft for 47 days before being pulled from the ocean and placed into a Japanese POW camp.
4. Adrift: Seventy-Six Days Lost at Sea
by Steven Callahan
This story tells the first-hand account of the first man in history to survive a month alone at sea, fighting for his life in an inflatable raft after his sloop capsized only six days out.
5. Into the Wild
by Jon Krakauer
In 1992, Chris McCandless journeyed deep into the Alaskan wilderness after shrugging off the pressures of modern urban life. Four months later, his emaciated corpse was found.
6. Touching the Void: The True Story of One Man's Miraculous Survival
by Joe Simpson
A classic tale of mountaineering endurance and one of the best books about survival ever written. Joe Simpson and his climbing partner, Simon Yates, had just reached the top of a 21,000ft peak in the Andes when disaster struck. 
7. Lost Moon: The Perilous Voyage of Apollo 13
by Jim Lovell
NASA sends three astronauts on America's fifth mission to the moon. However, only 55 hours into the flight, disaster strikes.
8. In the Heart of the Sea: The Tragedy of the Whaleship Essex
by Nathaniel Philbrick
An epic story of one of the most notorious maritime disasters of the 19th Century and the historical story behind Moby Dick.
9. Between a Rock and a Hard Place
by Aron Ralston
With his arm trapped by a boulder for five days, Aron Ralston finally comes to the agonising conclusion that his only hope is to amputate his own arm.
10. Alive: The Story of the Andes Survivors
by Piers Paul Read
In 1972, a Fairchild plane crashed in the Andes mountains. The survivors were hopelessly lost in one of the most remote places on Earth.
11. Skeletons on the Zahara: A True Story of Survival
by Dean King
Twelve American sailors shipwrecked off the coast of Africa in 1815 survived to be captured, sold into slavery, and subjected to a hellish two-month journey through the bone-dry heart of the Sahara.
12. Papillon
by Henri Charrière
Convicted of a murder he did not commit, Papillon's flight to freedom remains one of the most incredible feats of human cunning, will and endurance ever undertaken.
13. The Long Walk: The True Story of a Trek to Freedom
by Slavomir Rawicz
Slavomir Rawicz escaped from a Siberian gulag with six companions, crossed the trans-Siberian railway and headed south, climbing into Tibet and freedom nine months later.
14. In Harm's Way: The Sinking of the U.S.S. Indianapolis and the Extraordinary Story of Its Survivors
by Doug Stanton
The bestselling account of America's worst naval disaster and the heroism of the men who survived against all odds.
15. 438 Days: An Extraordinary True Story of Survival at Sea
by Jonathan Franklin
The miraculous account of the man who survived alone and adrift at sea longer than anyone in recorded history, as told to journalist Jonathan Franklin in dozens of exclusive interviews.
16. The Children's Blizzard
by David Laskin
Northern European immigrants were promised that the prairie offered "land, freedom, and hope." The disastrous blizzard of 1888 revealed that their free homestead was not a paradise but a harsh, unforgiving place.
17. Island of the Lost: Shipwrecked at the Edge of the World
by Joan Druett
Auckland Island is a godforsaken place in the middle of the Southern Ocean. With year-round freezing rain and howling winds, to be shipwrecked there means almost certain death.
18. Miracle in the Andes: 72 Days on the Mountain and My Long Trek Home
by Nando Parrado, Vince Rause
Thirty years after crashing in the Andes, Nando shares his account of the disaster with remarkable candour and emotion.
19. Four Against the Wilderness
by Elmo Wortman
The stirring true story of a father and his three teenage children shipwrecked off the coast of Alaska on an island in winter.
20. Escape from Camp 14: One Man's Remarkable Odyssey from North Korea to Freedom in the West
by Blaine Harden
Acclaimed journalist Blaine Harden tells the story of Shin Dong-hyuk, the only known prisoner to have successfully escaped from a "total-control zone" grade internment camp in North Korea.
21. Kon-Tiki
by Thor Heyerdahl
The adventure of Thor Heyerdahl and his companions on their raft across the Pacific has gone down in legend as a feat of endurance and courage. This is that story in Heyerdahl's own words.
22. Jungle: A Harrowing True Story of Survival in the Amazon
by Yossi Ghinsberg
What begins as a dream adventure for four backpackers quickly becomes a struggle for survival as they unravel under the duress of the jungle.
23. Lost in Shangri-la: A True Story of Survival, Adventure, and the Most Incredible Rescue Mission of World War II
by Mitchell Zuckoff
The story of an extraordinary World War II rescue mission, where a plane crash in the South Pacific plunged a trio of US military personnel into a land that time forgot.
24. Survive the Savage Sea
by Dougal Robertson
In 1972, the 43-foot schooner Lucette was attacked by killer whales and sank in 60 seconds. In an inflatable rubber raft, with just a 9ft fiberglass dinghy to tow it, Dougal Robertson and his family were miles from any shipping lanes.
25. North To The Night: A Spiritual Odyssey In The Arctic
by Alvah Simon
Alvah Simon and his wife set off in their sailboat to explore the world. Unexpected events would trap Simon alone on his boat, frozen in ice 100 miles from the nearest settlement.
---
Enjoyed this post? pin it for later…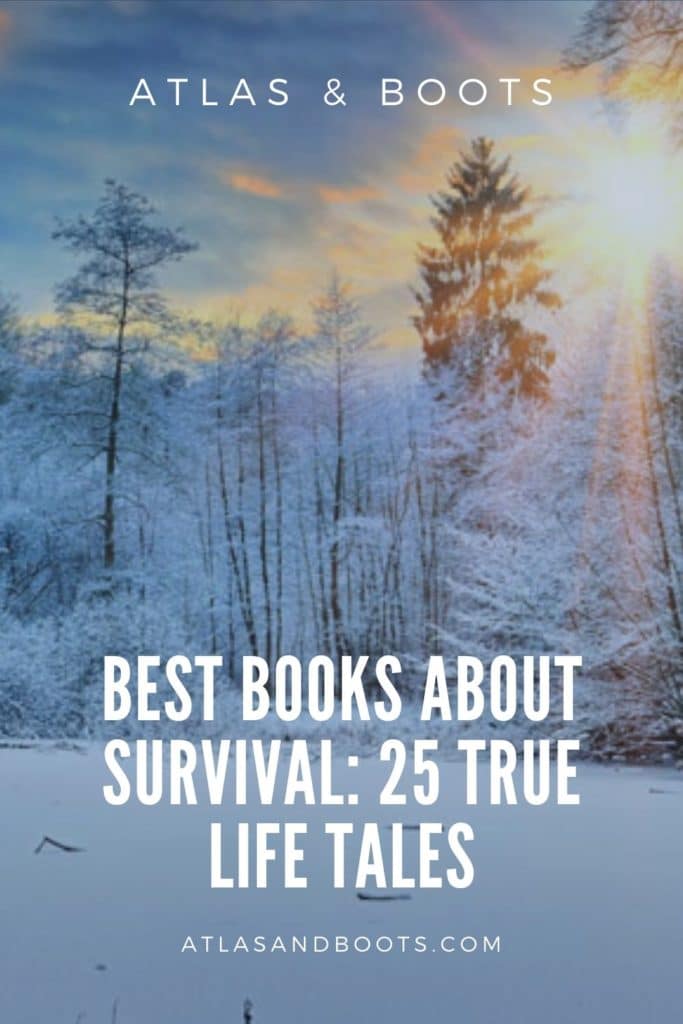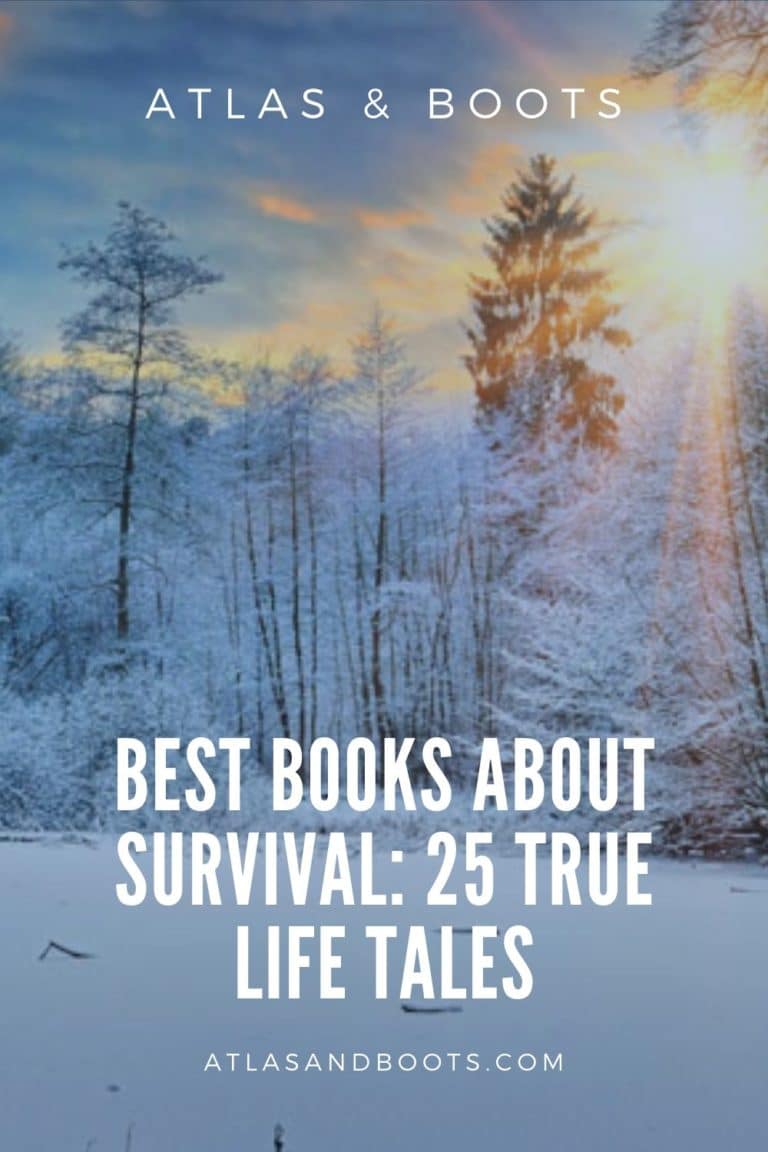 ---
Prefer to listen to these books about survival instead? Audible has audiobooks for every passion. Get two free when you start a free 30-day trial.