I look back on the highlights and lowlights of our Salkantay trek to Machu Picchu in Peru, to help future trekkers prepare for the challenge ahead
There are three things I feared when embarking on our year-long trip around the world. First: the bugs (let's face it, that was warranted).
Second: our multi-day Salkantay trek to Machu Picchu in Peru (was I fit enough? Could I cope with the altitude? What about the lack of commode? Would I break down after a long bout of camping?). Third: Dealing with the Patagonian winter (I'll face that battle when I come to it).
Having completed the 5-day Salkantay trek with Alpaca Expeditions, I can happily report that it was much easier than I expected. Day 1 was in fact the most challenging with several hours' hiking uphill but after that it was all fairly straightforward.
I've put together a list of tips, highlights and lowlights to help future trekkers prepare for the challenge ahead.
Highlight
Arriving at our camp on Day 3 and catching our first glimpse of Machu Picchu in the distance. Obviously, seeing it properly on the final day was a highlight, but the view from this point was truly majestic, not to mention completely unmarred by crowds of tourists.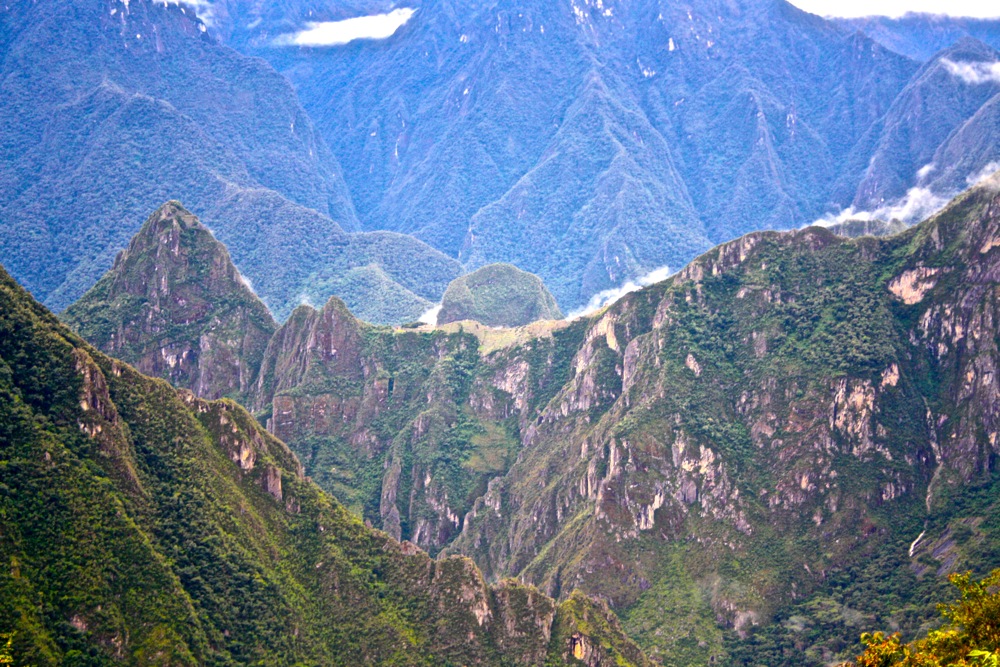 We had the entire campground to ourselves. Eating, reading, sleeping and waking in front of such an epic view was truly special.
Lowlight
It had been raining all day on Day 2, my clothes were soaked through and even my trusty walking boots had long since surrendered to the relentless downpour. When we got to our campsite, every single item of clothing on my body was wet.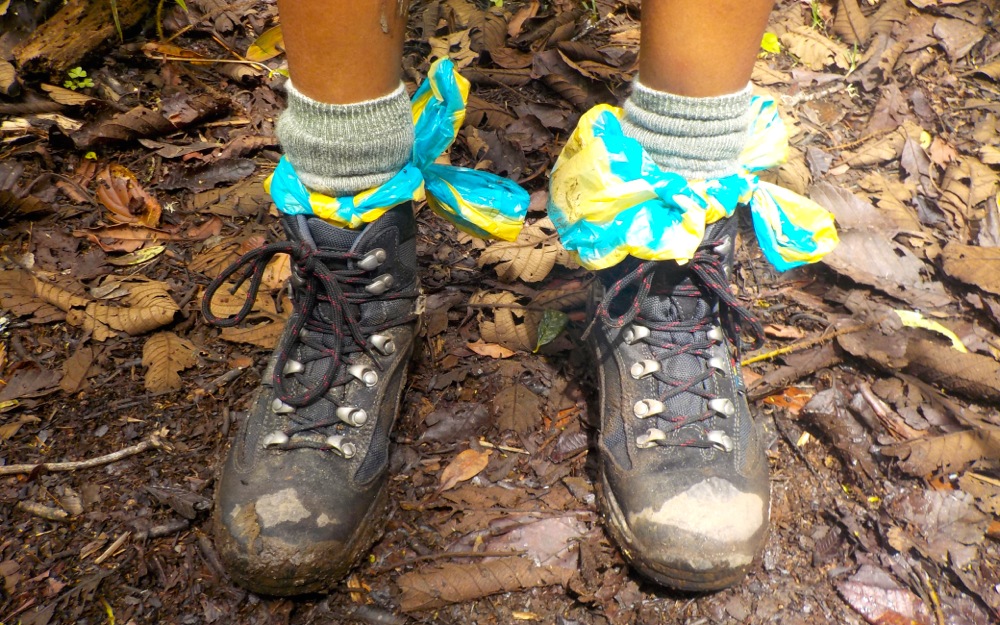 Taking everything off while shivering in the tent was a low point. We all had to wear plastic bags the next day to protect our socks from our soggy boots.
Most thrilling moment
On Day 2, we had been trying to cross the river for an hour or so. The bridge we had planned to use had washed away. There was a zipline and some baskets that could transport people back and forth but with the river raging furiously below, our guides decided it was just too dangerous.
On we went until we came across a landslide area. Our guides debated whether to take us across but with no other option, we convinced them we could cross with care. And so, two by two, we set off across the slippery, rocky path.
One misstep could have had us hurtling down but we made it safely across. Our guides Lizandro and Amirico had to lead one of the girls across by hand, ready to grab her if something went wrong. It all felt very Indiana Jones.
Least thrilling moment
After three thoroughly thrilling days, Day 4 was relatively prosaic with several hours of walking along the train tracks. Unfortunately, this is the only way to get into Aguas Calientes on the trek and thus we walked onwards and on and on and on.
Best conversation
Talking to Amirico about his efforts to learn English and his hopes to one day become a lead guide like Lizandro. He had only been learning for six months but his level of ability was already so impressive. I tested his English and he tested my Spanish. I'm humble enough to admit that he was far better!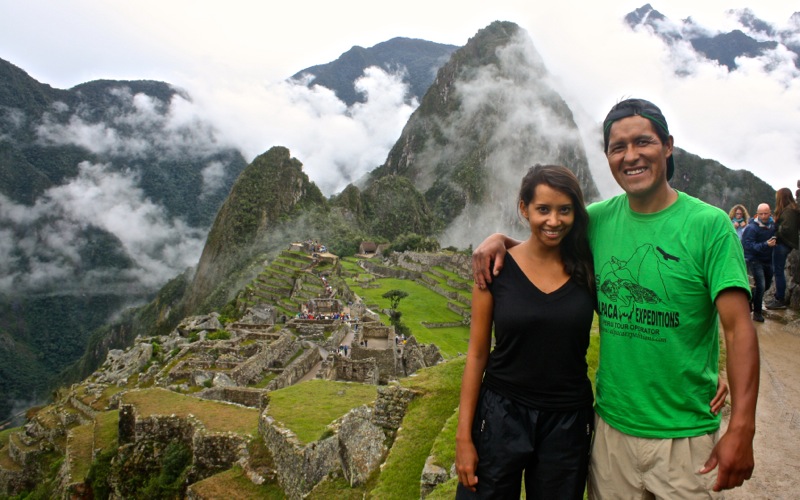 Worst conversation
Let's just say that Lizandro needs to work on his jokes.
Wouldn't bring
Snacks. Alpaca provide hearty breakfasts, mid-morning snacks, delicious lunches, a late afternoon 'happy hour' with yet more snacks and a feast at dinner, so there's really no need for extra food.
Would bring
An extra pair of socks. However many you're packing, pack one more. Five is a good number Six, even better. Also, a CamelBak-style hydration system would be useful. I had a standard flask but drinking from a CamelBak is a lot easier and encourages you to stay hydrated.
Things I did right
Taking it super slowly on Day 1. The combination of uphill hiking and 4,600-meter altitude would have left me exhausted and dehydrated had I not made a conscious effort to go slower than I could. Don't concern yourself with keeping up with the group; go at your own pace. This is particularly important if, like me, you decide not to take anything for altitude sickness.
Opting to use walking sticks. I had never used these before and was dubious about their usefulness but they were so helpful on the long uphill stretches.
Buying rain trousers last minute. I picked these up at the last-minute (about 10pm the night before the trek) and they were super useful. Pack a pair if you're hiking in the wet season.
Forgoing a shower for three days. I finally figured out what I was doing wrong all those times I went camping and hated it (like in Fiji and in Colombia). I was insisting on taking showers that were either freezing or filthy. Actually, just not showering was so much easier. Thankfully, I had plenty of wet wipes.
Things I did wrong
Not eating enough in the evenings: After 10 miles of hiking, I was usually too exhausted to eat properly. Despite the feasts miraculously cooked up by chef Mario, I generally picked at my food before excusing myself to collapse in my tent. This meant my energy levels were low and I was colder than necessary during the nights.
Not wearing my rain jacket beneath my poncho: The supplied rain ponchos are huge so I didn't bother wearing a rain jacket beneath them. Alas, the rain was so heavy, I got wet regardless. Not wearing an extra waterproof layer was a mistake.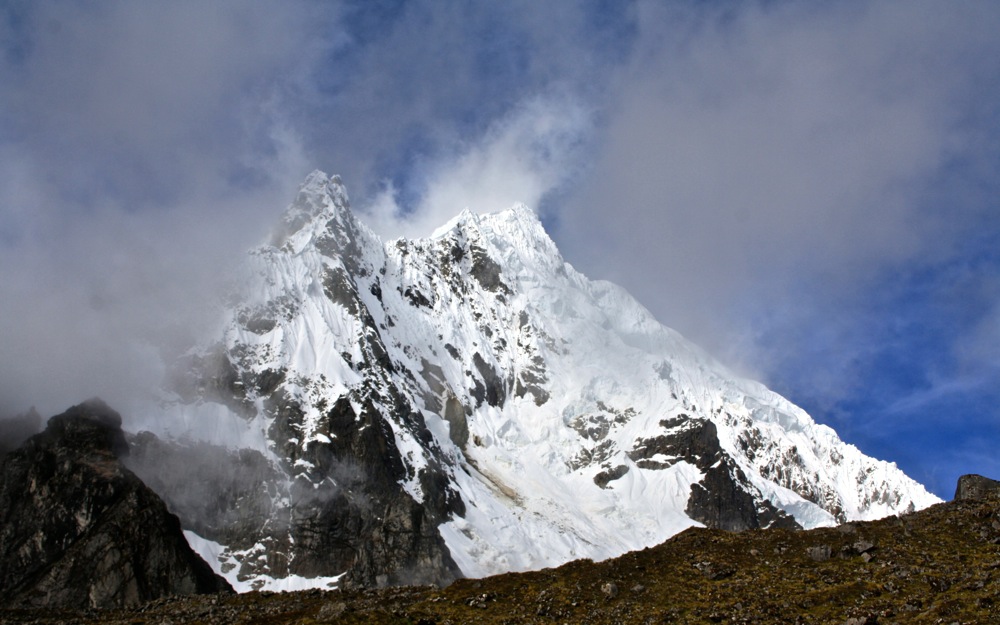 Salkantay trek to Machu Picchu: the essentials
What: 5-day, 4-night Salkantay trek to Machu Picchu with Alpaca Expeditions. The trek winds through the Vilcabamba mountain range and passes through a range of landscapes from cloud forest to high mountains. Along the way are beautiful views of the second-highest mountain in the Cusco area, Salkantay ('Savage Mountain') standing at 6,271m (19,685ft).
Price: $575 USD per person. Group sizes vary from two people to a maximum of 16 (Alpaca tries to keep it to a minimum). We trekked in a group of nine.
Where: Vilcabamba mountain range, Aguas Calientes, Machu Picchu – all in Peru.
When: Dry season runs from May to November and is best for trekking. The busiest months are June, July and August so expect crowds at Machu Picchu around this time. If you go during the wet season (December to April), expect rain rain three to four afternoons a week.
How: The easiest way to get to Cusco is to fly from Lima's Jorge Chávez International Airport (book via skyscanner.net). It is also possible to make the journey by bus. We recommend Cruz del Sur (21 hours, approximately $60 USD per person). It's wort
h paying extra for the 'cama' seats instead of 'semi-cama' ones. There are fewer people on the floor, bigger seats and plenty of legroom.
In terms of the actual trek we absolutely loved Alpaca Expeditions (info@alpacaexpeditions.com). The food cooked up by Mario was delicious, the equipment was comfortable, the organisation was flawless and our guides were brilliant: knowledgeable, responsible and, most of all, so much fun.
The price tag did dent our budget and there are cheaper options, but we chose Alpaca because they treat their porters and guides ethically. They ensure there is a sufficient number of porters on a trek so that they're never overloaded, provide them with quality equipment and pay decent living salaries.
The owner, Raul, was once a guide himself so understands the importance of treating his staff well. This was the key factor in our decision to go with Alpaca.
---
Lonely Planet South America includes a comprehensive guide to the country, ideal for those who want to both explore the top sights and take the road less travelled.