Don't Offer Papaya: 101 Tips for Your First Time Around the World, is available in paperback and on Kindle
As most of our readers will know, in August 2014, we quit our jobs in publishing and teaching and left the concrete streets of London for our first trip around the world.
With years of exploring already behind us, we thought we knew everything there was to know about long-term travel. Yet, somehow, we still "offered papaya" in Colombia, got a funny tummy in Tonga, fell off a bike in Bora Bora and broke down in Bolivia (in more ways than one).
Fast forward two years and we're far more wise and a little less cocky. We learnt a great deal from our time abroad, from psychological tricks to practical tips for making the most of life on the road.
We've gathered our best advice – read by 100,000 people every month right here at atlasandboots.com – and created this guide to help travellers both experienced and new prepare for their first trip around the world.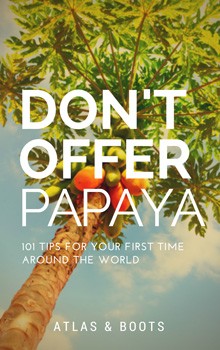 Our personal anecdotes mixed with succinct travel advice tell you everything you need to know, from mind-hacking taxi drivers into accepting your fare to the number one rule for not looking like a douche.
We don't think you need a 300-page tome on how to travel – part of the joy is figuring it out yourself – but a streamlined guide will definitely be of use. So please buy the book, save it to your devices, glance through it on your long commute and use it to plan, book and enjoy an extraordinary trip around the world.
And, of course, if you can find the time, please leave a review – preferably a positive one. But more importantly, let us know your thoughts and feedback so we can improve future editions.
We'll see you on the road!
Kia & Peter
Atlas & Boots