We visit Penguin Island from Perth to hunt for Australia's most adorable creatures.
I was determined to see penguins in Australia. My hunt for penguins in the Galápagos was only just successful with a one-minute sighting after three days of searching. I hoped that Australia would deliver a closer encounter.
And so we headed to Penguin Island from Perth a day after arriving in Australia (following a 24-hour delay no less).
Graced with sandy beaches and a ruggedly spectacular landscape, Penguin Island lies in Shoalwater Islands Marine Park approximately 45 minutes south of Perth.
We booked a Dolphin, Penguin & Sea Lion Adventure and set off from Perth on a sunny Tuesday morning.
Our group of around 20 passengers took the Penguin Island ferry to the island itself, then transferred onto a 12-metre rigid-hulled inflatable boat for our 90-minute wildlife cruise.
Dolphins
Dolphins are the Kardashians of sea mammals – they always turn up – so I didn't doubt that we'd see some. In fact, I was a little blasé about it, having seen some incredible displays in the Maldives a few years ago. Surely, Australia couldn't compete?
The truth is that it didn't – but it came closer than anywhere else.
Soon after we set off, we were joined by a pod of friendly dolphins. (Is there such a thing as unfriendly dolphins?) They spent a fair while playfully diving under and around our boat. When we picked up speed, they began to 'surf' in our wake.
In moving around the boat for the best view, it struck me how much better this was than our whale watching experience in Mirissa, Sri Lanka. The passenger numbers were about right and our boat was the only one around. Shoalwater, like many of Australia's marine parks, is protected by strict laws of access and the difference is clear. We roamed for an hour and barely saw another vessel.
Needless to say, the dolphins lived up to expectation: pretty, pleasure-seeking and always turning up – just like the Kardashians.
Sea lions
We then headed to Seal Island and watched from a distance as fat Australian sea lions lolled obscenely on the beach.
It's reported that in 2016 a southern elephant seal pup was born on the island – only the third such event recorded in Western Australia in 20 years and only the 10th recorded across the country since 1958.
Southern elephant seals reside in the sub-Antarctic area around Macquarie Island off Tasmania and Heard Island 4,000km (2,485mi) south-west of Perth, but have been known to travel great distances.
And, finally, penguins
Penguin Island itself is dotted with cliffs, sea caves, headlands, coves, beaches and natural bridges. It has several nature trails and coastal lookouts where visitors can search for wild penguins. With a colony of around 1,200 little penguins, the island is home to Western Australia's largest population of the birds.
We spent a while searching for wild penguins, knowing it was a long shot as they spend daylight hours at sea hunting fish – and visitors can't come at night.
So, why did we come? Because seeing little penguins here is guaranteed (albeit not in the wild). The island's Discovery Centre is home to a small number of rescued penguins.
Built by the Department of Environment and Conservation in 1987, the centre offers a sanctuary for injured wild penguins and is also home to 10 resident penguins that have been badly injured, orphaned as chicks, or born in captivity, all of which means they are unlikely to survive in the wild.
The enclosure has been designed to reflect the penguins' natural coastal scrub environment and includes a saltwater pond for swimming. Penguin feedings are held three times daily (10.30am, 12.30 or 2.30pm). We caught the 2.30pm feeding and were completely enamoured.
Atlas & Boots
The penguins are cute and inquisitive – some shy and others bold. Some are quiet and others not, particularly Kevin who was quite the extrovert.
Making the journey to Penguin Island from Perth was well worth the effort. The experience wasn't completely natural given the two rows of spectators, but it was charming nonetheless and certainly the best thing we did from Perth.
Penguin Island from Perth: tips
Leave Perth after 9am to get the Daytripper fare
Get to feedings 30 minutes early to secure a good spot
Take a picnic lunch as there is no food on Penguin Island (but don't leave anything there)
Take swimwear and a snorkel as the surrounding waters are great for swimming
Note that you likely won't see penguins in the wild, but it's still worth the journey
Penguin Island from Perth: the essentials
What: Visiting Penguin Island from Perth, Australia.
Where: We stayed at ibis Perth, conveniently located in the Central Business District or 'CBD'. With practical, cosy rooms, the hotel offered a comfortable home after an epic journey from London. Big windows and reams of light make excellent use of Perth's 265 days of sunshine.
Atlas & Boots
We enjoyed the hotel's location right in the centre of the city, walking distance to a wide range of restaurants, cafes and gelaterias. Overall, we had a comfortable stay in a convenient place at an affordable price. There's not much more we need for a city stay.
When: The best time to visit Penguin Island from Perth is mid-September to early June. For the rest of the year, the island is closed to visitors for nesting season.
How: We booked a 90-minute Dolphin, Penguin & Sea Lion Adventure ($85 AUD / $65 USD per person) and spent the remains of the day exploring Penguin Island.
Allow 45-60 minutes to reach Penguin Island from Perth by car.
Allow 1.5 hours to reach Penguin Island from Perth by public transport. Take the train south from Perth on the Mandurah Line (every 10-15m) and alight at Rockingham Station. From there, catch bus 551 or 552 from Stand 10. Alight at Penguin Rd / Watts Road and walk west along Penguin Rd (1km / 06mi) to Rockingham Wild Encounters. It's worth noting that leaving after 9am will entitle you to the Daytripper fare which is cheaper and means you don't have to find change for the bus fare.
The Penguin Island ferry takes five minutes and leaves on the hour from 9am to 3pm. Ferries returning to the mainland depart at 10 minutes past the hour with the last leaving at 4pm.
We flew to Perth from London, UK. We had an early flight, so booked a night at ibis Styles London Heathrow Airport. Rooms are quiet, comfortable and stylish (as the name suggests). There is complimentary high-speed wifi, an onsite restaurant and express buses to Heathrow terminals at all hours – perfect for a late night or early start.
Book domestic or international flights via Skyscanner for the best prices.
---
Enjoyed this post? pin it for later…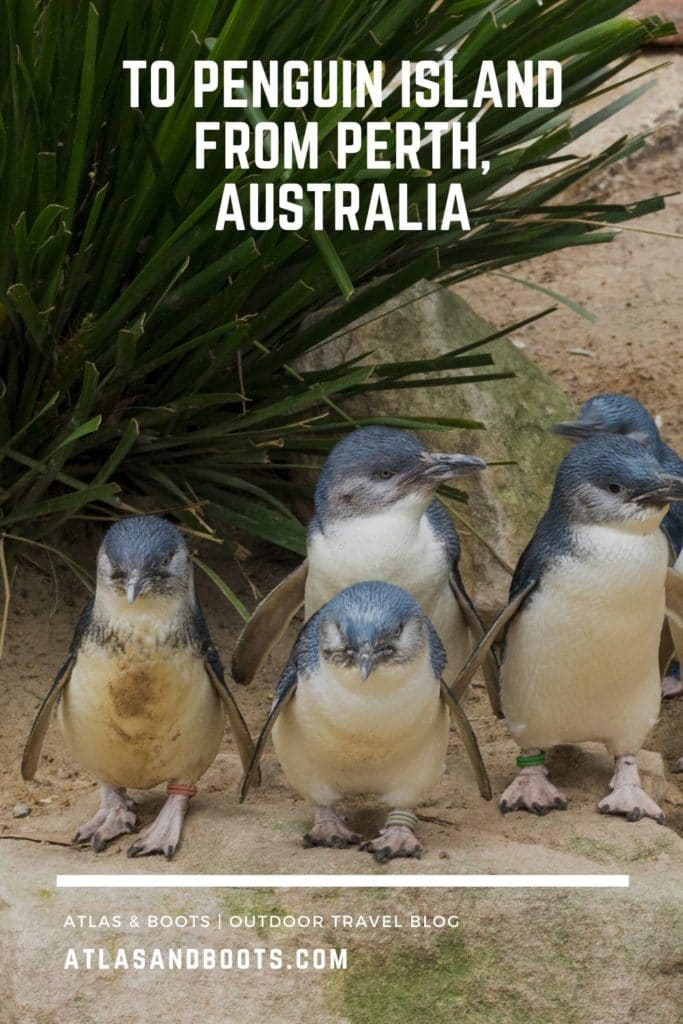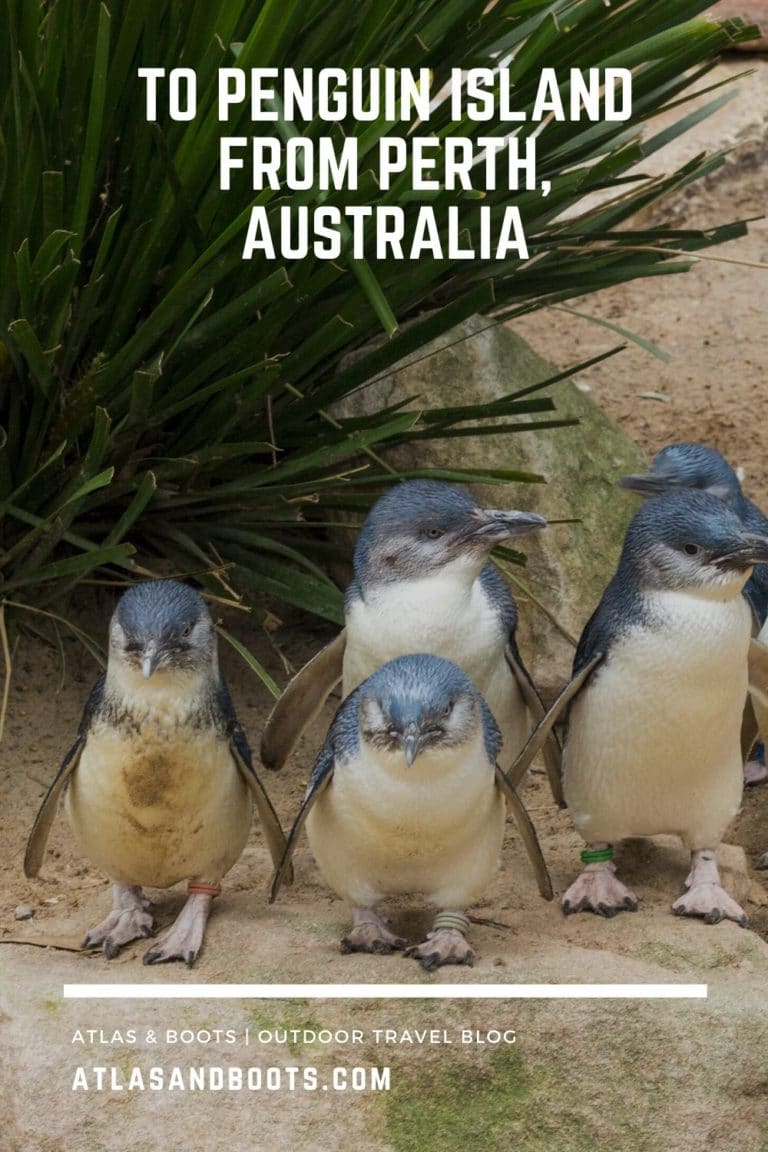 ---
Lonely Planet Australia is a comprehensive guide to the country, ideal for those who want to both explore the top sights and take the road less travelled.
If you prefer to pass on the planning, we recommend G Adventures and their small group Australia tours.

Lead image: Atlas & Boots