Erta Ale in Ethiopia is one of the most active volcanoes in the world and looms above a deadly desert. We ask if it's worth the risk
The 4×4 steams across the desert, lurching over rocks and cracks. Sand whips against the window, almost liquid in its motion. Immediately behind me sits our military escort: two men with automatic rifles slung casually across their laps.
I hate to say it, but there is a distinct sense of lawlessness in the air. I hate to because this is Africa and, for centuries, westerners have come to the continent to gather tales of risk and adventure for recounting at dinner parties over and cheese and wine.
I don't want to be that guy, but it's true: here, in the Danakil Depression in the Afar Region of Ethiopia, it really does feel like anything could happen.
The sense of risk is not just hyperbole. In 2012, an attack by Afar rebels left five tourists dead and four people kidnapped, and deadly incidents continue today. As a result, tourists are forbidden in the area without a military escort.
Our escort consists of two men, both stoic and unsmiling. As we drive, our guide gives us gas masks for later. I glance at Peter and know he's wondering the same thing as I: what on earth are we doing here?
To explain, we have to rewind to earlier this year when we idly put together our list of the countries we most want to see. In my top five was Ethiopia with Erta Ale the primary reason why I wanted to visit. Several months later and here we are, hurtling towards one of the most active volcanoes in the world to embark on what's been described as the hike to hell and back.
The Danakil Depression is one of the hottest, lowest and driest places on Earth. It's so extreme that life has been found in pure acid here. Temperatures regularly reach 45°C (113°F) and seas of molten magma ooze just beneath the crust's surface. Sensibly, the hike to Erta Ale starts after dark to avoid the suffocating heat of the day.
We set off at 6pm just as the edges of the sky begin to darken. Our guide, Haftu, is brisk and agile, hopping across hulking rocks in the fast-falling darkness. My torch is weak and I have to stay intensely focused on each step to stop myself from stumbling.
The pace is faster than is comfortable, but after years of practice as Peter's weaker hiking partner, I'm well used to venturing outside my comfort zone. We trudge on, bookended by Haftu at the front and our man with a gun behind. At one point, I catch the latter's laboured breathing and am comforted that it's not only I who is struggling.
The hike up to the crater camp is three hours on average; we do it in two and a half. As we approach the devil glow of the volcano, I feel a sharp tang of excitement. This. This is adventure.
We pause briefly at camp. The heat isn't as oppressive as I had feared and the 'hike to hell' was less hard than, say, hiking Matavanu Crater in Samoa, which had me in tears by the end.
We soldier on and carefully navigate the last 15 minutes to the edge of Erta Ale. There, in all its glory, lies the world's longest-existing lava lake. It is everything I envisioned: livid, fearsome, incandescent. The lava blisters and explodes, making us yawp in wonder.
Erta Ale is not our first trek to a volcano, but it's extraordinary in a different way. Less explosive but more expansive. The lava is not concentrated in a single vent; it oozes, flows and erupts across a vast amount of space.
We spend an age watching it, filming it, committing it indelibly to memory. This is and has to be one of the best experiences of our lives.
After an hour, Erta Ale smokes over – appropriate given its name: "smoking mountain" in the local Afar language. Satisfied that the risk, effort and expense of reaching the rim paid off, we pack up our equipment and head back to camp.
There, we collapse on our mattresses, which sit side by side in a stone Afar hut. As I lie there in the heat and wind, I consider the 'Shafia Test'. Named after my youngest sister, it asks 'Would I recommend this to Shafia?' and therefore 'Would I recommend this to our readers?'
Atlas & Boots
The risk of visiting Erta Ale is real and tangible, but the most challenging thing I found was the lack of infrastructure. There is no commode at camp (here or the next night), there is no running water, no rubbish bins. I spotted a rat in our hut and the surrounding area is littered with plastic bottles and toilet paper, which can't be buried in the hardened lava and so floats around if tourists don't take it back down. With this in mind, would I recommend a visit to Erta Ale?
Honestly? Yes.
Knowing what I know, knowing that a deadly incident took place mere days after our visit, I would visit again and therefore must conclude that it was worth the risk and effort. Visiting Erta Ale is challenging, but it's also thrilling, enchanting and life affirming.
I've considered before the pros and cons of risky travel and concluded that we should explore as much as our nerve allows. This, ladies and gentlemen, this is adventure.
Visiting Erta Ale: the essentials
What: Visiting Erta Ale as part of a 2-night, 3-day tour of the Danakil Depression in Ethiopia.
Where: Our tour of the Danakil Depression was bookended by a stay at Wukro Lodge in the town of Wukro. This cozy eco lodge uses solar power and boasts traditional decor and excellent views over the surrounding hills. There is free wifi in public areas, an onsite bar and restaurant and, at the time of writing, a pool under construction.
Atlas & Boots
The accommodation on the Danakil Depression tour itself is extremely basic. At Erta Ale (first night), we camped on thin mattresses in a stone hut. On the second night, we slept under the stars on makeshift wooden beds.
We recommend packing your own sleeping bag. While the area is known for soaring temperatures, the nights do get windy. Note that there is no commode, so you must be comfortable walking out a way to answer nature's call.
When: The best time to visit Erta Ale is between October to February when its soaring temperatures are most tolerable.
How: We visited Erta Ale with Smiling Ethiopia who come recommended in Lonely Planet Ethiopia. The two of us were accompanied by one English-speaking guide, two drivers, two cooks and a two-party military escort, transported via two 4×4 vehicles.
The tour was well organised and as comfortable as could be given the lack of underlying infrastructure in the area. (We recommend packing a bright head torch, sleeping bag, tissue/wet wipes and antibacterial gel.) Our 4x4s were sturdy and strong, and we ate extremely well thanks to our talented chef, Yidnak, and his assistant.
We paid $300 USD per person for a 2-night, 3-day tour taking in Erta Ale, Dallol and the salt flats of Lake Asale. It's pricey but well worth the money. An extended 3-night, 4-day tour is priced at $400 per person. Book via Mulugeta Gebrehiwot: smilingethiopiatravel.com, smilingethiopiatravel@yahoo.com, (251-1) 150694.
Skybus and Selam operate comfortable buses between Addis Ababa and Mekele, the jumping-off point for Danakil tours. If you opt for Wukro Lodge, you can take a local bus to Wukro from Mekele bus station (15 ETB / 0.5 USD per person; 48km) and then a tuk tuk to the base. The lodge is a five-minute trudge uphill.
Domestic flights are the quickest way to travel in Ethiopia (check latest routes here). It's far cheaper to book flights at an Ethiopian Airlines office in the country. Be sure to mention if you flew with them internationally as you will be eligible for a substantial discount.
Addis Ababa is the country's primary international airport. Book international flights via skyscanner.net.
---
Enjoyed this post? pin it for later…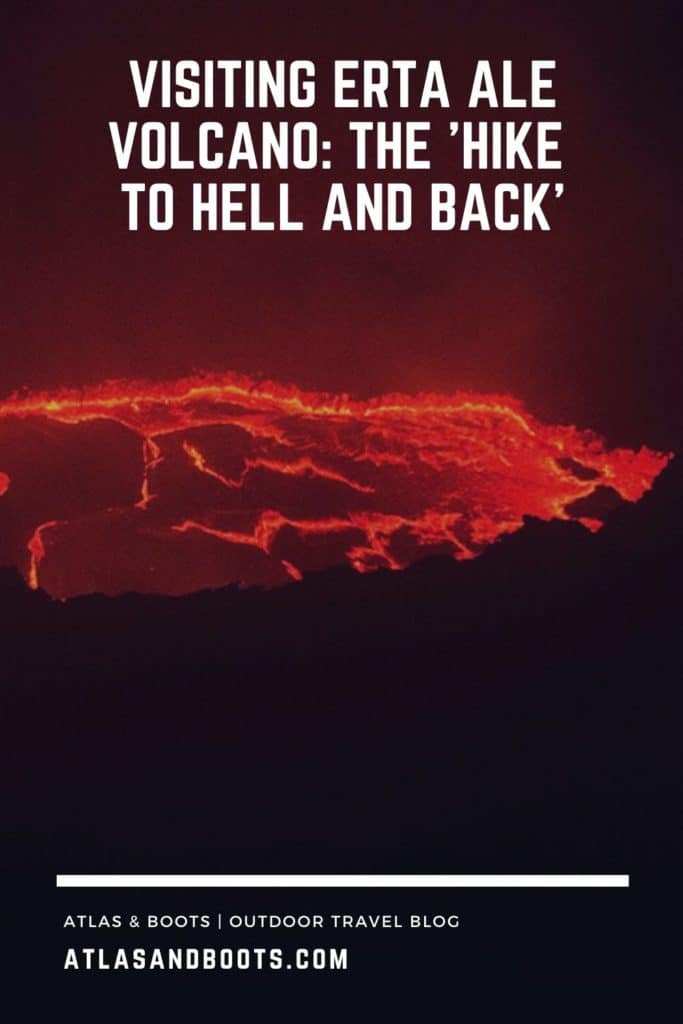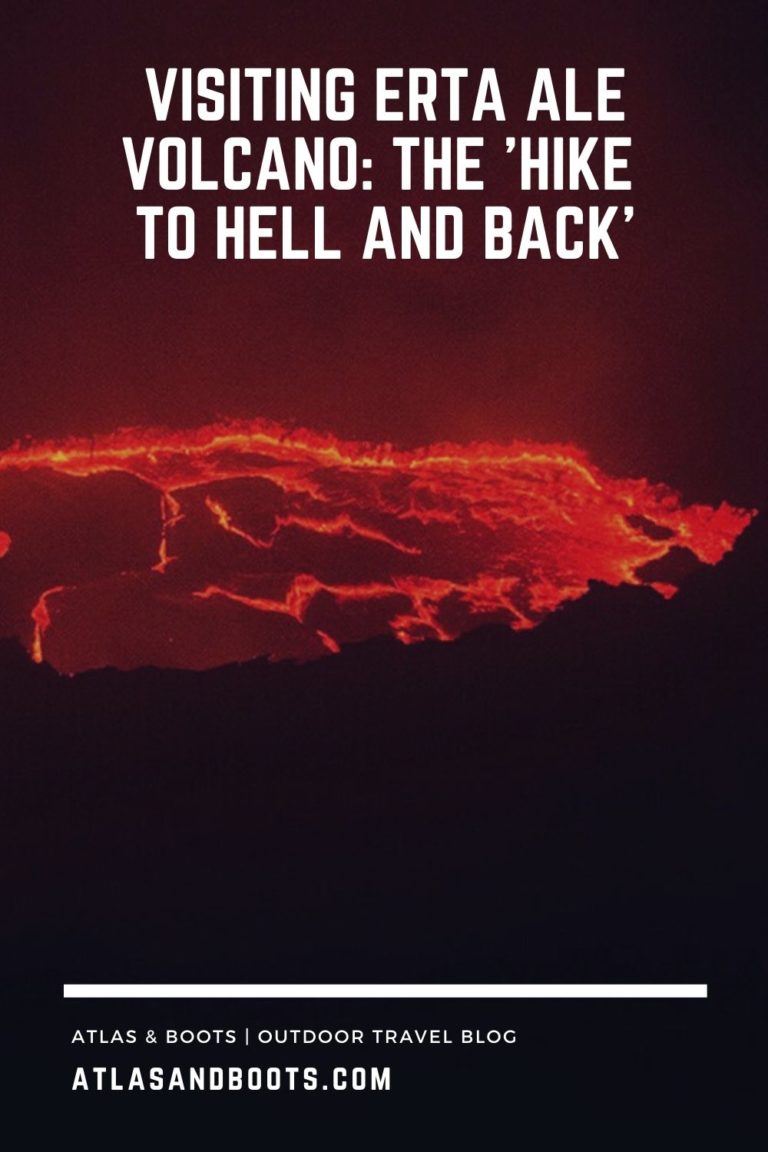 ---
Lonely Planet Ethiopia is a comprehensive guide to the country, ideal for those who want to both explore the top sights and take the road less travelled. If you prefer to travel in a tour, we recommend G Adventures and their small group Ethiopia tours.
Lead image: Atlas & Boots