Read our tips on visiting Pamukkale in Turkey, including what to wear, what to pack and what not to miss
Pamukkale, though Turkey's most popular attraction by numbers, is barely known outside its country borders. It's the iconic architecture of Istanbul and the cave dwellings of Cappadocia that steal the spotlight, but Pamukkale with its cascading travertine terraces deserves attention as well.
Sweeping limestone cliffs of a blinding white hue rise above pools of powder blue. Petrified stakes of limestone hang from chalky roots – like in Superman's fortress of solitude or a Tim Burton nightmare if his nightmares were good.
Pamukkale's surreal landscape was formed over millennia by limestone deposited by 17 hot springs in the area. Sadly, its natural beauty was almost lost when hotels sprung up around the area in the 1960s and a road was built to allow motorbikes direct access over the slopes. The hotels drained the thermal waters to fill their swimming pools and the terraces turned a greyish brown.
Thankfully, in 1988, UNESCO stepped in and declared Pamukkale a World Heritage Site. The hotels were demolished and a series of artificial pools were built atop the road to hide the damage caused. Today, there are strict controls on development and tourism in the area, allowing you to visit in good conscience. Here's what to know before you go.
Pamukkale doesn't look like the pictures (but it's stunning anyway)
The lustrous terraces as depicted in guidebooks and tourist board posters do not exist – at least not right now.
We're told that spring water has been diverted to allow the terraces time to recover from past mistreatment. When and how (or if!) the terraces will return to their former glory is currently unconfirmed.
With that said, don't let the difference put you off from visiting Pamukkale. It is still stunning and most certainly worth the stop.
Expect crowds at Pamukkale
Most foreign tourists visit Pamukkale on a day trip from the coast, which means they arrive late morning or early afternoon. As such, you could opt to stay in Denizli and take a public minibus first thing in the morning for minimal crowding (see 'How' below).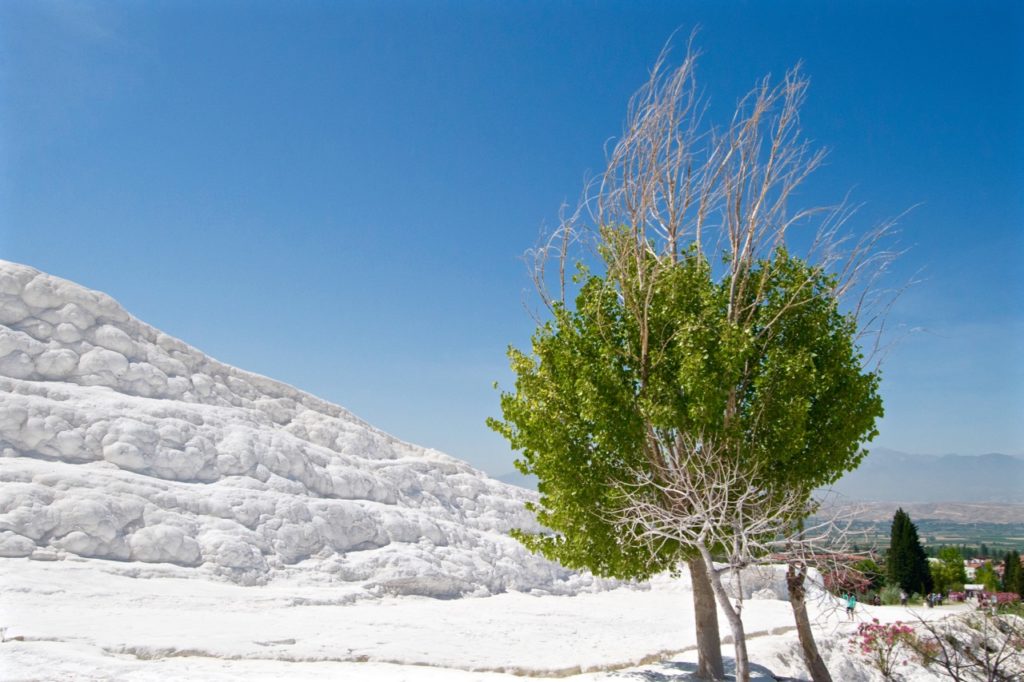 Expect crowds as the day draws on, from Speedo-sporting Europeans to overzealous local children. It's worth noting that Pamukkale is visited by two million people per year which equates to 5,500 people per day!
Start at the lower gate
The public minibus will drop you at the lower gate by default (ground level with the town) which is the better option for visiting Pamukkale. It is less crowded as tours drop off passengers at the upper gate. It also includes a walk up the cliffside offering stunning views.
We looped back to the lower gate at the end of our visit to catch a bus back to Denizli but also to view the scenery again.
Tread carefully
To prevent damage to the site, visitors must walk barefoot. You will be expected to place your shoes in a plastic bag and carry them (from the lower gate) or leave them on the wooden decking (upper gate). As such, take lightweight shoes that are easy to slip off.
The travertine floor can be slippery in places with running water underfoot as well as sharp-edged pieces of limestone. As such, take your time walking up the cliffside and tread carefully!
Pack light
There are no lockers at the lower gate so pack light as you will be carrying your bag for the length of your visit.
If possible, leave valuables at your hotel. Most visitors leave their bags poolside when taking a dip so there's a chance that your belongings will go walkabouts. If you must bring valuables, consider storing them in stuff sacs to prevent water damage.
Wear swimwear beneath your clothes
There are bathrooms at the site but it's easier to wear your swimming costume beneath your clothes so that you can just slip them off and take a dip.
Turkey is liberal compared with other countries in the region so bikinis are okay. You will likely dry off fairly easily in the sun but you may want to take a wrap to pull over your swimwear while it dries.
It's worth noting that most tourists stick to the pool area. We walked half a kilometre beyond it and found peaceful vistas completely free of visitors. Well worth the extra effort.
Take sunglasses
If you don't have sunglasses, buy a cheap pair before visiting Pamukkale. The limestone is so bright, so white that it will hurt your eyes if you don't protect them.
Similarly, wear sunscreen and take plenty of water. Temperatures soar, especially in the summer, and can leave you dehydrated if you're not careful.
Skip the Antique Pool
Legend has it that the artificially sculpted Antique Pool was a gift from Marc Anthony to Cleopatra. In the 7th century, an earthquake toppled the surrounding building and the massive marble columns tumbled into the pool where they still rest today.
We considered a dip but the atmosphere was akin to that of a British Butlins (hamburger joints, sunburnt tourists, Macarena playing over the loudspeakers). At an extra $10 USD on top of the entrance fee, we decided to forego the pleasure. You may wish to do the same.
Visit Hierapolis
Unlike the Antique Pool, the adjacent site of Hierapolis is worth visiting. Don't miss the theatre, which is said to have been constructed under the reign of Hadrian after the earthquake of 60 AD.
The facade is 300 feet long and there are 50 rows of seats divided into seven parts. We've seen our fair share of Roman theatres (in Amman, Jerash, Petra, Ephesus and Rome) and this is as impressive as any with the exception of the Colosseum.
Don't ignore Denizli
Most visitors use Denizli only as a conduit for visiting Pamukkale. If you have time, spend some time visiting sights within Denizli and the surrounding area including Denizli Old City, Kaklik Cave, Tripolis and Aphrodisias.
We visited the market in the Old City, which was far less touristy than its Grand Bazaar equivalent in Istanbul, hence offering a more intimate look at local life. We spent some time wandering the lanes before stopping for some Turkish tea in a small courtyard cafe tucked away on the perimeter. Spend some time there and you'll be sure to find it.

Where to stay in Pamukkale
Some tourists stay in Pamukkale itself but it's a fairly charmless town and, given the past tourist-related issues, we feel it's probably better to book accommodation away from the site itself, in either Denizli or Karahayit.
High-end
Mid-range
Budget
Pamukkale opening hours
Pamukkale and Hierapolis joint site entry: 25TL ($8 USD). Open Nov-March, 6am-6.30pm; April-Oct, 6am-midnight.
Antique pool entry: 32TL ($10 USD). Open Nov-March, 8am-5.30pm; April-Oct, 8am-7.30pm.
When to go to Pamukkale
The best time for visiting Pamukkale is spring (April to mid-June). Summer can be unbearably hot while winter can see snowfall! Autumn (mid-September to October) is also a good option, but the days are shorter and there's more chance of rain.
How to get to Pamukkale
In Denizli, you can take a public minibus from bus terminal #76. The ride is approximately 30 minutes and costs 3.50 TL ($1.20 USD) per person. The minibus stops minutes from Pamukkale; ask the bus driver to point you in the right direction. Make a note of the location as you will need to catch the bus back from the spot across the road.
You can catch a train to Denizli from Istanbul, Izmir or Selçuk (check TCDD for the latest timetable). There is no train to or from Cappadocia but there are reliable bus services. We caught a Metro Turizm night bus from Denizli to Cappadocia (9pm – 7am; $17 USD).
We arrived in Turkey at Istanbul's Ataturk international airport and spent a few days in Istanbul before flying to Izmir (1hr) and catching a train the same day to Selçuk (1hr 20m). After a few days at Selçuk for Ephesus, we took the train to Denizli (3hr).
Ataturk airport is international and has connections to a number of domestic destinations throughout Turkey. Book via Skyscanner for the best prices.
---
Enjoyed this post? pin it for later…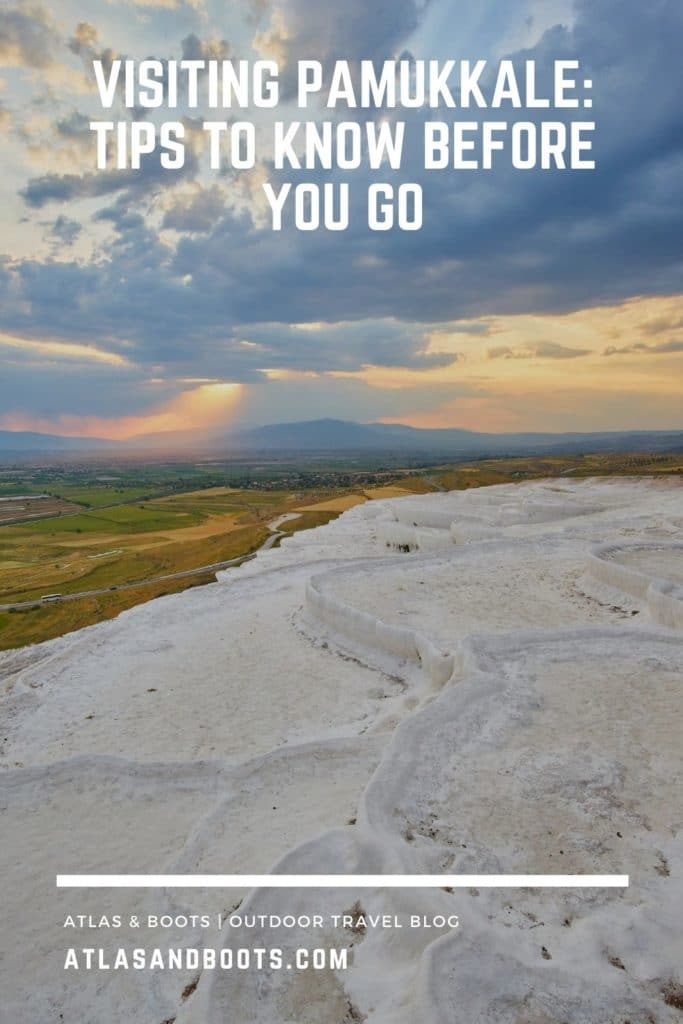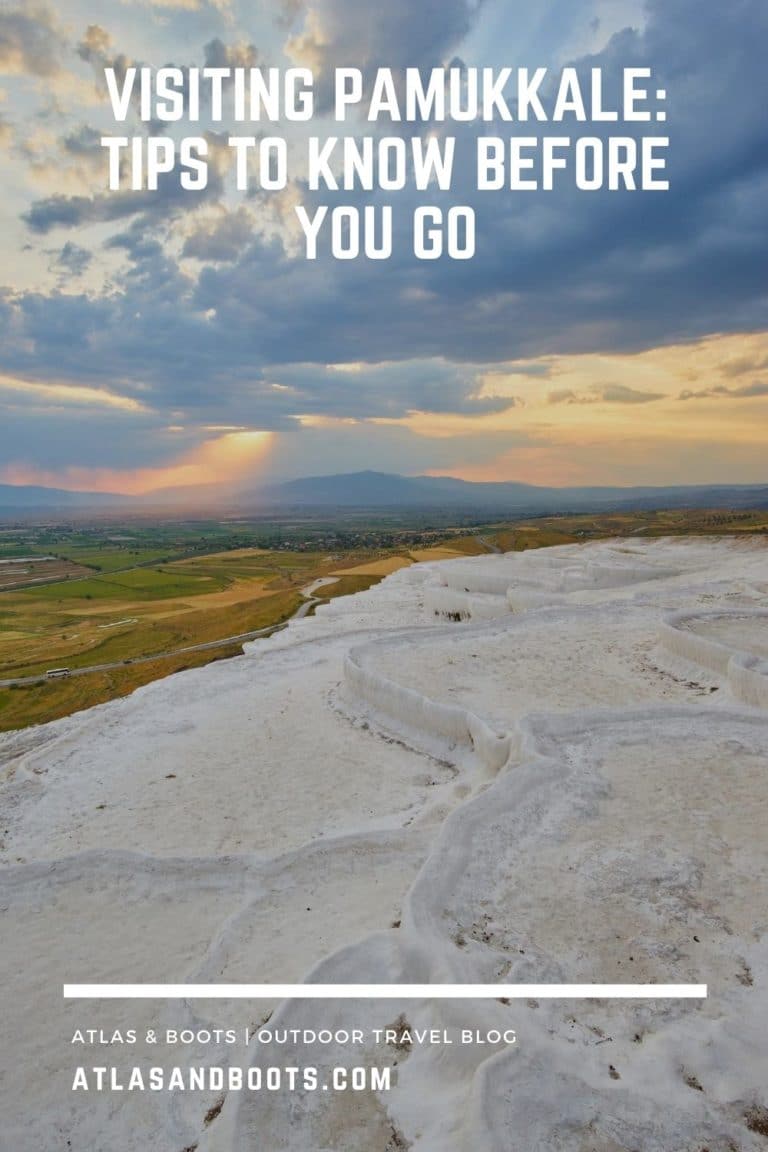 ---
Lonely Planet Turkey is a comprehensive guide to the country, ideal for those who want to both explore the top sights and take the road less travelled.
Lead image: Atlas & Boots