We spent seven days diving in the world's largest reef system – and loved every minute. Below we share some of the best dive sites in the Great Barrier Reef
As travel bloggers, we are at times guilty of hyperbole. When it comes to diving in the Great Barrier Reef, however, there is no overstating. The coral reef here is simply magnificent.
We spent seven days aboard the 35m catamaran Coral Expeditions II, a small ship that accommodates a maximum of 44 passengers (our trip had 22).
A small ship is not only a more sustainable way to see the Great Barrier Reef, it allows access to exclusive mooring destinations beyond the reach of mainland day-trippers.
We dived most days, up to three times a day depending on the itinerary. The diving was calm and easygoing throughout the voyage, made particularly effortless by a hydraulic platform to the stern of the ship which gently lowered divers and snorkellers directly into the sea. Our instructor, Colin, was calm, organised and diligent which made the experience all the more enjoyable.
The Great Barrier Reef with its moderate depths and clear, calm waters is an excellent spot for both novice and advanced divers. With that in mind, we share eight of the best dive sites in the Great Barrier Reef.
1. Nathan Reef
Depth: 9m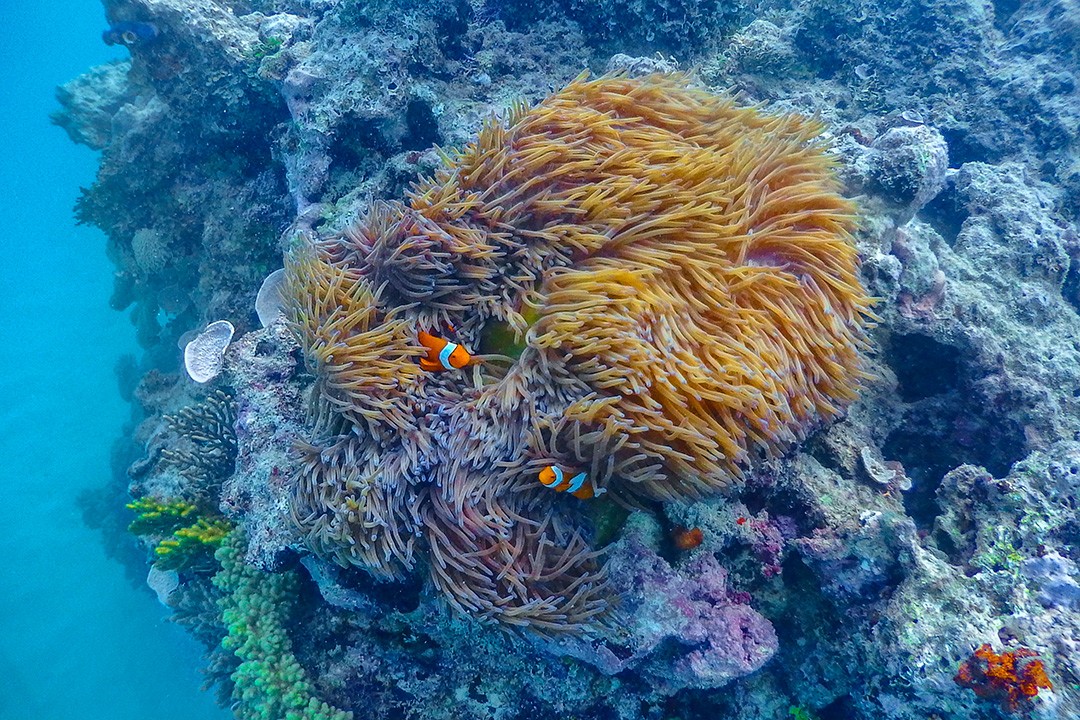 Nathan Reef's shallow, calm and colourful reef is an excellent place to start. Conveniently located relatively close to Cairns, Nathan Reef is defined by its myriad colourful coral, sea anemones and shoals of parrotfish. A resident pair of clownfish (often referred to as Nemo fish) found at around 9m are always a popular attraction.
2. Ribbon Reef
Depth: 16m (reef #3), 18m (reef #9)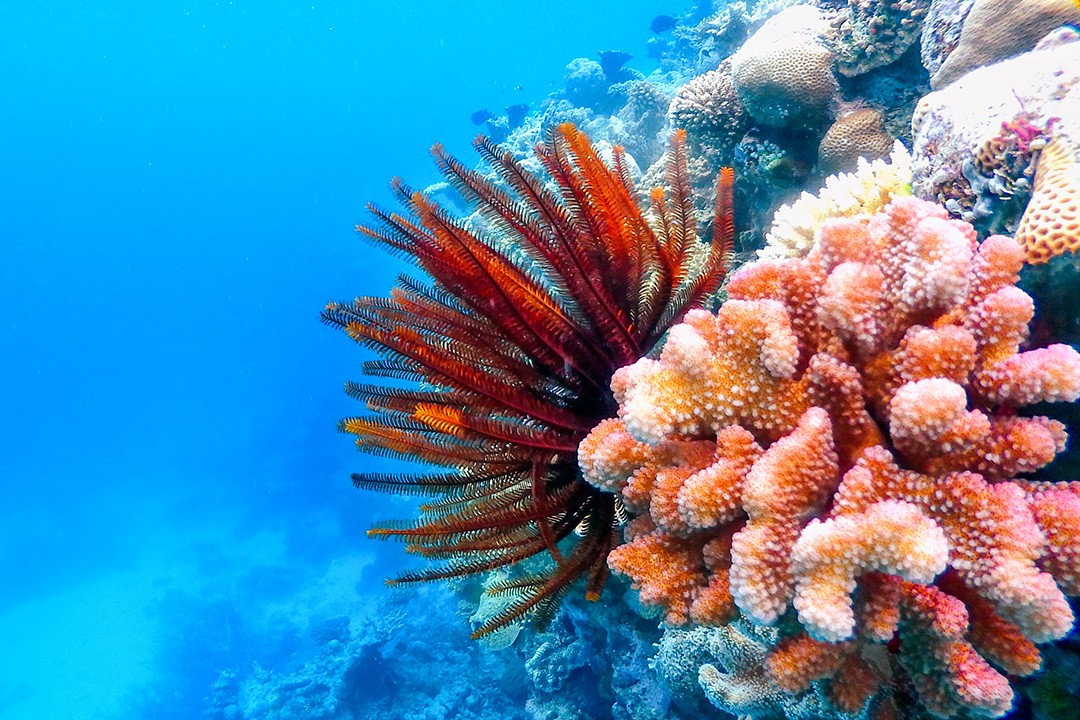 Located in a remote area of the Coral Sea, Ribbon Reef offers some of the best dive sites in the Great Barrier Reef. Ribbon Reef includes a chain of 10 individual reefs of which #3 and #9 are widely regarded as the best.
Positioned adjacent to Cooktown, Ribbon Reef is on the outer fringes of the Great Barrier Reef. Divers will likely see an array of larger fish such as grouper, cod and bream as well as the usual assortment of colourful reef fish.
Keep your eyes open for what can only be described as an 'unusual feature' at Ribbon Reef #3. It certainly took us by surprise!
3. Steve's Bommie
Depth: 24m
Somewhere between Ribbon Reefs #2 and #3, around S15° 30′ 06.4″ E145° 47′ 16.7″, stands an extraordinary isolated pinnacle, stretching from a depth of 35m up to around five.
The pinnacle, named Steve's Bommie, teems with life. Clownfish of bursting orange curl in the tentacles of fat-fingered anemone next to schools of yellow snapper and anthias of a Disney purple hue.
Steve's Bommie is not just one of the best dive sites in the Great Barrier Reef, it's one of the best dives we've ever done anywhere in the world.
Steve's Bommie, along with Ribbon Reef, are too far for a day trip. Therefore, unless you have access to a private yacht or are staying on Lizard Island, the site can only realistically be reached by a liveaboard or cruise ship.
4. Escape Reef
Depth: 10m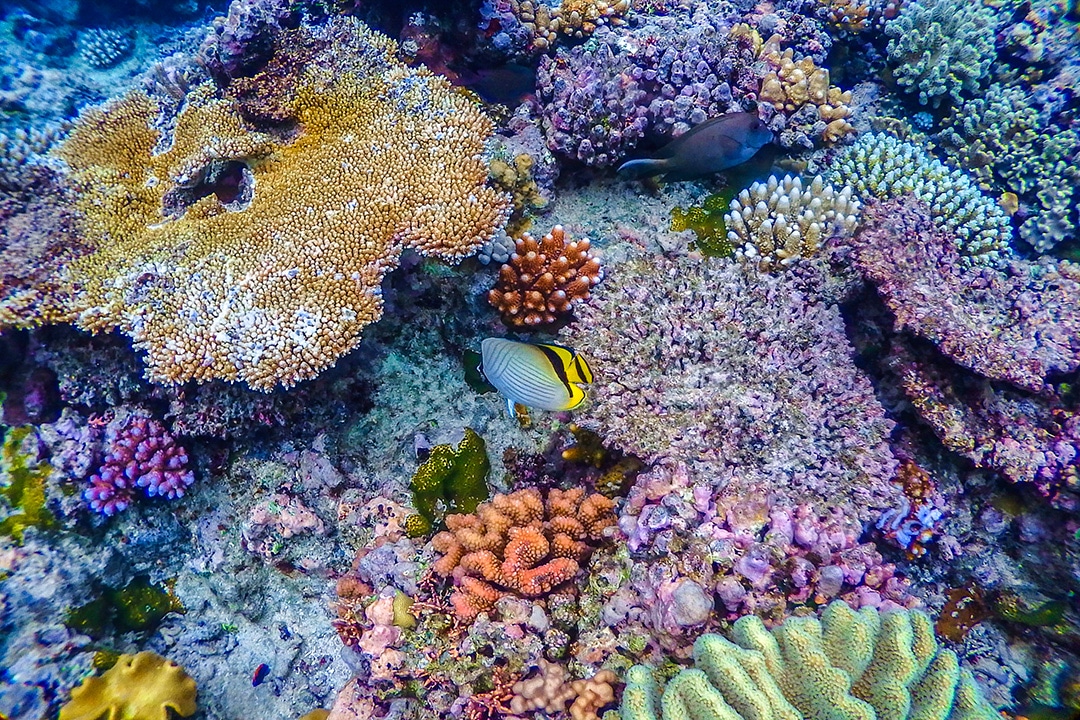 Escape Reef is another outstanding dive site included on our Great Barrier Reef itinerary. It has two distinct sides: one ocean facing and one lagoon facing. The lagoon side is the more sheltered, making it ideal for diving.
Just out of reach from Port Douglas day boats, the reef is one of the least visited and most pristine in the area. A multitude of healthy and colourful coral are on display with minimal evidence of bleaching.
5. Heron Island
Depth: 5-25m
Heron Island is a coral cay located around 50km offshore and is blessed with numerous excellent dive sites. The island is a notable turtle nesting site, home to around 4,000 green and loggerhead turtles, so it's highly likely you'll encounter several at any of the 20+ dive sites in the surrounding reef.
Day tripping to Heron Island isn't possible so unless you're on a liveaboard your only real option is to stay at the island's resort with the attached Heron Island Marine Centre.
6. Lady Elliot Island
Depth: 10-30m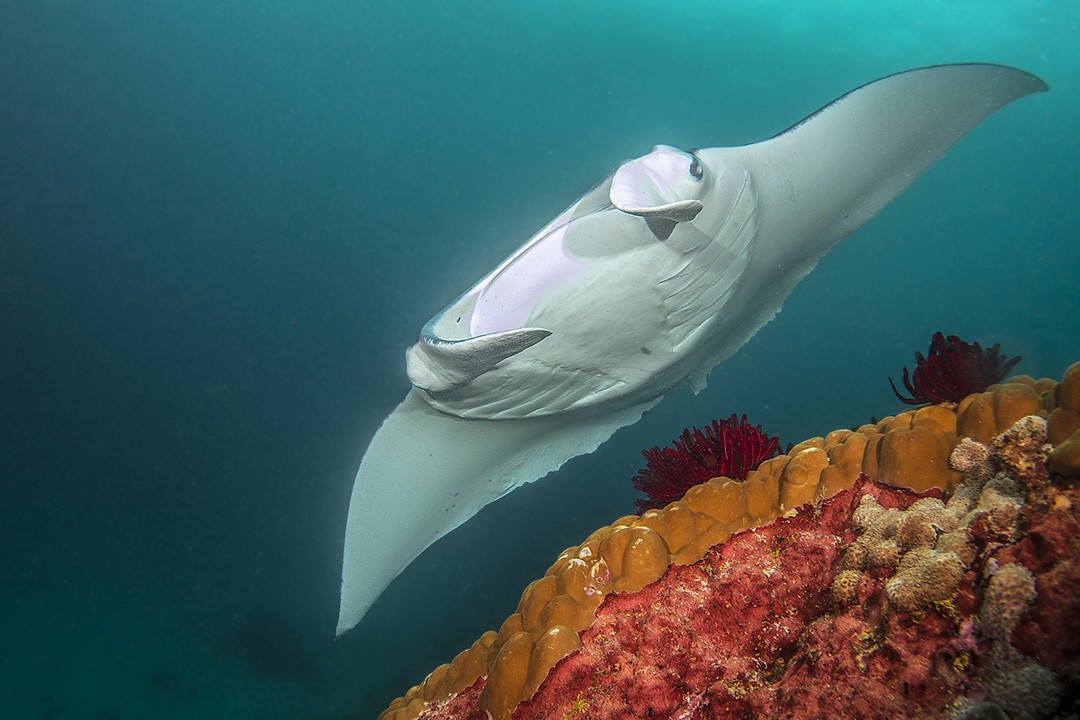 There are over 20 dive sites located in the reef around Lady Elliot Island, known for their manta ray and green sea turtle populations. Like Heron Island, the only real way to access the site is by staying at the resort on the island.
The surrounding waters are home to a range of reefs and bommies with different depths and terrain. These support a large and diverse fish population as well as a number of different types of turtle.
Located 56km from the mainland means the coral reefs around Lady Elliot are in pristine condition. Encounters with whales are not uncommon as the island is close to the continental shelf drop off and deeper water.
7. Osprey Reef
Depth: 12-40m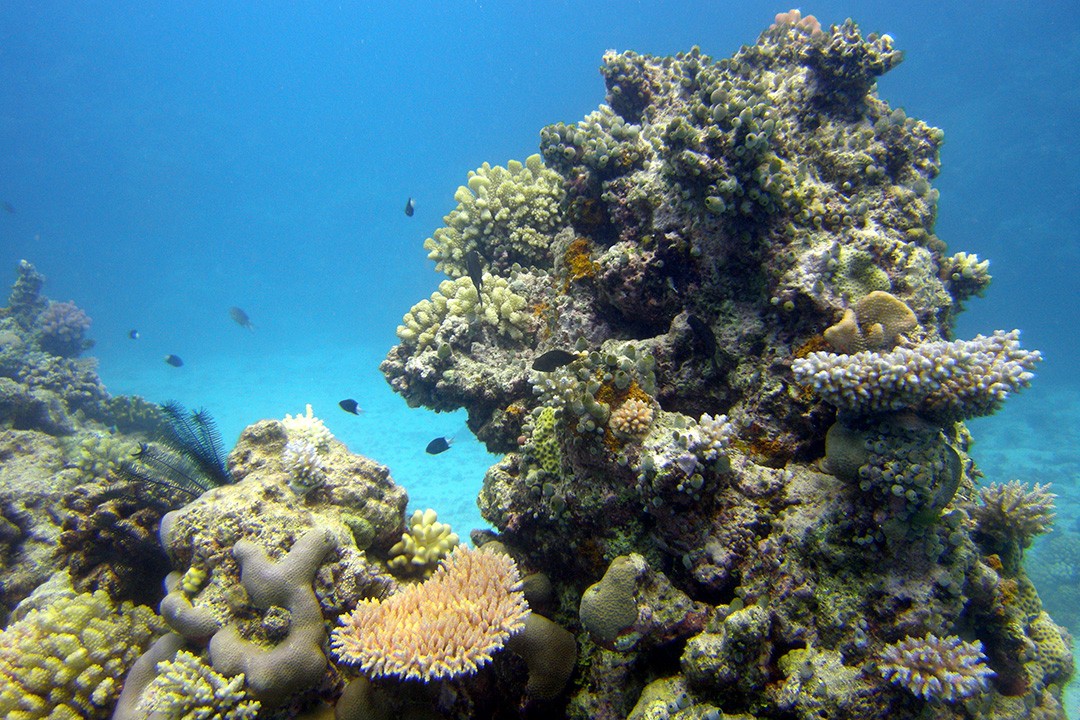 Famed for its excellent reef shark feeding opportunities, Osprey Reef is home to a natural subaquatic amphitheatre where divers can easily spot silvertip, whitetip and grey reef sharks.
The reef is isolated, some 60km away from the other popular reefs in the area, meaning access can be a real challenge. However, the almost vertical reef walls, which rise from a depth of around 2,000m, offer outstanding visibility.
8. SS Yongala
Depth: 30m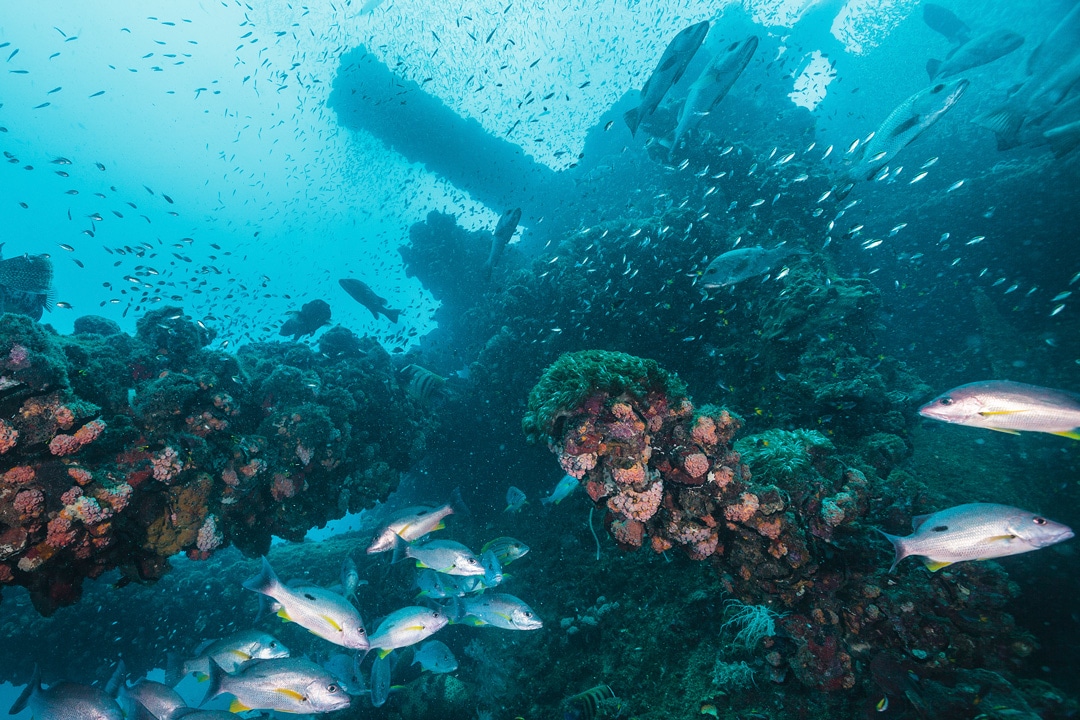 Our selected wreck dive is the 110m SS Yongala which lies in open water around 20km from the mainland. The passenger ship sank in 1911 during a cyclone with all 122 passengers and crew lost in the tragedy. It is Australia's largest and most intact historic shipwreck and one of best dive sites in the Great Barrier Reef.
With an international reputation as one of the best wreck dives in the world, the Yongala is now a magnificent isolated artificial reef home to an array of marine life. The wreck rests on its side 15m below the surface and 30m at its deepest. The site can be accessed via speedboat from Townsville, but it's quicker from Alva Beach near Ayr.
best dive sites in the Great Barrier Reef: Map
best dive sites in the Great Barrier Reef: the essentials
What: Diving some of the best dive sites in the Great Barrier Reef, Australia.
Where: We stayed in an Upper Deck Stateroom on Coral Expeditions II. Our room was exceedingly comfortable and surprisingly spacious with plenty of storage and stunning sea views.
Atlas & Boots
Pre-dinner drinks were served on the top deck and meals were taken in the lower-deck dining room where chef Mark cooked up feasts for breakfast, lunch and dinner as well as morning and afternoon tea.
The maximum capacity of 44 guests (ours had 22) makes for excellent camaraderie and atmosphere, enhanced further by a delightful crew. Overall, it was a wonderful way to explore the Great Barrier Reef.
When: The best time to visit the Great Barrier Reef is Jul-Oct for high visibility and low rain and wind.
How: We joined Coral Expeditions for a 7-night expedition from Cairns to Hinchinbrook Island to Lizard Island and back to Cairns.
Prices starts from $3,680 AUD ($2,720 USD) per person and include all meals, tea and coffee, snorkelling equipment and wetsuits, snorkelling excursions, guided glass bottom boat trips, presentations by marine biologists, access to islands, marine parks and national parks, an introductory scuba skills session for first-time divers and transfer back to a Cairns hotel or Cairns Airport. Prices do not include dives ($80 AUD / $60 USD per person, per dive) or stinger suits. Note that there is no internet access on board.
Expeditions depart from and return to the Cairns Cruise Liner Terminal. You will be given joining instructions prior to departure which are worth reading carefully as taxi drivers won't always know exactly where to go.
Cairns itself can be reached by car using Hertz Australia, by bus using Greyhound Australia or by flight into Cairns Airport. Book domestic or international flights via Skyscanner for the best prices.
---
Enjoyed this post? pin it for later…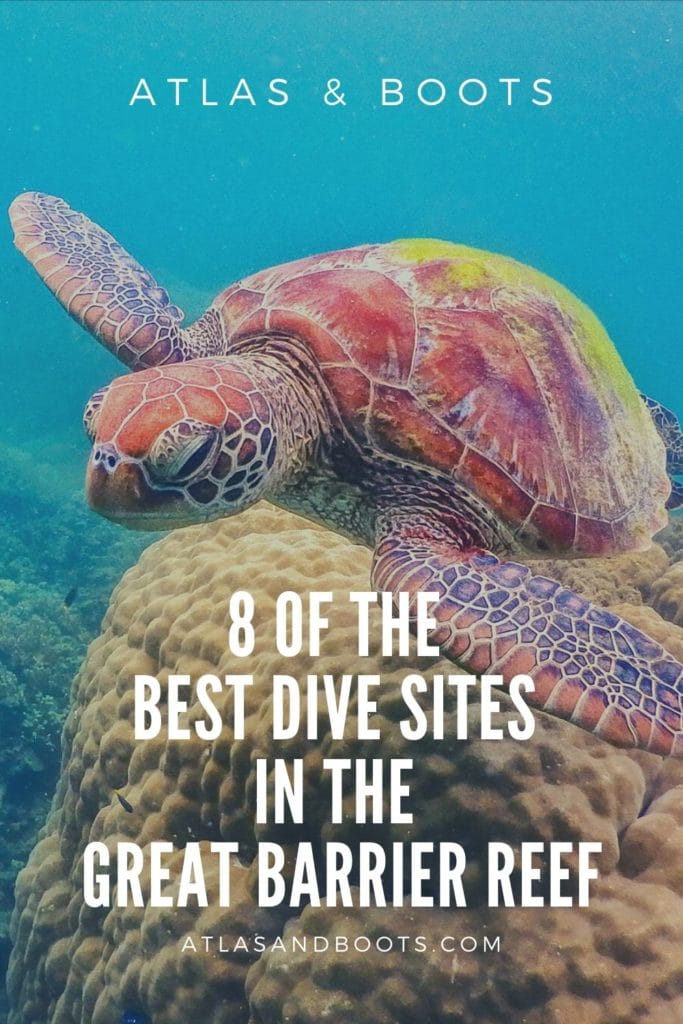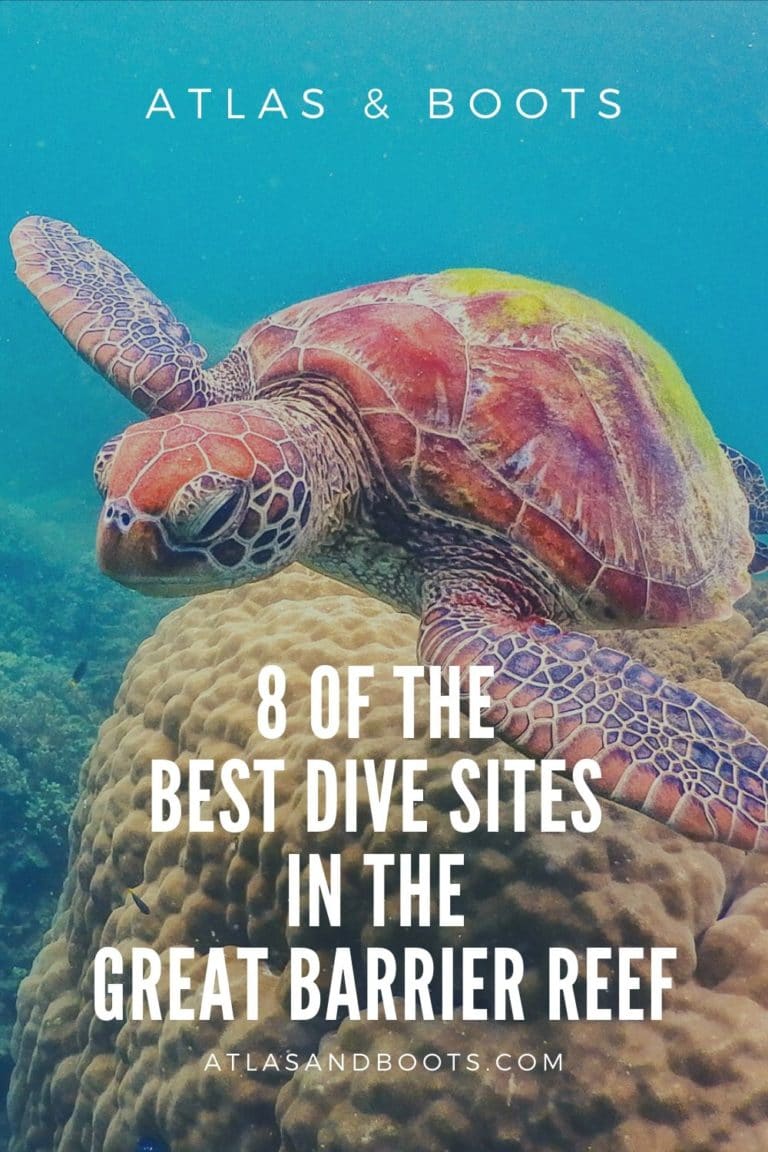 ---
Lonely Planet Australia is a comprehensive guide to the country, ideal for those who want to both explore the top sights and take the road less travelled.
Disclosure: We explored the Great Barrier Reef with support from Coral Expeditions. All publications say this, but we really don't guarantee positive coverage. We say what we think – good and bad – so you can make informed decisions with honest advice.
Lead image: Atlas & Boots