The best hikes in South Korea offer a portrait of idyllic countryside as well as 5,000 years of distinctive culture and history
Mountain culture runs deep through the history of South Korea. Thousands of years before modern religion made its way onto the peninsula, Koreans worshipped mountain spirits known as Sansin. Today, much of the population remains strongly connected to mountains, albeit in a different way.
South Koreans hike in droves. The membership of hiking clubs has swollen to the tens of thousands. Throughout the year, Gore-Tex-clad weekend warriors flock to the hills to escape the confines of their sprawling cities.
And why not? Mountains are everywhere in South Korea and most can be climbed in a day. In fact, approximately 70% of South Korea's land is considered mountainous. In a country known as the 'land of the morning calm', it is hardly surprising that Koreans are finding peace outdoors. Personally, I think they're onto something.
South Korea is a relatively small country, but it manages to pack in 22 national parks, of which 17 are considered mountainous. San, meaning mountain in Korean, turns up in every one of those 17 park names. What's more, Korea's outstanding transport infrastructure makes these mountains and their striking viewpoints easily accessible from myriad cities.
Considering the above, it's a wonder that South Korea's pine-clad mountains do not lure more international wanderers. The country receives considerably fewer visitors than many of its neighbours.
In fact, South Korea remains a relatively unexplored slice of East Asia, which makes it even more tantalising. Below, we share some of the best hikes in South Korea that showcase the nation's most striking scenery.
Best hikes in South Korea
We've selected the best hikes in South Korea to suit a range of abilities. These trails provide a window into what Korea has to offer walkers. With a wealth of well-maintained trails connecting pristine countryside with eye-catching temples, there is plenty more to explore.
1. Hallasan Summit
Distance: 7.4-19.2km
Duration: 2-10 hours
Difficulty: Medium-hard
Why not start at the top? South Korea's highest mountain is located on the country's largest island. Known locally as Jejudo, Jeju Island has drawn comparisons with Hawaii due to its pretty beaches, verdant countryside and popularity with Korean honeymooners. With a range of beachfront hotels, it is the country's prime domestic holiday destination.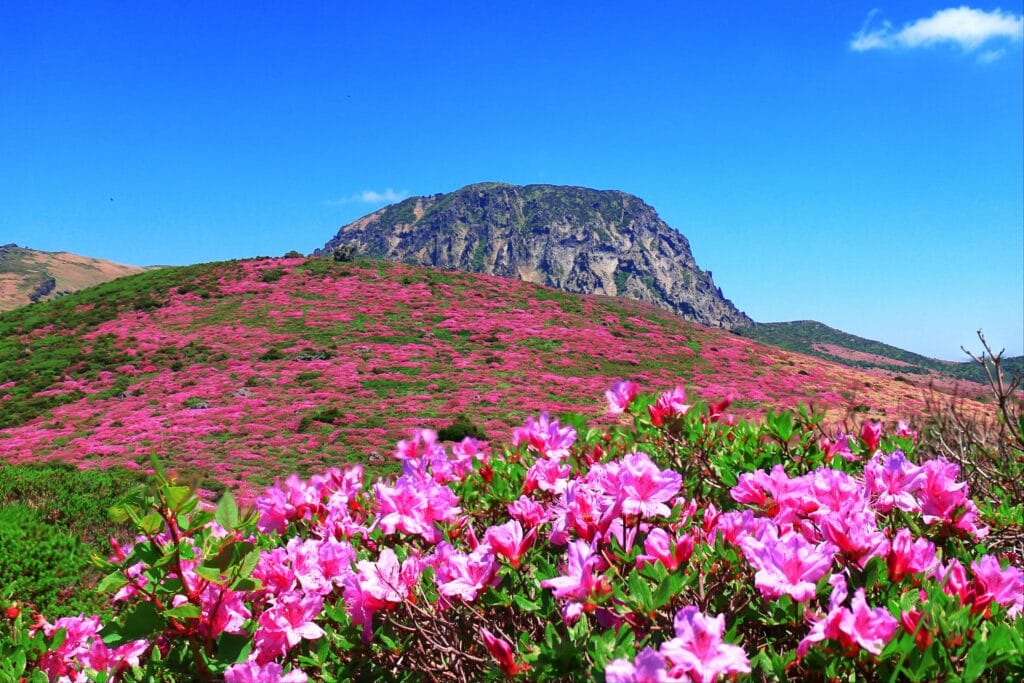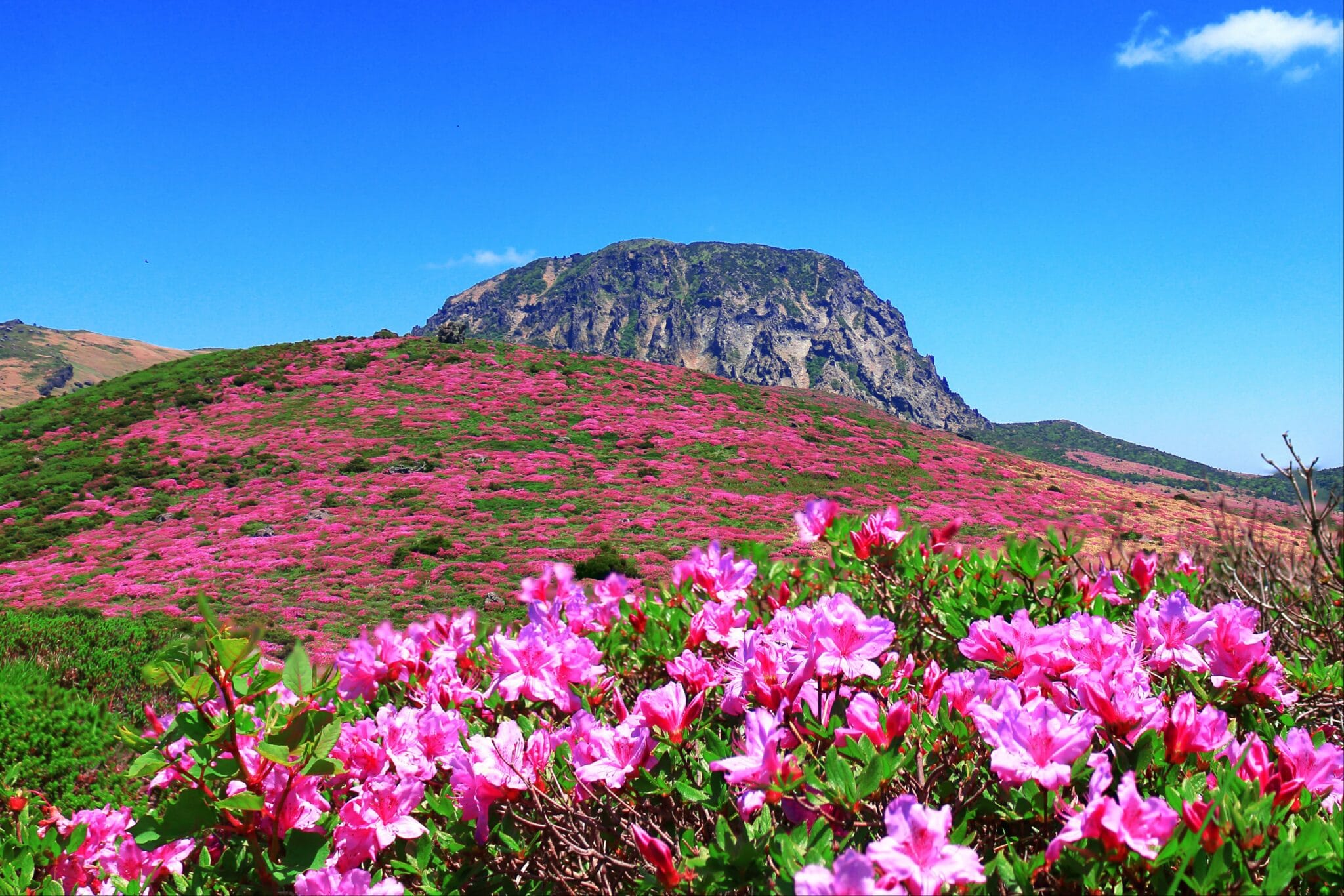 Located within the densely wooded national park of the same name, Hallasan is an active volcano (although it hasn't erupted for over 1,000 years). At 1,947m (6,388ft), the mountain's summit dominates the island's horizon. There are five trails, ranging in length from 3.7km to 9.6km one-way, leading to the summit.
The mountain can be climbed throughout the year, but April and May when its slopes are dotted with flowering azaleas are particularly delightful.
2. Jirisan Ridge Trek
Distance: 45km
Duration: 3 nights/4 days
Difficulty: Hard
A network of hiking trails criss-cross Jirisan, South Korea's first and largest national park. There are myriad day hikes and trekking options, but the park's premier route is the four-day shelter-to-shelter course running east to west from Daewonsa to Hwaeomsa.
The highlight of the trek is the Jirisan Ridge which traverses no less than 16 peaks above 1,500m (4,921ft). The massif is home to Cheonwangbong Peak, mainland South Korea's highest point at 1,915m (6,283ft).
Most hikers time their treks to coincide with sunrise on Cheonwangbong Peak on the first morning (second day) of the trek.
3. Bukhansanseong Trail
Distance: 8.2km
Duration: 3-4 hours
Difficulty: Easy
The urban sprawl of South Korea's capital city, Seoul, encompasses Bukhansan National Park with its granite peaks, remote temples and mountaintop vistas. Known as the 'lungs of Seoul', the park's proximity to Korea's most populated region means it receives over five million visitors every year so don't expect to have the trails to yourself.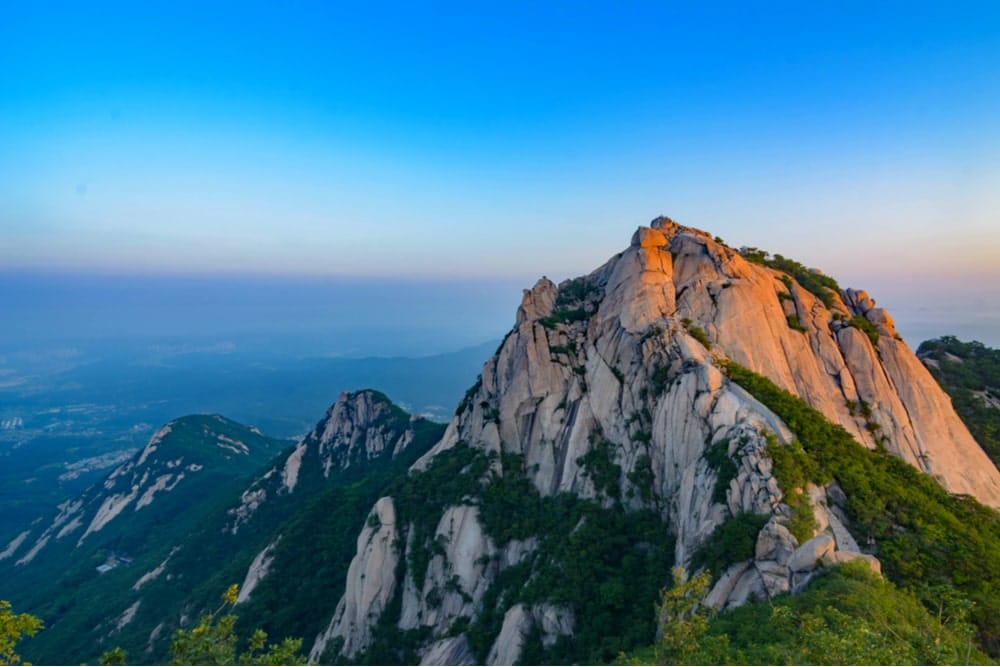 The most popular route is the ascent of the park's highest peak, Baegundae at 836m (2,742ft), via the Bukhansanseong Trail. The bird's-eye view from the pinnacle is spectacular.
Another fine option is the 18.6km Seoul City Wall circuit which follows Seoul's ancient city wall and takes in the four smaller peaks of Bukaksan (342m/1,122ft), Naksan (125m/410ft), Namsan (262m/860ft) and Inwangsan (338m/1,109ft).
4. Daecheongbong Peak, Seoraksan
Distance: 13.8-20.6km
Duration: 4-6 hours
Difficulty: Medium-hard
Seoraksan National Park and the Taebaek mountain range is the Korean peninsula's most iconic landscape. Admired for its unique rock formations, rich wildlife, hot springs, gushing waterfalls, thick forests and ancient Buddhist temples, Seoraksan is a hiking utopia.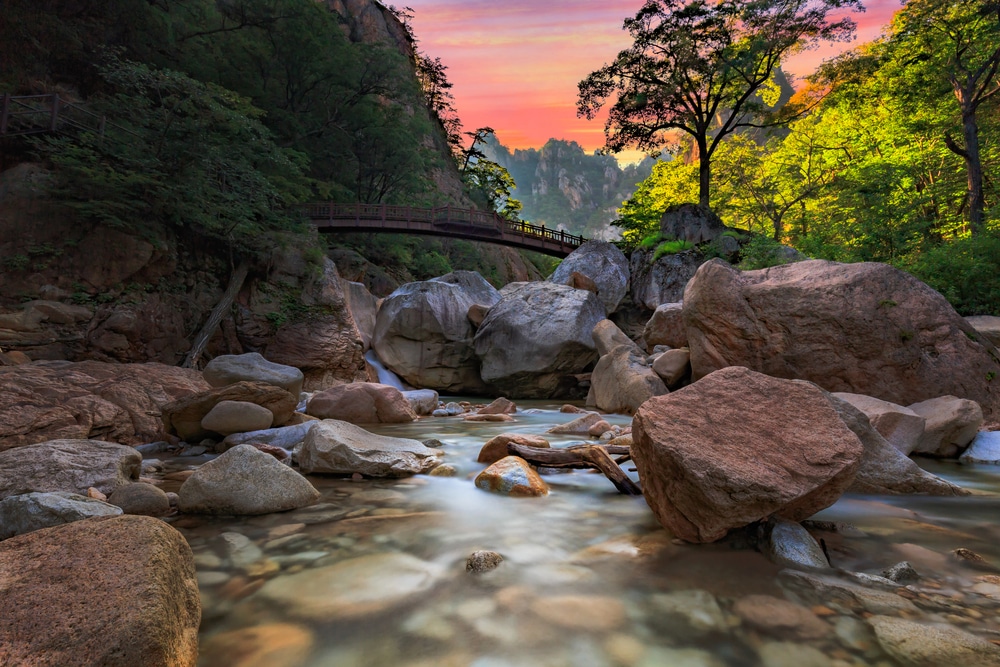 At its heart is South Korea's third-highest mountain, Seoraksan (Snowy Peaks Mountain) with its 1,708m (5,604ft)-high Daecheongbong Peak. Watching the sunrise from Daecheongbong Peak is something of a rite of passage among Koreans and is worth the trip alone.
The peak can be reached by point-to-point, loop or return hikes.
5. Songnisan
Distance: 14-20km
Duration: 3-4 hours
Difficulty: Easy
Another superb hiking destination, Songnisan National Park receives significantly fewer visitors than many of its peers but showcases similarly spectacular scenery. Songnisan means 'remote from the ordinary world mountain' which sums up the arresting landscape.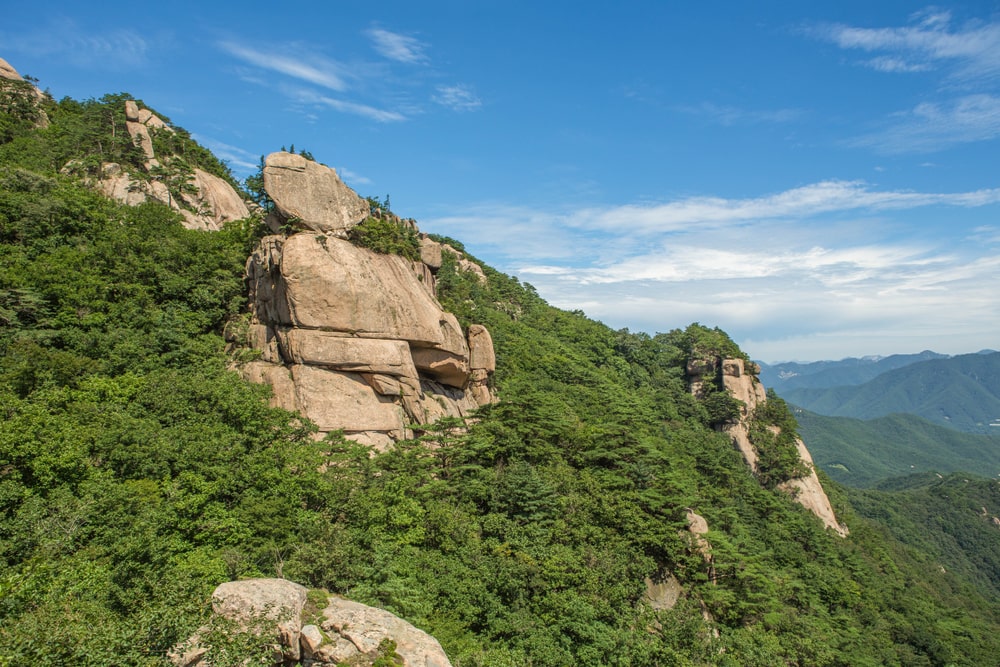 The most popular trail – and arguably the most rewarding – is the relatively sedate route up to the 1,058m (3,472ft)-high summit of Munjangdae, once known as the 'peak covered by clouds'. In winter, expect to find swirling mists at the summit while spring brings azaleas and cherry blossoms to its slopes.
There are several routes up to the summit depending on your starting point.
6. Naejangsan Ridge Hike
Distance: 11km
Duration: 4-5 hours
Difficulty: Moderate-hard
Hikers and photographers alike love Naejangsan National Park for its stunning autumn vegetation. The park will likely be packed in October when its foliage is a vermilion colour, but you shouldn't let that put you off completing one of the best hikes in South Korea.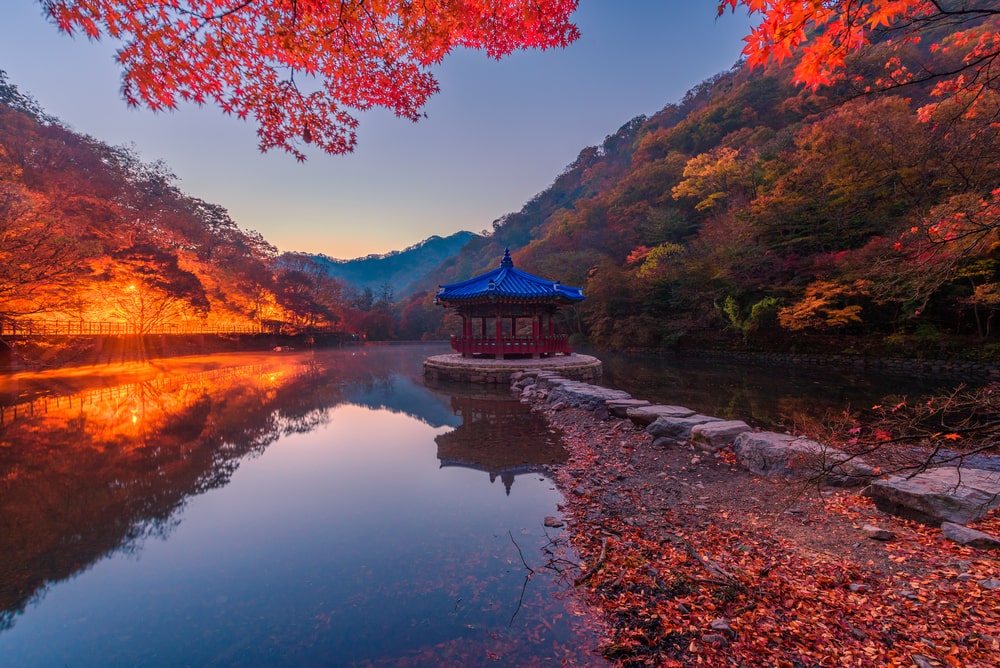 There are numerous short and sweet walks on offer, but it is the demanding six-peak Naejangsan ridge route that shows off the scenery at its most spectacular. The route follows the apex of the massif, shaped like a natural amphitheatre, up to Seoraebong Peak (624m/2,040ft) with its panoramic montane views.
7. Geumjeongsan, Busan
Distance: 8km
Duration: 2-3 hours
Duration: Easy
Geumjeongsan is Busan's most popular hiking destination and for good reason. The 802m (2,630ft)-high Godangbong Peak is the mountain's highest point and boasts outstanding views of South Korea's second-largest city. Hikers can choose from seven routes to the peak.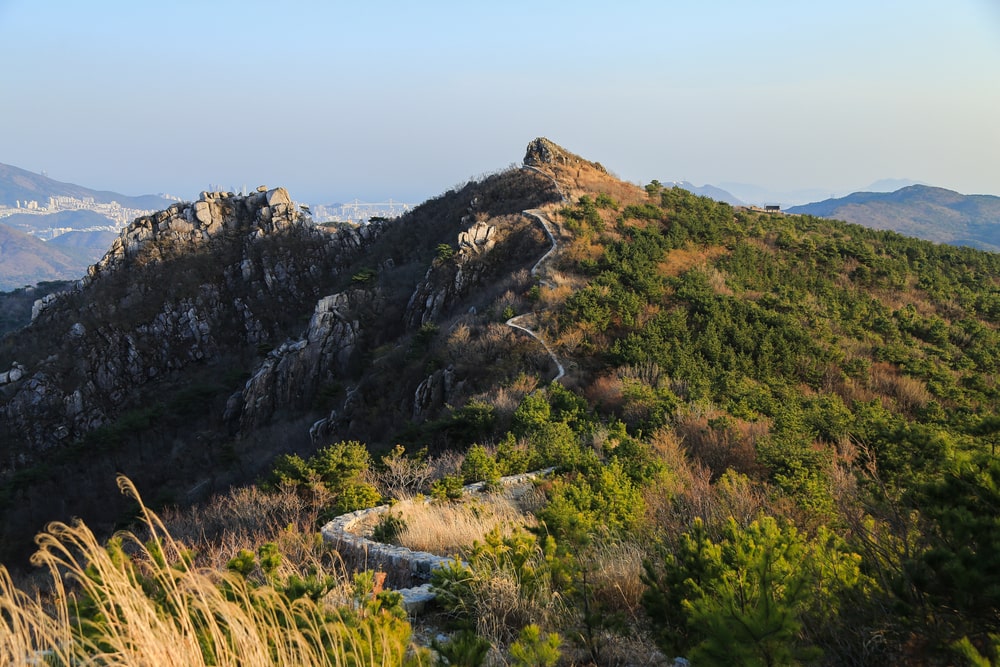 There are several other prominent peaks, various temples and the impressive Geumjeong Fortress. Once the largest fortress in Korea, its stone walls stretched 17km around the mountaintop. Only four gates and around four kilometres of the wall have survived, but it remains an impressive sight nonetheless.
Other options in Busan include Jangsan, Seunghaksan and Taejongdae Nature Park on Yeongdo. For something a little less taxing, the 4.7km Igidae Coastal Walk offers sweeping views of the Haeundae Beach skyline from across the bay without ever climbing more than a few feet above sea level.
8. Peace Trail, DMZ
Distance: 2.7-7.9km
Duration: 2-3 hours
Duration: Easy
In 2019, South Korea opened up a short network of trails along one of the world's most fortified borders. The Demilitarized Zone (DMZ) is the 4km-wide, 240km-long buffer zone that has separated North and South Korea since the 1953 conflict that tore apart the peninsula.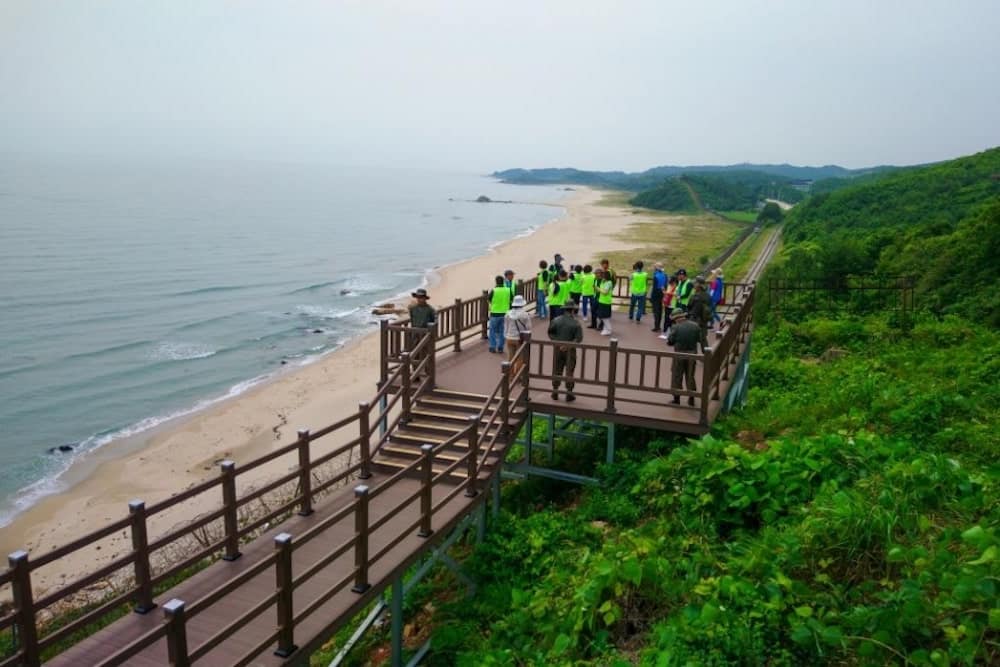 Over the six decades since the armistice, the area has been closed off from human interference. Despite the huge military presence, the area has developed into an unexpected refuge for endangered species of migratory birds and wild mammals including deer and mountain goats. The routes take in a seaside trail running along unused train tracks dotted with observation posts.
The Peace Trail is made up of two routes and is part of the United Nations Command-approved educational sites that have made the DMZ a major tourist attraction. Hikers are escorted by armed guards throughout.
---
Enjoyed this post? pin it for later…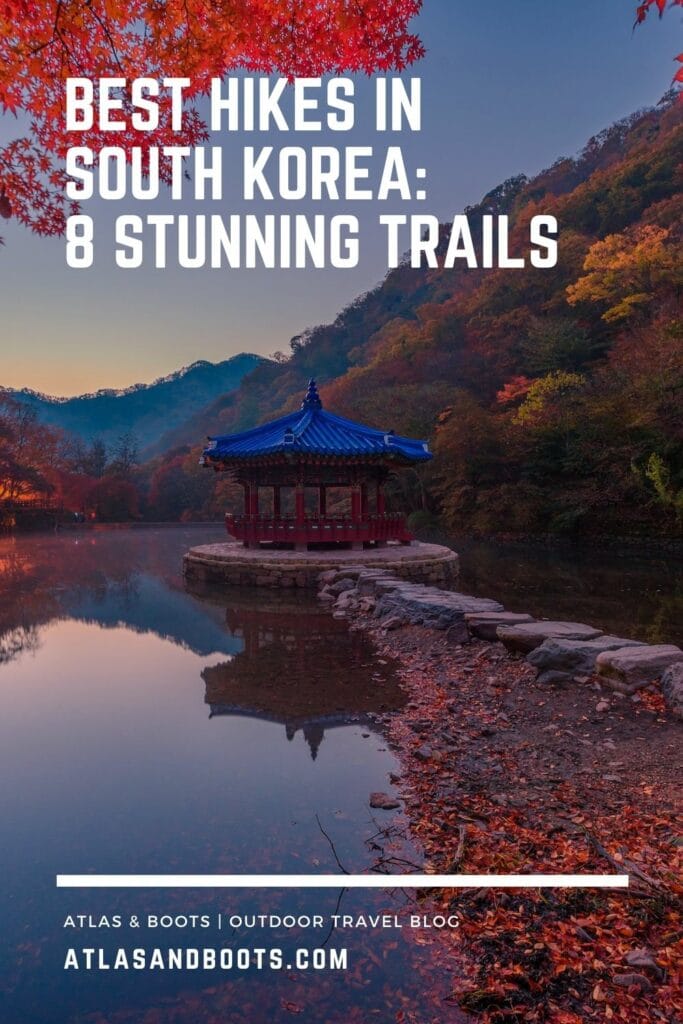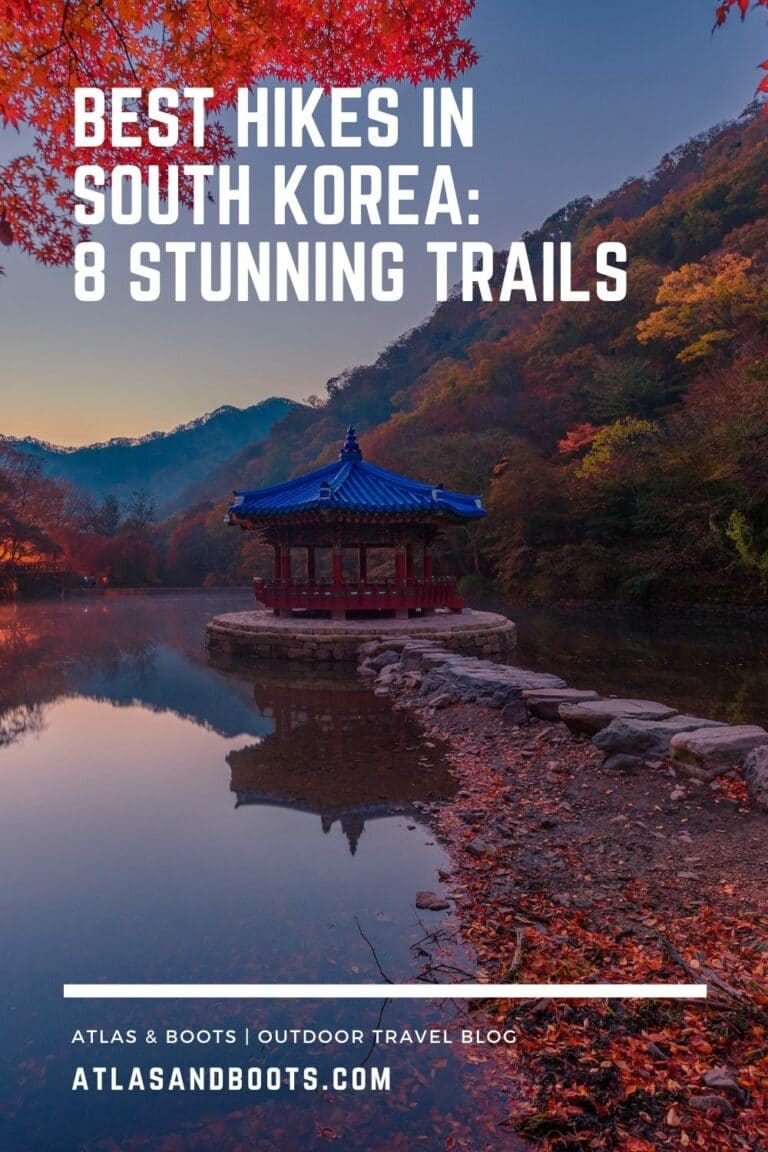 ---

If you're visiting South Korea, we recommend Ceptics travel adapters, the number one choice for travellers to and from the US. If you're not sure what adapter you need, use their International Power Adapter Finder.