We visit Dallol, a collapsed volcano crater filled with acid ponds, poisonous chlorine and sulphur gases, inside the Danakil Depression of Ethiopia.
I wasn't daunted at the prospect of visiting Dallol, dubbed the hottest place on Earth. Despite its temperatures regularly reaching 45°C (113°F), I knew that after visiting Erta Ale volcano in the region, Dallol would be a walk in the park – if the park was a collapsed volcano crater filled with acid ponds and geysers, poisonous chlorine and sulphur gases.
Dallol lies 116m (380ft) below sea level in the Danakil Depression of the Afar region in Ethiopia and is part of the East African Rift where three continental plates are being torn apart.
Dallol itself is a dizzying riot of colour created by rain and seawater from the nearby coast, heated by magma. The sea salt reacts with volcanic minerals in the magma, creating luminescent colours. In the hottest pools, sulphur and salt react to create bright yellow chimneys. In cooler pools, copper salts blend in vivid turquoise.
I had my doubts about Dallol. I thought that – like the luminescent green of the Northern Lights – the colours wouldn't be quite as vivid to the naked eye as rendered on camera.
The fluorescent yellows and deep sea greens were surely an illusion concocted by the wide apertures and long exposures of expert photographers.
Not so. As Dallol rises into view from the parched horizon of the Danakil Desert, I see that the colours are very much real.
It's clear that Dallol could be a scene from another planet. Indeed, it is unique on ours. While it's somewhat similar to active hydrothermal zones like Yellowstone in the US, it is much hotter and far more acidic. In fact, the waters here have an average pH of 0.2 – almost unequalled in nature.
The heat of course is palpable. It doesn't just radiate from the sun; it hisses through the vents, sizzles in the sulphur pools and beats from the ground with force. The smell at times is overpowering, coating our throats like fabric.
Battling the heat and gas, we spend an hour exploring the sight, accompanied of course by our guide Haftu and two-man military escort, mandatory in the Danakil Depression.
At times, the delicate salt crust crackles beneath our feet and Haftu urges us away from the edge. If we fell into the 100°C (212°F) acidic water, there would be little help on hand. The nearest hospital is hours away in Mekele.
Here, at Dallol, it's not difficult to believe Ethiopia's claim to the cradle of humanity. It's here in the Danakil Depression that scientists discovered Lucy, the oldest and most complete hominid ever found.
Lucy has endured extensive research and testing, but here at Dallol, one scarcely needs evidence of her existence. Standing amid this mystical primordia, it feels perfectly feasible that not only death but life itself could rise from the depths of Dallol.
Sights and scenes around Dallol
Those heading to Dallol should be aware that it is a day's drive from Erta Ale. We booked a 2-night, 3-day tour and spent the first day at Erta Ale, the second day driving to Dallol, and the third day exploring Dallol and surrounding sights.
That's not to say that the second day is a waste of time. We stopped at the Lake Asale salt flats and watched extraordinary scenes of camels being led across the Salt Route.
After Dallol, we explored 'mountains' created by deposits of salt, a salt mine manned by Afar people, oily bubbling lakes and mirage-like bodies of water that emerged from cracks in the earth – all a worthy bonus to Dallol itself.
Atlas & Boots
Dallol: The Essentials
What: Visiting Dallol in Ethiopia as part of a 2-night, 3-day tour of the Danakil Depression.
Where: Our tour of the Danakil Depression was bookended by a stay at Wukro Lodge in the town of Wukro. This cozy eco lodge uses solar power and boasts traditional decor and excellent views over the surrounding hills. There is free wifi in public areas, an onsite bar and restaurant and, at the time of writing, a pool under construction.
Atlas & Boots
The accommodation on the Danakil Depression tour itself is extremely basic. At Erta Ale (first night), we camped on thin mattresses in a stone hut. On the second night, we slept under the stars on makeshift wooden beds.
We recommend packing your own sleeping bag. While the area is known for soaring temperatures, the nights do get windy. Note that there is no commode, so you must be comfortable walking out a way to answer nature's call.
When: The best time to visit Dallol is between October to February when its soaring temperatures are most tolerable.
How: We visited Dallol with Smiling Ethiopia who come recommended in Lonely Planet Ethiopia. The two of us were accompanied by one English speaking guide, two drivers, two cooks and a two-party military escort, transported via two 4×4 vehicles.
The tour was well organised and as comfortable as could be given the lack of underlying infrastructure in the area. (We recommend packing a bright head torch, sleeping bag, tissue/wet wipes and antibacterial gel.) Our 4x4s were sturdy and strong, and we ate extremely well thanks to our talented chef, Yidnak, and his assistant.
We paid $300 USD per person for a 2-night, 3-day tour taking in Erta Ale, Dallol and the salt flats of Lake Asale. It's pricey but well worth the money. An extended 3-night, 4-day tour is priced at $400 per person. Book via Mulugeta Gebrehiwot: smilingethiopiatravel.com, smilingethiopiatravel@yahoo.com, (251-1) 150694.
Skybus and Selam operate comfortable buses between Addis Ababa and Mekele, the jumping-off point for Danakil tours. If you opt for Wukro Lodge, you can take a local bus to Wukro from Mekele bus station (15 ETB / 0.5 USD per person; 48km) and then a tuk tuk to the base. The lodge is a five-minute trudge uphill.
Domestic flights are the quickest way to travel in Ethiopia (check latest routes here). It's far cheaper to book flights at an Ethiopian Airlines office in the country. Be sure to mention if you flew with them internationally as you will be eligible for a substantial discount.
Addis Ababa is the country's primary international airport. Book international flights via skyscanner.net.
---
Enjoyed this post? pin it for later…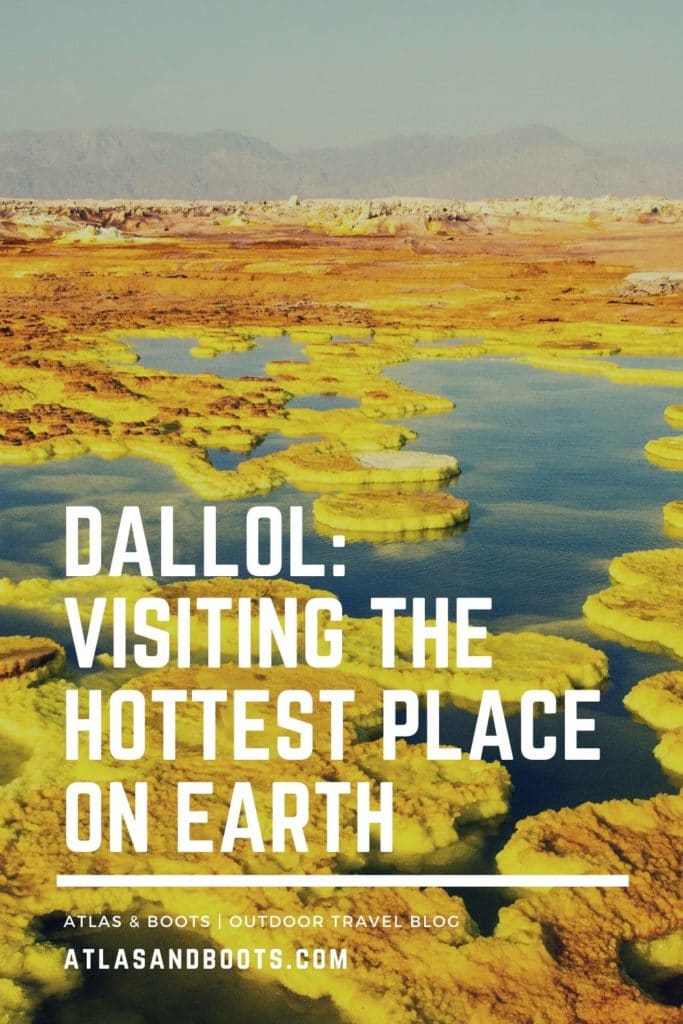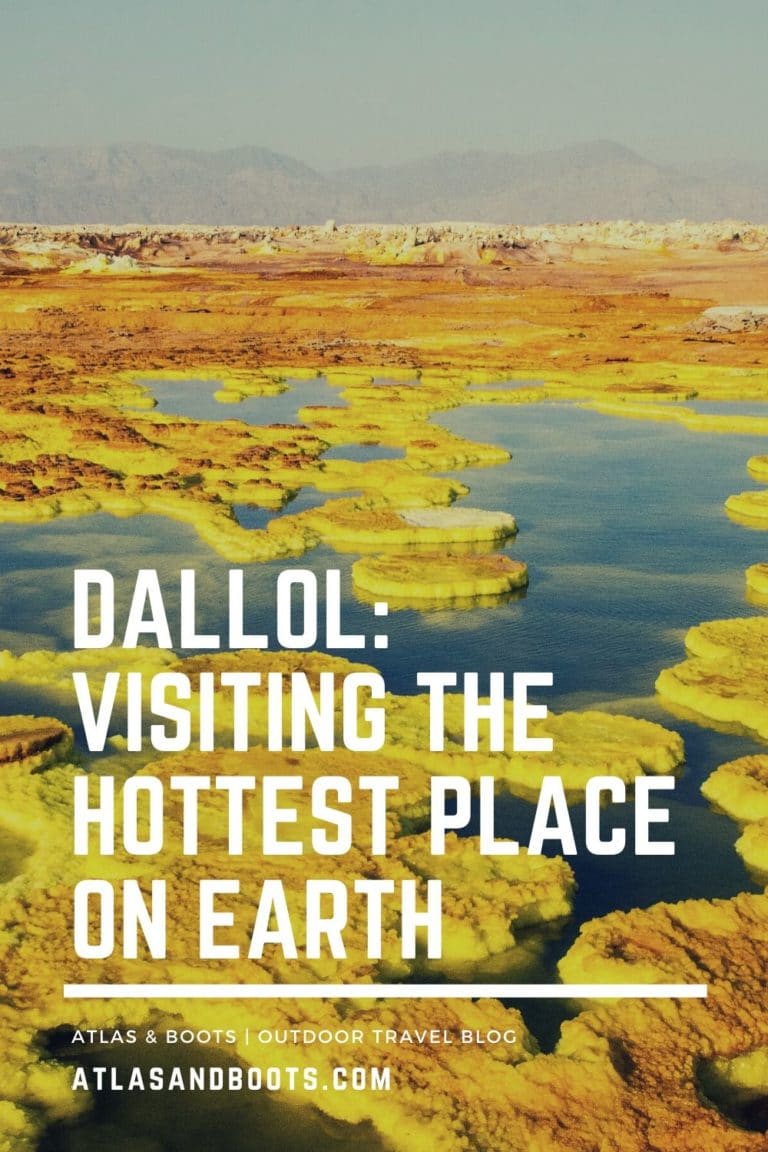 ---
Lonely Planet Ethiopia is a comprehensive guide to the country, ideal for those who want to both explore the top sights and take the road less travelled. If you prefer to travel in a tour, we recommend G Adventures and their small group Ethiopia tours.
Lead image: Atlas & Boots