Diving at Blue Bay in Mauritius gave us our first experience of scuba diving in strong currents with some tricky tunnels to navigate for good measure!
After our first dive in over a year and our appetites whetted, we were keen to get underwater again in Mauritius. Having moved from the north of the island to the quieter and relatively undeveloped area around Blue Bay in the south, we organised our second dive through our hotel.
There are fewer wrecks in the south, but the marine life around Blue Bay is protected by the Blue Bay Marine Park and is touted as the most pristine and varied in Mauritius. We arranged a single tank dive for just outside of the bay in an area known as Roche Zozo, noted for its tunnels and canyons.
Blue Bay is a calm and sheltered area of water framed by stretches of sandy beach on all sides. However, as soon as you leave the bay and enter the open water, the environment changes rapidly. It wasn't long before our little vessel was being launched up and down in the surf as we motored out to sea.
"Not like the sea in the north, is it?" our divemaster grinned to us. "Don't hang around on the surface. As soon as we get in, descend as quickly as possible."
He wasn't wrong. It really wasn't like the sea in the north! At the surface, we were tossed around like flotsam and beneath the surface it wasn't any easier. As soon as we descended we hit strong currents that made manoeuvring particularly challenging – not ideal for a dive through canyons and tunnels!
It was certainly a more demanding dive than our one at Trou aux Biches. While our first dive at Trou aux Biches was calm, slow and considered, diving at Blue Bay was frantic, fast and improvised. Although the tunnels were only a few meters long, the strong currents made them difficult to navigate.
All the grace and fluidity re-learnt during our first dive in the north quickly evaporated. I had to focus hard on controlling my breathing so as not to storm through my air with the extra exertion of battling the currents.
The terrain was undulating and always changing: rocky peaks rose from the ocean floor and steep canyons cut down into dark chasms. When the seabed did flatten out and the currents wavered there was the chance to observe some of the famed Blue Bay marine life.
Distinctive yellow and black Moorish idol fish darted around the reef while oily manta rays moved silkily over the ocean floor. But it wasn't the coral reef or marine life that stole the show.
My memories of diving at Blue Bay are of the strong currents, choppy seas and troublesome tunnels that were in stark contrast to our slow and serene dive in the north of the island. It was one of the most invigorating dives we've been on and a real workout.
As our time ticked by and our air supply diminished I was somewhat relieved when it was time to ascend, pause for our safety check and resurface. The dive had been great fun, but I was out of practice and weary!
"How was that?" asked our divemaster as we resurfaced.
"Not like the north," I replied with a smile.
"Yup, that's what they all say!"
Diving at Blue Bay: The Essentials
What: Diving at Blue Bay, Mauritius.
Where: We had a three-night stay at the Shandrani Beachcomber Resort & Spa. The hotel is positioned on a private peninsula lapped by the Blue Bay Marine Park making it one of the best areas on the island for marine life.
The hotel boasts three exclusive beaches to choose from and lots of water sports included in your booking. We took the little Hobie catamarans for a sail around the peninsular several times. There are also kayaks, pedalos and snorkelling excursions available.
Atlas & Boots
The hotel also has four restaurants of which our favourite was the à la carte Le Sirius which serves international and Mauritian favourites. Set back from the main grounds, it feels more intimate and the calamari was delicious!
When: The best time to visit Mauritius is Oct-Apr when temperatures are hot, albeit humid and rainy. This is a good time for diving but do note that cyclones are possible in Jan-Feb. The island's winter runs from May-Sep. Temperatures are still warm, but it's not the ideal time for diving.
How: We organised our dive through the dive centre at Shandrani Beachcomber Resort & Spa.
Blue Bay is just a 10-minute drive from the airport making Shandrani the ideal hotel to start or end a Mauritian odyssey.
Transfers can be organised via your hotel or through a local driver (approx. 400 MUR / 12 USD). We recommend Stelio (+230 52 5084 97) for longer transfers around the island. An example transfer to the northern beaches costs around 1500 MUR / 45 USD.
We had a long stopover before our connecting flight from Kuala Lumpur, so bedded down for the night at a private resting suite at Plaza Premium Lounge inside the airport – a godsend given that Peter was recovering from a Burmese bug and that the alternative would have been eight long hours on less-than-comfy chairs.
Several international airlines fly to Mauritius. Book via skyscanner.net for the best prices.
---
Enjoyed this post? pin it for later…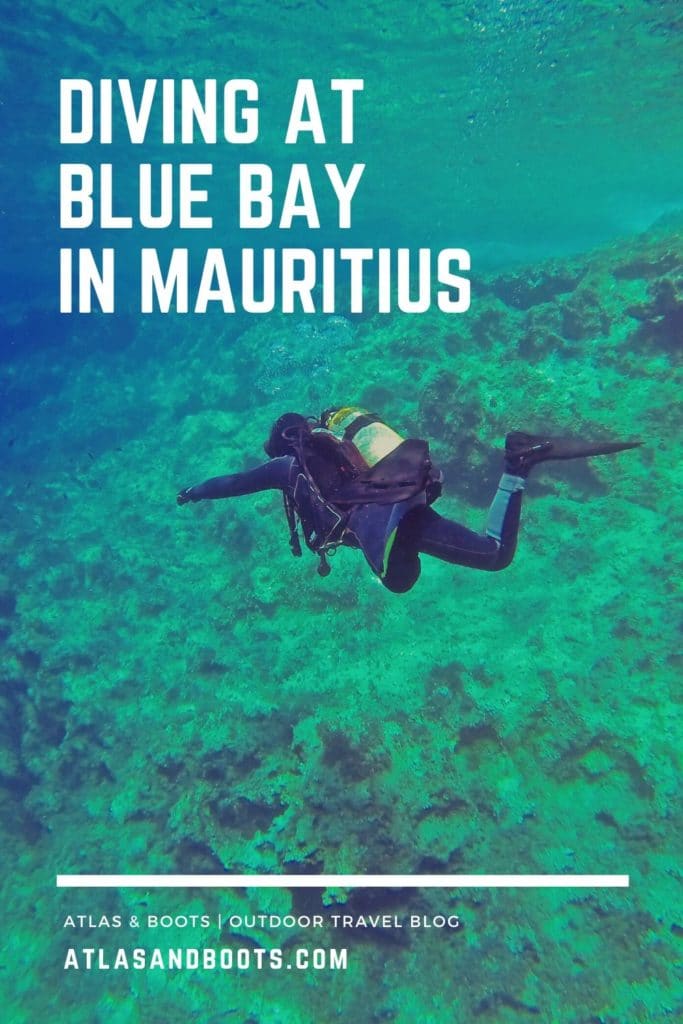 ---
Lonely Planet Mauritius, Reunion & Seychelles is a comprehensive guide to Mauritius, ideal for those who want to both explore the top sights and take the road less travelled.