Diving at Trou aux Biches after a year's break reminds us why we fell in love with scuba in the first place
We've arrived. In Mauritius. To hike and dive. For a month! What an absurd set of sentences for an ex-teacher and jobbing writer.
We've tooled together our month-long stay through a local contact and so here we are on the extraordinary island of Mauritius amid soaring volcanic mountains, yawning valleys and of course some of the best beaches in the world.
We waste no time in finding an idyllic stretch of coast at our first stop of Trou aux Biches.
Diving at Trou aux Biches on the northern side of the island is said to be some of the finest in Mauritius. We're keen to do a wreck dive (well, Peter is keen; I'm nervous as I haven't dived in a year and it's never been my strongest suit.)
We hope to see either the Stella Maru Wreck (17-25m) or the twin wrecks of Emily et Waterlilly (25m). I'm not yet qualified to dive beyond 18m but hope to see a wreck as part of my Advanced Open Water Diver qualification.
Alas, the conditions aren't quite right for the wrecks, so our skipper opts for nearby dive site Lost Anchor (24-30m), another good spot for diving at Trou aux Biches.
We start our descent and I'm pleased to find that it all comes back to me naturally: equalising, breathing slowly and controlling my buoyancy. It's not quite like riding a bike but after some adjustments, I feel comfortable in the water.
We head to the anchor which rests on a central elevation above a small cave.
In searching for the marine life often spotted while diving at Trou aux Biches (stonefish, scorpion fish, globefish and even lobsters), we come across a bale of turtles. The visibility is fantastic and the turtles are calm and still, allowing us to observe them for great lengths of time.
As I float there in the water, I take a moment to appreciate how incredible it is to be underwater and so close to these magnificent creatures. You see, when you travel for a living, it's easy to take things like this as par for the course; as just another cool experience in a long line of cool experiences. But it's not par for the course. Turtles are floating past me and it is bloody incredible.
This is why I love diving. It physically takes us from our world and plants us in another where complacency is almost impossible.
Atlas & Boots
As our group starts to ascend, it strikes me that there's another reason I love diving: the collective calm among divers.
Most people dive in a group of strangers and while we can't talk to each other underwater, we all have a mutual responsibility towards each other. Everyone's thoughts and actions are slow and considered, their mental attitude deliberately calm. That kind of fine-tuned serenity is almost impossible to find in everyday life. As I mull this over, a smile tugs at my corner of my lips. With a month in Mauritius ahead of us, this kind of is everyday life now.
Diving at Trou aux Biches: the essentials
What: Diving at Trou aux Biches, Mauritius.
Where: We had a three-night stay at Trou aux Biches Beachcomber on the northwestern coast of Mauritius. The hotel is slightly larger than what we normally opt for, but we were lured there by the beach, good diving, and what we heard was one of the best Indian restaurants on the island (over two-thirds of the local population are of Indian descent so we were expecting some amazing cuisine).
I'm glad to report that the food was indeed impeccable. Mahiya offered some of the best curry we've eaten and, despite the fact that there were six restaurants on site, we ate there two nights in a row (booking ahead is essential).
Atlas & Boots
The hotel itself has pretty much everything you could need: tennis courts, a spa, sports centre and of course plenty of beach loungers!
When: The best time to visit Mauritius is Oct-Apr where temperatures are hot, albeit humid and rainy. This is a good time for diving but do note that cyclones are possible in Jan-Feb. The island's winter runs from May-Sep. Temperatures are still warm, but it's not the best time for diving.
How: We organised our dive through the dive centre at Trou aux Biches Beachcomber.
Trou aux Biches is a 1hr 15m drive from the airport. Transfers can be organised via your hotel or through a local driver (approx. 1500 MUR / 45 USD). We recommend Stelio (+230 52 5084 97).
We had a long stopover before our connecting flight from Kuala Lumpur, so bedded down for the night at a private resting suite at Plaza Premium Lounge inside the airport – a godsend given that Peter was recovering from a Burmese bug and that the alternative would have been eight long hours on less-than-comfy chairs.
Several international airlines fly to Mauritius. Book via skyscanner.net for the best prices.
---
Enjoyed this post? pin it for later…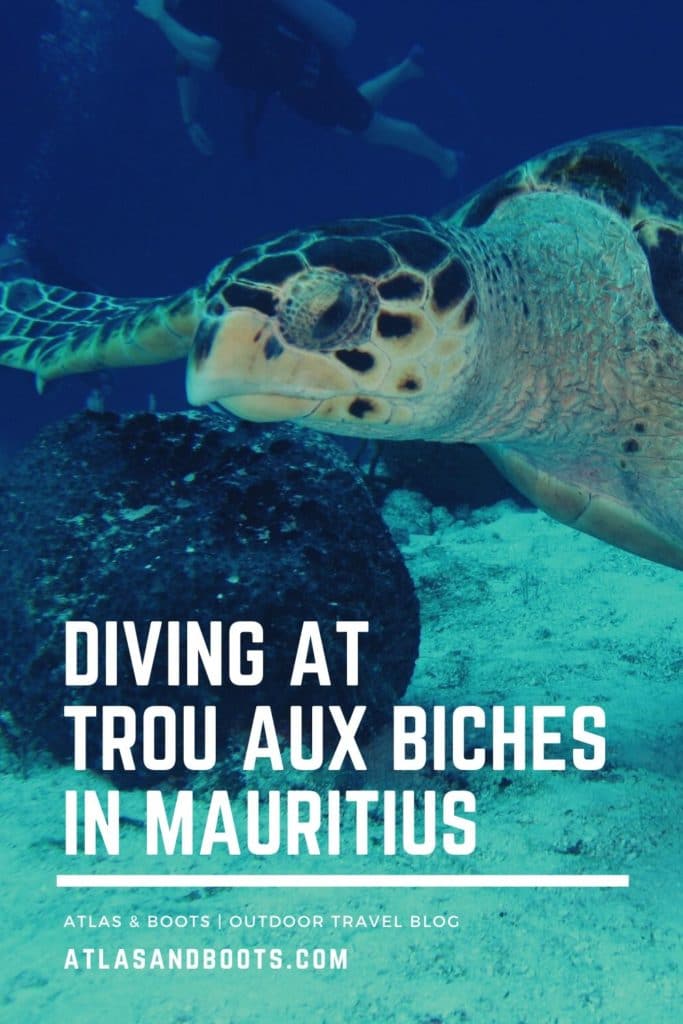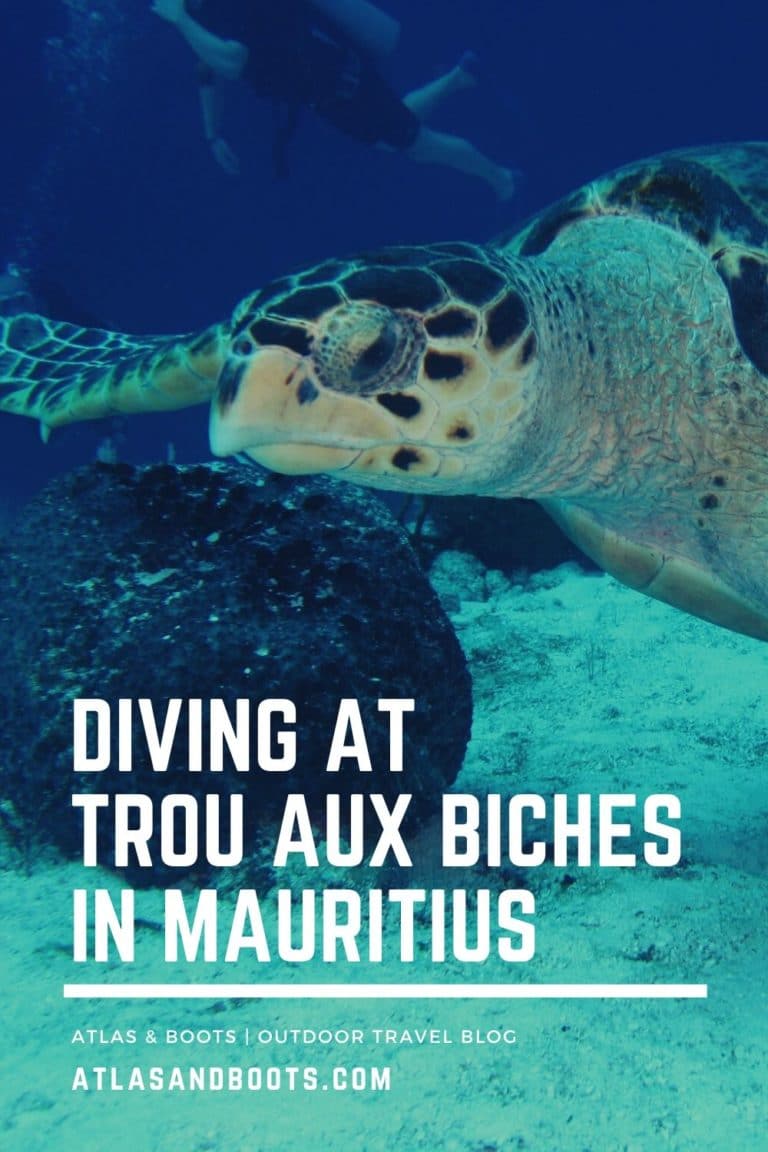 ---
Lonely Planet Mauritius, Reunion & Seychelles is a comprehensive guide to Mauritius, ideal for those who want to both explore the top sights and take the road less travelled.