A guide to hiking Le Morne Brabant in Mauritius including a map to the trail entrance and our hard-earned tips and caveats
I wasn't worried about hiking Le Morne Brabant in Mauritius. After climbing Nevis Peak in St Kitts & Nevis and navigating sections of sheer rock on Spencer Trail in the US, I thought hiking Le Morne Brabant would be easy. I certainly wasn't expecting to quit a few metres from the top…
At 556m (1,825ft), Le Morne Brabant shouldn't be daunting for the average hiker, but what it lacks in height, it adds in sheer bulk.
The mountain looms above the peninsula next to an 'underwater waterfall' that can be seen from the sky (an optical illusion caused by runoff of sand and silt). Seen at a distance, the mountain evokes childhood tales of Peter Pan's Neverland.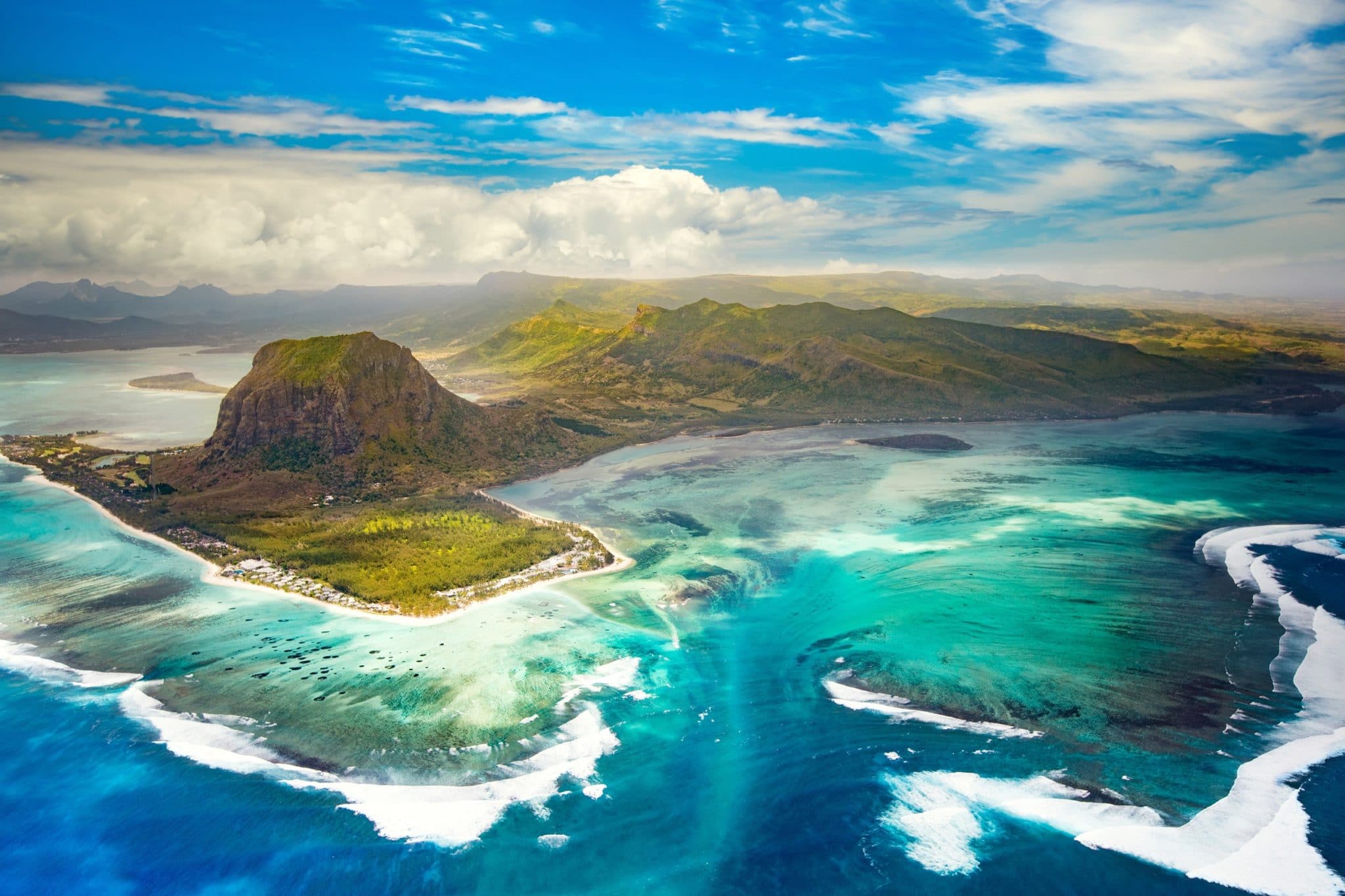 Sadly, the real story of Le Morne Brabant is far darker. In the 18th and early 19th centuries, Le Morne Brabant was used as a refuge for escaped slaves who formed settlements in the caves on the summit. Protected by the mountain's wooded cliffs, the slaves lived on the mountain for years.
It's said that when slavery was abolished in Mauritius in 1835, lookouts on the mountain spotted the approaching British, prompting some escapees to throw themselves off the mountain, preferring death to slavery. Tragically, they were unaware of the impending news of freedom.
Today, Le Morne Brabant stands as a symbol of the slaves' fight for freedom, marked with a monument at the base of the mountain.
With its exquisite views and fascinating history, Le Morne Brabant offers an irresistible hike and so we set off on an early Thursday morning to the base of the mountain (see 'Hiking Le Morne Brabant Map' below).
The hike started easily enough with a well shaded trail that was wide and flat. Naturally, we stopped frequently to take in the stunning lagoon views of the island.
The trail was relatively quiet given our early start (8am) and we hiked on in silence. About an hour in, we reached a plateau with a big yellow sign that warned inexperienced climbers against proceeding.
I've hiked all over the world, but would by no means call myself a climber, so I double-checked with Peter that we should go on.
He, typically cavalier, said of course we should – and so on we went. The path was clearly formed and we hiked until we reached a set of green gates. There was no obvious way forward, but we spotted a pair of hikers skirt around and over the barriers. We followed suit to rejoin the path. The route to the summit used to be closed to the public and the gate is likely a remnant of that fact.
Not long after the green gate, the path began to get steeper… and steeper… and steeper. Soon, I was scrambling up rock on my hands and knees. I began to understand why this section was long closed to the public.
Parts of the hike were akin to climbing a ladder which wouldn't be so scary if the face of the mountain wasn't so bloody exposed. There was no canopy of trees like on Nevis Peak; you only had to glance behind you to see the yawning chasm.
"I think I'm going to quit," I told Peter.
"Are you sure?" he asked, visibly torn between encouraging me out of my comfort zone (as ever) and actually keeping me safe.
"Yeah, I think so," I said, despite the fact that I hate to quit.
"Okay," he replied. "Stay here and I'll pick you up on my way back down."
Off he went and I sat in wait on a vertiginous perch. After a few minutes, I spotted an approaching hiker, a Mauritian whose name I failed to catch. He asked if I was okay and I told him I had quit. Unlike Peter, he had no responsibility to my safety and thus encouraged me to continue. I dithered then relented. I had after all come so far.
The last 100 metres were hairy but so much fun. Before long, I reached the summit and joined Peter, feeling utterly invigorated. The rush of reaching the cross at the top was surpassed only by the views which of course were extraordinary. As with most challenges, it was all worth it in the end.
Hiking Le Morne Brabant map
Enter 'Le Morne trail entrance' into Google Maps to find your way to the base of the mountain.
Hiking Le Morne Brabant: the essentials
What: Hiking Le Morne Brabant in Mauritius.
Difficulty level: Medium (some scrambling up exposed sections of rock)
Distance: 7km (4.3mi) round trip
Duration: 3-4 hours
Highest accessible point: 490m (1,607ft)
Where: We stayed at Hotel Riu Le Morne, an adults-only hotel located on Le Morne Peninsula. Riu sits on a pretty stretch of beach and offers all the mod cons you could possibly need on holiday: spacious rooms, four restaurants, five bars, a freshwater swimming pool, a spa and salon, and plenty of chillout areas in which to watch the world go by.
The evening buffet is akin to a feast, but we recommend booking one of the restaurants for a nicer ambience (all included in the price). Do make your restaurant bookings in advance of arrival as places fill up fast.
The hotel has plenty on offer in terms of water sports including windsurfing, kayaking, snorkelling and paddle surfing. There is also a dive shop at their sister hotel next door as well as a kiosk for booking boat tours out to Ile aux Benitiers – well worth the $12 USD per person.
When: The best time to visit Mauritius is Oct-Apr when temperatures are hot, albeit humid and rainy. Do note that cyclones are possible in Jan-Feb. The island's winter runs from May-Sep. Temperatures are still warm, but prevailing winds tend to blow over the island from the east and south-east.
How: We hired a car from a local called David (+230 59 5125 65) at a cost of 800 MUR / $25 USD per day. Ask for air conditioning!
Enter 'Le Morne trail entrance' into Google Maps to find your way to the base of the mountain. Close to the area, look out for brown signs to Le Morne UNESCO Heritage Site which will lead you up a dirt road to the base. You can park your car at the makeshift visitor centre where there are relatively clean toilets and a logbook for hikers to sign in and out.
Update June 2018: A reader has reported that he was stopped and told that he needs a guide to access the peak. We checked with Le Morne Heritage Trust Fund and were told "you may climb to the top of the Mountain by yourself but by signing a Reliability Form first which is usually available with the Security Officer at the View point." As such, we advise asking for a form at the makeshift visitor centre or with any security officers that stop you along the way.
Practise good sense while hiking Le Morne Brabant: go early in the morning to avoid the stronger sun, hike with a partner, wear lots of sunscreen, avoid hiking on rainy days as the trail is slippery, and take plenty of water (1.5 litre per person).
Le Morne is 65km (40mi) away from the airport. Transfers can be organised via your hotel or through a local driver (approx. 1500 MUR / 45 USD). We recommend Stelio (+230 52 5084 97).
We had a long stopover before our connecting flight from Kuala Lumpur, so bedded down for the night at a private resting suite at Plaza Premium Lounge inside the airport – a godsend given that Peter was recovering from a Burmese bug and that the alternative would have been eight long hours on less-than-comfy chairs.
Several international airlines fly to Mauritius. Book via skyscanner.net for the best prices.
---
Enjoyed this post? pin it for later…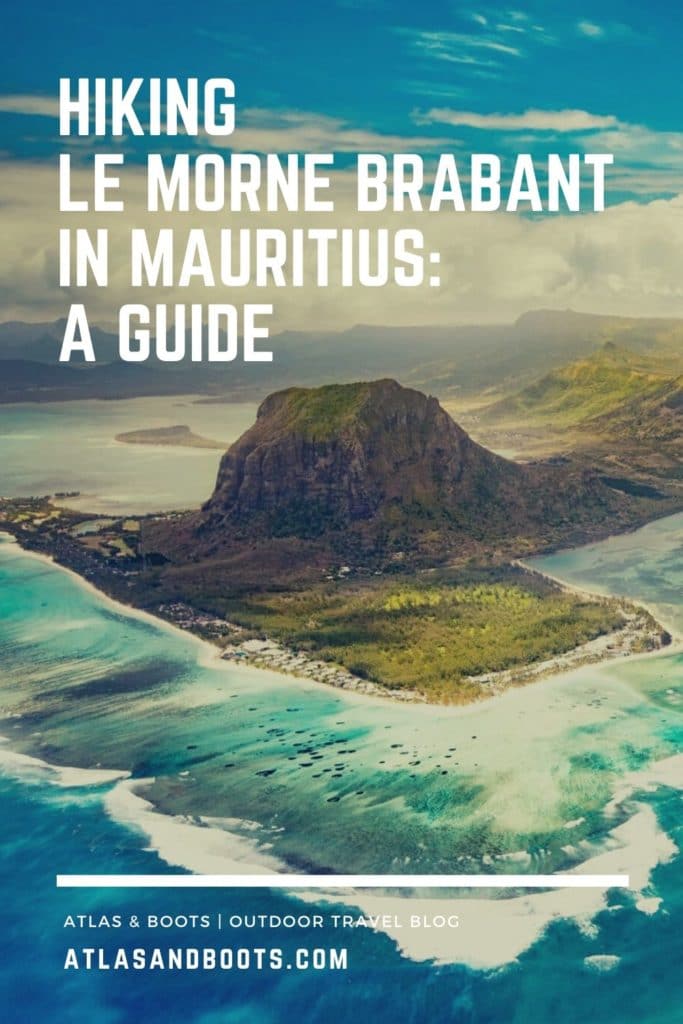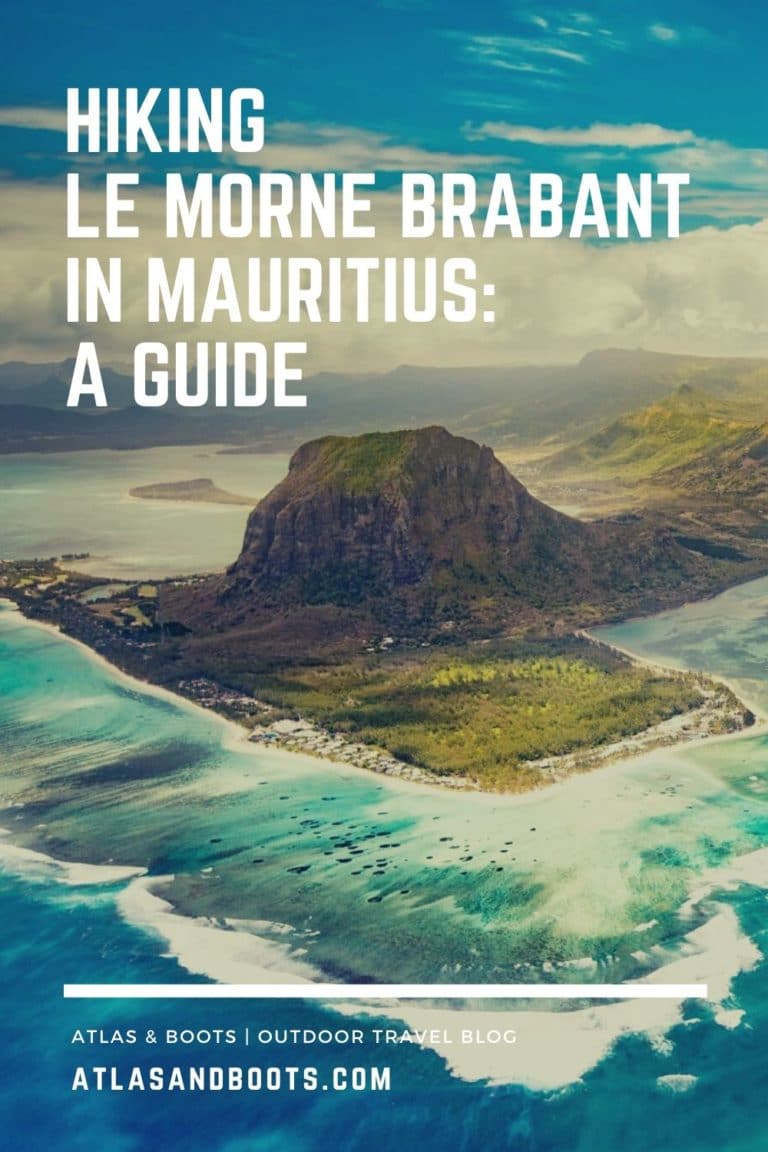 ---
Lonely Planet Mauritius, Reunion & Seychelles is a comprehensive guide to Mauritius, ideal for those who want to both explore the top sights and take the road less travelled.
Lead image: Atlas & Boots