Hiking the Abel Tasman Coast Track, either as a day hike or multi-day thru-hike, should be on every NZ itinerary
New Zealand is a country used to collecting plaudits. Few experts will deny that it's one of the world's best countries for hiking. It ranks in the top 10 happiest countries in the world and has been named by Lonely Planet as one of the best countries to visit in 2018.
With this in mind, our expectations were high for the Abel Tasman Coast Track, one of nine (soon to be 10) Great Walks of New Zealand. Managed by the Department of Conservation (DOC), these premier hiking trails showcase the very best of New Zealand's wilderness.
The well-maintained coastal trail is set in Abel Tasman National Park, named after Dutch seafarer Abel Janszoon Tasman, the first known European to reach New Zealand during his voyage of 1642.
The undulating trail, graced with golden beaches and lush coastal bush, hugs the coast through much of its 60km. We hiked a section from Anchorage to Bark Bay on our G Adventures tour of South Island.
We started our hike after a night aboard Aquapackers in the serene bay at Anchorage. In the morning, after a hearty breakfast aboard, we landed on the picturesque beach to begin our hike. We took the slightly longer 'all-tide' track to avoid having to calculate the tides.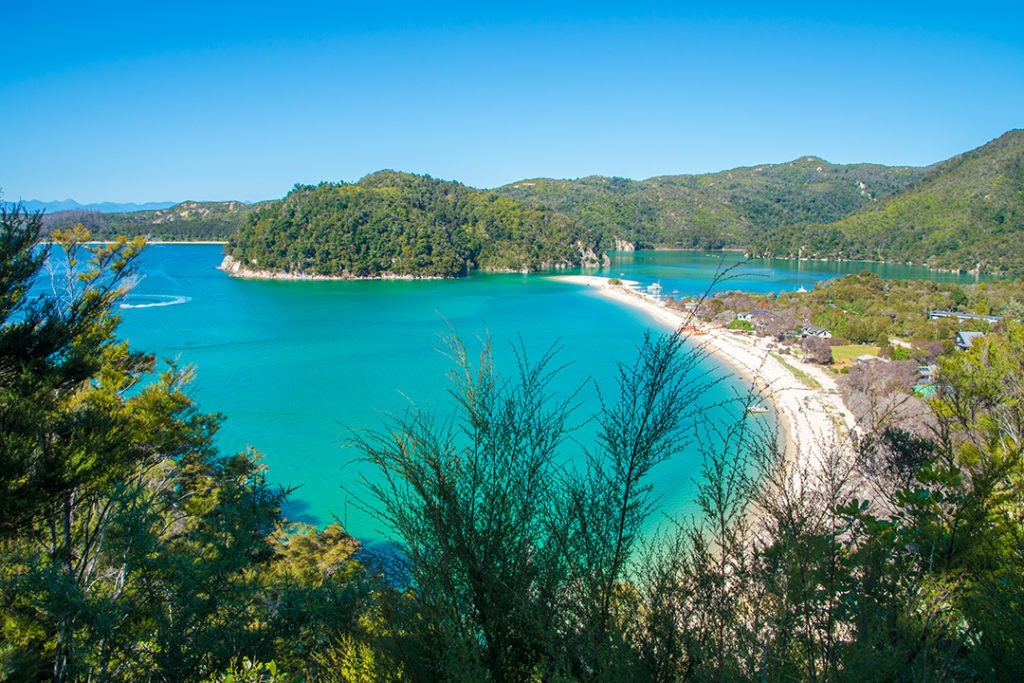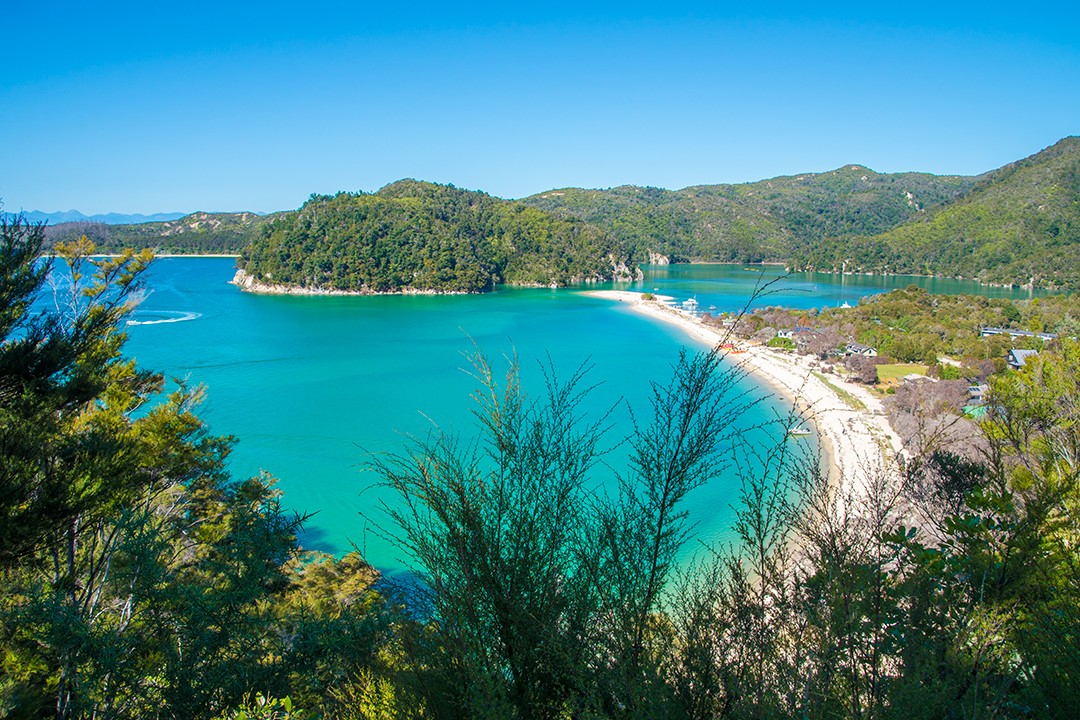 It was late summer and the days were warm, so we planned to make use of the morning and avoid the midday sun. We expected to make the 12.4km section in far less time than the conservative DOC suggestion of four hours. However, we hadn't reckoned on stopping every five minutes to revel in the glorious scenery.
From the beach, we entered thick, lush beech forest adorned with giant kānuka trees. Mere minutes later, we emerged into an opening at the crest of a hill. There, we found the first of many expansive vistas.
I knew that South Island was famous for its Tolkien-esque scenery of jagged mountain peaks, great glaciers and plunging fjords. I hadn't foreseen sheltered golden beaches fringed with calm aquamarine waters and thick, lush forest.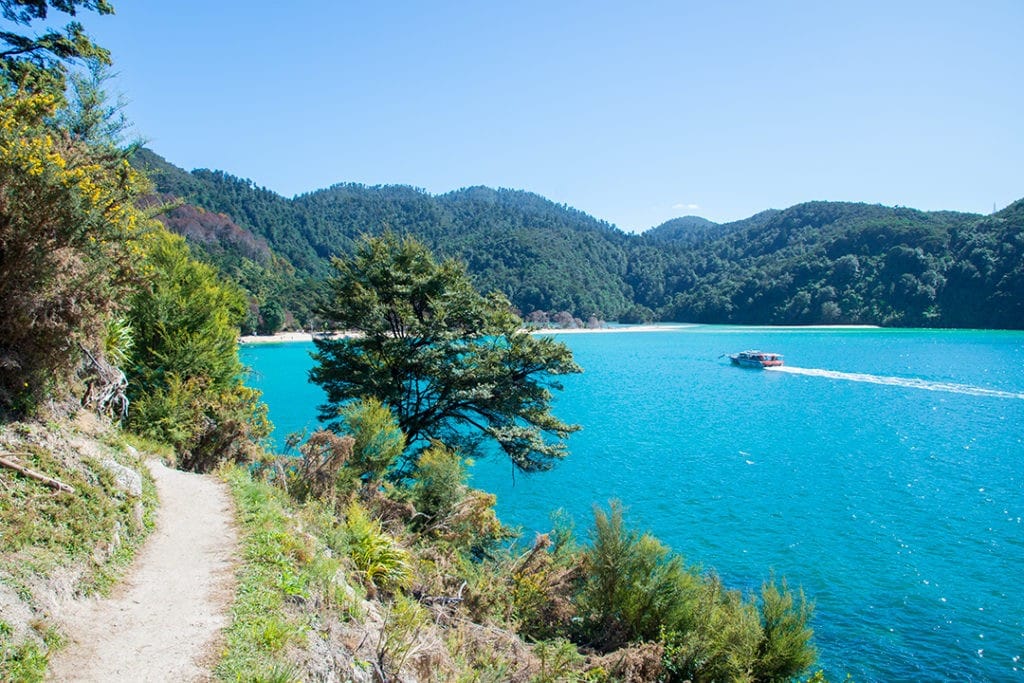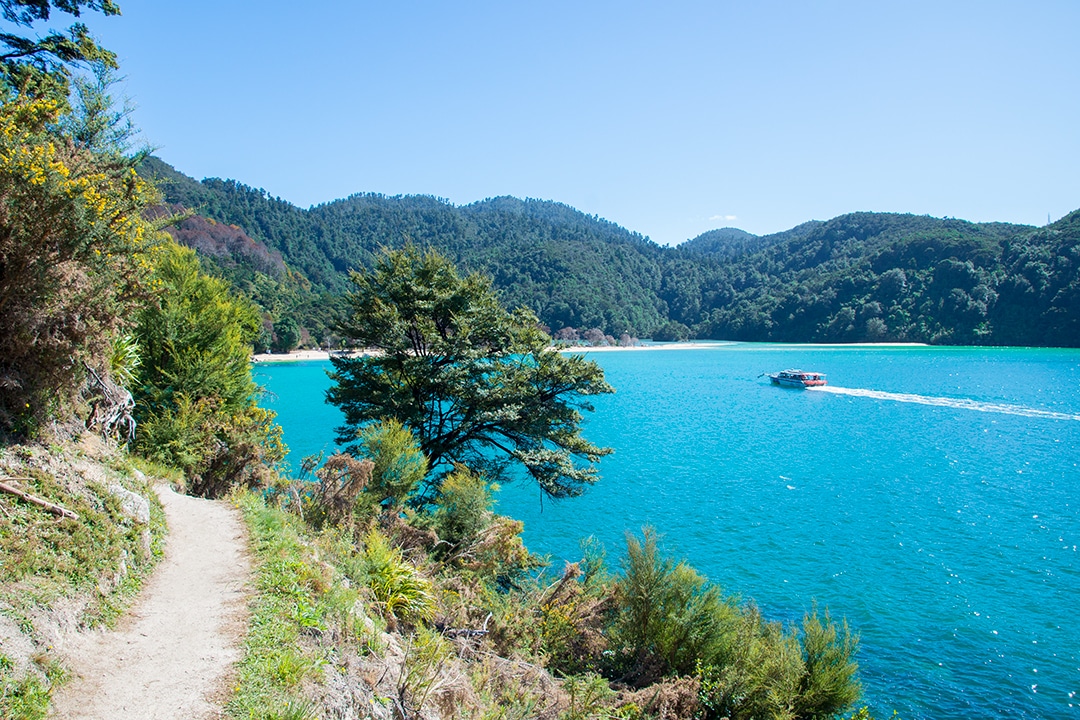 The Abel Tasman Coast Track is a gentle complement to New Zealand's more rugged scenery. There are myriad opportunities here to take side trails down to a beach and kick off your hiking shoes for a dip. The water – even at this time of year – is bracing but welcoming.
We continued along the well-marked trail – in and out of the forest, hopping over streams and then crossing a walkway over the pools of Tregidga Creek where the motionless waters reflect the verdant green of surrounding woodland. Further on, we crossed the 47m-long suspension bridge spanning the Falls River which made for yet another change of scenery.
Before long, we arrived at Bark Bay, a pretty beach on a tree-lined strip of land flanked by the bay on one side and a tidal estuary on the other. Here, we relaxed on the sand and ate our lunch with our toes in the water.
We finished our morning in the same way it began: soft sand, calm waters and a deep-reaching peace.
Kayaking in Abel Tasman National Park
Our itinerary included an afternoon spent on the water, kayaking from Bark Bay to Marahau. Kayaking is a perfect way to take the stress off your feet and see the national park from a different perspective.
The water here is sheltered by the small islands dotting the horizon and thus our journey was peaceful and calm. En route, we spotted several fur seals (also known as kekeno) basking on the rocky shores in the afternoon sun.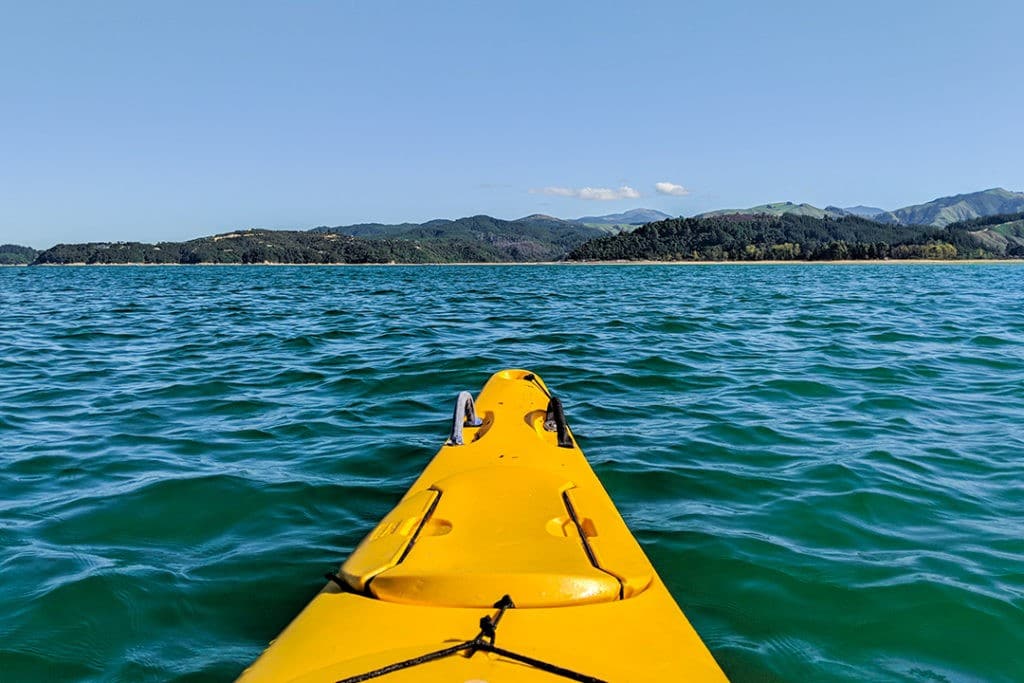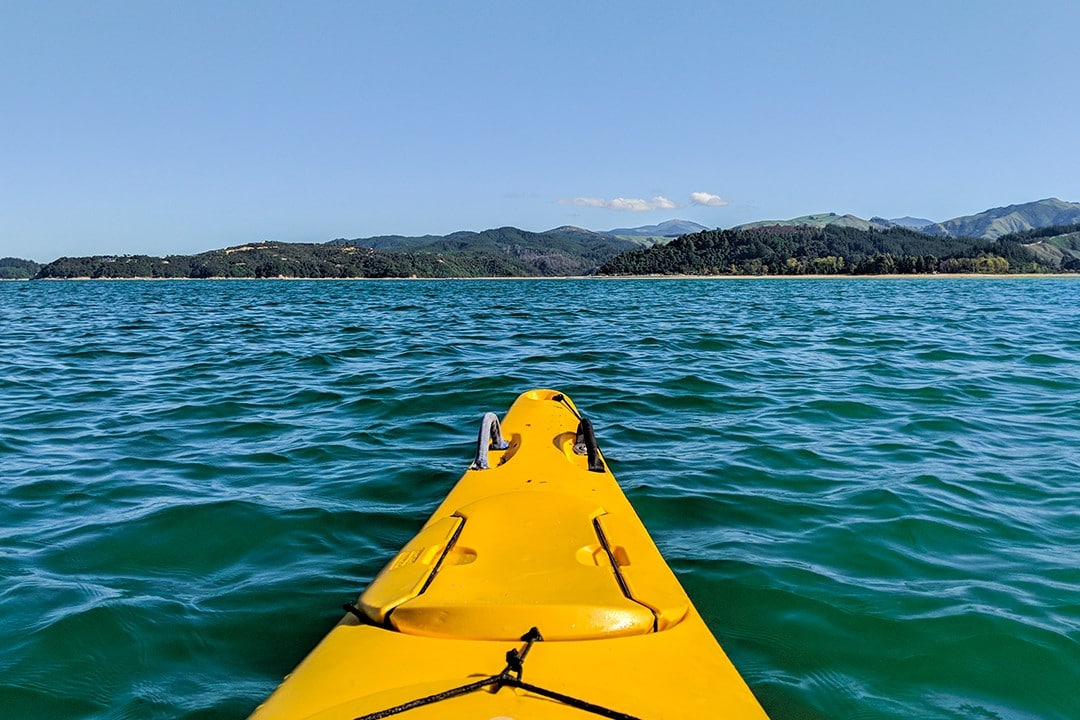 Many of the islands along the coast are protected, so kayakers have to keep a respectful distance from the shores so as not to interfere with wildlife. Kayakers (and motorised vessels) must keep 20m from Tonga, Pinnacle, and Adele Islands as well as any seals on other shorelines. It is 50m when near the area between Awaroa Bay and west of Abel Head. Our kayaking excursion was led by Marahau Sea Kayaks who were very keen to stress the importance of upholding these guidelines.
As we gently drifted back towards the beach at Marahau, Kia took (yet another) break from paddling to look around at the scenery and snap a few photos.
"Welcome to New Zealand," she said, turning to me with a smile. And what a welcome it was.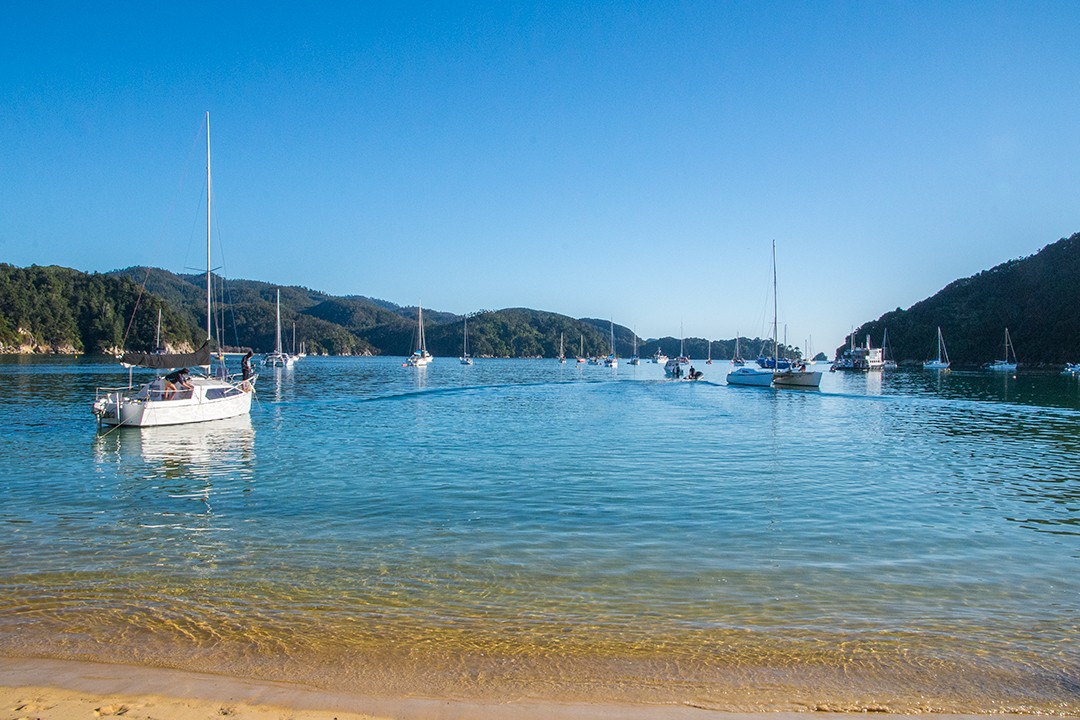 Choosing a hike
The Abel Tasman Coast Track is a one-way track that can be hiked in either direction between Marahau and Wainui. Water taxis or kayaks can be used to get between locations on the trail to break up the days or if you're aiming to only walk in particular sections.
Hiking the Abel Tasman Coast Track as a thru-hike is usually completed over three to five days, camping or staying in huts en route. The DOC manages four huts and 19 campsites along the track, which must be booked in advance throughout the year. More information can be found on the DOC website where there are details on accommodation, fees, water taxis, kayaking and even a visitors app to download for your visit.
The below times are fairly conservative and allow plenty of time for photographing and admiring the bountiful views.
| | | |
| --- | --- | --- |
| Section | Time | Distance |
| Marahau – Anchorage | 4 hours | 12.4km |
| Anchorage – Bark Bay (high/low tide track) | 4 / 3 hours | 11.5km / 8.4km |
| Bark Bay – Awaroa | 4.5 hours | 13.5km |
| Awaroa – Totaranui* | 2 hours | 7.1km |
| Totaranui – Whariwharangi Bay | 2-3 hours | 9.8km |
| Whariwharangi Bay – Wainui | 1-2 hours | 5.7km |
*Hiking the Abel Tasman Coast Track involves one compulsory tidal crossing between Awaroa to Whariwharangi Bay. Consult a tide timetable when organising a hike.
Hiking the Abel Tasman Coast Track: the essentials
What: Hiking the Abel Tasman Coast Track as part of a G Adventures 15-day South Island tour.
Where: Accommodation on the tour includes 14 nights in simple hotels and hostels including a farm stay and a night at a former jailhouse. Some lodgings had shared bathrooms and bunk-style beds. If you are a couple, highlight this at the time of booking so you can have a double bed where possible.
When: The best time to visit New Zealand is Sep-Apr. Summer (Dec-Feb) offers excellent hiking weather and a variety of festivals and events. The shoulder seasons of autumn (Mar-Apr) and spring (Sep-Nov) have fine weather, fewer crowds and lower prices.
How: We hiked the Abel Tasman Coast Track as part of a G Adventures 15-day South Island tour, priced at £2,149 GBP or $2,792 USD per person (depending on dates) for a 15-day trip from Wellington to Wellington.
The itinerary takes in Abel Tasman National Park, Franz Josef and Queenstown among others. The price includes a chief experience officer (CEO) throughout, basic breakfasts and several meals, and numerous activities including hiking, kayaking and cycling. Optional activities include skydiving, bungy jumping, canyoning, via ferrata and glacier hiking among many, many others. For more information or to book, call 0344 272 2040 or visit gadventures.com.
We flew from the UK to New Zealand via Singapore and Australia. Book flights via Skyscanner for the best prices.
---
Enjoyed this post? pin it for later…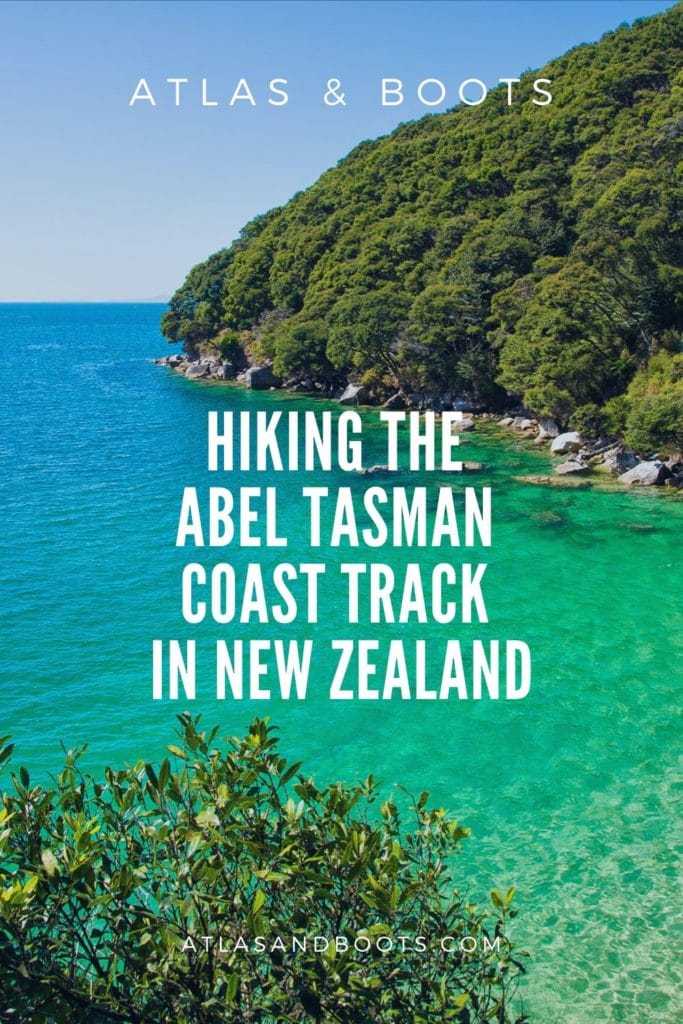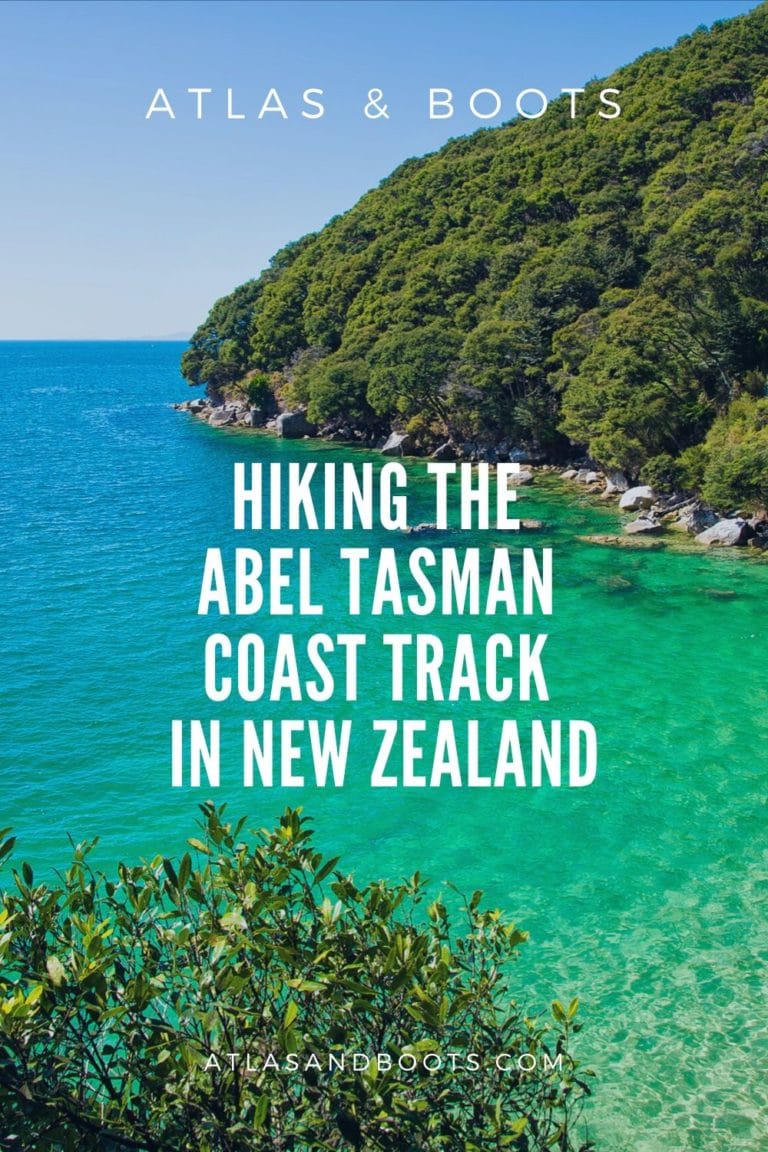 ---
With stories of 50 incredible hiking routes in 30 countries, including several of the Great Walks of New Zealand, Lonely Planet's Epic Hikes of the World will inspire a lifetime of adventure on foot.
Disclosure: We travelled to New Zealand with support from Lonely Planet and G Adventures. All publications say this, but we really don't guarantee positive coverage. We say what we think – good and bad – so you can make informed decisions with honest advice.