The Iguazu Falls boat ride experience was frantic and completely exhilarating! Getting beneath the roaring cascades was like nothing I've ever experienced
Atlas & Boots recently co-hosted Lonely Planet's natural wonders vs manmade sights #LPChat debate on Twitter. We were both firmly in the natural wonders camp, with Mt Yasur volcano in Vanuatu and Perito Moreno glacier in Argentina among our top travel experiences of all time.
We also loved Gullfoss waterfall in Iceland when we visited a few years ago. As such, we were extremely excited about crossing into Brazil and visiting one of South America's most popular attractions.
Iguazu Falls boat ride: On the water
Before we dive into exactly how awesome the Iguazu Falls are, let's watch a silly video of the best (and most ridiculous) part of the day.
Initially, we were uncertain about taking the Iguazu Falls boat ride. We were nearing the end of our South American odyssey and were woefully short on funds. The extra $35 for the Great Adventure Safari and Boat Trip seemed like a luxury we couldn't really afford at this stage of our trip.
In the end, we decided it would be worth the price of a takeaway and decided to do it. In hindsight, we're so glad we spent the money.
The Iguazu Falls boat ride experience was frantic and completely exhilarating. Visiting a waterfall (or set of waterfalls) the size of Iguazu was incredible enough but actually getting down to water level beneath the roaring cascades was like nothing I've ever experienced.
When large amounts of water fall long distances, the forces involved are enormous. Considering a litre of water weighs a kilogram, being under such a volume of water falling from such a height is pretty intimidating!
In noise and magnitude, I can only really compare it to being close to an active volcano or… well, like I said, it was like nothing I've ever experienced.
POOR NIAGARA
Iguazu is not the biggest waterfall in the world by any measurement be it width (Khone Phapheng Falls in Laos), height (Victoria in Zimbabwe and Zambia) or flow rate (Boyoma Falls in Congo).
However, its trans-border setting between Brazil and Argentina transport hubs and excellent walkway systems make it one of the most accessible in the world.
As waterfalls go, only Niagara Falls in the USA receives more visitors per year than Iguazu. When visiting Iguazu, the then US First Lady Eleanor Roosevelt reportedly exclaimed "Poor Niagara!" At just 50 meters (165ft), Niagara is a third shorter than Iguazu.
THE DEVIL'S THROAT
The falls actually consist of between 150 and 300 individual falls depending on the season and water level. This is partly what gives the park such a magical, fantastical feel. Wherever you look, there are tumbling cascades of water set amid lush rainforest, intense mists and arching rainbows.
Nowhere is this more noticeable than the Devil's Throat chasm where approximately half of the river's flow falls (Garganta del Diablo in Spanish or Garganta do Diabo in Portuguese).
At 82 metres (269ft) high, 150 (492ft) meters wide, and 700 meters (2,297ft) long, this U-shaped chasm is by far the most violent and captivating area of the Iguazu Falls National Park.
The Devil's Throat is also the border between Argentina and Brazil, splitting the falls between the two countries. The Argentinian side provides the best access to the Devil's Throat as well as many other parts of the park. Approximately 80% of the falls lie within Argentina with the remaining 20% in Brazil.
Broadly speaking, the Argentinian side offers the best opportunities to get up close and among the waterfalls – particularly the Devil's Throat sections – while the Brazilian side offers broader panoramic views of the cascades.
It may not be the widest, tallest or most violent waterfall in the world but the Iguazu Falls are an overwhelming natural wonder nonetheless.
Iguazu Falls boat ride: THE ESSENTIALS
What: Iguazu Falls boat ride and visit to the infamous falls straddling the Argentine-Brazilian border.
Where: We stayed in Del Rey Hotel in the Brazilian city of Foz do Iguaçu situated 29km (18miles) from the Brazilian park entrance. The friendly staff speak English and Spanish as well as Portuguese. The hotel is centrally located in a safe area of the city with plenty of restaurants, cafes and bars nearby.
The rooms are modern, clean and comfortable with excellent wifi and a swimming pool on the roof. There's a large Lebanese community in Foz which means there are some excellent Middle Eastern restaurants. We ate at Sahara Culinária Árabe twice and thoroughly recommend it!
When: We visited in June and the weather seemed ideal. It was warm and sunny and not too humid and the falls were free-flowing. Saying that, the winter months from June through to August can often be cloudy with risk of rain – not ideal for photographers.
December through to March will be the hottest and most humid time to visit with monsoonal rains further upriver making flow rates dangerously high and causing walkways to be closed.

Generally, the shoulder seasons April to May and September to November are the most comfortable and most reliable time to visit. Whenever you go, try to avoid the busy weekends when Argentines and Brazilians visit, meaning crowds and queues are likely.
How: We booked a day tour to both sides of the falls through Iguassu Falls Tour who organised everything for us (contact Edson directly on iguassufallstour@gmail.com).
As the falls straddle two countries, some planning may be required, particularly if you require visas for either Brazil or Argentina. The entrance fees are $20 USD from either the Argentinian side or Brazilian side. The optional but highly recommended boat ride costs $55 USD.
Foz do Iguaçu is part of a tri-border city with its Argentinean and Paraguayan counterparts situated on the other sides of the border. All three are well connected by bus within their own countries.
Foz do Iguaçu is well connected to other major Brazilian cities. Use either the 'plan your trip' section on Iguassu Falls Tour or buscaonibus.com to book tickets.
From Buenos Aires in Argentina there are overnight buses to Puerto Iguazu on the Argentinean side of the border starting at AR$1100 ($120 USD). We took a bus from Asuncion in Paraguay. Both countries are well served by Crucero del Norte or Omnilineas.
There are international airports on both sides of the Argentine-Brazil border. Cataratas del Iguazú International Airport (IGR) is in Argentina with Foz do Iguaçu International Airport (IGU) on the Brazilian side. Book via skyscanner.net.
---
Enjoyed this post? pin it for later…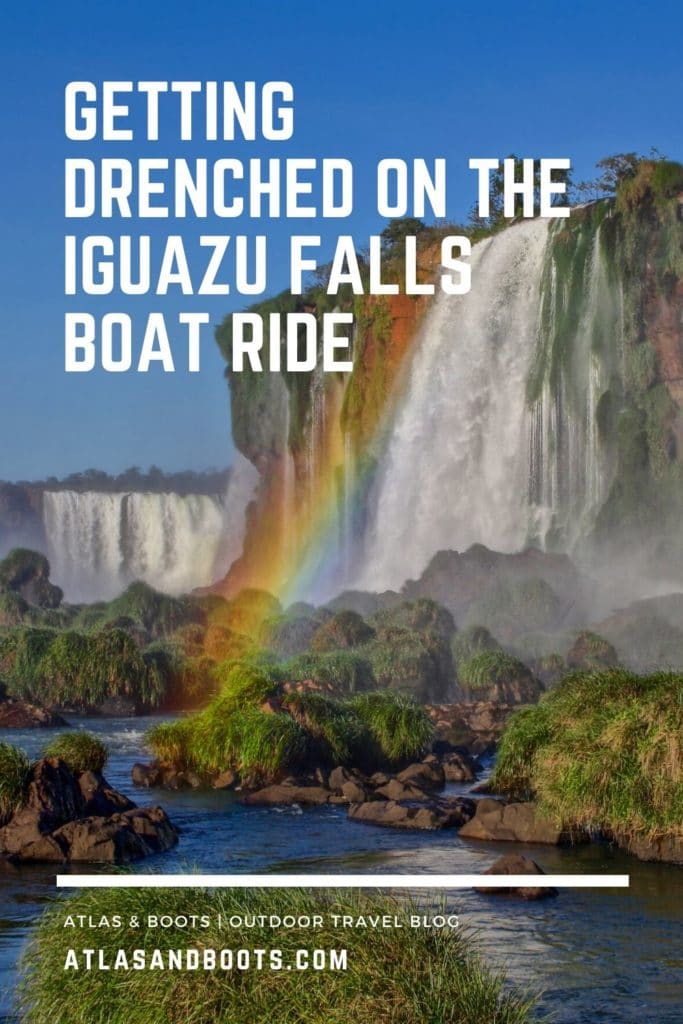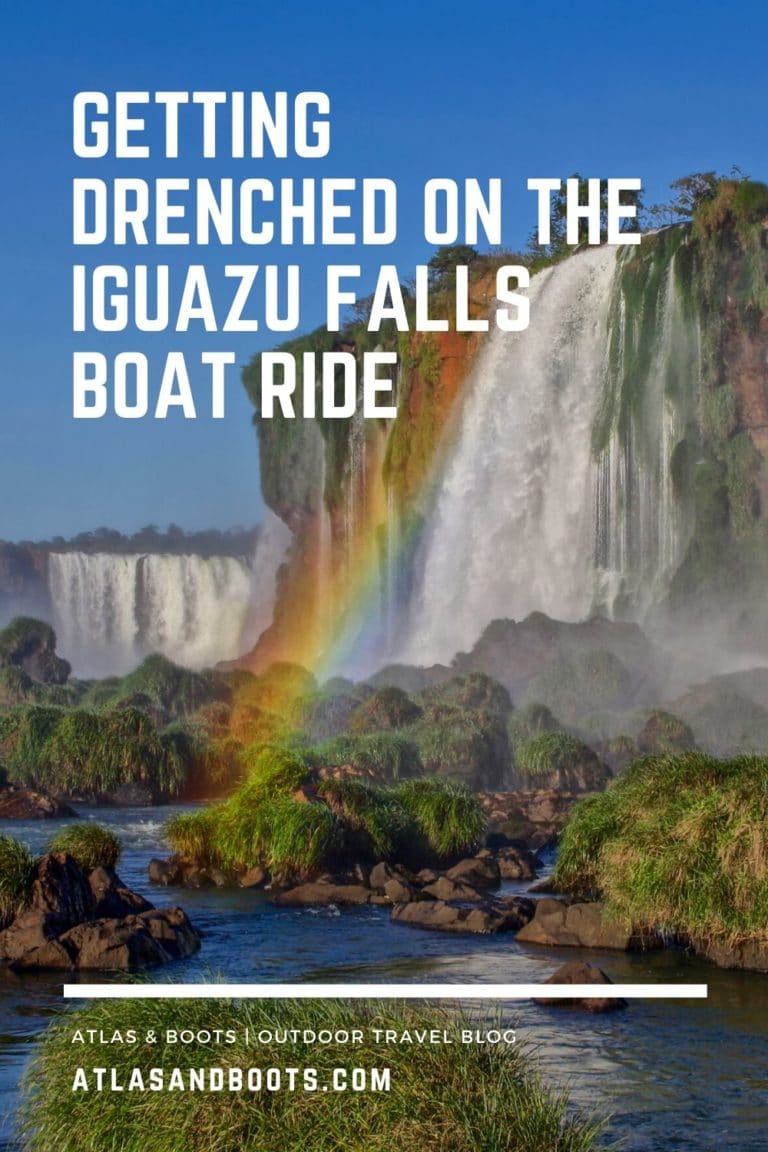 ---
The Iguazu Falls, Argentina and Brazil are all covered in depth in Lonely Planet's South America on a Shoestring.