From eerie landscapes to magnificent marine life, we take a look at the most interesting facts about Djibouti
Before we explored Djibouti, I would have struggled to point to this tiny speck of a nation on a map. Situated in the Horn of Africa among some volatile neighbours, the country is unlikely to appear on many bucket lists – a shame given its wealth of beauty.
Djibouti is home to the otherworldly landscapes of Lac Abbé and Lac Assal, fascinating diving, magnificent marine life including whale sharks as well as a charming wildlife sanctuary.
With this in mind, perhaps it's time for Djibouti to emerge as a viable tourist destination in an otherwise turbulent part of the world.
To pique your interest, we share below some of the most interesting facts about Djibouti gathered during our visit.
Interesting facts about Djibouti
1. Djibouti was part of the French colony of Somaliland from 1888 to 1977. It was the capital from 1894.
(Source: BBC)
2. In 1967, Djibouti was renamed the 'French Territory of the Afars and the Issas' before becoming the fully independent 'Republic of Djibouti' in 1977.
(Source: BBC)
3. Djibouti's flag is made up of two horizontal stripes of light blue and light green with a white triangle featuring a red star. The green represents the Afar people and prosperity; the blue represents the Issa people as well as the sea and sky; the white triangle represents equality and peace; the red star represents unity and independence.
(Source: Encyclopædia Britannica)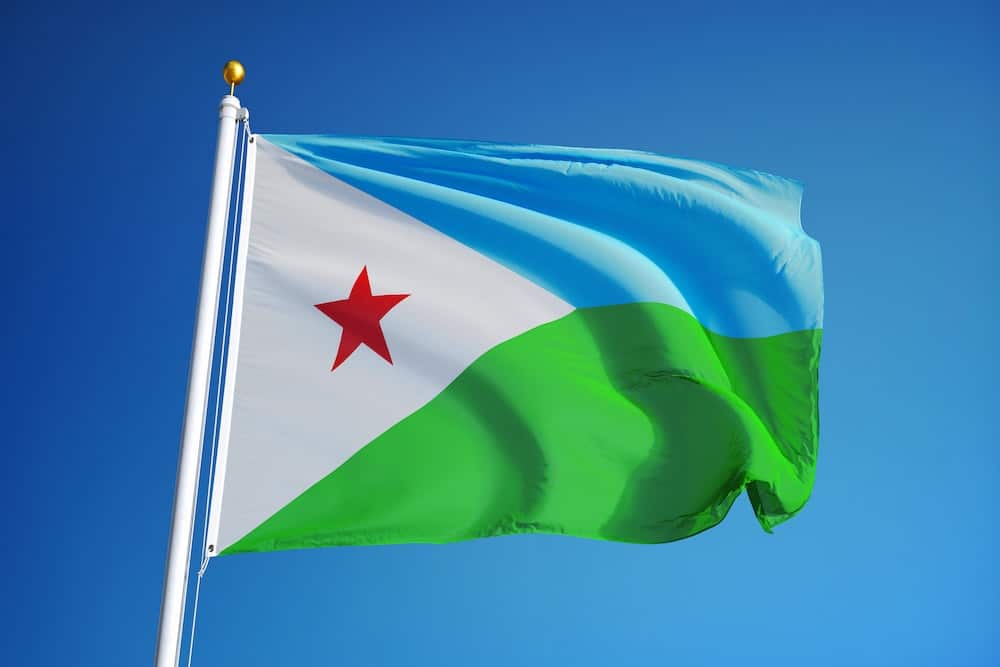 4. At 155m below sea level, Lac Assal is the lowest point in Africa and the third lowest point in the world after the Dead Sea and the Sea of Galilee.
(Source: Britannica)
5. Hussein Ahmed Salah is the only Djiboutian athlete to win an Olympic medal. He won a bronze medal in the marathon in 1988 in Seoul, South Korea.
(Source: Olympic Organisation)
6. Lac Assal, a crater lake in the centre of Djibouti, is 10 times saltier than the sea. In fact, it's the second saltiest body of water in the world after Don Juan Pond in Antarctica.
(Sources: BBC, BBC)
7. Several nations have military bases in Djibouti including France, the US and China. Djibouti's status as a model of stability in a volatile region and its proximity to the world's busiest shipping route make it particularly attractive to global military powers.
(Source: BBC)
8. Those military bases include Camp Lemonnier, the only permanent US military base in Africa.
(Source: Washington Post)
9. Djibouti is positioned on a plain known as the Afar Triple Junction where three divergent segments of the Earth's crust – the African, Somalian, and Arabian plates – are tearing away from each other.
(Source: Independent)
10. In 2017, a new 750km (460mi) railway line was opened linking Addis Ababa in Ethiopia to Djibouti City. The line replaces the old disused French railway opened in 1917.
(Source: The Guardian)
11. The railway line, opening to the public in 2018, in part prompted Lonely Planet to name Djibouti as one of their Best in Travel destinations of 2018.
(Source: Lonely Planet)
12. Djibouti comprises two main ethnic groups: the Somali and the Afar.
(Source: Britannica)
13. The addictive narcotic khat is widely chewed by Djiboutians. The leaf is imported in bulk from Ethiopia and Kenya and gives the user a mild amphetamine-like high.
(Source: Reuters)
14. At 23,200 sq km (8,958 sq mi), Djibouti is the third smallest country in continental Africa, after Swaziland (second smallest) and Gambia (smallest).
(Source: CIA World Factbook)
15. It is illegal to photograph infrastructure such as public buildings, airports, military facilities, ports and bridges in Djibouti. Your camera equipment could be confiscated and you could be arrested.
(Source: Foreign, Commonwealth & Development Office)
16. The Djibouti national football team was dissolved in 2017 in a bid to "stop poor results". Ranked 185th in the world, Djibouti has never qualified for a major international tournament.
(Source: BBC Sport)
17. Djibouti is one of 27 countries that doesn't have a single UNESCO World Heritage Site.
(Sources: UNESCO, The Telegraph)
18. Whale sharks – the largest known fish in the world – regularly visit the coast of Djibouti, making the country a prime spot for swimming with whale sharks.
(Source: CNN)
19. With a population of 957,273, Djibouti is the least populated country on mainland Africa.
(Source: CIA World Factbook)
20. Djibouti is home to the bizarre dystopian landscape of Lac Abbé, a plateau dotted with hundreds of limestone chimneys, some standing 50m (160ft) high and belching puffs of steam.
(Source: Lonely Planet)
21. With a population of over 600,000, the capital Djibouti City accounts for 76% of the country's total population of 865,267.
(Source: CIA World Factbook)
---
Lonely Planet Ethiopia & Djibouti is a comprehensive guide to the country, ideal for those who want to both explore the top sights and take the road less travelled.
Lead image: Atlas & Boots