Once a booming diamond town, Kolmanskop has long been abandoned to desert sands. We took a trip to its eerie scenes
Our trip to Namibia was a long time coming. Almost two years ago, we published a list of the countries we most want to see. At the top of Peter's list was Namibia, but due to family circumstances, we delayed the trip until we could commit a decent length of time. Finally, at the tail end of this year, we made it to Windhoek to start a 17-day self-drive safari.
Our first stop together was Kolmanskop, an eerie ghost town 15km east of the harbour town of Lüderitz.
Kolmanskop began life in 1908 as a humble railway station located between Lüderitz and Keetmanshoop further east. It's said that the station was named after transport worker Johnny Coleman – or more likely Jani Kolman – who abandoned his ox wagon here in a sandstorm and consequently died of thirst. The inauspicious beginnings were an omen perhaps of the town's wildly changing fortunes.
In 1908, railway worker Zacharias Lewala found a diamond while shoveling drift sand from the tracks and dutifully took it to his supervisor, German railway inspector August Stauch who had instructed his workers to look out for shiny stones.
A diamond rush followed the discovery and German authorities soon established the 'Sperrgebiet', a 26,000 sq km 'forbidden zone' that cannot be visited without a permit. Today, the area is operated jointly by diamond company De Beers and the Namibian government.
Kolmanskop in boom time
German settlers enjoyed enormous wealth and Kolmanskop became a booming diamond town. Residents were supported not only by basic amenities like a hospital, school and power station but also by a ballroom, skittle-alley, theatre, sports hall, casino and ice factory.
Kolmanskop reportedly had the first tram in Africa, as well as the first X-ray-station in the southern hemisphere, used as a way to control workers who might try to smuggle out their findings.
Fresh water was brought in by rail from 120km away and pumped into storage tanks. It's said that the town flourished with lush gardens, manicured lawns, rose beds and eucalyptus trees.
Pets were difficult to keep in the heat, but one family had an ostrich that terrorised the residents, only redeeming itself at Christmas by pulling Santa in a sled over sand.
Before World War I, Kolmanskop's mines produced over 1,000 kilograms of diamonds. In other words, five million karats of diamonds were extracted in the first six years of mining.
Given Kolmanskop's relatively low population – 1,300 at its peak – for a short while, the town had the world's highest wealth per capita.
Kolmanskop in bust time
Kolmanskop started to decline after World War II when the diamond field began to deplete. Another factor was the discovery in 1928 of diamonds 270km south of Kolmanskop, near the Orange River – the richest diamond-bearing deposits ever known.
The new diamond field merely required scouting the beaches as opposed to more difficult mining and Kolmanskop residents joined the rush to the south, leaving behind their homes and belongings.
The town was ultimately abandoned in 1956. In fewer than 50 years, the town had lived, flourished and died.
Kolmanskop today
Today, Kolmanskop forms an eerie tableau of grand structures indiscriminately swallowed by desert sand. A pressing silence is broken only by a patient wind working to bury this once glorious town.
Signs of life, both past and present, are scattered across the grounds: a rusting bathtub peeking from the sand, an electric pole connected to nothing, a parched desert shrub clinging onto life. This feels like the start and end of nowhere.
We padded across the sand, our voices low as if not to disturb what lay underneath. We stepped into cavernous rooms, hip deep in sand, and blinked under sun rays sliced by slats.
In Kolmanskop, the elements are in control. Once-sturdy roofs are now stripped and sparse while wooden steps creak ominously under tread. Glass hangs loose from ornate frames and doors pull askew from flimsy hinges.
Kolmanskop is a testament to the greed of man and also to his whimsy. Hundreds flocked here for diamonds and hundreds left here for diamonds. It seems only right that the desert should take it back.
Atlas & Boots
Visiting Kolmanskop: the essentials
What: Visiting Kolmanskop in Namibia as part of a Wild Dog Safaris 17-day self-drive safari.
Where: Accommodation on the tour includes 16 nights in a range of hotels, lodges and safari camps including Klein-Aus Vista, 112km (1h 10m drive) from Kolmanskop.
The tour can be booked as either accommodated (as we did), camping or a combination of the two. Breakfast and several dinners are included in the accommodated option; camping is largely self-catered.
When: The best time to visit Namibia is May-Oct during the dry season (winter). There is less vegetation and wildlife tends to congregate around watering holes, making it easier to spot. However, this is also high season so it may be necessary to book months in advance.
The shoulder seasons of May and November are good for cheaper accommodation with higher availability. Heavy rainfall can occur in November, although mainly in short, intense bursts.
How: The Kolmanskop entry fee and permit is 90 NAD ($6.5 USD) per person. Some guidelines say you must purchase an entrance permit in Lüderitz beforehand, but we purchased ours on entry (Nov 2018).
Kolmanskop is open from 08.00 to 13.00 every day. Guided tours take place at 09.30 and 11.00 on Mon-Sat and 10.00 on Sun. We advise exploring the site yourself to get a feel of real seclusion. Do make time for the small museum which includes fascinating stories about the various ways in which workers tried to smuggle out diamonds.
Kolmanskop is a 15-minute drive from the harbour town of Lüderitz, just off the main B4 highway. We drove from Klein-Aus Vista (112km, 1h 10m drive) as part of our self-drive safari. Wild Dog Safaris book accommodation, provide a hire car and organise an itinerary for the trip.
Driving in Namibia is fairly straightforward and easy-going, although a 4WD is essential. Outside of major towns, traffic is light although road conditions vary considerably. B-roads are sealed and easy to drive, but fairly rare. C- and D-roads are gravel roads, more common and vary greatly in condition. Expect anything from smooth, comfortable and relatively fast gravel roads to corrugated, uncomfortable and frustratingly slow dust tracks. Make sure you have a spare tyre and know whom to contact in an emergency.
On arrival at Windhoek, we were met by Wild Dog Safaris who provided a detailed itinerary, driving instructions, maps and information along with several tips for visiting Kolmanskop and other destinations.
We flew to Namibia via Johannesburg in South Africa with British Airways. Book flights via Skyscanner for the best prices.
---
Enjoyed this post? pin it for later…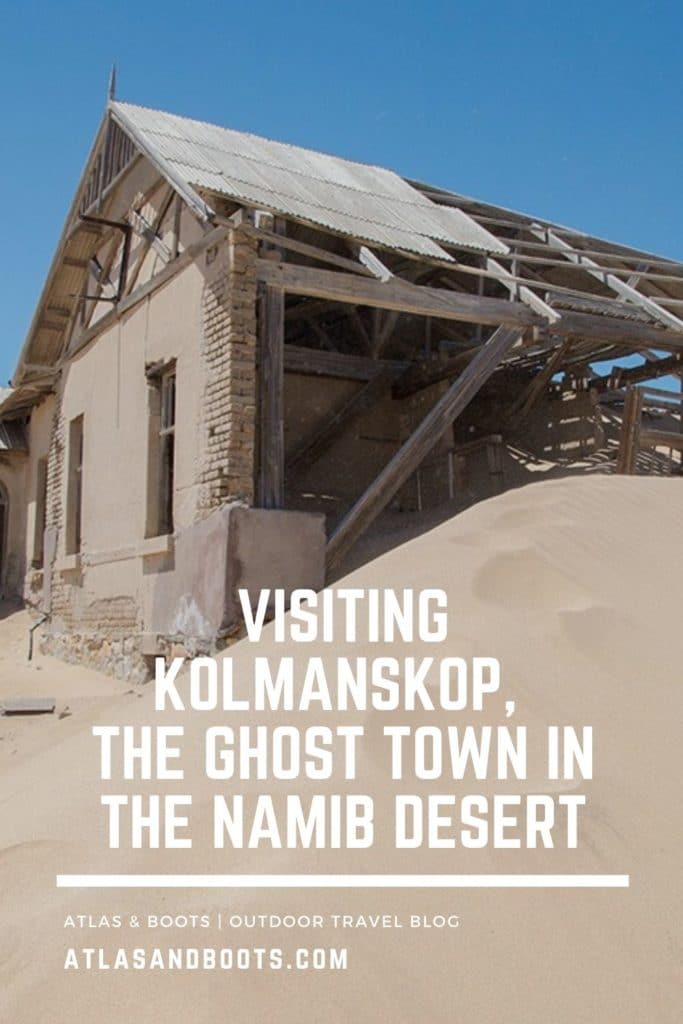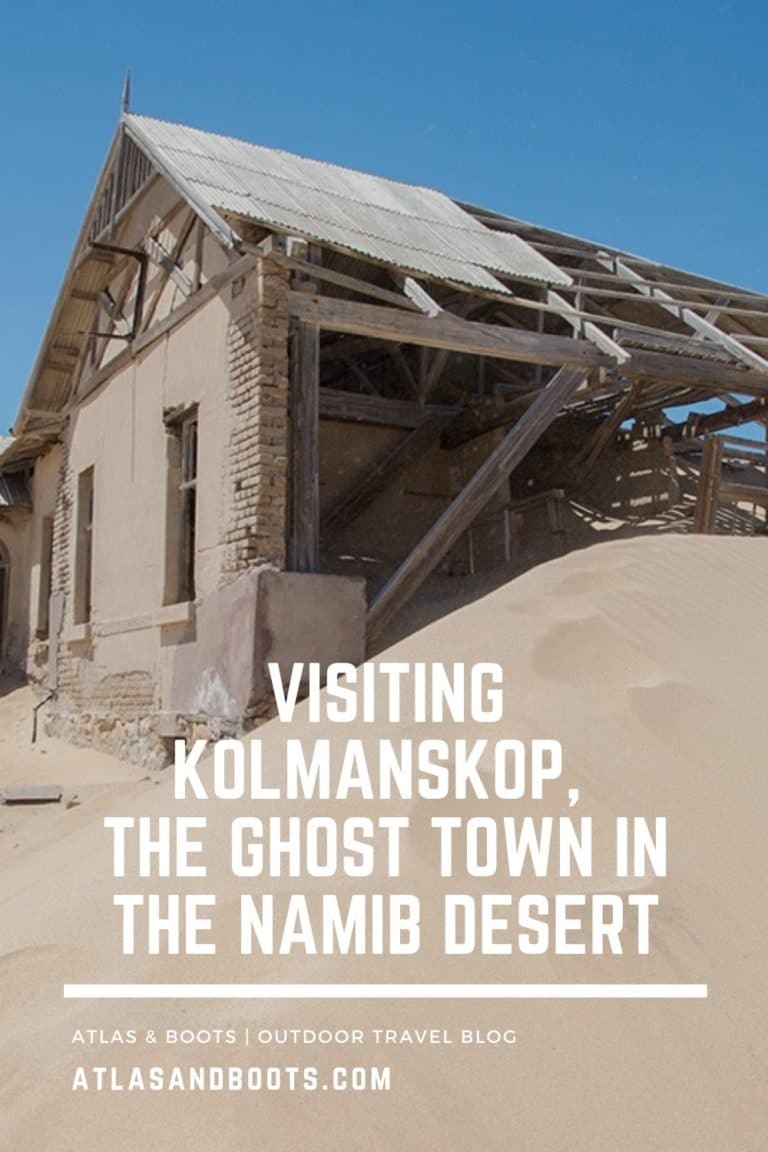 ---
Lonely Planet Botswana & Namibia is a comprehensive guide to Namibia and includes several useful tips for visiting Kolmanskop.
Disclosure: We travelled to Namibia with support from Wild Dog Safaris. All publications say this, but we really don't guarantee positive coverage. We say what we think – good and bad – so you can make informed decisions with honest advice.
Lead Image: Atlas & Boots