Our tips for visiting Sossusvlei will ensure your visit to Namibia's most popular attraction is as exhilarating as it should be
Last year, Kia and I shared a list of the countries we most want to see. First on my list was Namibia, largely because of Sossusvlei. I've been desperate to photograph this incredible landscape ever since I saw the stark silhouettes of its seemingly petrified trees pitched against a brazen blue sky and vibrant desert dune in a National Geographic photo essay years ago.
The photographs created a surreal Disney-esque scene that I was never quite sure was real. Well, it's real alright.
We finally visited Sossusvlei this year as part of a 17-day self-drive safari with Wild Dog Safaris. It was one of those destinations that completely lived up to the image I had in my mind. Sossusvlei, and its iconic neighbour Deadvlei, were every bit as sensational as I had hoped.
The dunes, which reach as high as 325m, are forever shifting in shape and hue. The wind moulds and remoulds their contours while their colour changes from ochre to burnished orange to fiery red over the course of a day from sunrise to sunset.
The sky above has little cloud cover which makes for an almost permanent cobalt blue sky in contrast to the fiery tones of the sand. The centrepiece is the scorched eerie white pan of Deadvlei where skeletal trees, some hundreds of years old, dot the cracked clay floor. The scene is nothing short of otherworldly.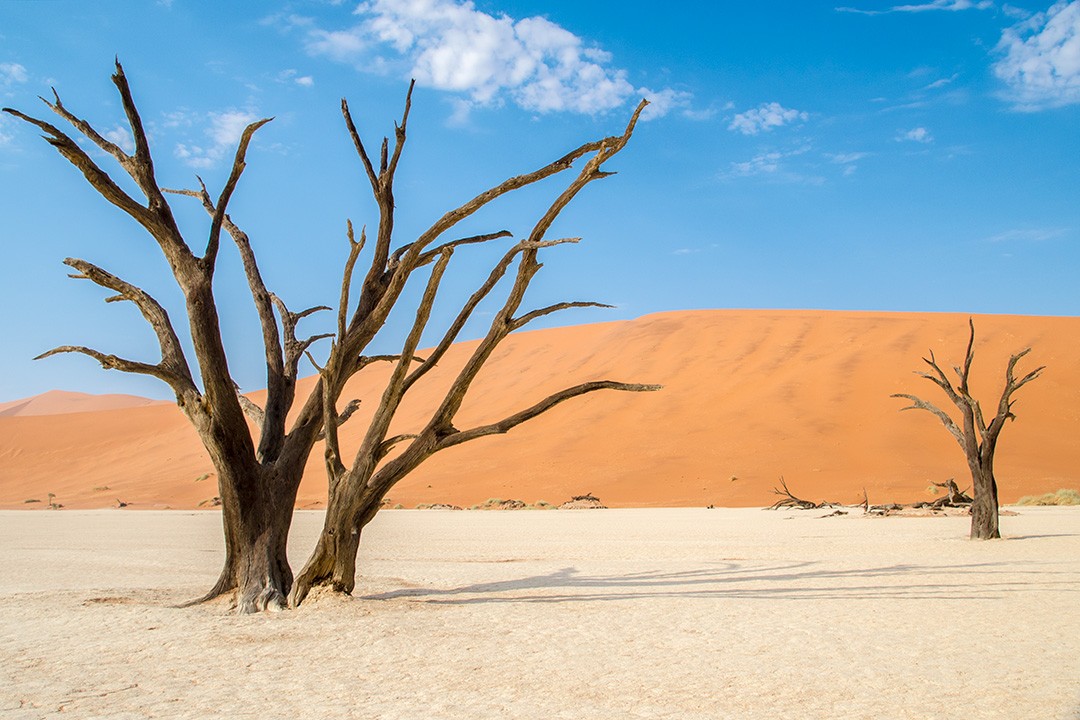 Despite its ethereal beauty, a visit to the area does not come without its challenges. The dunes and pans of Sossusvlei are isolated to say the least. The site lies in the southern part of the Namib Desert, some 65km from Sesriem, itself a lonely and far-flung outpost with little more than a petrol station and collection of tourist lodgings.
Vlei is Afrikaans for 'marsh', while 'sossus' is Nama for 'no return' or 'dead end'. Needless to say, it is a harsh environment. If you're planning on visiting the 'dead-end marsh' it's worth being prepared.
We Googled tips for visiting Sossusvlei and found plenty of Insta-worthy pictures of people at Deadvlei, but very little practical advice on visiting one of the oldest and driest ecosystems on the planet.
As such, we've put together 23 practical tips for visiting Sossusvlei in Namibia.
Tips for visiting Sossusvlei in Namibia
1. Get in as early as possible. The gates to Namib-Naukluft National Park at Sesriem open at 6.15am. Make sure you're in the queue as early as possible to avoid getting stuck behind a tour bus.
2. You'll be given a number and some paperwork. Hold onto this as you'll need it to pay for the permit as you exit the park later that day. It may not be entirely clear, but visitors pay at the green building attached to the Sesriem Campsite near the exit.
3. We suggest self-driving as opposed to joining a tour. We preferred having our own car and being in control of our own time. We recommend Wild Dog Safaris who provided us with tips for visiting Sossusvlei and lots of wider information about Namibia.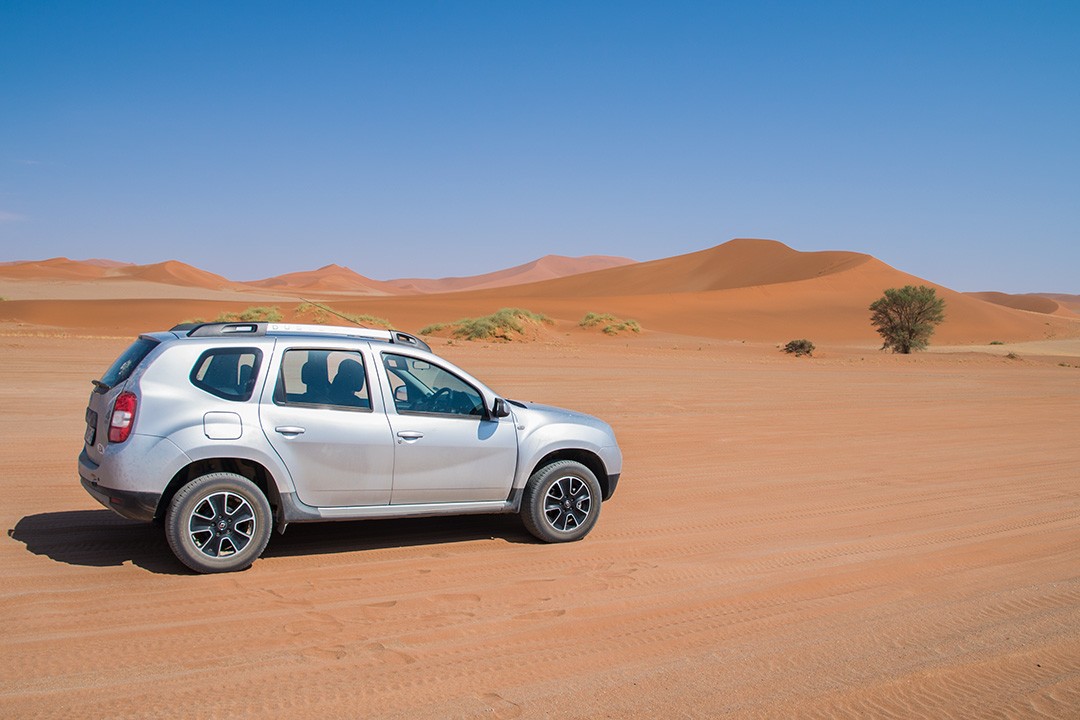 4. Price per entry is $80 NAD ($6 USD) per person and $10 NAD ($1 USD) per vehicle (as of December 2018).
5. Consider ordering a breakfast box from your hotel so you can streamline your morning and have the option of a picnic at the dunes.
6. Drive straight to Sossusvlei. Don't stop off at Dune 45 and other lookout points en route. Most visitors do this and share their experience with crowds. We suggest heading straight for the main attractions of Sossusvlei, Big Daddy and Deadvlei when they're quieter and cooler. We stopped at Dune 45 on our way out and practically had it to ourselves.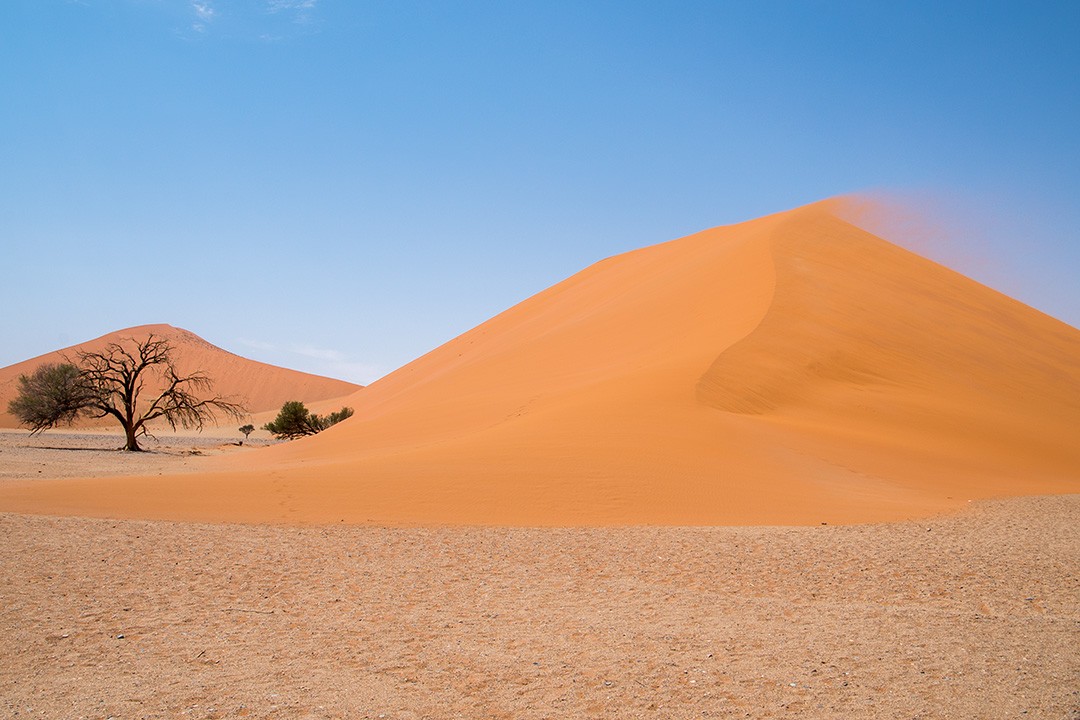 7. Opt for a 4WD vehicle. All 2WD vehicles must stop at the 2WD car park (60km along a sealed road from the entrance) and then traverse the remaining 4km of sandy track on foot (not recommended) or by shuttle ($170 NAD / $12 USD per person).
8. If you are driving a 4WD, drop the tyre pressure to 1.6bar (23psi) for driving over sand. There is a petrol station just outside the main entrance gate at Sesriem where attendants can help you.
9. There are clean toilets at the 2WD car park. At the other car parks, including the 4WD car park at Sossusvlei, there are drop toilets which are not particularly clean.
10. Wear closed footwear, not flip-flops or sandals. The sand becomes extremely hot and can easily burn your feet.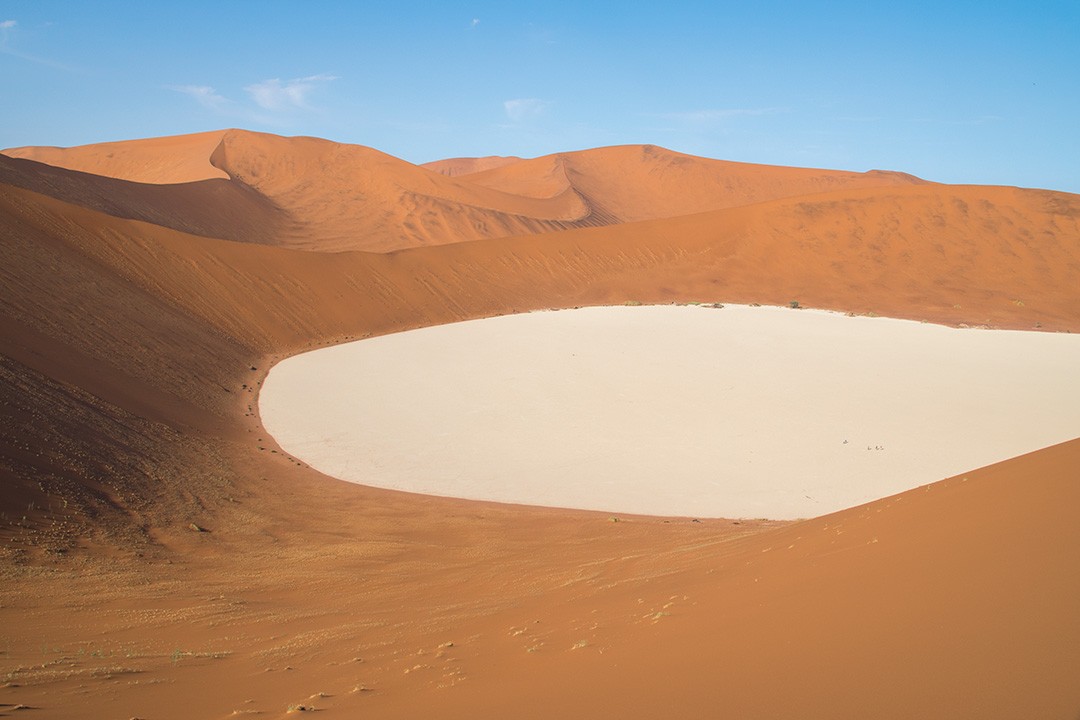 11. The most important of our tips for visiting Sossusvlei is to take at least 2-3 litres of water per person – especially if you plan to climb Big Daddy sand dune. Do not underestimate its size: at 325m, it's higher than London's The Shard!
12. The speed limit is 60km/h in the park. Few drivers seem to abide by it, but we were warned that traffic police do patrol the road.
13. If you're keen to see the dunes at sunset or sunrise then consider staying inside the park. There are two options, both run by Namibia Wildlife Resorts (NWR): the luxurious Sossus Dune Lodge or Sesriem Campsite just inside the park entrance.
14. If you're not staying in the park then make sure you exit the gates by 7pm. There are fines if you stay in the park past this time.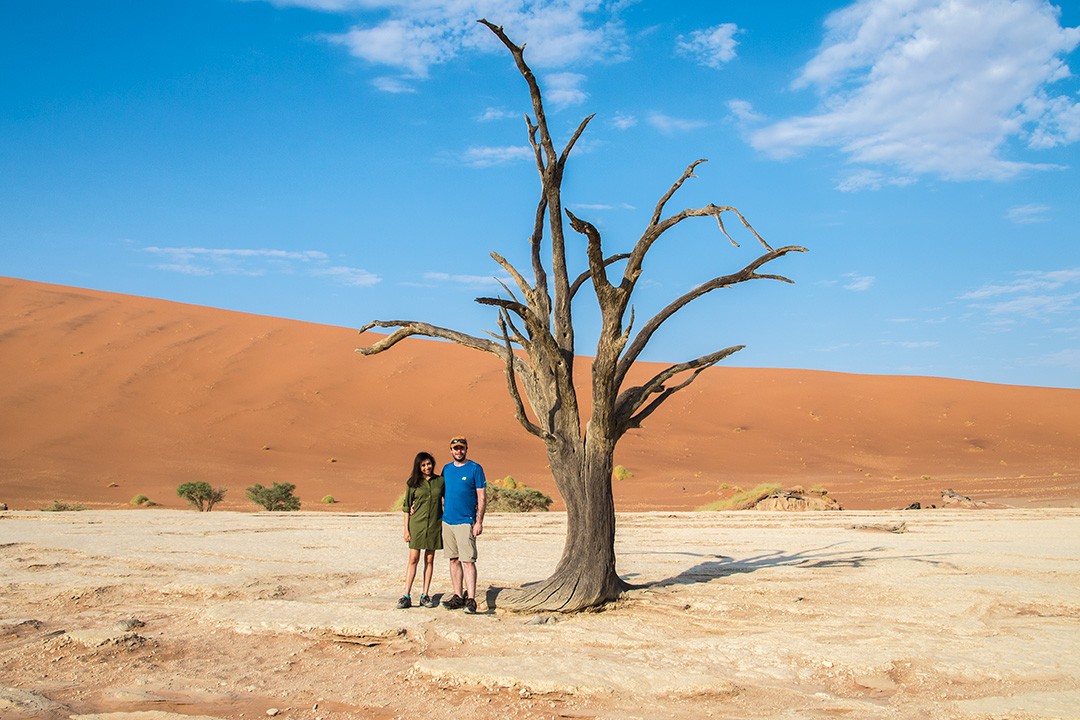 15. There are essentially three main sights to visit: Deadvlei, Big Daddy and Sossusvlei as well as Dune 45 and several other viewpoints along the drive in.
16. It's worth asking your accommodation for their input. Staff at the Adventure Centre at Sossusvlei Lodge supplied us with a map as well as tips about the weather.
17. Our suggested itinerary is to head straight to Deadvlei to experience the area at its quietest. If you want to climb Big Daddy sand dune, then spend only 15-20 minutes at Deadvlei to make the most of the cooler morning. After climbing Big Daddy, you can descend back to Deadvlei to spend longer there (albeit with more visitors).
18. Think about what's most important to you. Is it climbing Big Daddy, photographing Deadvlei or seeing the sunrise or sunset? We made an error and climbed Big Daddy first. By the time we arrived at Deadvlei the wind had whipped up and made for poor photography conditions. As such, we had to return the following day, which made for a long day of driving and cost twice the entrance fee.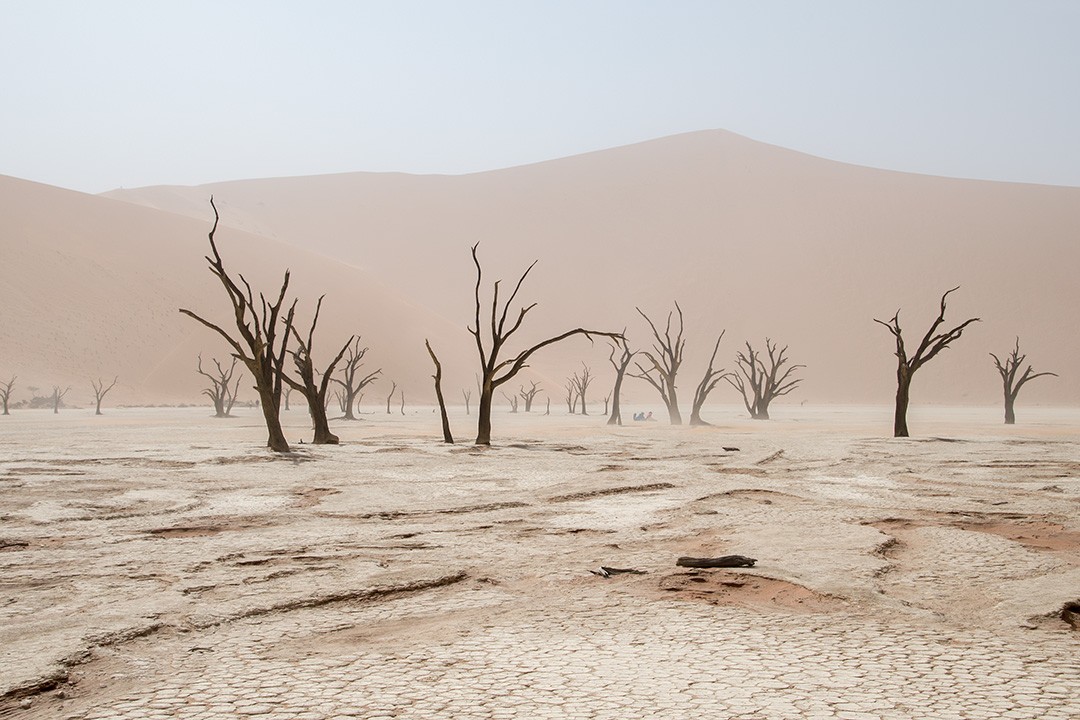 19. With the above in mind, we suggest the following:
06.15: Enter park and drive straight to Sossusvlei
07.15: Park at 4WD car park near Deadvlei / Big Daddy
07.30: Visit Deadvlei briefly
07.45: Climb Big Daddy
09.15: Descend Big Daddy to Deadvlei
10.15: Drive to Sossusvlei car park and visit Sossusvlei and Big Mama (optional)
11.30: Depart Sossusvlei stopping at Dune 45 and other viewpoints en route
13.00: Exit park and return to hotel for lunch and to cool off
16:00: Optional visit to Sesriem Canyon and Elim Dune
20. The best time to visit Sossusvlei is Mar-May or Aug-Oct. The cooler air provides clearer skies and better photography conditions. Temperatures are also milder, although be aware that Jul-Aug is when it's most windy. Check the latest weather conditions in the area using windy.app.
21. Do not touch the trees. This should really go without saying, but we witnessed dozens of tourists leaning, climbing and sitting on the trees, often posing for photos or taking a rest. The trees are hundreds of years old, but they won't last much longer if tourists ignore the rules.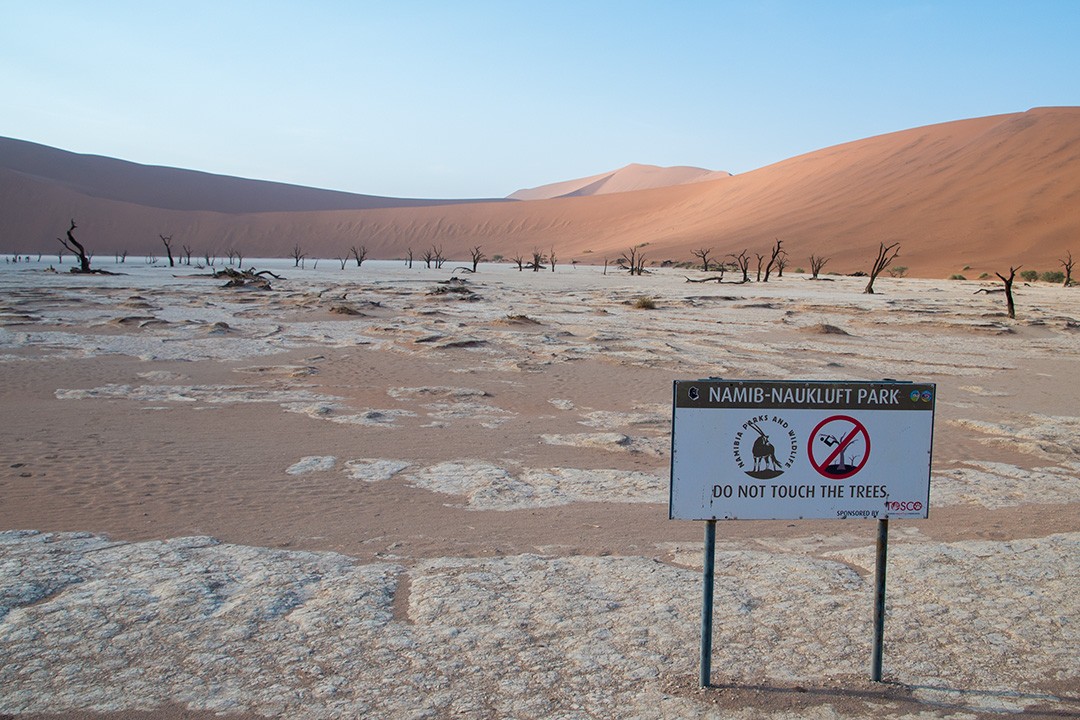 22. Take plenty of sunscreen, a sunhat and wear loose clothing that offers protection from the sun.
23. Finally, if you want, pack a Insta-worthy dress to change into, but don't wear it to climb Big Daddy!
Atlas & Boots
visiting Sossusvlei in Namibia: the essentials
What: Visiting Sossusvlei in Namibia as part of a Wild Dog Safaris 17-day self-drive safari.
Where: Accommodation on the tour includes 16 nights in a range of hotels, lodges and safari camps including Sossusvlei Lodge located just outside the Namib-Naukluft National Park. Other accommodation options on the tour include Okonjima Plains Camp, Etosha Safari Camp and Aoba Lodge.
The tour can be booked as either accommodated (as we did), camping or a combination of the two. Breakfast and several dinners are included on the accommodated option; camping is largely self-catered.
When: The best time to visit Namibia is from May-Oct during the dry season (winter). There is less vegetation and wildlife tends to congregate around watering holes, making it easier to spot. This is also high season so it may be necessary to book months in advance, especially in Etosha.
The shoulder seasons of May and November are good for cheaper accommodation with higher availability. Heavy rainfall can occur in November, although mainly in short, intense bursts.
The low season brings heavy rainfall from Dec-Apr making some tracks impassable. Humidity is higher and wildlife is harder to spot, but accommodation is cheaper.
How: We visited Namibia semi-independently with a Wild Dog Safaris 17-day self-drive safari. Wild Dog Safaris book accommodation, provide a hire car and organise an itinerary for the trip.
The itinerary showcases the best wildlife and landscapes the country has to offer including the dunes of Sossusvlei, the coastal town of Swakopmund and the infamous Etosha National Park. Other highlights include Fish River Canyon, Twyfelfontein and Okonjima – home of the AfriCat Foundation.
There are 11-day and 13-day versions of the above itinerary, as well as a 15-day Namibia, Botswana and Zimbabwe self-drive option available.
Driving in Namibia is fairly straightforward and easy-going, although a 4WD is essential. Outside of major towns, traffic is light although road conditions vary considerably. B-roads are sealed and easy to drive, but fairly rare. C- and D-roads are gravel roads, more common and vary greatly in condition. Expect anything from smooth, comfortable and relatively fast gravel roads to corrugated, uncomfortable and frustratingly slow dust tracks. Make sure you have a spare tyre and know whom to contact in an emergency.
On arrival at Windhoek, we were met by Wild Dog Safaris who provided a detailed itinerary, driving instructions, maps and information along with several tips for visiting Sossusvlei and other destinations.
We flew to Namibia via Johannesburg in South Africa with British Airways. Book flights via Skyscanner for the best prices.
---
Enjoyed this post? pin it for later…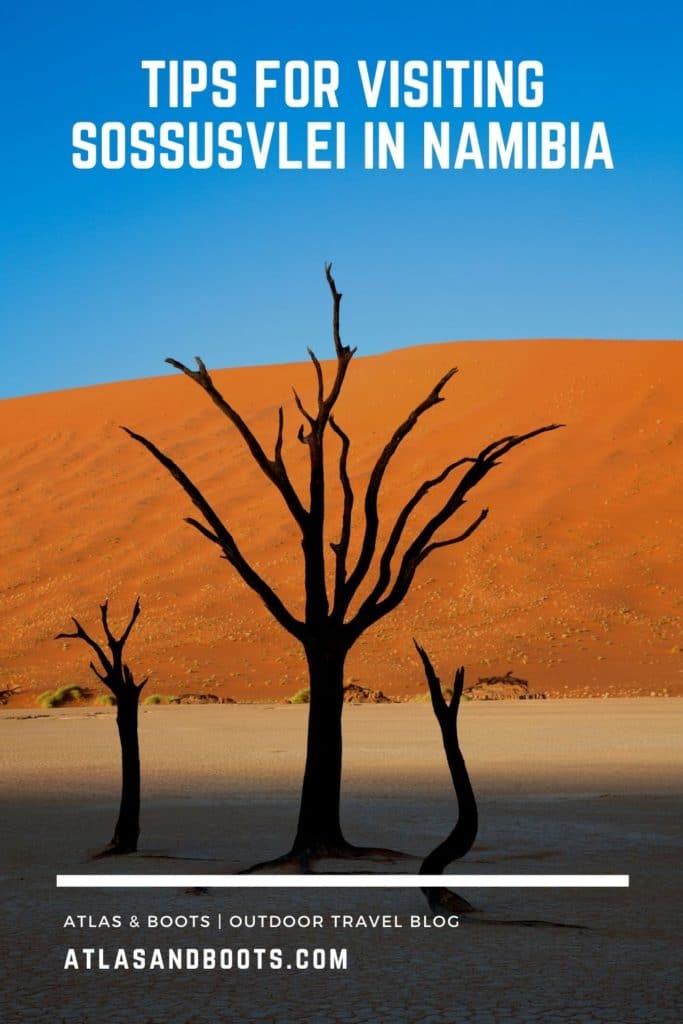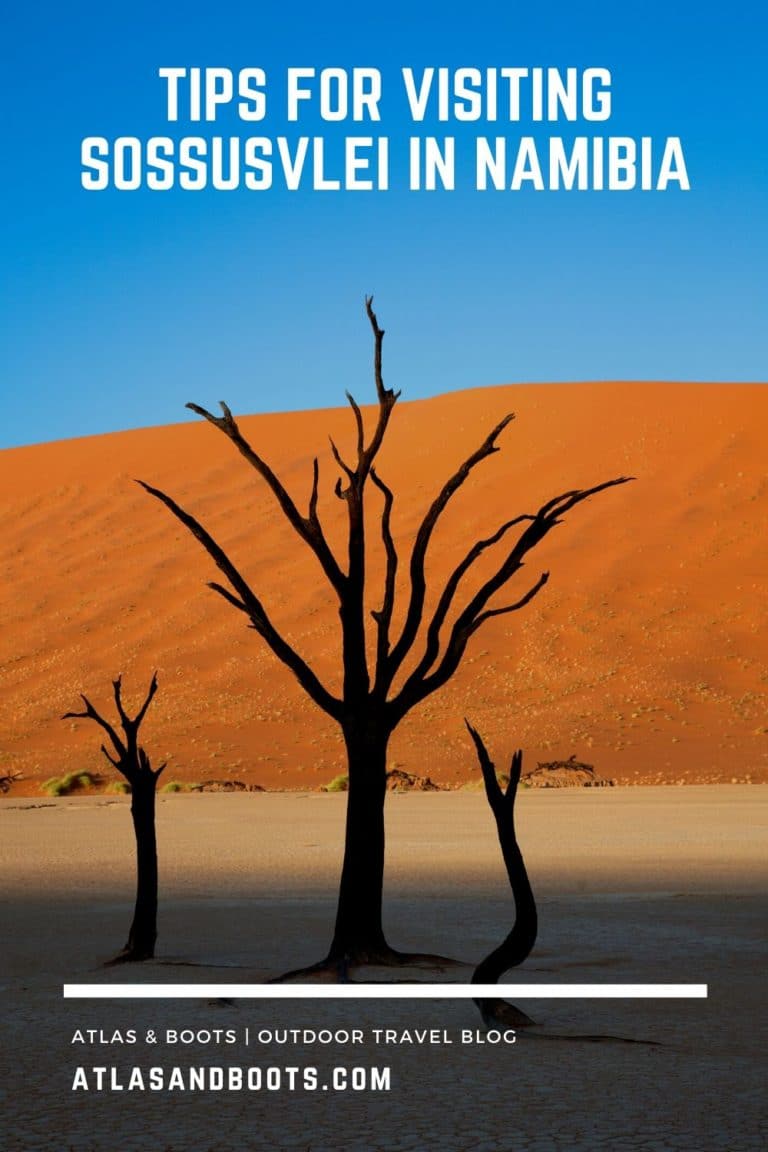 ---
Lonely Planet Botswana & Namibia is a comprehensive guide to Namibia and includes several useful tips for visiting Sossusvlei.
Disclosure: We travelled to Namibia with support from Wild Dog Safaris. All publications say this, but we really don't guarantee positive coverage. We say what we think – good and bad – so you can make informed decisions with honest advice.
Lead Image: Atlas & Boots