Flags and loudspeakers or authentic local experiences? We weren't sure what to expect on G Adventures' Mekong river cruise from Saigon to Siem Reap
I didn't know what to expect of my Mekong river cruise through Vietnam and Cambodia. Firstly, I was travelling without Peter for the first time in four years. Secondly, I'd read mixed reviews of Vietnam and, thirdly, I was embarking on a tour with a pre-planned itinerary.
I won't pretend that my 'indie' travel has been all hostels and roaches. My commissions outside of Atlas & Boots have taken me to numerous luxury resorts around the world, but I'd never before joined a scheduled group tour.
The glimpses I'd seen on former travels were not positive: shuffling en masse from artifact to artifact, knowing full well you would retain precisely 1.7% of the lecture so vigorously delivered by your long-suffering guide.
Despite this, I joined the Mekong river cruise from Saigon to Siem Reap with an open mind. I'd learned from our cruise across the Pacific not to judge a style of travel just because it wasn't mine.
My first impression of Saigon was as I expected: sultry Asian heat as moist as the Mekong, tangles of individuals weaving through crowds, motors and scooters zipping by, and a thrumming energy that's hard to define.
Saigon! I thought. I'm in Saigon! And my doubts about Vietnam melted away.
Saigon, or Ho Chi Minh City as it's now known, is famous for many reasons, first and foremost its role in the Vietnam War. The fall of Saigon on 30th April 1975 signified the end of the war and the beginning of a transition to formal reunification under a socialist republic.
Forty years later, Saigon seems dotted with totems of capitalism: skyscrapers, luxury stores and chain hotels abound. Lonely Planet describes it as "Vietnam at its most dizzying," home to a chaotic whirl of options, "from the finest of hotels to the cheapest of guesthouses, the classiest of restaurants to the tastiest of street stalls, the choicest of boutiques to the scrum of the markets."
Of course, if you really want to see a country, you must leave its cities and that's what we soon did aboard Toum Tiou II, a cosy, well-equipped riverboat with only 14 cabins.
The first thing I noticed onboard was the demographic. There were more solo female travellers than I expected, ranging from 20-something to 50-something. Amid those onboard were a couple who'd just been trekking in Tibet and a girl who'd sailed to Antarctica (on a three-month trip with six men aboard a small yacht). Clearly, they weren't archetypal cruise passengers. Perhaps a group tour would be fun after all.
Our first stop was Vĩnh Trang, an intricate Buddhist temple, home to three giant Buddhas and beautifully tended grounds, followed by a visit to a coconut manufacturing plant on Thoi Son Island. The island was more touristy than I hoped – stirring up my initial fears – but the picturesque views made the visit worthwhile.
The next day, we explored Sa Dec, a bustling district famous for its market. Here, we got a glimpse of traditional life on the Mekong, from gregarious grannies haggling with locals to hipster kids on tiny cycles.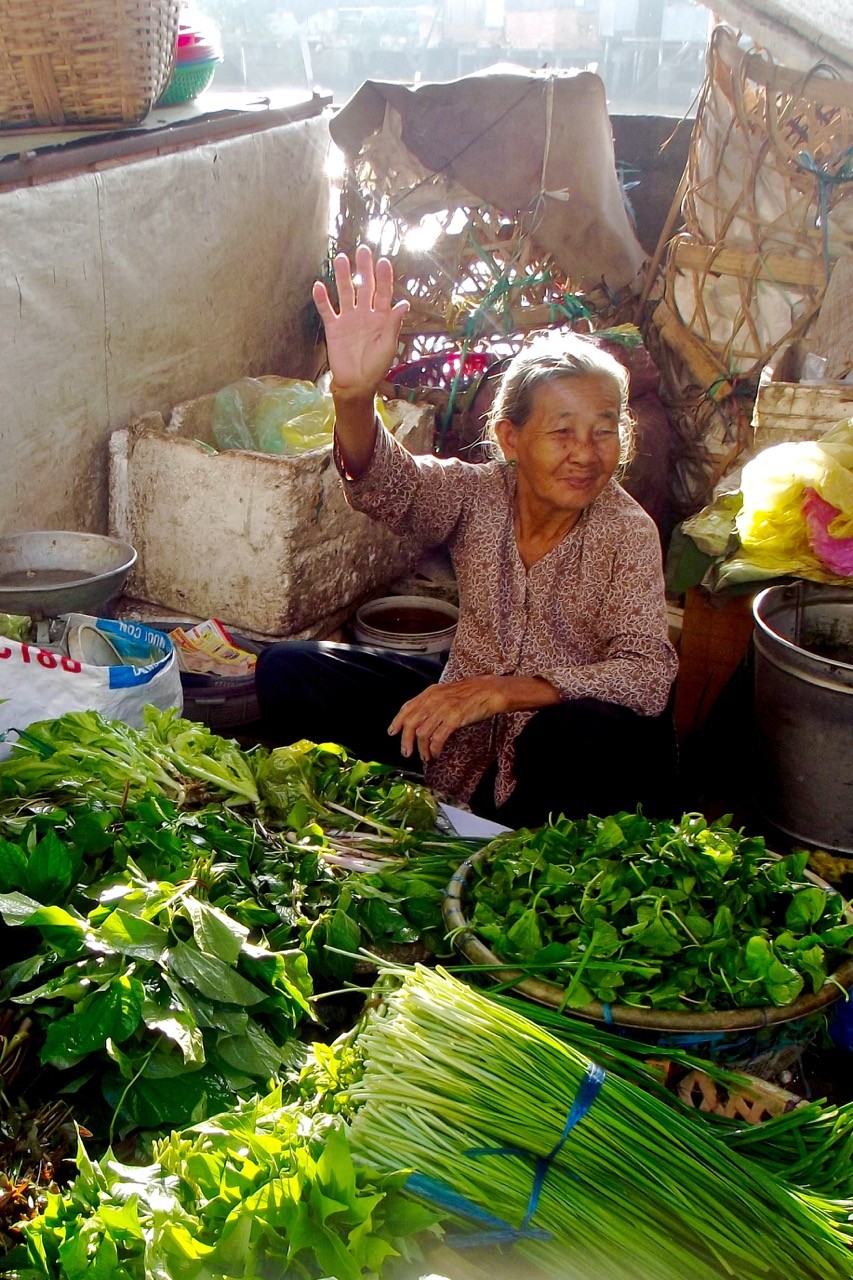 Atlas & Boots
Live fish flip flopped in their bowls while naked birds of indeterminate origin lay inanimate on their altars. Faded colonial villas wilted in the heat, decades-old paint peeling at the seams.
We stopped at Kien An Cung Pagoda, an unlikely venue for learning about The Lover, a 1992 film set and filmed in Vietnam charting the illicit love affair between a French ingénue and wealthy Chinese man in French Indochina. It was an amusing interlude after which we headed back to Toum Tiou II for lunch, followed by an evening visit to Sam Mountain.
The next day, we crossed into Cambodia which had been my favourite country ever since my visit in 2011. I worried that my first impressions would be sullied as so many things are second time around.
To my surprise, Cambodia was even better experienced by river. On my previous trip, I had stuck to the tourist triad of Phnom Penh, Siem Reap and Sihanoukville. Travelling by river allowed us to pause at previously unseen villages and islands, seldom visited by tourists.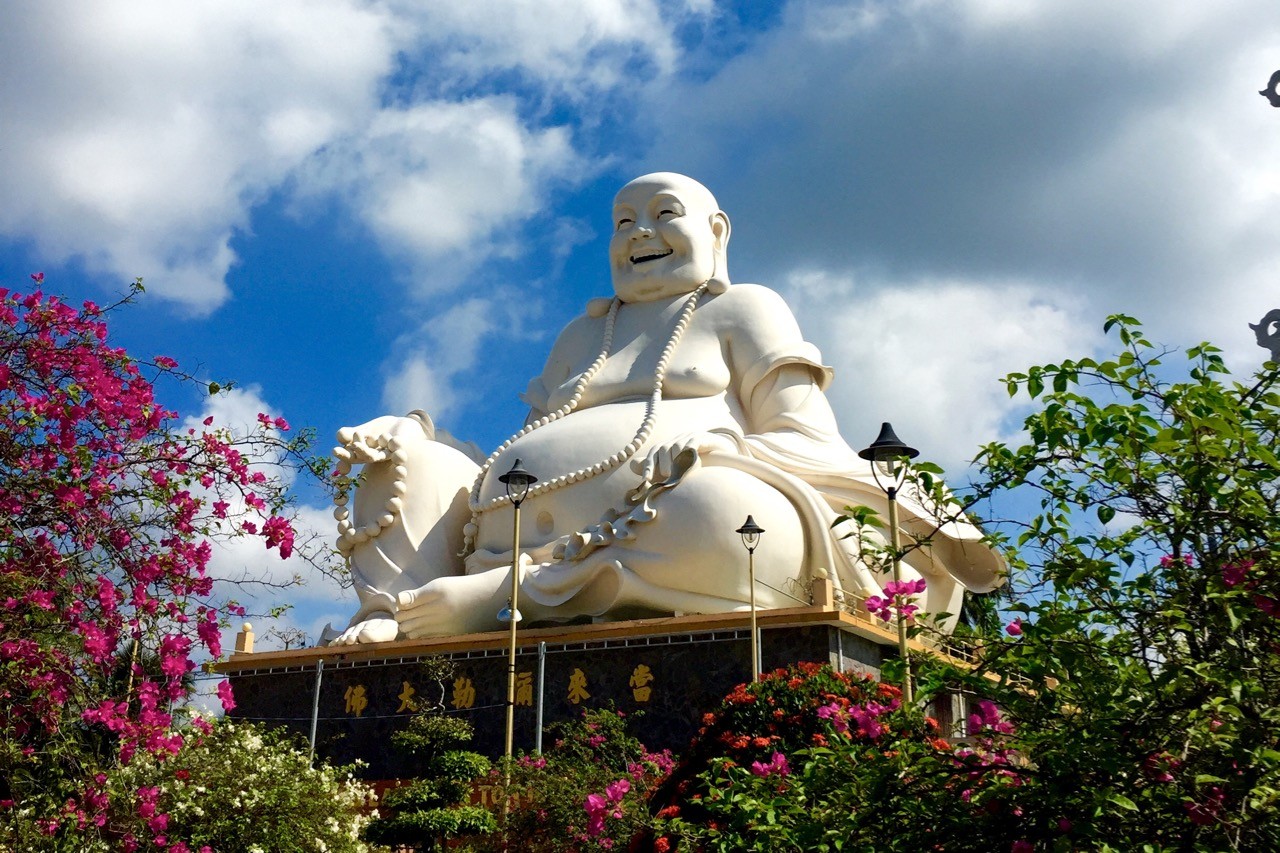 Atlas & Boots
Peter and I have said that we travel not to meet people but to see extraordinary landscapes and nature in full glory. Cambodia, however, is at its best in the company of locals.
In fact, it's the local experiences that won me over on our Mekong river cruise. Had I not taken a tour, I would not have met Oum Son Thom, an 82-year-old Khmer Rouge survivor who volunteers as a teacher in a makeshift classroom on Koh Chen Island.
Nor would I have received a blessing from a Buddhist monk in Kampong Tralach, a sweet and sobering experience I'll remember forever.
As we sailed to Siem Reap, towards the iconic temples of Angkor, I knew I'd remember not just the bookends of Saigon and Siem Reap, but all the places I saw in between.
The lesson I learned is that you shouldn't shun group tours but you should choose with care.
A luxury Mekong river cruise offers passage with a buffer; you never get too close or dirty. Alternative options like G Adventures on the other hand offer a more local experience alongside like-minded travellers.
The latter point should not be understated. I so appreciated travelling with people who had a sense of fun and adventure; who could eat a tarantula leg and tell you it 'tastes like a noodle'; who could regale you with first-hand tales of crossing the Southern Sea. Yes, it was a different way to travel but I'd do it again in a flash.
Mekong river cruise: the essentials
What: 10-day Mekong river cruise from Saigon in Vietnam to Siem Reap in Cambodia.
Where: We travelled aboard the Toum Tiou II, a surprisingly spacious riverboat with 14 cozy cabins. The cabins come with twin beds which can be arranged into one double. Each cabin has an en-suite bathroom with hot showers, air conditioning, a safe, hair dryer and large window for views along the Mekong.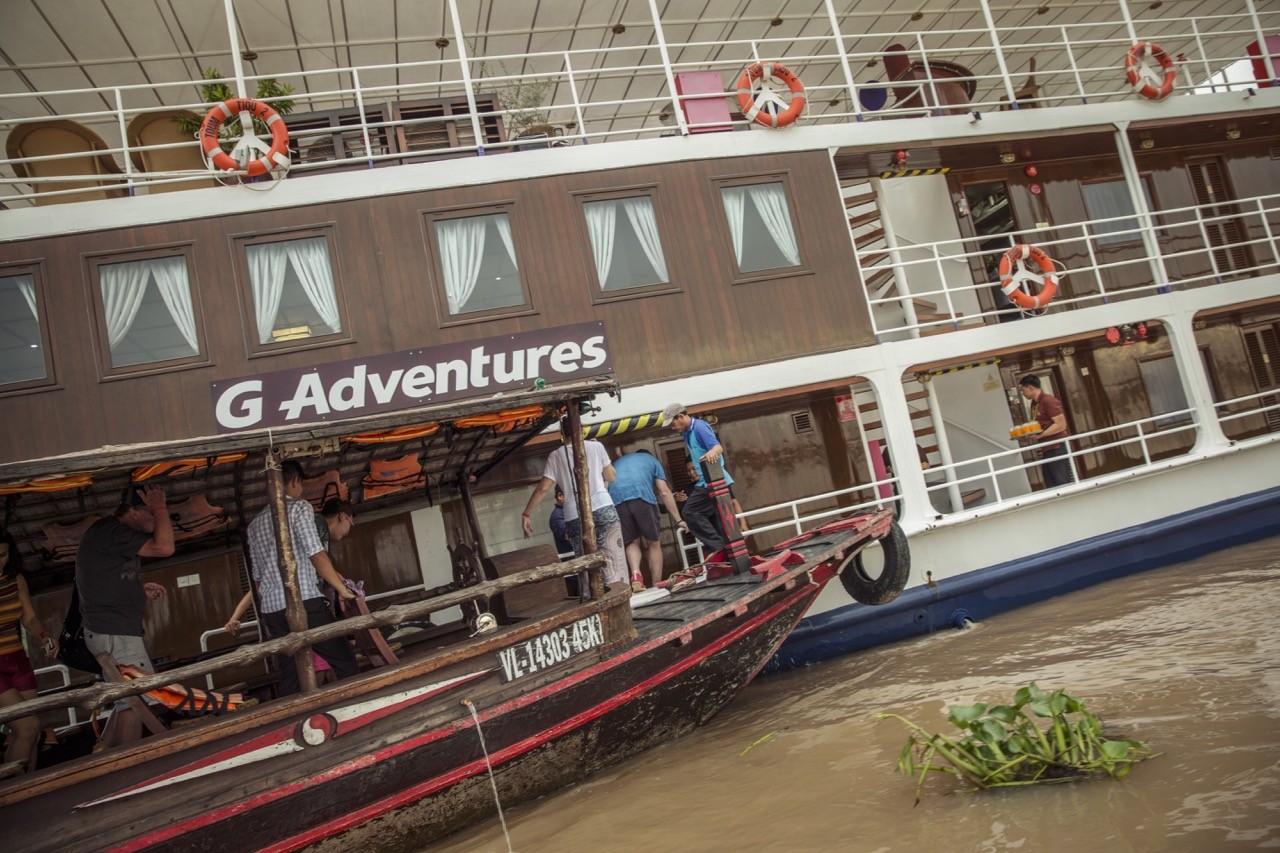 G Adventures
There is a communal dining room, complimentary tea and coffee (and biscuits!) all day and night, a lounge area, sun deck and bar. (If you're lucky enough to have Mitch as your barman, make sure to order a mojito!)
Meals on board are prepared with tasty local ingredients and are always followed by lashings of fresh fruit. The chef, wait staff and rest of the crew are both endearing and professional. I couldn't have asked for more.
When: The best time to visit Vietnam is spring (February to April) and autumn (August to October). The temperatures are more moderate and rainfall is lighter. Cambodia is warm all year round. Dry season runs from November to March, but travelling in the wet season is perfectly fine.
Rain tends to fall for a short burst in the afternoon and rarely affects travel plans. In fact, crowds are thinner, Angkor Wat is at its lushest and the Mekong flows more freely.
How: I visited on G Adventures' Mekong River Cruise Adventure, priced from £1,299pp for a 10-day trip from Saigon to Siem Reap. The price includes most meals, activities and a chief experience officer (CEO) throughout. For more information or to book, call 0344 272 2040 or visit gadventures.com.
Note that the prices do not include flights. Vietnam Airlines offers the UK's only nonstop flights to Vietnam, with daily services from Heathrow Terminal 4 to Hanoi or Saigon. Book via skyscanner.net.
---
Lonely Planet Vietnam, Cambodia, Laos & Northern Thailand offers a comprehensive guide to the Phnom Penh and the Mekong Delta, ideal for those who want to both explore the top sights and take the road less travelled.