The rock-hewn churches of Lalibela in Ethiopia are the most extraordinary man-made sites in sub-Saharan Africa. Here's what we learnt from our three days there.
The 11 rock-hewn churches of Lalibela in Ethiopia are a focal point and a place of pilgrimage for Ethiopian Christians. In mid-January, during the Timkat (Epiphany) festival, thousands of white-clad worshippers descend on the churches.
For tourists, the rock-hewn churches of Lalibela are an unmissable stop on tours of Ethiopia's historic northern circuit.
Perched in Ethiopia's Lasta Mountains at 2,600m (8,530ft), the churches were built in the 13th century on the orders of King Lalibela. He reportedly ordered the construction after he visited Jerusalem in 1187BC just before Muslim forces overran the Holy City. The churches were constructed around Ethiopia's own stretch of the Jordan River.
Hewn from the ground down
The churches were not constructed from the ground up, but chiselled out of the town's red volcanic rock hills instead. Legend has it that the thousands of labourers who toiled on Lalibela's "New Jerusalem" by day were matched by angels who continued the work by night.
The churches have no bricks, no blocks and no evidence of joints. Instead, they are carved out of single solid chunks of pink volcanic rock that underlay the region's hillsides. The 13th-century labourers would initially dig down into an outcrop, carving a trench around a single giant block of rock, and then hew the church from that monolith.
UNESCO status
The rock-hewn churches of Lalibela were designated one of UNESCO's original 12 World Heritage Sites in 1978. The list has since grown to over a thousand.
Several of the main churches are sheltered from the elements by rather bulky slabs of UNESCO-supplied sheet metal to prevent erosion. One cannot dispute the necessity of the structures, but they do detract from the majesty of the churches.
Fortunately – for tourists at least – the most spectacular of Lalibela's churches, Bet Giyorgis (St George), remains uncovered. The church is positioned in a chasm cut 15m (50ft) deep into the rock with its cruciform roof roughly at ground level.
Suggested itinerary
We spent an afternoon and a further two full days exploring the rock-hewn churches of Lalibela, which was more than enough time. It's worth visiting Bet Giyorgis at least twice, including a sunset visit and once more in the morning to avoidth the crowds.
We planned our time as follows.
Day 1 (afternoon): buy tickets and visit northern churches and Bet Giyorgis
Day 2: visit southern churches
Day 3: visit Bet Giyorgis and northern churches for second time
If you're on a tighter schedule, you can forego Day 3 and still see everything.
Atlas & Boots
The northern group consists of six sites: Bet Medhane Alem (House of the Saviour of the World), thought to be the largest monolithic church in the world; Bet Maryam (St Mary); Bet Denagel; Bet Golgotha, said to contain the tomb of King Lalibela; the Selassie Chapel; and the Tomb of Adam.
The southern group consists of four churches: Bet Amanuel, Bet Merkorios (accessed via a series of dark trenches and tunnels), Bet Abba Libanos and Bet Gabriel-Rufael.
Bet Giyorgis is positioned on its own to the southwest between the two groups.
Tips for visiting Lalibela
Guides are not necessary but are useful and will stop touts from hassling you
Be wary of taking video with a professional camera – we were asked to pay more for using our small Olympus toughcam
There is no water on sale at the sites so pack plenty
If you're not using a guide then ask ticket inspectors or guards for help and directions
Don't miss the tunnels – they're not easily found so you may need to ask
Carry a torch for the tunnel sections
The southern churches are arguably better – fewer UNESCO roofs
If touts hassle you then it's worth saying you visited yesterday with a guide
All sites are quieter in the mornings
Tuk tuk drivers are expert hagglers so be wary of paying too much! We took advice from our hotel and paid the following which seemed fair:

50 birr from southern churches Ben Abeba restaurant on the fringes of town
40 birr from northern to town Ben Abeba restaurant
20 birr from town centre (Ethiopia Airlines) to Top Twelve Hotel
rock-hewn churches of Lalibela: the Essentials
What: Exploring the rock-hewn churches of Lalibela.
Where: We stayed at Top Twelve Hotel, an intimate local-run hotel with only 12 rooms (explaining the name). The rooms are clean and functional and offer reliable wifi – rare to find in our experience. The real draw, however, is the extraordinary views of the surrounding hills.
Atlas & Boots
The English-speaking staff are helpful and will readily offer tips on what to do and where to eat (try nearby Ben Abeba restaurant for sunset). Top Twelve is a 15-minute walk from the northern group of churches and around 25 minutes from the southern group. Alternatively, you can simply hail a passing tuk tuk (see 'How' below for more details).
When: The best time to visit Lalibela in Ethiopia is October to March when there are pleasant temperatures, blue skies and low rainfall in most parts of the country.
How: The Lalibela entrance fee is 1,355 birr per person ($50 USD) and includes admission to all the rock-hewn churches for a period of four days. We didn't book a guide, but it's a good idea to do so not only for guidance but also to avoid being harassed by touts. Licensed guides cost 200 birr ($7) per day and can be booked at the ticket office.
A tuk tuk from Top Twelve Hotel should cost no more than 30 birr ($1 USD) to the northern churches and 50 birr ($1.8 USD) for the southern ones. The famous Bete Giyorgis (St George) lies between the northern and southern clusters.
Domestic flights can be taken to Lalibela from Addis Ababa, Bahir Dar, Gondar and Mekele (check latest routes here). It's far cheaper to book flights at an Ethiopian Airlines office in the country.
Be sure to mention if you flew with them internationally as you will be eligible for a substantial discount. An airport shuttle to Top Twelve Hotel costs 100 birr per person ($3.5 USD) each way. You can pre-book this through the hotel (top12hotel@gmail.com).
Overland transfers can be organised through Girma Debash, the agent associated with Top Twelve hotel: hikelalibelatours.com, girmadebash@gmail.com. Note that transfers in Ethiopia tend to be organised through a sort of whisper network of drivers, so can take a few days to arrange – and prove expensive!
We booked a transfer from Lalibela to Mekele (290km) through Girma for 2,160 birr ($80) and used this as a basis for calculating other fares. Note that you may be asked to pay for the driver's journey back if he hasn't secured customers for the return journey.
Domestic flights are the quickest way to travel in Ethiopia (check latest routes here). It's far cheaper to book flights at an Ethiopian Airlines office in the country. Be sure to mention if you flew with them internationally as you will be eligible for a substantial discount.
Addis Ababa is the country's primary international airport. Book international flights via skyscanner.net.
---
Enjoyed this post? pin it for later…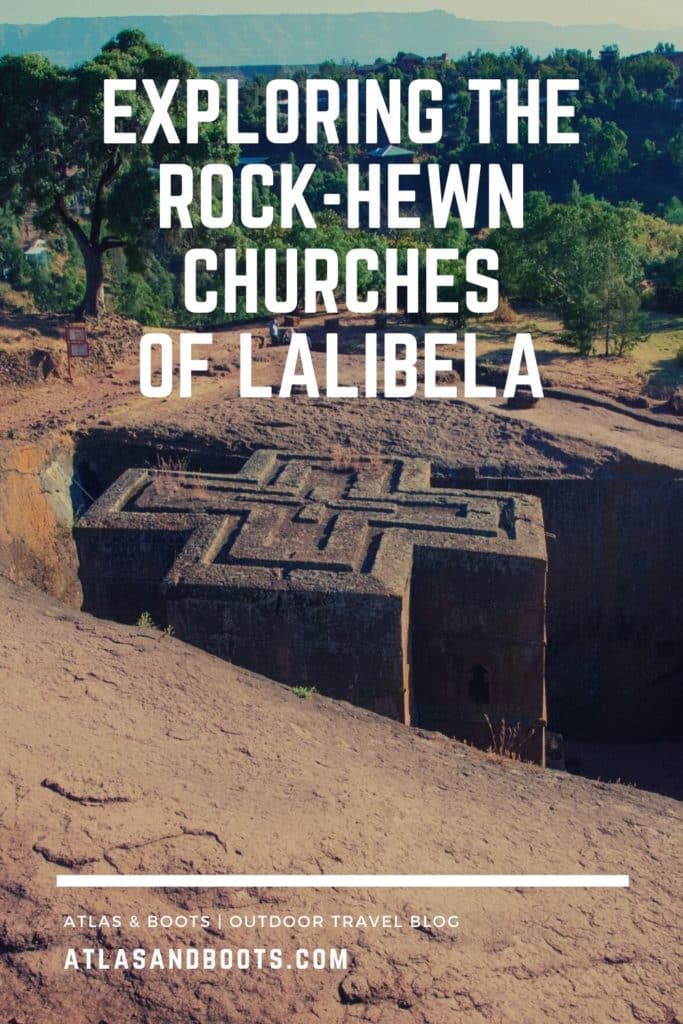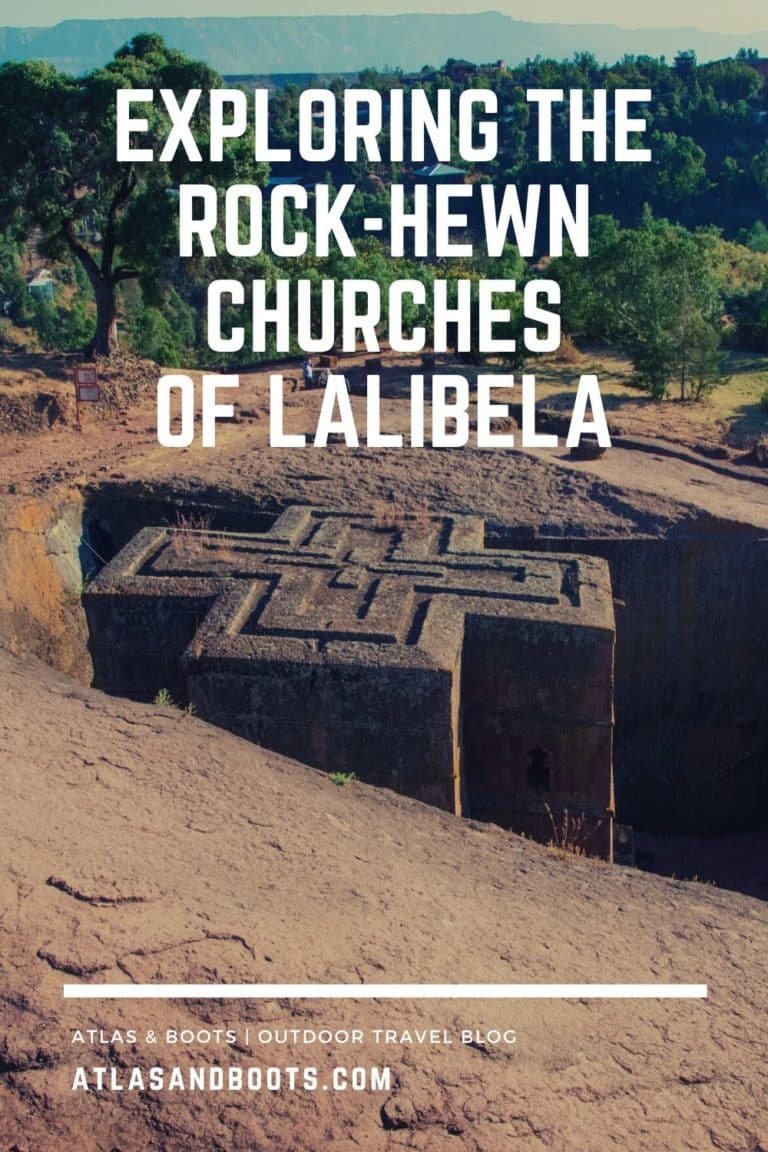 ---
Lonely Planet Ethiopia is a comprehensive guide to the country, ideal for those who want to both explore the top sights and take the road less travelled. If you prefer to travel in a tour, we recommend G Adventures and their small group Ethiopia tours.
Lead image: Atlas & Boots