We very nearly didn't make it to Anuradhapura. Our schedule in Sri Lanka was pretty packed and even though we had a whole month in the country, our itinerary of Colombo, Bentota, Galle, Yala, Udawalawe, Ella, Adam's Peak, Sigiriya, Kandy and Trincomalee and meant that we had no more than three days in each place.
It was by chance that I saw a tweet picturing Jetavanaramaya Dagoba in Anuradhapura along with a caption explaining that it was once the tallest building in world after the Egyptian pyramids. Given my part-time passion for architecture, there was no way I was visiting Sri Lanka without seeing this storied structure in Anuradhapura.
The ancient city of Anuradhapura has a long and illustrious past. Established in 4th century BC, it is among the oldest continuously inhabited cities in the world. It is one of Sri Lanka's ancient capitals and was the center of Theravada Buddhism for centuries.
Today, Anuradhapura is a UNESCO World Heritage Site, spread over an area of 40 sq km (15 sq mi).
We had a day and a half in the city and as we could see some dagobas from our hotel, we decided to walk over and spend our first afternoon exploring.
Sadly, our laissez-faire attitude backfired when the seemingly short walk turned into half an hour under the baking Sri Lankan sun. We reached the boundary of the complex and spent a baffled 20 minutes trying to work out how to get from one site to another. There were no obvious footpaths and as the ruins are scattered across a sprawling area, walking from one to another isn't really practical.
With our lesson learned, we headed back to our hotel and organised bicycles for the next day (1500 LKR / $10 USD, organised by reception). Anuradhapura can be seen by tuk tuk or private car, but cycling is a far more peaceful way to explore.
Cycle route through the best places to see in Anuradhapura
Length: 8km (does not include the journey from and to your hotel)
Duration: 6hr (approximately 1.5hr cycling, 4hr sight seeing)
Purple pins: The sights at which we stopped
Blue pins: Additional sights you may wish to see
In planning our cycle route through Anuradhapura, we decided to head to the furthest point in the morning (while our energy levels were still high) and then cycle back leisurely, stopping at major sights along the way.
Abhayagiri Dagoba
Our first stop was Abhayagiri Dagoba. Dating back to 1st century BC, this monumental structure was once the centrepiece of a 5,000-strong monastery. Like nearby Jetavanaramaya, it was once among the world's greatest structures in terms of scale. Today, it towers almost 250ft (75m) above the forest floor and is among the best things to see in Anuradhapura.
We were struck by the utter seclusion of the site. On arrival, we were the only two people wandering the concourse, joined only by monkeys as they darted across stairwells and reliefs. Set to a boundless blue sky and the creeping branches of saplings and trees, it felt like a scene straight from Indiana Jones.
We paused at Abhayagiri Museum, which was interesting (and a good place for a bathroom break), but is largely missable if on a tight schedule. We then cycled on to the next major site: Jetavanaramaya Dagoba.
Jetavanaramaya Dagoba
Jetavanaramaya is the real centrepiece of Anuradhapura. While similar in style to Abhayagiri, its scale is more imposing. The massive dome rises above the horizon and can be seen from miles away. Built in the 3rd century by King Mahasena, Jetavanarama is said to contain a mind-boggling 90 million bricks.
We had a quick stop for lunch (which we brought with us) and cycled on to Ruwanweliseya.
Ruwanwelisaya Dagoba
Ruwanweliseya is one of the oldest structures in Anuradhapura (albeit rigorously restored in recent years). It's certainly impressive but I felt that its pristine white facade detracted rather than added to the marvel. Like Burma's stupas bedecked in gold leaf, the bright and shiny exterior felt more sterile than brick.
Similar in style are Mirisavatiya and nearby Thuparama, the oldest dagoba in Sri Lanka.
Jaya Sri Maha Bodhi
Our next stop was Sri Maha Bodhi, a sacred fig tree significant for several reasons. It is the oldest living tree known to be planted by man and has been tended continuously for over 2,000 years. More importantly, it was grown from a cutting brought from Bodh Gaya in India, the tree under which Buddha is said to have found enlightenment.
Housed in a temple complex, Sri Maha Bodhi requires an additional fee of 200 LKR per person ($1.30 USD). Visitors are asked to take off their shoes, cover their arms and legs, and wear mainly white as a mark of respect. (Note that this applies to sights across the entire complex, not just to Sri Maha Bodhi.)
Sri Maha Bodhi stands on the highest platform surrounded by railings festooned with flags. Sri Lankan Buddhists frequent the site and can be seen scattered around the tree, heads bowed in prayer and respect. We circuited the site, then headed to our final stop of Isurumuniya.
Isurumuniya Temple
Isurumuniya rock temple is well worth stopping for. Set next to a picturesque lotus pond, it is home to a set of celebrated carvings including The Lovers and The Royal Family. Some carvings, including one of elephants splashing in water, remain on the rock face but most have been moved to a small museum within the temple.
We finished our day at Isurumuniya and headed back to the hotel. As we hopped on our bikes, we agreed that Anuradhapura was one of our favourite things to do in Sri Lanka. In hindsight, we needed one day and not two, but we were so pleased to have squeezed it in.
In many ways, Anuradhapura epitomises the best parts of travel. It's grand and impressive but still largely undiscovered. Its history stretches to millennia but its ruins are well preserved. It's relatively remote but perfectly accessible.
Anuradhapura reminded us of the joy of stumbling across something amazing and having it all to ourselves – which in many ways is the joy of travel itself.
Atlas & BOots
Cycling Anuradhapura: the essentials
What: Cycling route through the best places in Anuradhapura, Sri Lanka's ancient capital.
Where: We stayed at Heritage Hotel, 3km from the main sights of Anuradhapura. The hotel is tucked away by Tissa Weva Lake and offers a secluded base from which to explore the ruins.
The hotel with its grand lobby and high ceilings has the hushed ambience of a charming old library but that only adds to the air of relaxation. Our garden-front room was appropriately quiet and comfortable – think velvet chairs, overstuffed pillows and crisp white sheets.
Atlas & BOots
The buffet is on the pricey side so you may wish to dine at a local restaurant instead. Either way, be sure to venture out to the lake to see the dagobas lit up at night. The view really is something to behold.
When: The best time to visit Anuradhapura is April and September when the weather is dry and sunny, and moderate temperatures make cycling a pleasure.
October to early January brings the Maha Monsoon to Anuradhapura so expect to get wet. All other months are good times to visit. January to April and mid-July to September offer the best odds for good weather countrywide.
How: The Anuradhapura entrance fee is $25 for a day and can be bought at the Archaeological Museum as well as kiosks along the way. Do note that some sights will charge a small entrance fee in addition to the the main ticket so take some cash with you. Bike hire can be organised by your hotel and should cost $10 USD for the day.
You may come across an 'insider tip' that says you can see Anuradhapura for free if you dodge the guards, but this isn't a responsible way to travel so please don't do this.
You can get from Colombo to Anuradhapura by rail (check rail timetable here). There are bus routes available depending on your point of origin. It's worth noting that we found bus travel to be quite stressful in Sri Lanka so you may wish to take a transfer instead. Your hotel can arrange this but it's always worth negotiating a discount as these are usually inflated (e.g. if quoted 15,000 LKR, ask for 11,000).
Many tourists opt to hire a driver for the entirety of their trip. This costs around $45 USD per day (including the days you don't use the driver). We used Ajaa (+94 777 284 178) and Sisi (+94 777 203 083) for shorter transfers and found them to be friendly and reliable.
Most international flights land in Bandaranaike International Airport (CMB). Book via Skyscanner for the best prices.
---
Enjoyed this post? pin it for later…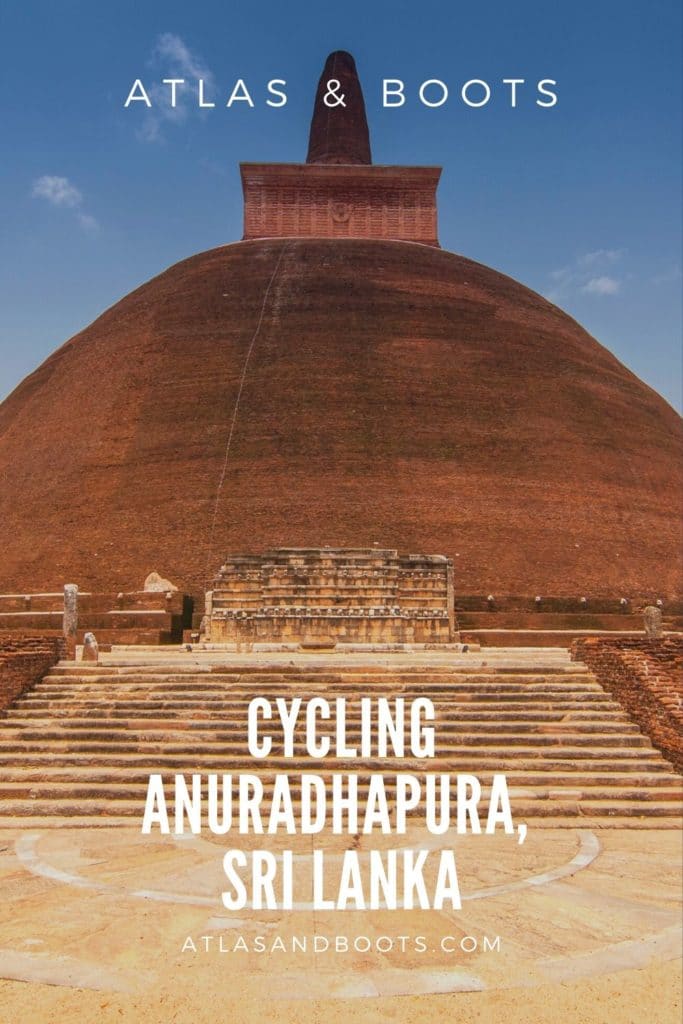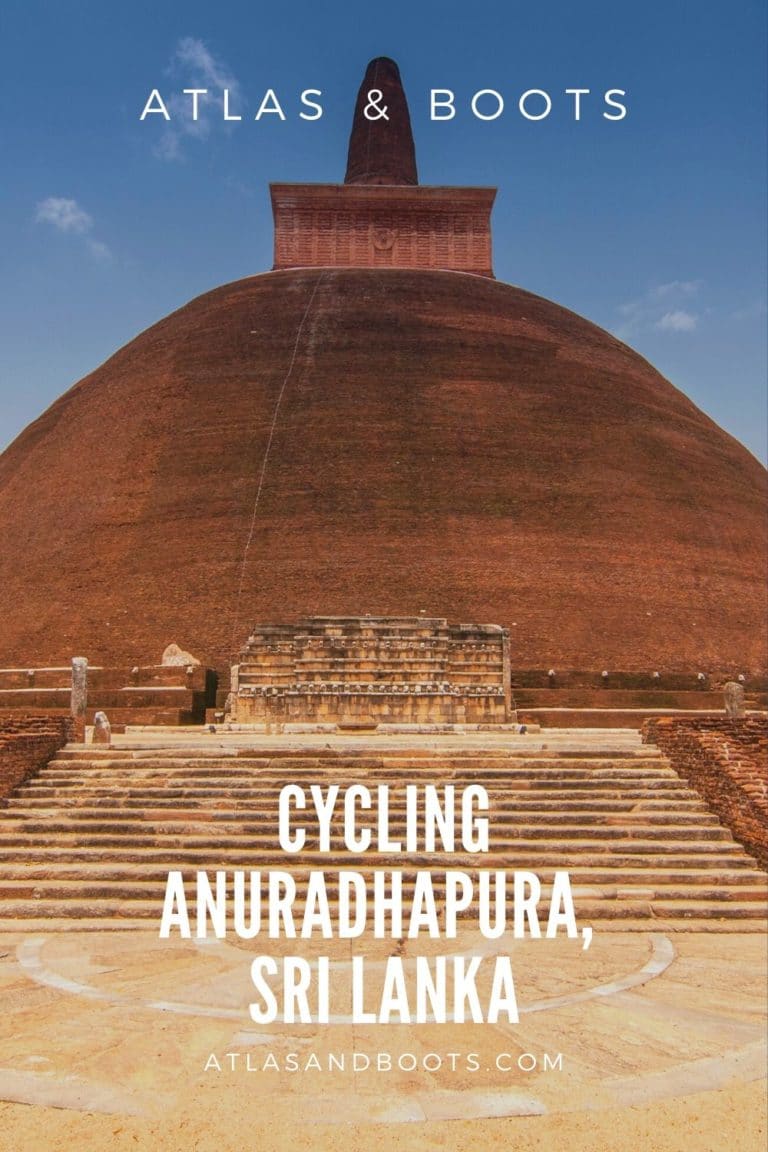 ---
Lonely Planet Sri Lanka is a comprehensive guide to Sri Lanka, ideal for those who want to both explore the top sights and take the road less travelled.