I wasn't enamoured with the prospect of camping at Udawalawe National Park in Sri Lanka. I'd had a particularly challenging run-in with a cockroach (a flying cockroach) at a hotel down the road and wasn't quite ready for more.
As usual, Peter employed all his rugged country charm to convince me that 'it's safer in a tent' because 'there's an airlock so nothing can get in'. So, despite the fact that I was done with camping, I agreed to do it once more at Udawalawe National Park.
My first pleasant surprise came when I realised that the 'private safari camp' was exactly that: an experience for just us. There would be no shared commode, no muddy footprints in the shower, no midnight revellers stomping past the tent. It was just me and Peter in our tent and a support team nearby, comprising a driver, a ranger, a personal chef, a waiter and a site manager. Apparently, this is how the other half camps.
The tent itself had beds instead of sleeping bags and was spacious enough to stand in – quite a change from Peter's three-man tent which struggles to fit one man and a small woman (I'm scraping 5'2").
The second pleasant surprise was that the camp stood in the park itself. Sri Lankan authorities allow camping in the confines of Udawalawe National Park, which meant we didn't have to wait long to start our first safari.
We set off and within minutes, came across a family of elephants. After mixed luck spotting leopards at Yala National Park, this came as sharp relief.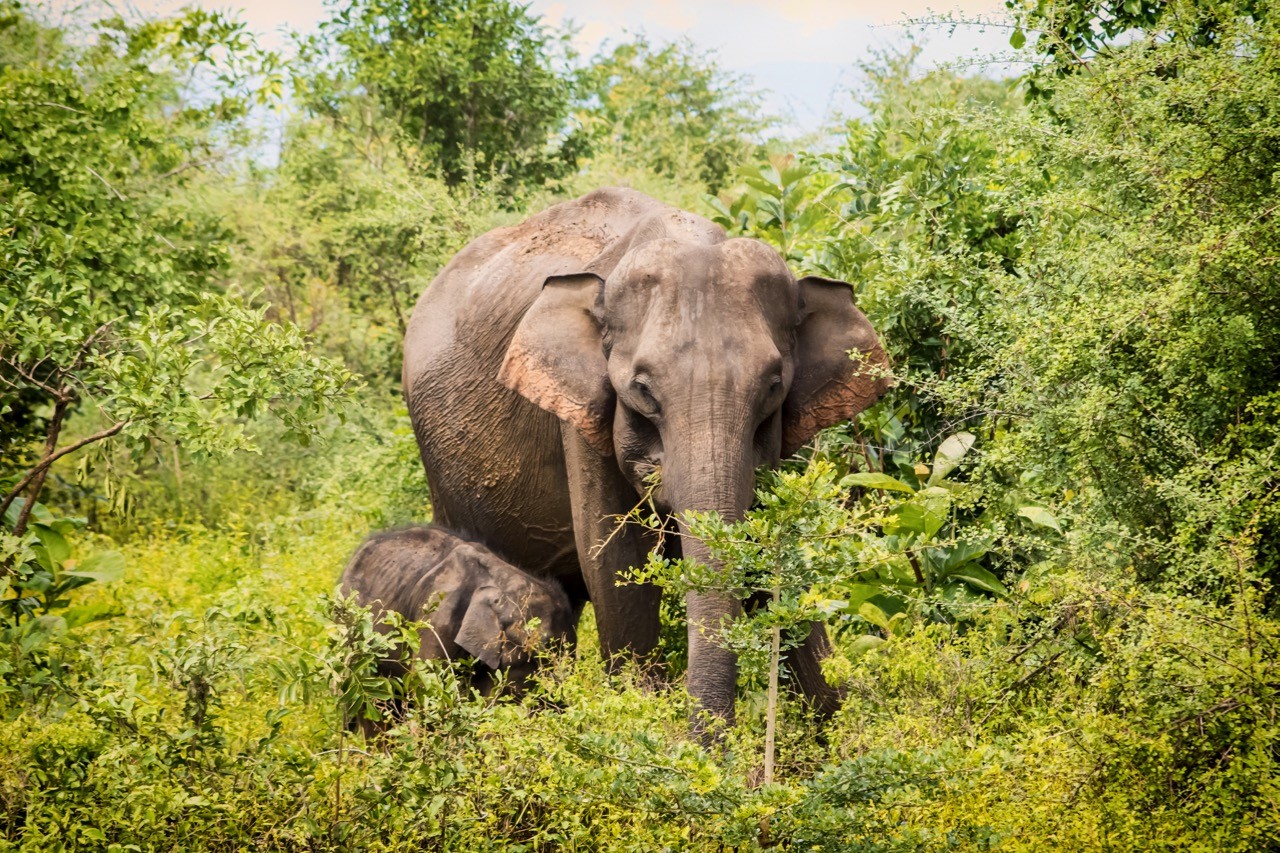 We agreed that if we saw nothing more of these gentle giants, we'd go home happy. Fortunately, our pessimism was misplaced. Soon after, we spotted a mother and a baby strolling along the grounds of Udawalawe National Park. If you've seen a baby elephant, you'll know that there really are few things cuter.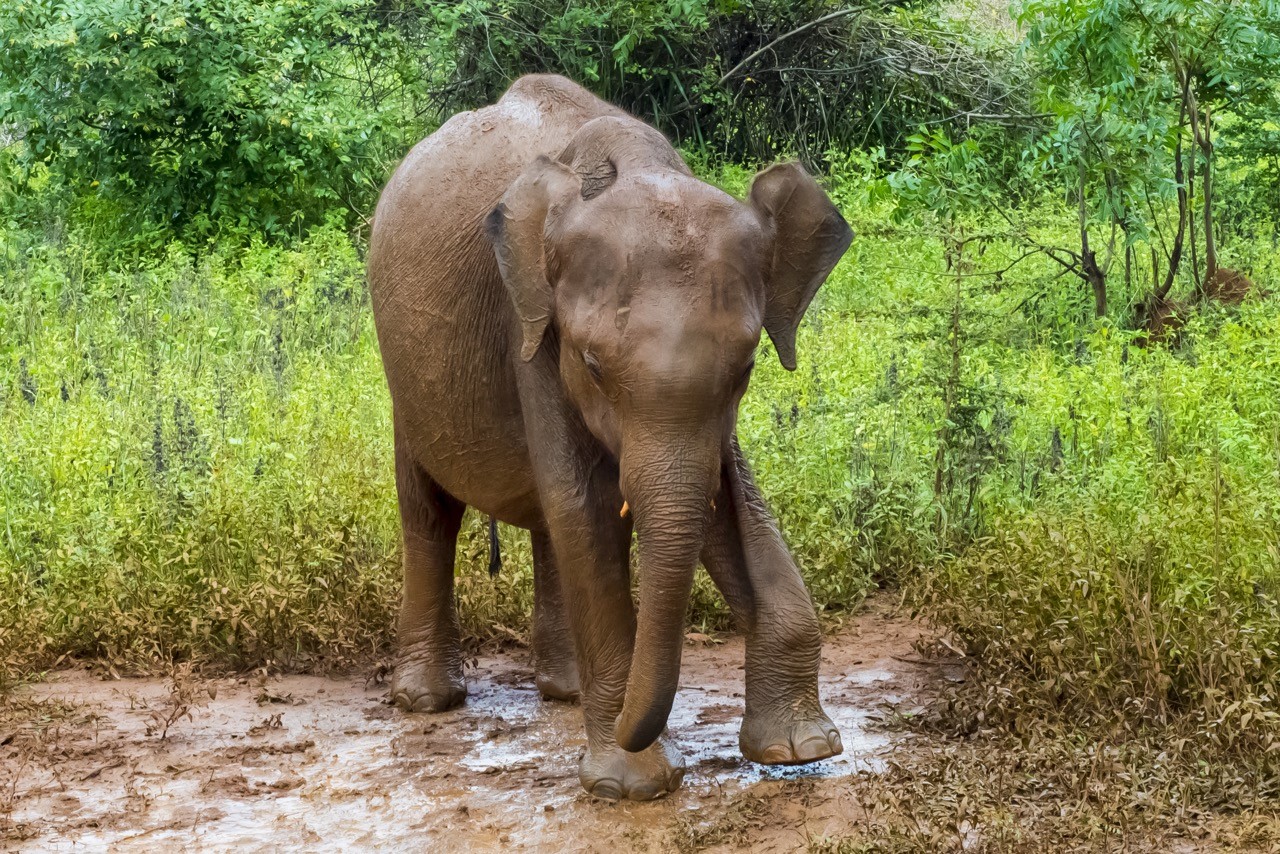 Half an hour later, we witnessed something quite special: an elephant felling a tree. We were told that the elephants at Udawalawe National Park are remarkably smart. In some portions of the park, an electric wire fence has been erected to keep the animals inside protected areas. Some mischievous elephants have been known to use tree branches to take down the fence posts, hence bypassing the electric shock and gaining free reign.
We were fortunate enough to see elephants meander past the vehicle almost close enough to touch. (Naturally, touching is not allowed.)
In addition to elephants at Udawalawe National Park, we saw a host of peacocks, buffalo, crocodiles and tropical birds.
Atlas & BOots
After a tiring but thrilling two-hour drive, we returned to camp under the cover of darkness to another surprise. Our patch of parkland had been transformed into a romantic setting for two, complete with paths lit with lanterns and a table set for a three-course dinner. Sadly, rainfall forced us under canvas so we took our meal on our tent porch instead.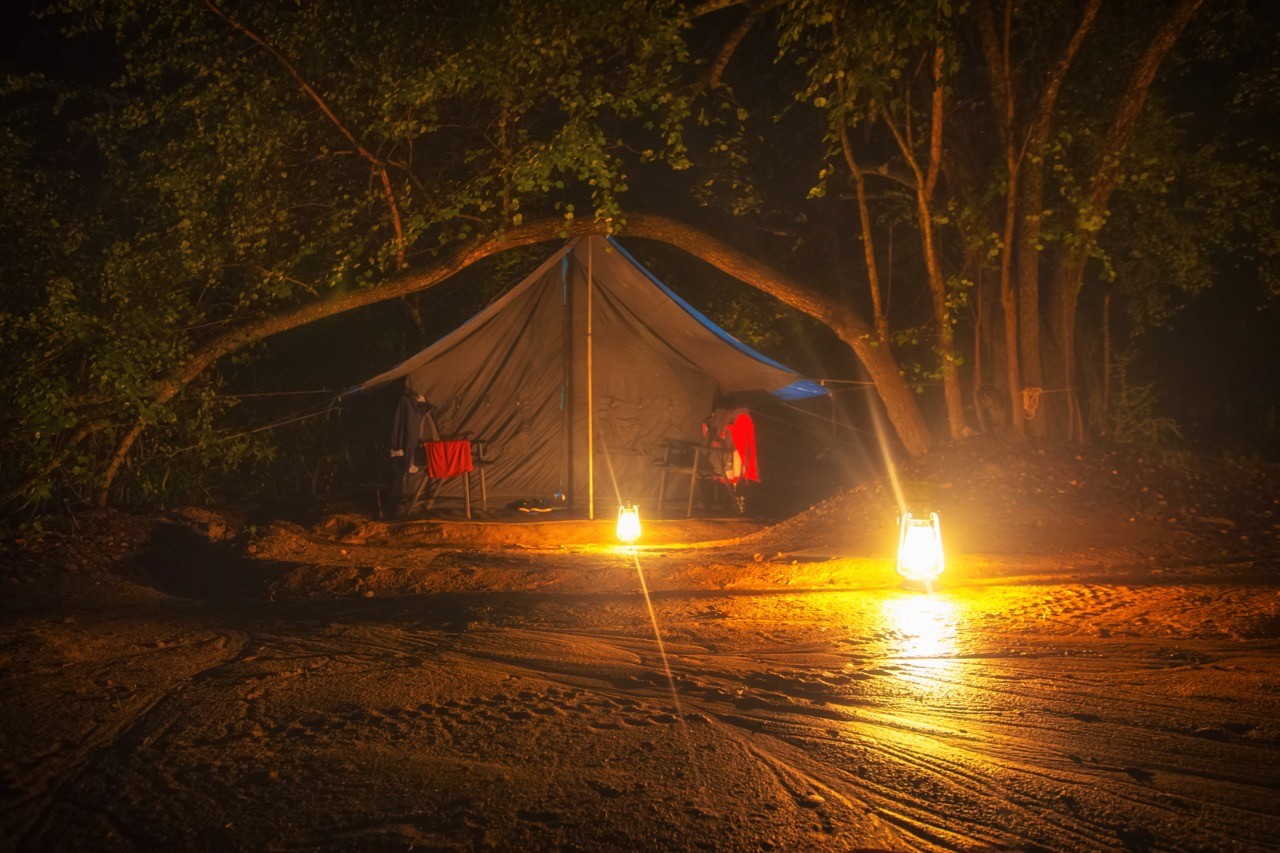 We had a freshly prepared meal, magically conjured in the mobile kitchen, and then retired for the night. The experience was quite a change from our first time camping together which resulted in what can only be described as a breakdown.
This time, I slept in complete peace with the exception of a single bump in the night when I heard an enormous splash coming from the nearby river. Half asleep, I thought of Michael Crichton's Travels in which he carves a dramatic tale of an elephant stomping through his camp at night. Hm, I thought hazily, wouldn't that be cool.
In the morning, we woke up to find footsteps by the river leading to an almighty slide down the muddy bank to the water.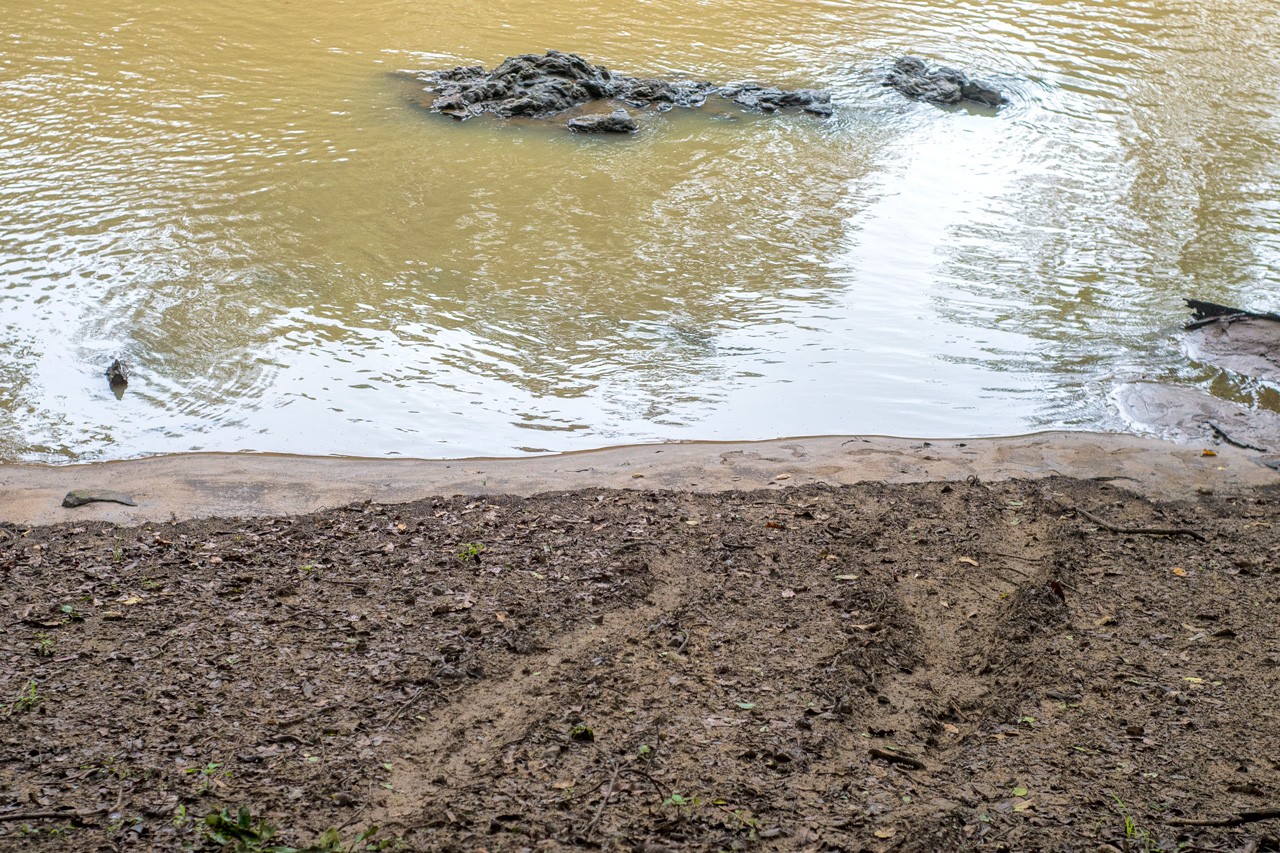 Apparently, an elephant had wandered into the vicinity at night and decided to take a dip. When I first read Travels, I hadn't imagined that one day I too would be diving in exotic locations, crossing landslides and having elephants wander through my campsite. Then again, I never thought I'd be camping.
That's the great thing about travelling with a country boy. You get to see all sorts of things you wouldn't do usually. You just have to say yes – even if it is to camping.
Udawalawe National Park: the essentials
What: Elephant safari at Udawalawe National Park in Sri Lanka.
Where: We stayed at a private campsite with Ruhunu Safari Camping deep inside Udawalawe National Park. The riverside location offered a back-to-nature charm coupled with modern amenities including a private shower and toilet, twin beds, in-tent lighting and traditional Sri Lankan food made with tasty local ingredients.
The site is surrounded by giant trees and an array of wildlife, from birds and monkeys to elephants of course. Bookings are usually for one night and include two game drives, all meals and drinks, pickup and dropoff, park entrance fees and a support team of five people. Rates vary depending on the season. Contact Ruhunu for the latest prices, quoting Udawalawe National Park.
Atlas & BOots
When: The best time to visit Udawalawe National Park is December to March when rainfall is at its lightest, grass is lower and elephants venture out to their watering holes.
How: Entrance fees to Udawalawe National Park are $15 USD per person for a day visit and $30 USD for an overnight stay.
There are various bus routes available depending on your point of origin. It's worth noting that we found bus travel to be quite stressful in Sri Lanka so you may wish to take a transfer instead. Your hotel can arrange this but it's always worth negotiating a discount as these are usually inflated (e.g. if quoted 15,000 LKR, ask for 11,000).
Many tourists opt to hire a driver for the entirety of their trip. This costs around $45 USD per day (including the days you don't use the driver). We used Ajaa (+94 777 284 178) and Sisi (+94 777 203 083) for shorter transfers and found them to be friendly and reliable.
Most international flights land in Bandaranaike International Airport (CMB) in Colombo. Book via Skyscanner for the best prices.
---
Enjoyed this post? pin it for later…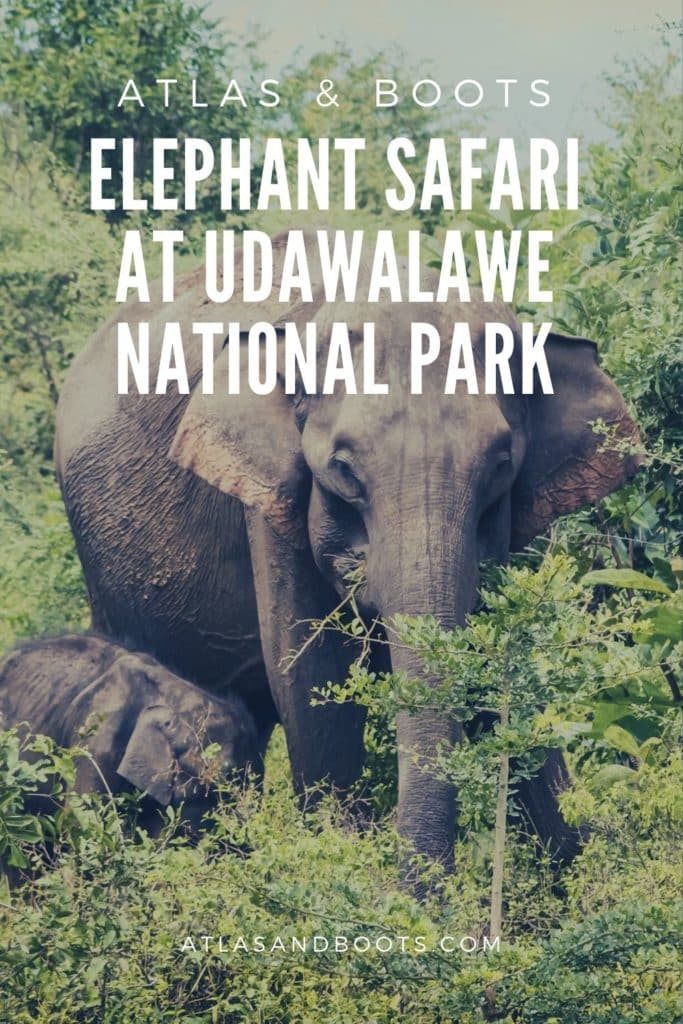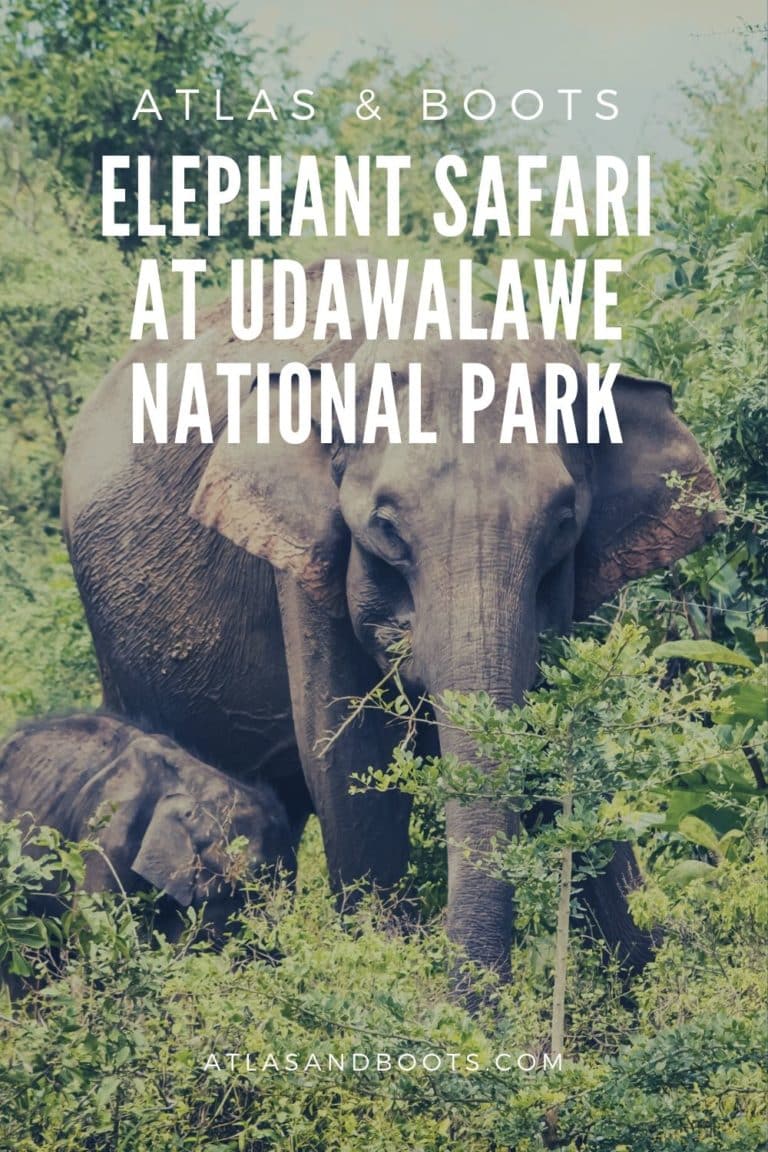 ---
Lonely Planet Sri Lanka is a comprehensive guide to Sri Lanka, ideal for those who want to both explore the top sights and take the road less travelled.