We visit the Rotorua geysers on New Zealand's North Island in pursuit of Pohutu, the largest active geyser in the southern hemisphere
We smelled Rotorua before we even set foot in the town: an unholy triad of pungent sulphur, blocked drains and rotten eggs. Built on a geothermal hotspot, Rotorua is a place of bestirred primordia: boiling mud pools, hot springs, spitting vents and erupting geysers.
Chief among the Rotorua geysers is Pohutu, the largest active geyser in the southern hemisphere. Pohutu, which means 'constant splashing' in Maori, sits within Te Puia thermal park which spans 70 hectares of the historic Te Whakarewarewa Geothermal Valley.
Pohutu is said to be the most reliable geyser on Earth. It erupts once or twice every hour, sometimes reaching heights of 30 metres. Eruptions last for a few minutes and can go on for much longer. From 2000 to 2001, Pohutu erupted for an incredible 250 days.
We spent a day in Rotorua starting with the Te Ra + Haka experience at Te Puia, followed by the Redwoods Treewalk nearby – a perfect sample of this famous North Island town.
Haka at Te Puia
As we drove to Rotorua, we noticed that the road signs were in two languages: English and Maori. In stark contrast to neighbouring Australia, New Zealand has three official languages: English, Maori and NZ Sign Language compared with Australia's English.
We witnessed a deep pride in New Zealand's Maori heritage and a heartening level of integration. Rotorua is a particularly good place in which to learn about Maori culture given that 34% of its population is Maori compared with 15% of the wider population. Rotorua is also a good place to witness the Haka, the intimidating war dance made famous by New Zealand's All Blacks rugby team.
We feared that watching the Haka in a tourist setting would feel somewhat ersatz, but we booked one nonetheless. I can't say it felt entirely authentic what with the exit sign gleaming above the stage, but it was thoroughly entertaining – not least because Peter was chosen as the chief of the tourists' tribe.
We spent a fun hour watching the Haka and the traditional dance of Poi before reluctantly agreeing to some audience participation. Naturally, we destroyed all evidence of us attempting the dances…
Rotorua geysers at Te Puia
After the Haka, we went off to explore the Rotorua geysers. Close to famed Pohutu sits Te Tohu geyser, also known as the 'Feathers' geyser in honour of a British royal visit in 1901 where the guests noticed a resemblance between Te Tohu's plume and the feathers on the coat of arms of the Prince of Wales. Te Tohu is also known as the "indicator" as it usually erupts just before Pohutu.
Guided tours are included in the ticket price, but we preferred to explore the Rotorua geysers on our own. That's not to say we didn't need professional help; we headed to Pohutu after seeing a group of tourists gathered around a guide and wondered if it was about to blow. Alas, it was not so and so we settled in to wait.
Atlas & Boots
Pohutu teased us time and again, spitting and gurgling, but never quite breaking through. After exactly an hour, we were rewarded with great belches of steam and sudden gushes of scorching water until, finally, Pohutu burst open.
The most reliable geyser on Earth did not disappoint. Huge jets of water shot tens of metres into the sky in a powerful eruption that lasted several minutes. It was heartening to see that it still had so much strength. Pohutu was once at grave risk of fizzling as residents in the area used bores to tap into the valley's geothermal resources. Fortunately, a programme to close the bores has safeguarded Pohutu's natural majesty.
We spent the rest of the morning exploring the natural mud pools and hot springs before moving on to the Redwoods Treewalk nearby.
Redwoods Treewalk near Rotorua
If Te Puia is a place of mud pools and goblins, then the Redwoods Treewalk is the inverse: a fairytale forest fit for Disney.
In some ways, the forest is a microcosm of New Zealand itself. Its towering trees may be famed for their Californian roots, but the Treewalk is distinctly Kiwi: beautiful, exhilarating and yet strangely uncrowded.
Atlas & Boots
Using ecologically friendly engineering, the 553m Redwoods Treewalk traverses between 22 majestic 116-year old Redwood trees via 23 suspension bridges elevated 6-12m above the ground.
We spent 45 minutes meandering around the walk and learning about the history of the forest as well as the local people and the land.
In the grand scheme of things, it wasn't the most dizzying thing we did in New Zealand (more on that over the coming weeks), but it was a peaceful, reinvigorating way to spend an afternoon – a must-do on your Rotorua itinerary.
Rotorua geysers: The Essentials
What: Exploring the Rotoroua geysers and the Redwoods Treewalk.
Where: We roamed New Zealand's North Island in an Apollo campervan. We loved the flexibility and spontaneity of the #vanlife as we didn't have to plan or pre-book transport or accommodation. We simply chose where to go and what to see at the beginning of each day.
Atlas & Boots
Our Euro Tourer campervan was cleverly designed and included heating and air conditioning, a shower and toilet, a fully equipped kitchen including a microwave, gas stove and refrigerator, and a double bed which converted to seating and a desk or dinner table during the day. For extra amenities, book a space at a Top 10 camping ground.
When: The best time to visit New Zealand is Sep-Apr. Summer (Dec-Feb) offers excellent hiking weather and a variety of festivals and events. The shoulder seasons of autumn (Mar-Apr) and spring (Sep-Nov) have fine weather, fewer crowds and lower prices.
How: Explore the Rotorua geysers with the Te Ra + Haka experience at Te Puia and book the Redwoods Treewalk nearby.

Book a campervan with Apollo Motorhome Holidays. Driving in New Zealand is exceedingly easy given the wide roads, excellent infrastructure and relatively few cars – perfect for exploring by campervan.
We flew from the UK to New Zealand via Singapore and Australia. For long layovers at Singapore's Changi Airport, we recommend Plaza Premium's Aerotel Transit Hotel to those in need of sleep and the Plaza Premium Lounge for relaxing away from the fray. We made use of both, as well as the free city tour during our 19-hour stay!
Book flights via Skyscanner for the best prices.
---
Enjoyed this post? pin it for later…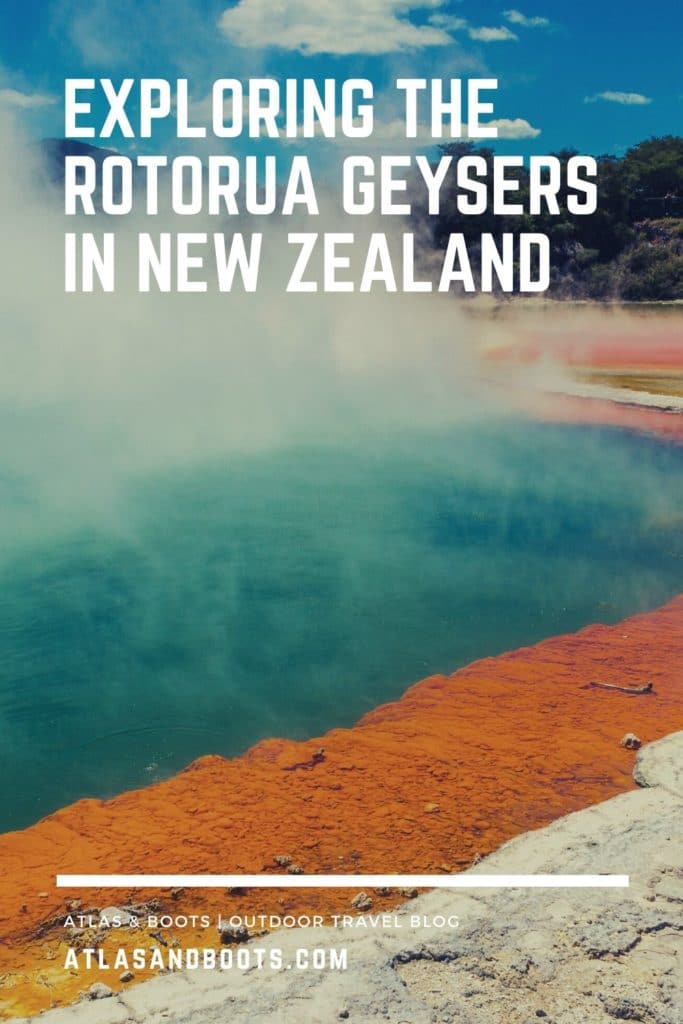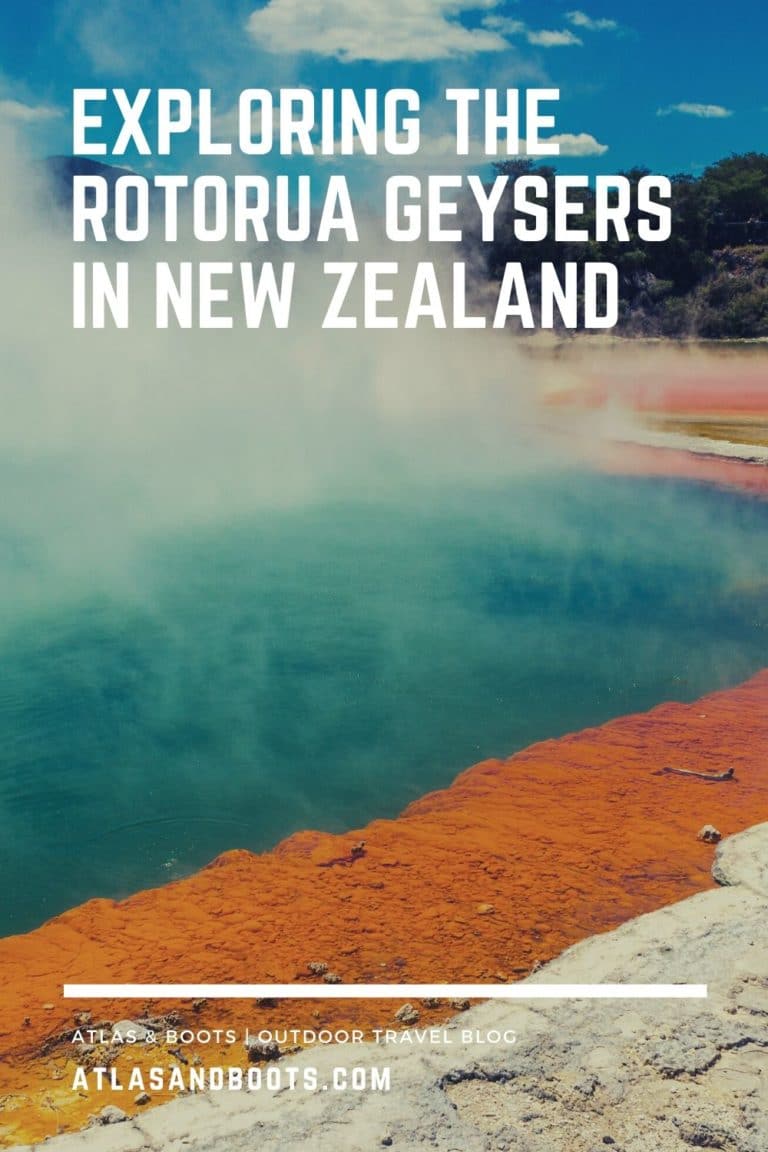 ---
Lonely Planet New Zealand is a comprehensive guide to New Zealand, ideal for those who want to both explore the top sights and take the road less travelled.
Lead image: Atlas & Boots