1. Peter and Kia have visited 70 countries between them. Secretly, Kia's jealous that her map below (in blue) is less impressive than his (in red).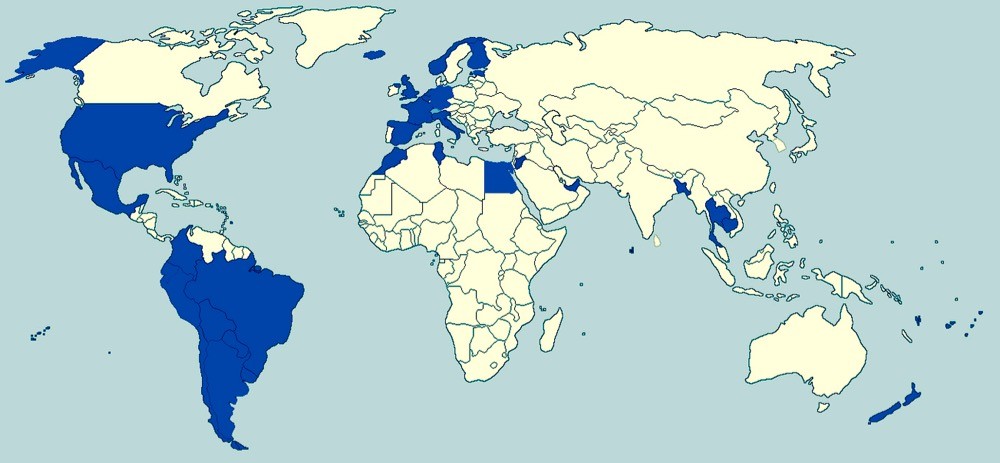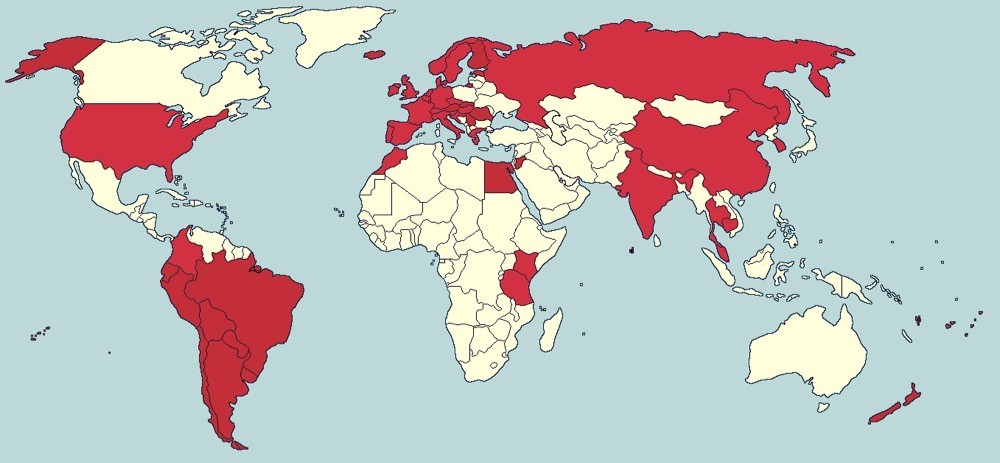 2. Peter has had two short films screened at Cannes Film Festival.
3. Kia and Peter have both flown a plane. Of course, Peter insisted on being called Maverick for the rest of the month.
4. Kia and Peter have jumped out of a plane. Kia loved her jump… Peter's *may* have been filled with an expletive or two.
5. She's not all brave though… She does have a mortal fear of bugs.
6. Peter once tracked down his father's long-lost friends in India with nothing more than a 40-year-old passport photo and a name.
7. Peter's first crush was Raquel Welch. He remains a sucker for a fur bikini.
8. Kia has eight siblings (if you count the one that passed away a few days after birth). This makes her Seven of Nine which is cool, but only if you're a Star Trek fan.
9. Peter once worked at a greyhound track where he used to clear up the dog shit.
10. Kia had a rule against dating smokers… until she met Peter.
11. Peter is now an ex-smoker.
12. Kia's been mistaken for: Malaysian, Singaporean, Thai, Jordanian, Tunisian, Arab, Indian, Brazilian, Spanish, Samoan, Tongan, Tahitian. She's christened herself an 'indeterminate'.
13. Kia is an old-school nerd… Not just a live-long-and-prosper level nerd, but an I-wrote-a-Java-debugging-tool-and-really-rather-enjoyed-it level nerd.
14. Peter has sold over 500 of his photographs.
15. Kia has 19 nieces and nephews with the 20th on the way. Peter jokes that if you're ever short of conversation with Kia, just ask 'How's your pregnant sister?' as there's bound to be one at any given time.
16. Kia is the first person in her family to graduate from university. She now spends all her time pressuring her 19 nieces and nephews to go to university.
17. Peter has climbed Kilimanjaro and plans to climb all Seven Summits.
18. Kia once tried to start a startup. She hopes to try again one day.
19. Peter has worked as a sound engineer with Public Enemy, Arctic Monkeys, Dizzee Rascal, Manic Street Preachers and Al Gore among others.
20. Kia has two missing teeth – but you can't tell from her smile.
21. Peter knows nothing of glory but all about heartache: he supports Norwich City.
22. Kia has a bent finger – two in fact. It's an Abdullah thing.
23. In their first year of dating, Peter Skyped Kia on her birthday with three words: 3pm, Heathrow, Rome.
24. Kia only learnt to ride a bike at the age of 29.
25. Peter has 'deliver an after-dinner talk' on his bucket list. Where or on what he does not yet know.
26. Kia was once asked to fill in for Tony Benn. On one of her early dates with Peter, she took him to the Whitechapel Idea Store hoping to impress him with her political intellect. Alas, Benn had taken a fall and therefore cancelled his talk. The staff, recognising Kia as a local author, asked her to step in and give a literary talk instead. She declined of course (how DOES one fill in for Tony Benn?). Needless to say, her aim of impressing Peter was fulfilled nonetheless.
27. Peter plays guitar to Grade 6 standard. He unashamedly exercises this skill whenever Kia's mad at him.