As we continue our trip around the globe, there are some areas of the world we are forced to avoid. Instability and unrest in these regions often make them unsafe or irresponsible choices for tourists.
When we make the very easy decision not to go, it's easy to forget that these failed states are home to millions of people who struggle every day if not for survival then a very basic level of wellbeing.
Below we take a look at some of these failed states and the monumental troubles they face.
Measuring failure
Every year, the non-profit organisation Fund for Peace publishes its Fragile States Index previously known as the 'Failed States Index'. This is an assessment of every UN member state based on 12 indicators including social, economic, political and military factors.
It scores each state up to a maximum of 10 under each indicator with 10 being bad and 1 being good. Hence, the higher the score, the worse the state.
We list the worst 16 states, those that have scored over 100 out of the maximum of 120 and thus been given a "very high alert" or "high alert" status in relation to their fragility – or to be less politically correct, failure – as functioning states.
South Sudan
Rank: 1st
Score: 112.9
2013 rank: 4th
Major concerns: Public services, human rights, security, factionalised elites, external intervention, refugees and internally displaced people (IDPs), group grievance
Since gaining independence from Sudan in 2011, this fledgling country has struggled to match the expectations heaped upon it internationally.
The new state suffers massively from ethnic tensions and a lack of internal resources, leaving it unable to deal with the growing number of social, economic, political and military issues. The country scored disturbingly high in several indicator categories, garnering an overall score of 112.9 out of 120.
Somalia
Rank: 2nd
Score: 112.6
2013 rank: 1st
Major concerns: Refugees and IDPs, factionalised elites
Somalia has only just been "relieved" of its number one position which it has held since 2008. The war-torn state is still suffering massively from social tensions, piracy, and local and national leaders struggling for military control.
Central African Republic
Rank: 3rd
Score: 110.6
2013 rank: 9th
Major concerns: Refugees and IDPs, external intervention
The CAR has jumped from 9th to 3rd with all of its indicators worsening. Religious violence across the country has caused over 200,000 internally displaced persons leading UN Chief Ban Ki-moon to state that the CAR has suffered a "total breakdown of law and order".
Democratic Republic of Congo
Rank: 4th
Score: 110.2
2013 rank: 2nd
Major concerns: Refugees and IDPs, human rights, external intervention
Following the ceasefire declared by the M23 rebels in February 2013 the DRC has reversed its upward trend and dropped down the index for the first time in years. The largest improvement was in the security indicator. However, several human rights abuses continue throughout the country.
Sudan
Rank: 5th
Score: 110.1
2013 rank: 3rd
Major concerns: Group grievance, factionalised elites
Sudan's conflict with South Sudan has ceased although internal violence flared up dramatically in Darfur in 2014. Large-scale protests across the country over government cuts to fuel subsidies were met with violent crackdowns that killed scores of protestors.
Chad
Rank: 6th
Score: 108.7
2013 rank: 5th
Major concerns: Public services, factionalised elites, refugees and IDPs
Despite Chad's relentless battle with internal poverty, the country continues to receive huge numbers of displaced refugees from neighbouring countries including approximately 60,000 from Sudan fleeing the conflict in Darfur and 12,000 from the Central African Republic. The country simply cannot cope.
Afghanistan
Rank: 7th
Score: 106.5
2013 rank: 7th
Major concerns: Security apparatus, external intervention
Large-scale withdrawal of foreign troops from Afghanistan has only highlighted how ill prepared the Afghan army and government are in tackling the country's extensive problems. Corruption, drugs and extremism continue to run rampant across the land.
Yemen
Rank: 8th
Score: 105.4
2013 rank: 6th
Major concerns: Security apparatus, group grievance, factionalised elites
Yemen has improved economically in the last year and stability in the country is definitely healthier than in recent years. However, Al-Qaeda affiliates continue to operate in the country amid US drone strikes.
Haiti
Rank: 9th
Score: 104.3
2013 rank: 8th
Major concerns: Uneven development, external intervention, public services
Haiti just can't seem to catch a break. Since the devastating 2010 earthquake, a cholera epidemic has swept across the country. Despite the significant aid it receives, political and social unrest has thwarted real drive for change with high levels of corruption at local and national levels of government.
Pakistan
Rank: 10th
Score: 103.0
2013 rank: 13th
Major concerns: Group grievance, security apparatus
Large numbers of bomb attacks throughout the country and arrests at central government level mean Pakistan has climbed the index. This is deeply concerning considering the country is a nuclear power located in one of the most volatile regions of the world.
Zimbabwe
Rank: 11th
Score: 102.8
2013 rank: 10th
Major concerns: Legitimacy of the state, factionalised elites
After three decades, Zimbabwe continues to wilt under one of the world's most authoritarian dictators, Robert Mugabe. The country has more than a million citizens living with HIV/AIDS and one of the lowest life expectancies on Earth. Elections are plagued by allegations of vote rigging, intimidation and fraud.
Guinea
Rank: 12th
Score: 102.7
2013 rank: 14th
Major concerns: Poverty and economic decline, legitimacy of the state
After a series of juntas and coups during the previous years, Guinea is struggling to form a recognised and legitimate government. Guinea is currently at the centre of the 2014 Ebola outbreak giving it bleak prospects for the near future in terms of its humanitarian situation.
Iraq
Rank: 13th
Score: 102.2
2013 rank: 11th
Major concerns: Group grievance, security apparatus, factionalised elites
Iraq continues to be one of the most violent and unstable countries in the world. Since US forces withdrew in 2011, terrorism and internal violence continue with thousands of violent deaths in 2014 alone. Bombings and attacks are an almost daily occurrence.
Cote d'Ivoire
Rank: 14th
Score: 101.7
2013 rank: 12th
Major concerns: Factionalised elites, external intervention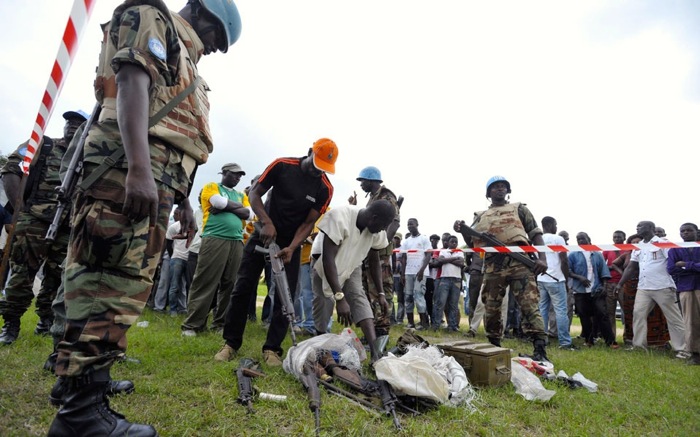 Cote d'Ivoire has suffered two deadly civil wars in the past 12 years and now has thousands of UN peacekeepers in its lands. Aggressive local leaders continue to disrupt the country as they bay for overall control. Recent elections and an improving economy have helped improve the country's position slightly.
Syria
Rank: 15th
Score: 101.6
2013 rank: 21st
Major concerns: Refugees and IDPs, security apparatus, group grievance
The ongoing Syrian civil war began in 2011 as a chain of peaceful protests, followed by a crackdown by the Syrian Army. As many as 100,000 people have been killed including 11,000 children since the violence began. Additionally, over 2.1 million Syrian refugees have fled to neighbouring countries.
Guinea Bissau
Rank: 16th
Score: 100.6
2013 rank: 15th
Major concerns: Factionalised elites, external intervention, public services
Guinea Bissau has long struggled to improve its position in this grim index. The country suffers miserably from long-term poverty and a slumped economy. More than two thirds of the population lives below the poverty line.
---
Lead image: un.org