A click-and-pick Antarctica packing list with links to specific products that have been personally tested by Atlas & Boots
A friend of mine recently asked what three things make me happiest, as part of her research for her forthcoming book. I named family and nature which are fairly standard answers. Less common was my third choice of hygge, the Danish concept of cosiness.
We hear a lot about wellness, fitness and mental health but very little about nourishing the body on a tactile level. I explained that I love wrapping up in soft fabrics and fleecy blankets and can't understand why we use these materials to soothe babies and young children but then swap to jeans and stiff, starchy clothes when we're older. In short: I love being warm and comfy.
With this in mind, you can understand why I approached my Antarctica packing list with a zeal that verged on madness ahead of our trip to the seventh continent. I read the FAQs and packing lists of every major company that sails to Antarctica, studied countless blog posts and read a slew of reviews.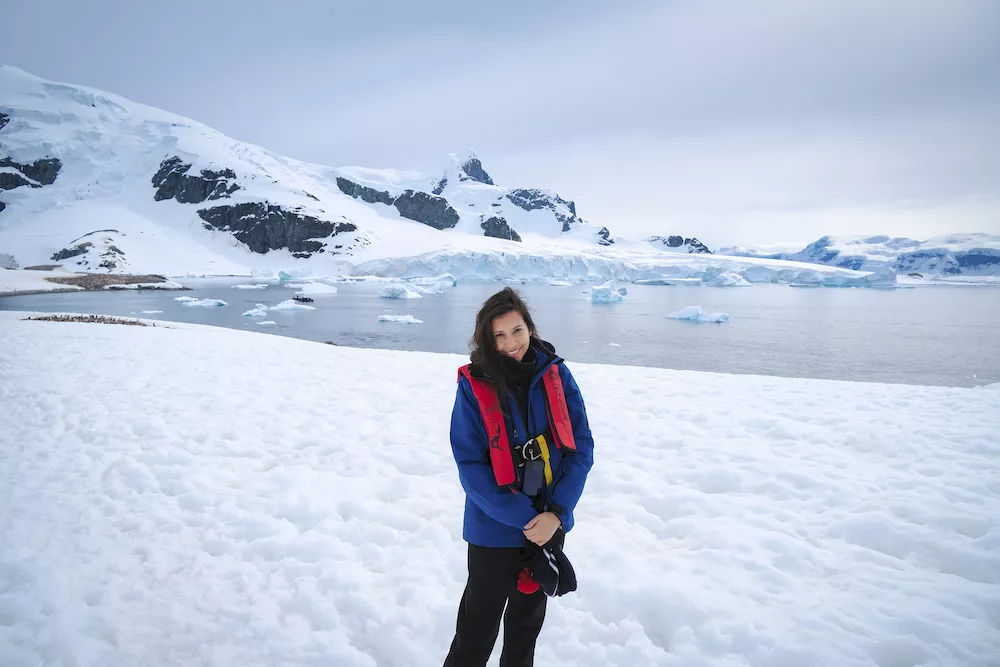 Praise be, because I bloody well did it: I managed to stay warm and comfy on the coldest continent on the planet. I present to you my Antarctica packing list so that you may do the same with a fraction of the pain.
Antarctica packing list
My packing list for Antarctica is based on a 10-day expedition and is broken down into Expedition clothing, Accessories, Onboard clothing, Transit clothing, Toiletries, Basics, and Electronics. Where relevant, I've included links to exactly what I packed. The sheer range of choice when it comes to outdoor clothing can be baffling, so I've done the hard part for you. The list has a female skew but most of the linked gear has a male equivalent.
It's also useful to know that I opted for Helly Hansen (HH) because it's the brand worn by the expedition team on Albatros Expeditions voyages. HH are based in Norway – the home of polar exploration – and have been making professional-grade gear for more than 140 years. As such, I figured they were a safe bet – and indeed they kept me thoroughly toasty.
Expedition clothing
Layers are key to staying warm in Antarctica, so make sure you pack base, mid and outer layers. It's unlikely that you'll have to pack a heavy-duty parka as most companies supply one as standard.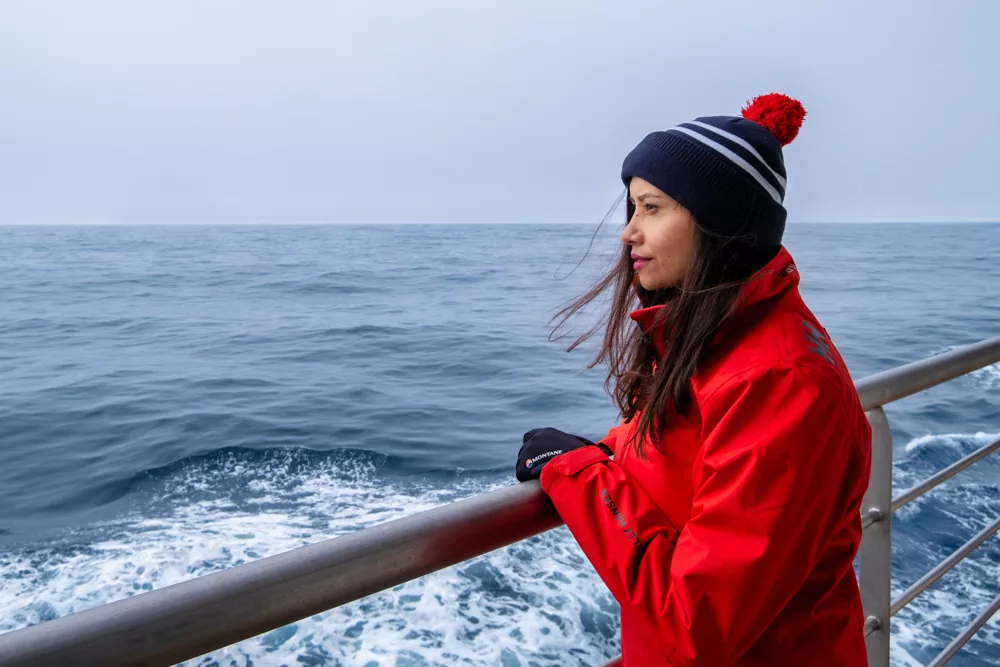 Atlas & Boots
Add plenty of layers to your Antarctica packing list
Accessories
Onboard clothing
The evening dress code on Antarctic expeditions is completely casual. Think fleeces, jumpers, gilets and hoodies. Trainers and walking boots are perfectly acceptable. We saw one passenger in a blazer but that was it!
Casual tops x 2
Fleece leggings x 2 (CRZ Yoga in two different colours) – these look better in real life and I adore them
Jeans x 1
Trainers x 1 (HH Feathering Trainers)
Transit clothing
This is a weird category I know, but it's worth noting that if you're heading to Antarctica from Argentina like most passengers, you will likely pass through Buenos Aires where we had temperatures of 35°C (95°C). It will be summer in the southern hemisphere, so it's worth packing the below if you'll be spending some time in the capital.
Summer outfits x 2
Ballet flats or flip flops x 1
Small handbag x 1
Comfy outfit for the flight x 1
Toiletries
Don't forgo the sunscreen. Antarctica may be the coldest continent on Earth but the sun is deceptively strong.
Toothbrush
Toothpaste
Deodrant
Facewash
Moisturiser
Batiste dry shampoo – you'll be in and out of your cabin on some pretty full-on days, so may appreciate dry shampoo for sprucing up weather-beaten hair
Makeup, vaseline, bobby pins, safety pins
Sunscreen
Basics
Two notes here. First: take all your cash in USD and convert to local currency once you're in Argentina. The country's 'Blue Dollar' rate means you can get a lot more for your money compared with withdrawing from a cash machine or paying by card. This is especially useful if you'll be spending a few days in Buenos Aires or Ushuaia. Everything onboard is likely to be cashless (excluding any cash tips you may wish to give on top of the gratuity added to your bill as standard).
Second: when it comes to seasickness, prevention is better than the cure so if you tend to get seasick, take medication before you begin to feel ill (with advice from a medical professional of course). There will be an onboard doctor who can supply medication too.
Passport
Insurance
Headphones
Keys
USD
Credit/debit cards
Wet wipes
Hand sanitiser
Pen
Facemasks
Earplugs
Eyemask
Seasickness pills
Any relevant medication
Electronics
Phone and charger
Phone lanyard – this is useful for keeping your phone secure so it doesn't fall overboard on the Zodiac cruises (sadly, I didn't pack one but this Takyu Lanyard is well reviewed)
Laptop and charger
Kindle and charger
Adaptor (Ceptics) – our cabin had UK plug sockets so we didn't need an adaptor but you may want one for Buenos Aires and Ushuaia
Camera and accessories – including a GoPro for the Polar Plunge
SIM card – we recommend using an eSIM
Antarctica packing list: what to leave at home
Hair dryer – your cabin will more than likely have one
Heavy-duty walking boots – your expedition company with likely supply waterproof boots for shore excursions, so do check before you pack these
Heavy-duty parka – your expedition company will likely supply one, so do check before you pack one
Formal wear – evenings are completely casual affairs
If you have any questions about what to pack for Antarctica, then feel free to message us over at Instagram. Good luck and stay cosy.
---
Enjoyed this post? pin it for later…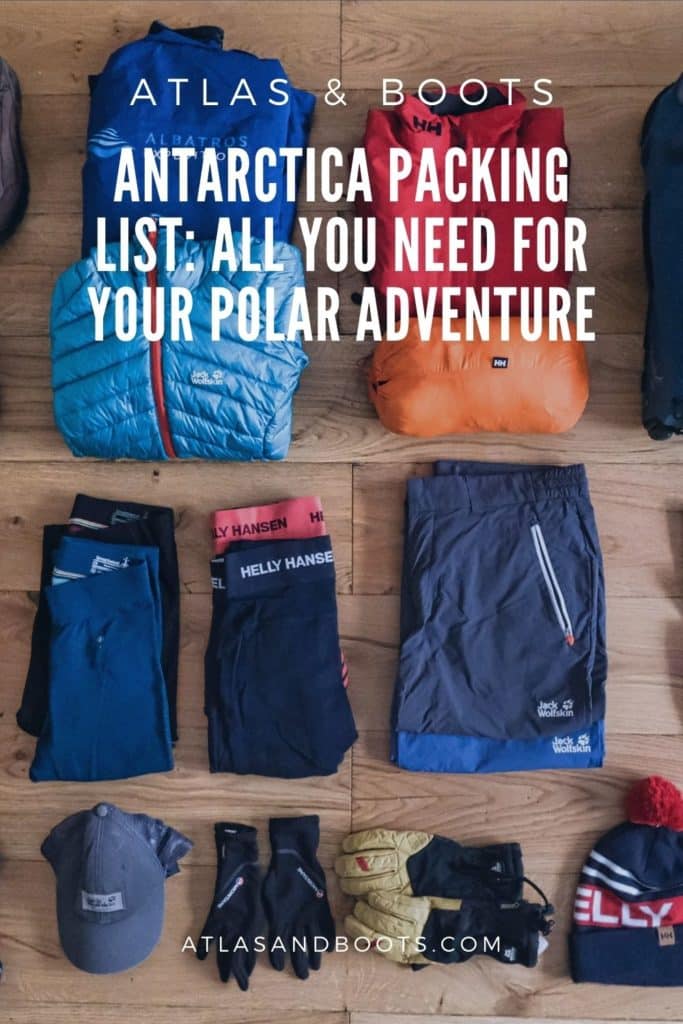 ---